7 Popular Payment Link Solutions in Malaysia For Small Businesses Compared — Touch n' Go, Stripe, PayPal.me And More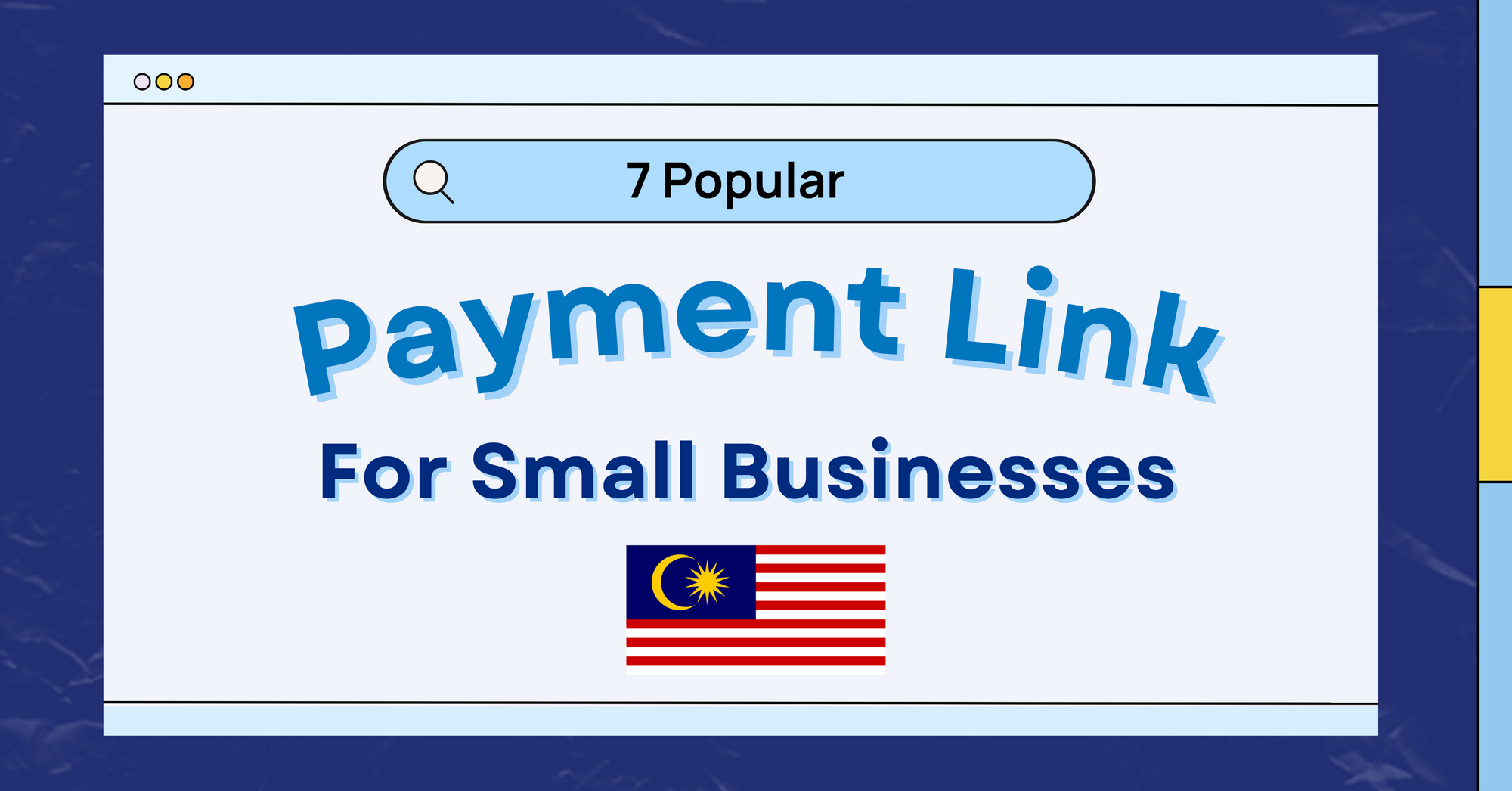 Choosing the right payment link solution is crucial for small businesses in Malaysia, as it can significantly impact the ease of transactions and customer satisfaction. This article provides an overview of popular no-code business payment links, including HitPay, Stripe, Touch n' Go, and PayPal.me, among others. By understanding the benefits of using payment links, small business owners can make informed decisions about the best solution for their needs.
What is a payment link for business and how do you use it?
A payment link is a unique URL that businesses can share with customers to facilitate swift and secure payments. These links can be sent through various channels, such as email, social media, or messaging apps, allowing customers to make payments with just a few clicks.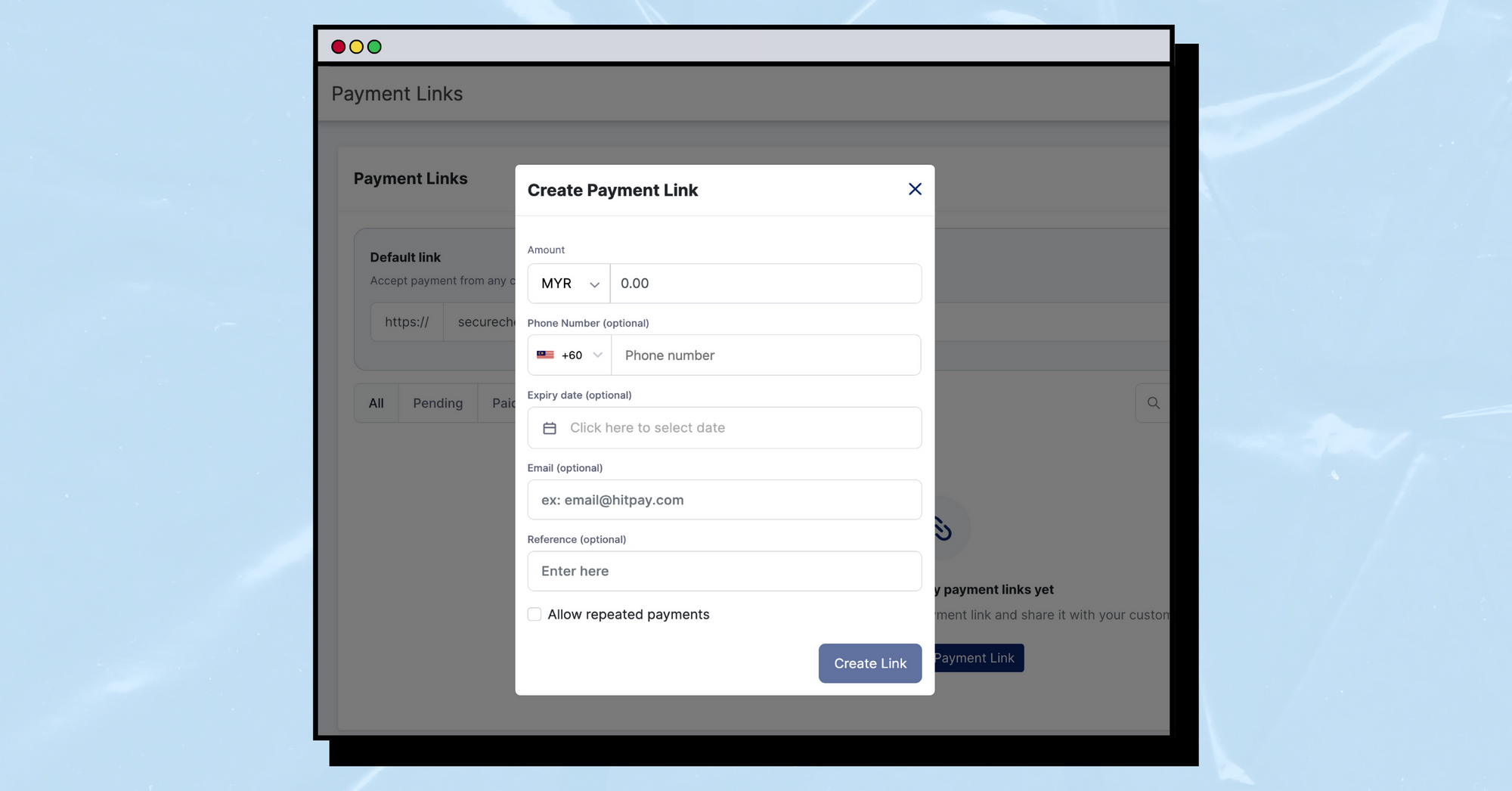 Creating and using payment links is a straightforward process. Businesses can generate these links using a payment platform, like HitPay, Stripe, or PayPal.me, by entering the required details, such as the amount and a brief description of the transaction. Once the link is created, it can be shared with customers who can then click on it to access a secure payment page hosted by the payment platform. This eliminates the need for customers to manually input bank account or credit card details, streamlining the payment process and reducing the chances of errors.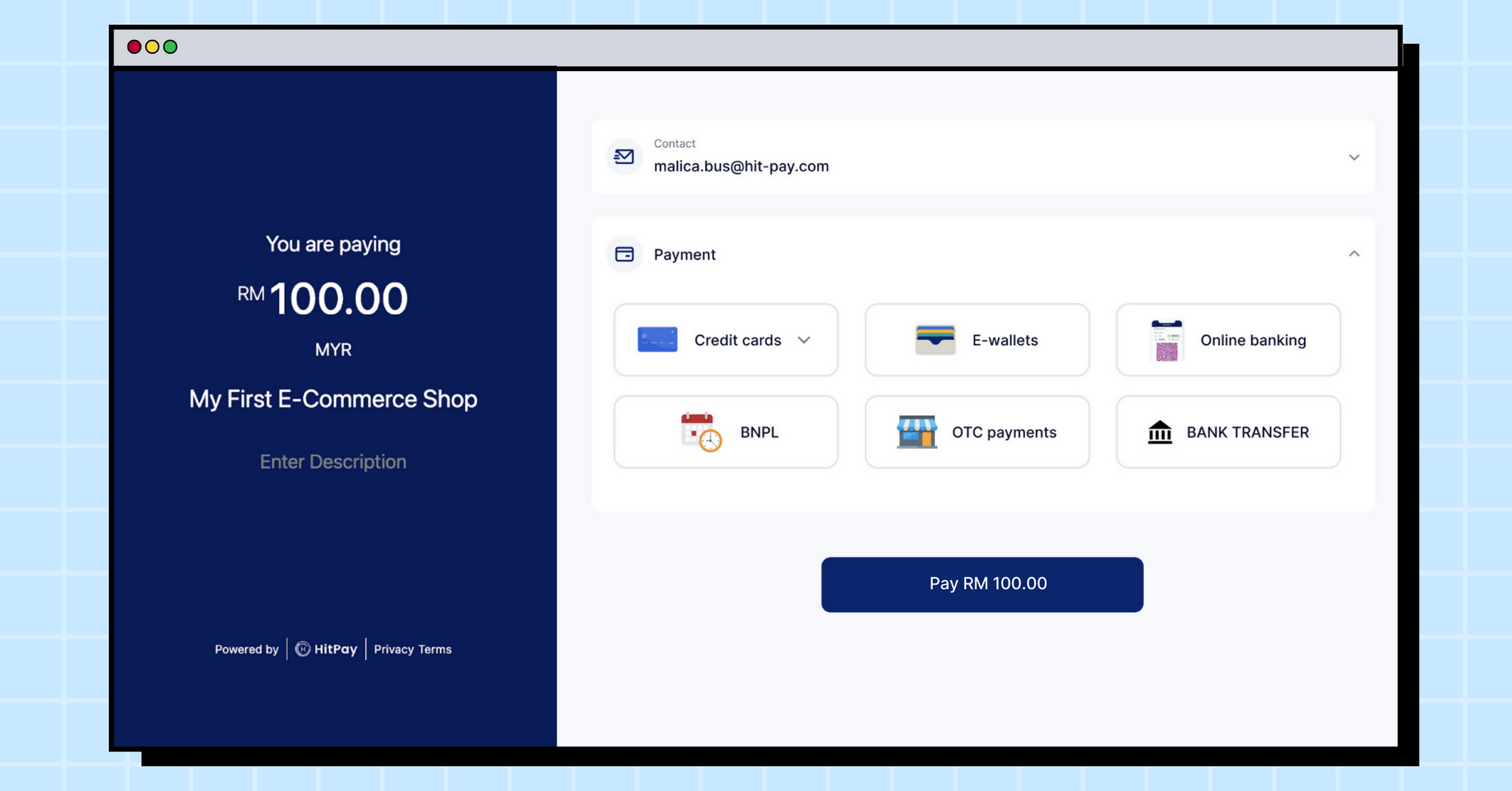 Payment links are versatile and can be used in various scenarios to facilitate seamless transactions. For instance, they can be used by online sellers to collect payments from customers who purchase products through social media platforms like Instagram or Facebook, without needing an e-commerce website. They can also be used by freelancers to collect payments for services rendered, or by event organizers to sell tickets. Overall, payment links offer a flexible and convenient way for businesses to accept payments from customers, regardless of the sales channel or platform.
How no-code payment links help you sell more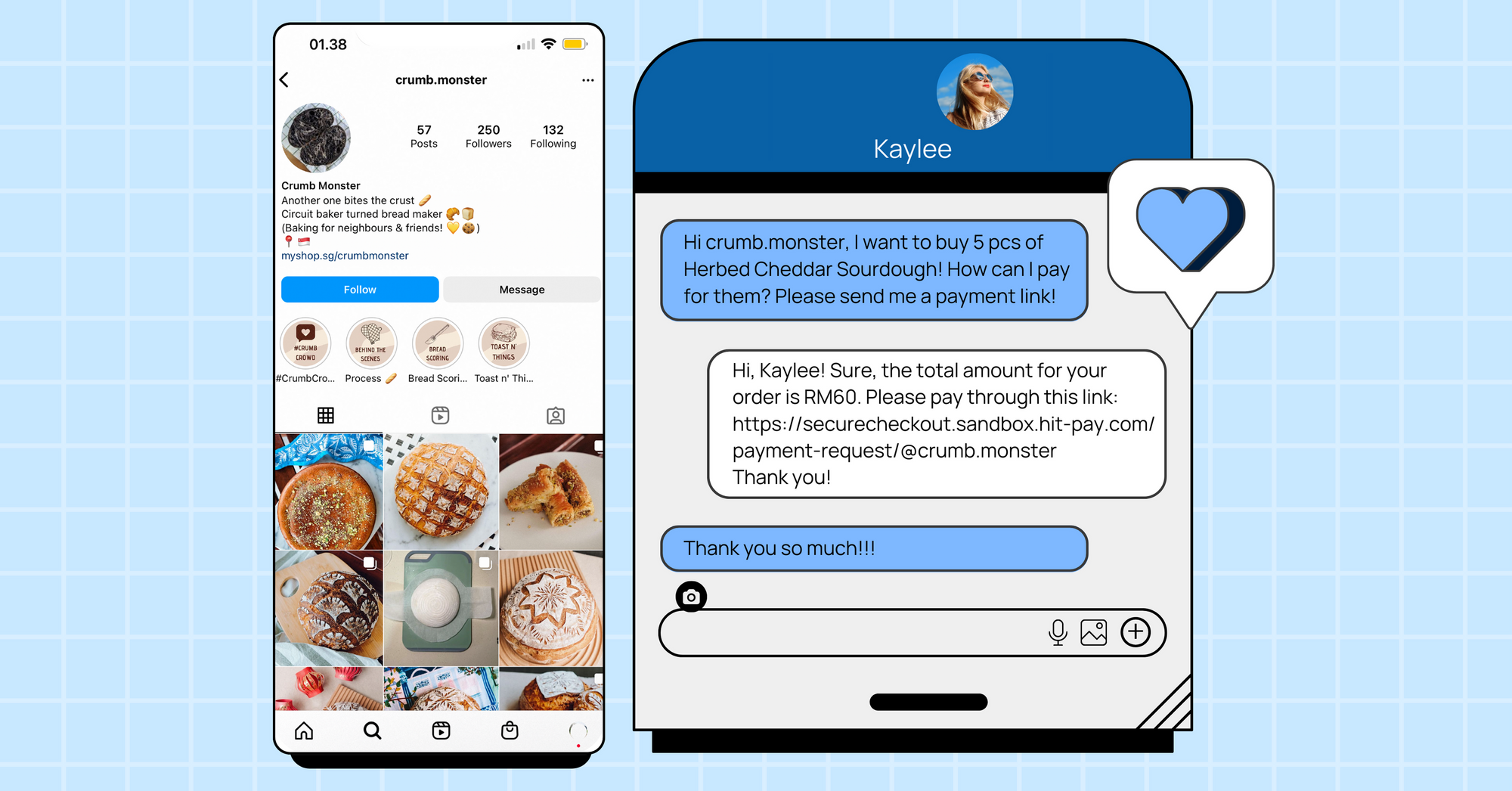 No-code payment links offer several advantages that can help businesses sell more effectively and efficiently. These benefits include accepting payments without a website, collecting payments remotely, and getting paid faster through payment links.
1) Easier online selling: Accepting payments without a website is particularly useful for businesses that primarily sell through social media platforms or messaging apps, such as Instagram, Facebook, WhatsApp, or Telegram. By using payment links, they can facilitate transactions without needing to set up an e-commerce website, making it easier for home-based businesses and small businesses to accept digital payments on a smaller budget.
2) Collecting payments remotely is another significant advantage of using payment links. This allows businesses to receive payments securely and conveniently, without the need for in-person meetings or physical cash exchange. This feature is especially important in the current environment, where remote transactions have become more common due to the pandemic.
3) Finally, getting paid fast through payment links can improve cash flow and reduce administrative work for businesses. Payment links can be created and shared within seconds, allowing businesses to receive payments more quickly than with traditional methods, such as bank transfers or manual credit card processing. This efficiency not only benefits the business but also enhances the overall customer experience, building trust and loyalty with clients.
3 things to consider when choosing a business payment link solution
When selecting a payment link solution for your small business, it's essential to consider the number of supported payment methods and currencies, the pricing model and costs, and the supported integrations. These factors can significantly impact the ease of transactions, customer satisfaction, and the overall success of your business.
1) The number of supported payment methods and currencies is crucial for businesses in Malaysia. Offering popular payment methods, such as DuitNow QR, Financial Process Exchange (FPX), and debit/credit cards, can boost sales and improve customer satisfaction. Additionally, if you plan to expand your business beyond Malaysia, it's essential to choose a payment link solution that supports popular payment methods in other countries.
Read also: What are the top online payment methods in Malaysia?
2) Pricing models and costs are also vital factors to consider. Businesses should be aware of payment processing fees associated with each transaction, as well as any subscription costs, account maintenance, or onboarding fees that may apply. Comparing these costs among different payment link providers can help you choose the most cost-effective solution for your business.
3) Lastly, supported integrations play a significant role in choosing a payment link solution. Businesses should ensure that the chosen provider can integrate with their existing tools, such as e-commerce platforms like Shopify, EasyStore, or Ecwid, and accounting software like Xero or Quickbooks. This compatibility will streamline your workflow and help you manage your business more efficiently.
Top payment link software in Malaysia - pros and cons
Choosing the best payment link software for your business in Malaysia involves comparing the various options available in the market. This section provides a summary table of popular payment link providers, followed by a detailed analysis of their pros and cons.
Summary table with comparison of various payment link providers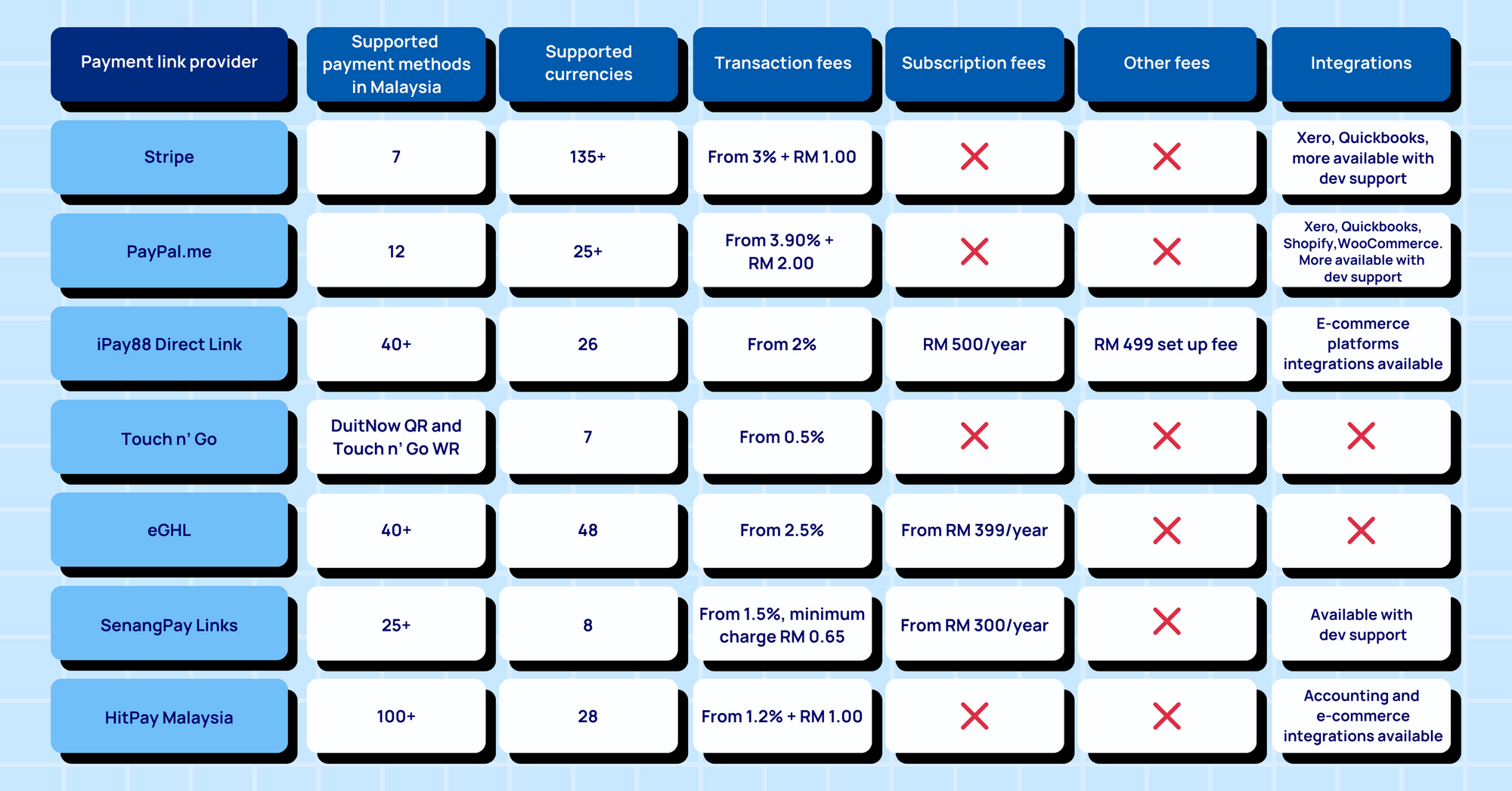 Detailed analysis of each payment link provider
1. Stripe payment links
Stripe offers a variety of payment link features, such as creating multiple payment links quickly, subscription upsells, custom domains, and UTM code tracking. However, some features may require developer support.
Pros:
✅ Integrates with Xero and Quickbooks accounting software
✅ 35+ languages supported
✅ Wide range of payment link customisation options
Cons:
❌ Can be challenging to set up without developer support
❌ Extra fees for some customisations
❌ High processing fees
2. PayPal.me
PayPal.me payment links are easy to set up and use but may be limited in their support for popular payment methods in Malaysia.
Pros:
✅ 24 currencies supported, including MYR, SGD, THB, and PHP
✅ Can request payments in different currencies easily
✅ Globally recognised and trusted brand
Cons:
❌ Lacks support for popular payment methods in Malaysia like FPX, GrabPay, and DuitNow
❌ High transaction fees, varying depending on domestic or international transactions
3. iPay88 Direct Link payment
iPay88 is a popular payment gateway in Malaysia that supports popular payment methods like DuitNow QR. It integrates with WooCommerce, OpenCart, and Shopify, but its high fees make it less suitable for small businesses.
Pros:
✅ Wide number of currencies supported
✅ Supports popular payment methods in Malaysia, including online bank transfer, e-wallets, credit/debit cards, and buy-now-pay-later methods
Cons:
❌ Charges one-time registration fees and annual fees
❌ Lacks integrations with accounting software like Xero and Quickbooks
4. Touch n' Go Payment Link
Touch n' Go, Malaysia's leading e-wallet, offers business management tools, sales analytics, and payment links for customers.
Pros:
✅ No subscription or set-up fees
✅ Includes business management tools
✅ Supports DuitNow QR, e-wallet, and card payments
Cons:
❌ Lacks e-commerce and accounting integrations
5. eGHL's email payment link
eGHL's email payment link supports recurring and bulk emailing, making it suitable for collecting payments from multiple customers or subscription businesses. However, its high costs may make it less suitable for smaller businesses.
Pros:
✅ Supports auto-recurring payments and bulk emailing of payment links
✅ 100+ payment methods and 40+ currencies supported
Cons:
❌ Includes yearly fees and one-time onboarding fees
6. SenangPay Links
SenangPay Links allows businesses to quickly collect payments across multiple platforms like Facebook, Instagram, or WhatsApp without the need for a website.
Pros:
✅ Can create and share unique payment form links for each product
✅ Customisable payment forms
Cons:
❌ Need to upgrade subscription plan to access all payment methods and features
7. HitPay Malaysia
HitPay is specifically designed for small businesses, offering a range of free business software with no technical setup. HitPay is available in Singapore, Indonesia, and the Philippines, with Thailand coming soon, making it an ideal all-in-one payment solution for regional expansion.
Pros:
✅ Supports 100+ payment methods, including FPX, DuitNow QR, GrabPay and ShopBack PayLater
✅ Free business software including a link-in bio page, invoice generator, payment links, and an online store builder
✅ Show different payment methods on different sales channels
✅Supports recurring payments for subscription businesses✅ No setup, subscription, or annual fees. Only pay per transaction
Cons:
❌ Payment link page only available in English currently
Try the best free payment link software for growing businesses in Malaysia
Choosing the right payment link solution for your small business in Malaysia is crucial for ensuring seamless transactions and customer satisfaction. By considering factors such as supported payment methods and currencies, pricing models, and integrations, you can select the most suitable solution for your needs. HitPay Malaysia is an excellent option for SMEs, offering a wide range of payment methods, free business software, and a user-friendly platform without any setup or subscription fees.
To get started with HitPay Malaysia, simply sign up for a free account and explore the various features and benefits available to support your business growth. With its focus on providing value to SMEs, HitPay is dedicated to helping businesses succeed through innovative and reliable payment solutions.
Want to set up and send payment links in minutes?
Click here to sign up for a free HitPay Malaysia account — no coding required, no setup or subscription fees.
Need a demo first? Book a live demo with our support staff here.
Read also: How to get paid in seconds with payment links
---
About HitPay
HitPay is a one-stop commerce platform that aims to empower SMEs with no code, full-stack payment gateway solutions. Thousands of merchants have grown with HitPay's products, helping them receive in-person and online contactless payments with ease. Join our growing merchant community today!