How to start an e-commerce business with HitPay's online store — Step-by-step guide
Start selling online in minutes with HitPay's free e-commerce store. Take your Singapore home business online with our step-by-step guide on how to set up, market your shop, and fulfil customer orders.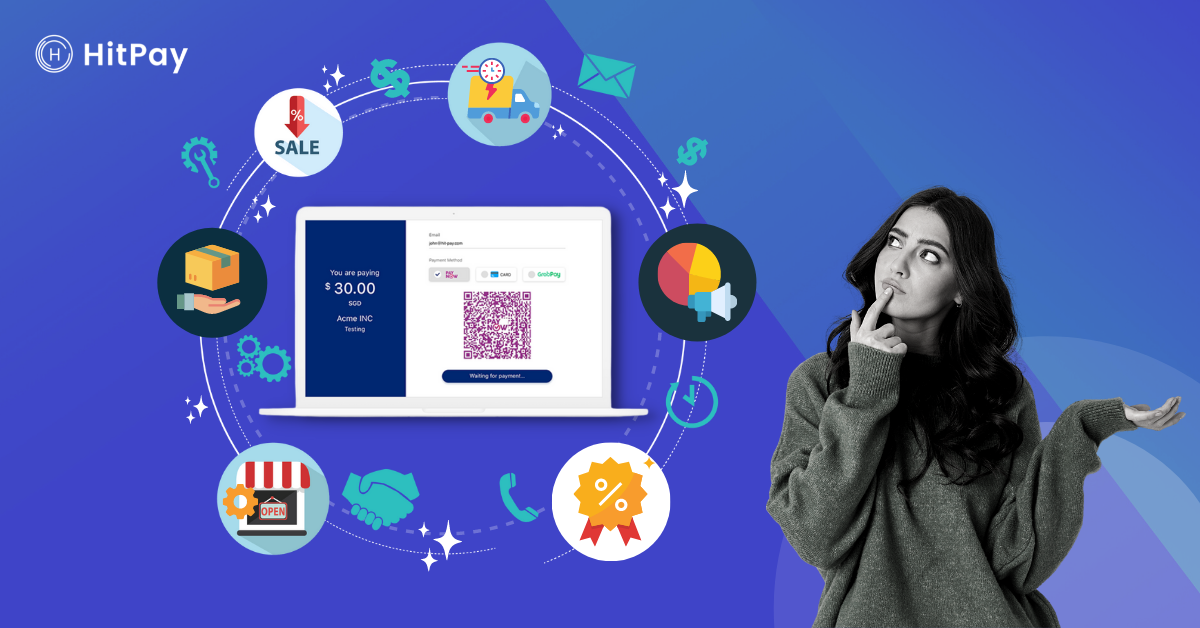 Planning to open a new online store or e-commerce business in Singapore? Quickly start selling online with HitPay's free Online Store.
The HitPay Online Store is a one-stop platform for all your online business needs, including listing products, managing orders, and processing customer payments.
If you already run a physical store, HitPay can sync payments with sales made offline. We also provide inventory management to sync stock numbers at your physical and online store. This removes the need for manual bookkeeping, saving you valuable time.
Best of all, getting started with HitPay's Online Store is free. You only pay a small fee of 0.65% + S$0.30 when a successful transaction is made.
This step-by-step guide will cover the entire process of setting up a simple online store for your business with HitPay.
We'll cover:
How to set up your free online store, including product listings, setting prices, discounts, and payment options
How to market your new online store and get your first sale
How to manage your inventory and fulfil orders for your new customers in Singapore
Ready? Let's begin.
Step 1: Sign up for your free HitPay account
First, sign up for your free HitPay account here.
Once done, you'll only need a few minutes to finish the account setup. Fill in your business information under Settings.
What you need to do:
Upload a business logo
Fill in basic contact information and describe your business
Set up your payment methods under Settings > Payment Methods.  HitPay supports multiple payment methods with one integration. This includes popular e-commerce payment methods in Singapore like PayNow, credit cards and digital wallet apps like Apple Pay and GrabPay.
Step 2: Set up your online store on HitPay
Once you've set up your basic HitPay account, it's time to add your branding and list your products on your online store.
From the HitPay dashboard, navigate to Online Shop > Store Settings.
What you need to do:
Upload a store cover image
Write a customer-friendly About Us section
Fill in your Pick Up Address for your physical products
Select your date and time slots for self pick-up if customers can pick up their orders themselves
Add in a seller note here if relevant. Many stores include a note to thank customers for their purchase.
Step 3: List and organise your products with Products and Product Categories
Adding products to your store to sell is simple.
First, set a homepage URL address to help customers find your e-commerce store online. You can also easily send this URL to potential customers.
Don't worry if you want to change your URL in future. If you change your mind, you can update the store URL name later on this page.
Once done, it's time to upload your products! HitPay offers you the option to upload your products individually or in bulk.
What you need to do:
Set your store URL
Upload your products to your store.
Option 1: Uploading products individually — Step by step guide
Enter your product name
List the stock-keeping unit (SKU) number. An SKU is an internal number for you to track the stock in your store. Each variation of your product has a unique SKU number. For example, if you're selling t-shirts, a black t-shirt and a white t-shirt have different SKU numbers.
Define your selling price
Describe your product
Add inventory information and when you want to receive low quantity alerts. For example, HitPay can send you an alert if you have less than five t-shirts left in stock.
Decide if you want your product to be a Featured Product — making it more prominent on your store's front page.
(Optional) Define your product categories and variants. Categories and Variants organise your products and help your customers find what they're looking for.
If you run a store selling shirts, categories can include the cutting (for women or men), and the type of shirt (long-sleeved or short-sleeved). Variants are more specific categories, for example, the sizes and colours that each product is available in.
Here's an example of how to plan categories (blue boxes) and variants (green boxes) for a shirt store:
8. Upload your product images: Ensure you have good-quality pictures! They should showcase your product and your brand's personality. For a start, you can use natural window light and a white or light background to instantly upgrade the quality of your photos.
Once done, you can either Publish the listing on your store or Save As Draft to edit the listing later.
Option 2: Upload multiple products in bulk
HitPay offers a file upload feature to help you upload multiple products all at once.
Download HitPay's product feed template as a CSV file
Open the file and fill in the details for each product item.
This includes:
SKU number
Product Name
Description
Selling Price
Quantity of each product
Image: Upload your product images to a separate file hosting service (like Google Drive or Dropbox). Once uploaded, paste your image URL here.
Publish: Indicate if you want this product published on your store or set to draft. Enter 1 or 0 in the CSV file — 1 for publish, 0 for draft.
Manage Inventory: Indicate if you want HitPay to alert you when inventory levels are low. Enter 1 for yes, 0 for no.
Once done, upload the completed sheet to the HitPay dashboard.
Step 4: Create store coupons and discounts
Time for the finishing touches — creating coupons and discounts to attract customers. On the HitPay platform, this process only takes 10 minutes!
Enable discounts:
Go to Online Shop -> Discount -> Add Discount
Minimum purchase amount: The customer needs to hit this amount to qualify for the discount.
Tip: look at your average order amount and discount on an amount higher than your average to encourage spending.
Automatic discount name: Give your discount a catchy name for easy reference
Set a discount value, either in percentage or a fixed amount
Set up a PayNow cashback amount if they pay using PayNow
Show as Promo banner: Advertise your discount to your customers with a simple banner.
Enable coupons for customers to apply at checkout
Go to Online Shop -> Coupons -> Add Coupon
Create coupons for your customers as bonuses to encourage them to spend in your e-commerce store. The steps to follow to create a coupon are similar to a discount.
Easy coupon ideas to start with:
Coupons for first-time customers as a welcome gift
Time-sensitive coupons for a sale period or a flash sale
Step 5: Promote your online store and get your first sale
You've now got your online store ready for business! It's now time to spread the word and get your first customers.
How to find and reach potential customers:
Your existing customers and netowork: Let your friends, family and current customers know about your new store! Share your online store link through WhatsApp, Telegram, email, and direct messages on social media.
People looking for the products you offer: Sell your products through popular e-commerce marketplaces in Singapore like Shopee and Lazada. Link your shop listing to your HitPay online store. Use social selling features like Instagram and Facebook Shopping to promote your products and get more sales through social media.
People who would want your product if they knew about it: Search for an opportunity to run a pop-up store during a themed in-person event. For example, if you sell bath products like soap and shampoo, look for events featuring local makers. Pay attention to special occasions and shopping seasons like Valentine's Day and Mother/Father's Day as pop-up store opportunities may be available.
Read more: 7 Secrets for a Successful Pop-up Shop in Singapore.
What you need to do:
Share your HitPay store link to your friends and family
Add your new HitPay store to your social media profiles and Instagram link in bio
Think about who your ideal target customer is and where you're likely to find them
Brainstorm for creative coupon and discount ideas to bring in new customers
Look around for other online and in-person opportunities to engage your target customers
Step 6: Receive payments for orders
HitPay automatically generates invoices for your customer after an order, saving you time on admin work.
What's more, you don't need to set up a separate payment gateway system. HitPay's payment gateway supports multiple payment methods, including popular payment methods in Singapore like PayNow and digital wallets like GrabPay, Apple Pay and Google Pay.
What you need to do:
Sit back and get paid! HitPay handles all the payment processing for you.
Step 7: Fulfil and track orders with HitPay's business tools
Once your customer has made an order, you'll get an order confirmation alert from the HitPay mobile app.
Caption: A sample order confirmation email from HitPay
How to fulfil orders in HitPay
Go to Online Store -> Orders from HitPay dashboard
Review Pending Orders and click on the order
If you've completed the order, click the Mark as Shipped button.
You can send a message to your buyer with the Update Order Status prompt, which your customer receives through email.
What you need to do:
Enable email and/or push notifications from the HitPay mobile app, so you can receive the order confirmation alert.
Step 8 (optional): Sync online store orders with POS orders from your physical store
If you also run a physical store, HitPay can automatically update your inventory and stock levels, whether you're selling online or in-person. Save valuable time and avoid mistakes keeping your physical and online stock numbers in sync.
Read more: Accept Payments Easily With the HitPay POS System for Merchants.
What you need to do:
Once your customer has made an order, you'll get an order confirmation notice via email and push notifications from the HitPay mobile app.
Order your POS Credit Card terminal (if you're running a physical store)
Follow the setup guide
Start selling online in minutes with HitPay's Online Store
If you've always wanted to sell online but were always put off by the complicated setup, you now have a way forward.
---
About HitPay
HitPay is a one-stop commerce platform that aims to empower SMEs with no code, full-stack payment gateway solutions. Thousands of merchants have grown with HitPay's products, helping them receive in-person and online contactless payments with ease.
Join our growing merchant community today!