8 Best Point of Sale Systems for Small Businesses and SMEs in Singapore: POS System Comparison (2023)
See the pros and cons of the best F&B POS and Retail POS systems in Singapore.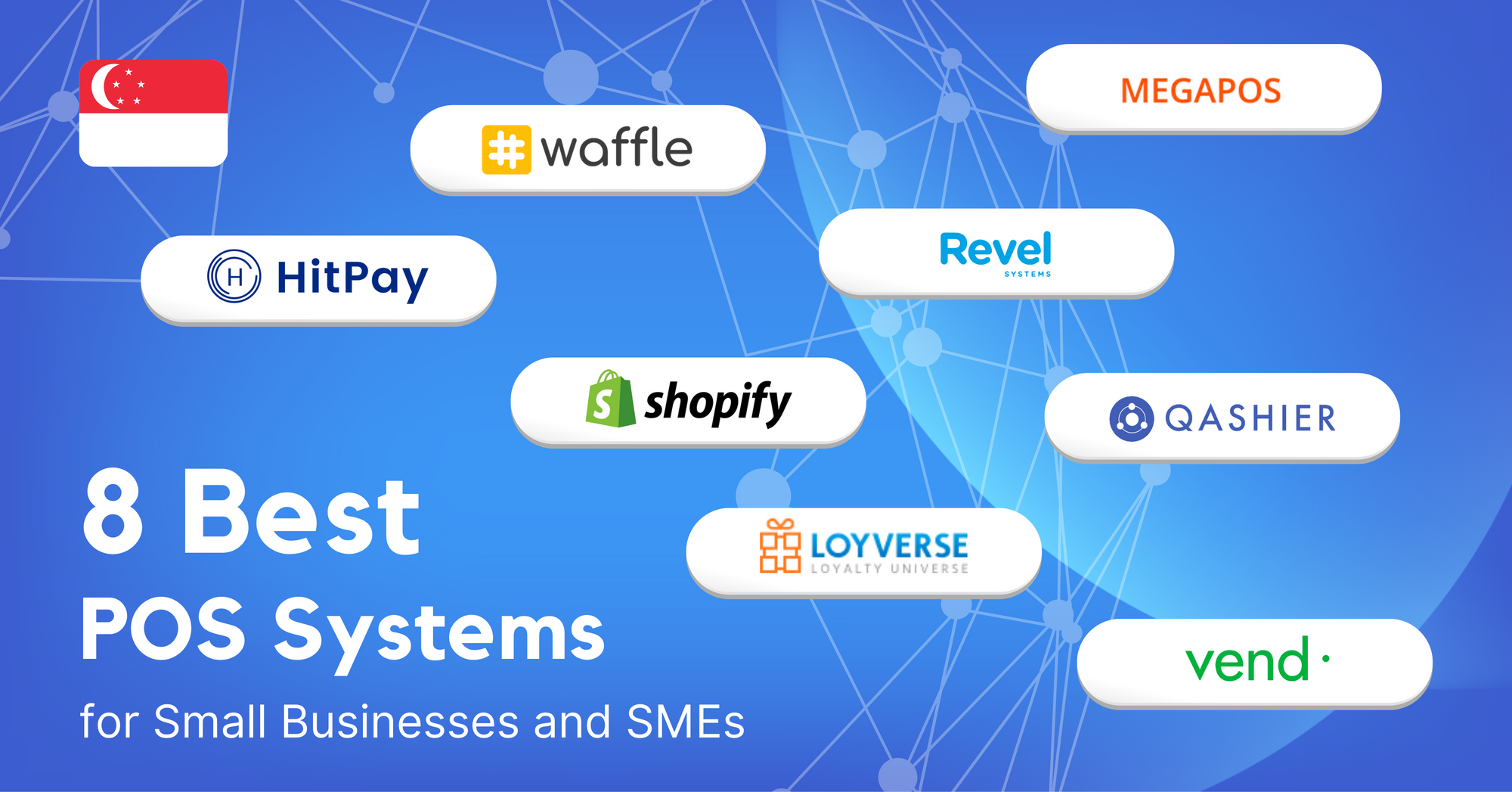 Are you looking at point of sale (POS) options in Singapore for your F&B, retail, or online business? This quick guide will help you pick the best POS system for your business while comparing the pros and cons of popular POS systems in Singapore. Here's what you need to know!
What is a point-of-sale (POS) system?
Modern POS systems are like the Swiss Army knives of commerce, providing an array of digital tools to help retail and food and beverage businesses run efficiently and effectively. They handle payments and manage day-to-day operations like receipts and inventory management while capturing sales data for business planning.
What's more, modern POS software is cloud-based. Changes automatically sync across all devices, helping you manage your entire business from your mobile device or get a quick overview of your inventory and sales.

A point-of-sale system allows you to:
Accept payments from anywhere:
Once a customer is ready to buy, the payment process should be as seamless as possible. Most modern POS software has a mobile app to accept payments on the go, transforming your handheld device into a portable checkout counter.
Some POS terminals also work as a standalone device, meaning you don't need to pair it to your phone to accept payments.
Manage day-to-day operations:
Restaurant POS systems or POS systems for retail businesses calculate prices, taxes, discounts, and surcharges automatically to speed up checkout. You can also connect your POS system to a receipt printer, helping you easily print receipts and store customer info.
Automate tedious yet essential tasks like accounting and inventory management:
With the right accounting integrations, POS systems automate vital tasks like reconciling payments and sales data with your accounting software with your POS system. Inventory sync ensures your inventory levels are up to date, whether you sell online or offline.
Analyse your store's performance and make informed business decisions:
Get an overview of your store's performance by capturing sales performance. Over time, you'll see which products sell and which don't, how demand varies over the year, and opportunities for growth.
How to choose the best POS system for your small business or Singapore SME
With many POS software options to choose from, how do you pick the right POS system for your small business? These are the 4 factors to consider:
1) How well does‌ the POS software support your business? 📊
It's essential to look at the POS system's tools for providing exceptional customer service daily. You also want to make sure it's scalable in case you want to do business at a new location or hire more staff to help manage your business. When choosing a POS system, look for these features:
Managing day-to-day operations
Inventory management: Are inventory levels synched between your physical and online stores? Inventory management features help keep you updated with orders, stock, and pricing levels every time you charge a product through your POS system.
Accounting integrations: Does it include support for accounting integrations for Xero, Quickbooks, or other similar accounting software to simplify payment reconciliation?
Easy payment experience: Look out for the POS's ability to make the payment process seamless - from billing, accepting payments, or making receipts to record transactions. Some POS solutions also allow you to send receipts by SMS or email for a paperless experience.
Pricing customisation: Does your POS easily allow you to configure add-on pricing for surcharges, service fees or taxes? This is important for F&B outlets with customisable orders to speed up your customer checkout process.
Scaling your business
Multi-location and user management features: These features may come in handy even if you plan to do business in Singapore only, for example, if you hire temporary staff for peak sales seasons or open a temporary pop-up store.
Built-in POS support for expanding beyond Singapore: Consider if your preferred payment methods are available in the country where you intend to expand. For example, retail businesses looking to expand to Indonesia should ensure their POS supports popular local payment methods in Indonesia for a seamless experience.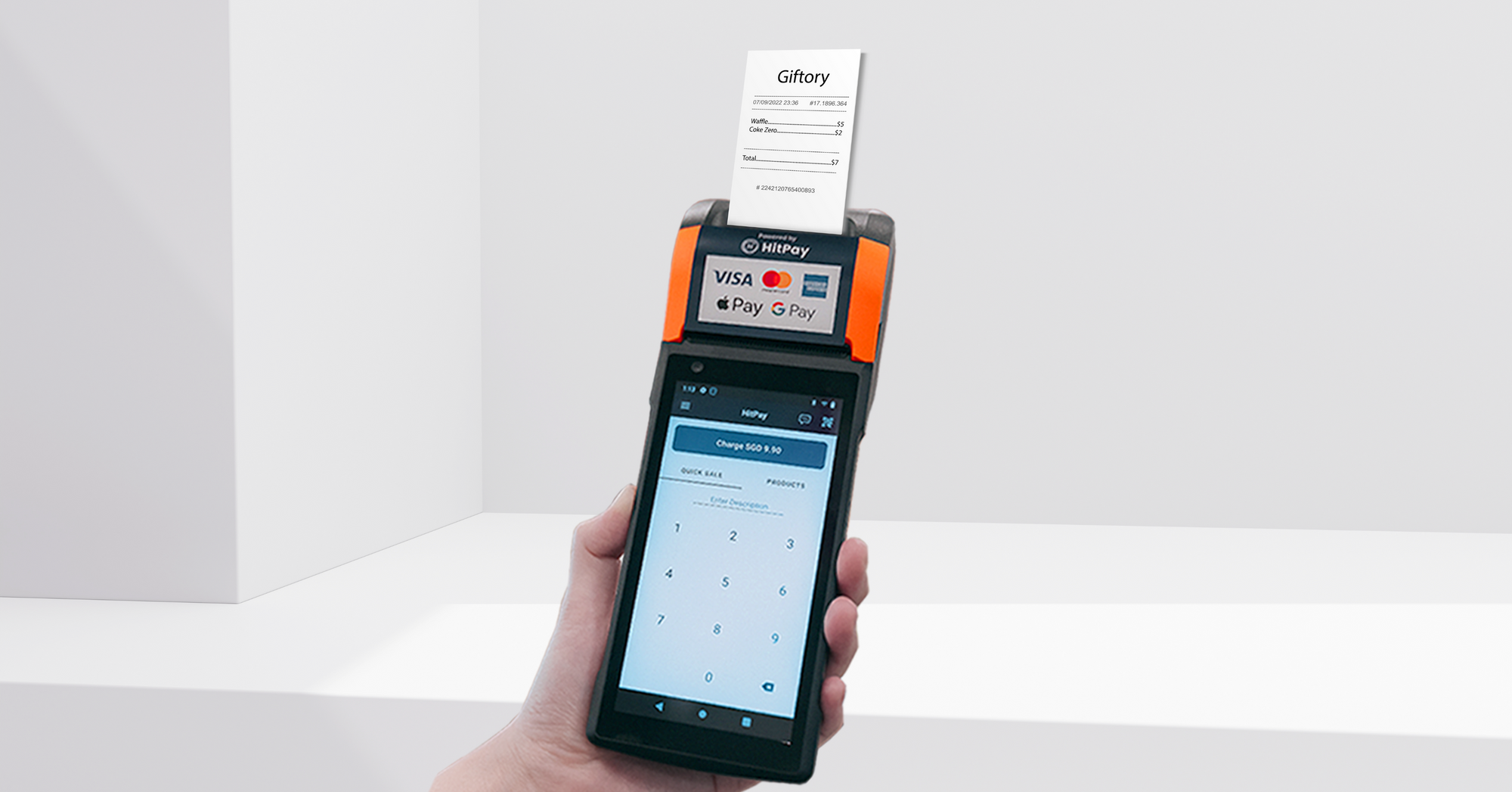 2) What POS hardware do I need? 📠
Depending on your business, you'll need different hardware to set up your POS system. POS providers may offer hardware included in a package, or you can purchase them separately.
Some hardware examples include:
Customer-facing displays allow your customers to see the costs of each item as they are processed. It's a good opportunity to highlight any ongoing promotions or showcase new products to your customers directly.
POS terminals and card readers to accept digital and credit card payments from your customers.
Printers to print receipts, tags or labels if you're running a retail store selling physical products. Tablets and tablet stand to process payments and orders on the go. F&B outlets might find tablets helpful for taking payments or placing orders.
3) Does it offer the payment methods you need? 💳
Most POS systems support credit/debit card payments, but if you need to use specific payment methods popular among your target audience, make sure your POS system offers them.
Other popular payment methods besides credit/debit cards include:
Buy-now-pay-later (BNPL) solutions like Atome
Local payment methods like PayNow
E-wallets like Apple Pay, ShopeePay, Google Pay or GrabPay
4) How much does your POS system cost?
Depending on your number of employees and stores, your POS provider may charge you for additional features and terminals.
Look out for these cost components when budgeting for your POS system:
Upfront POS hardware costs (purchase fees)
Ongoing subscription or rental fees
Payment processing fees
Any hidden fees like rental, maintenance fees or licensing costs
Top 8 F&B POS systems and retail POS systems in Singapore — 2023 comparison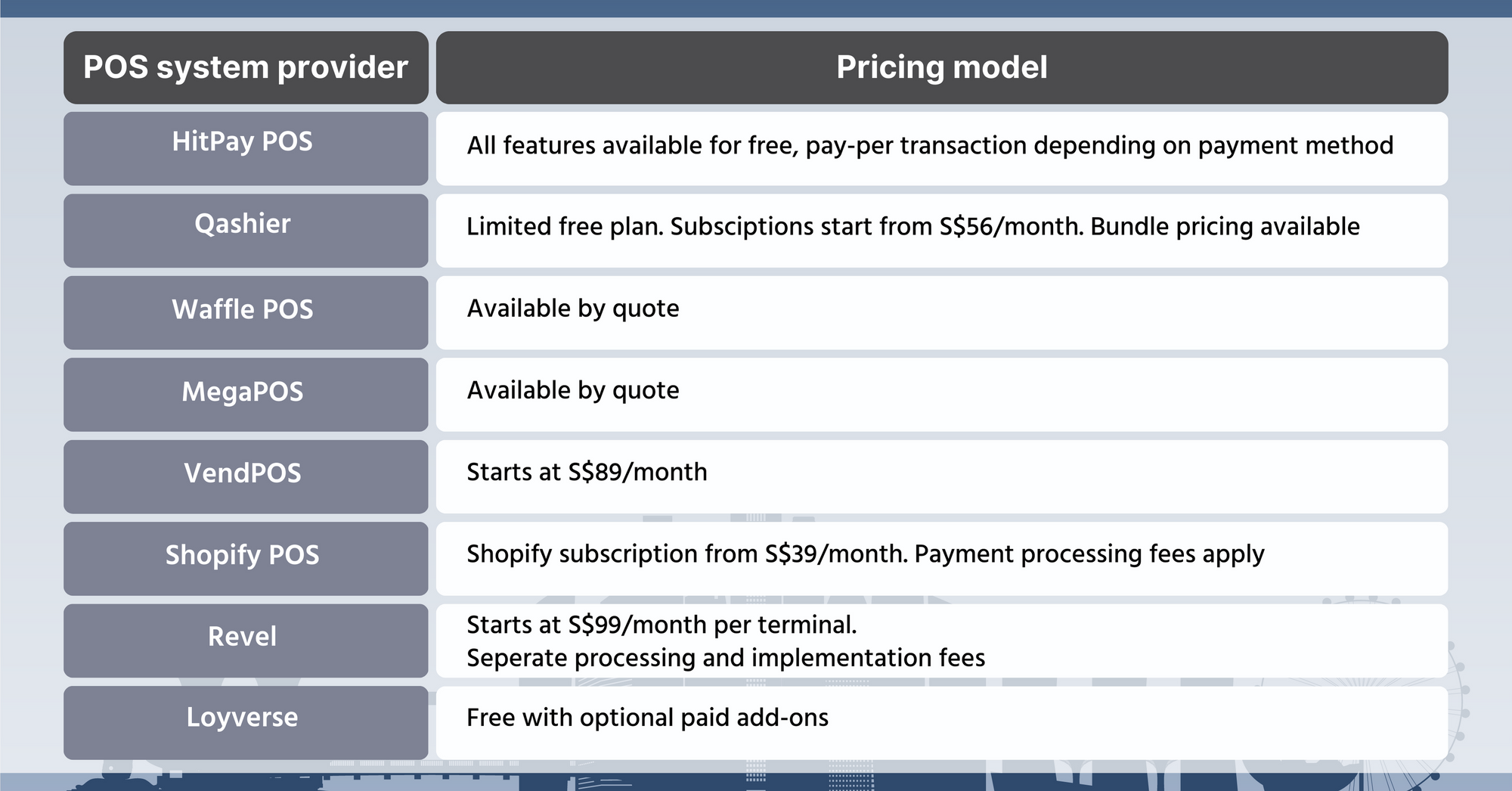 1) Qashier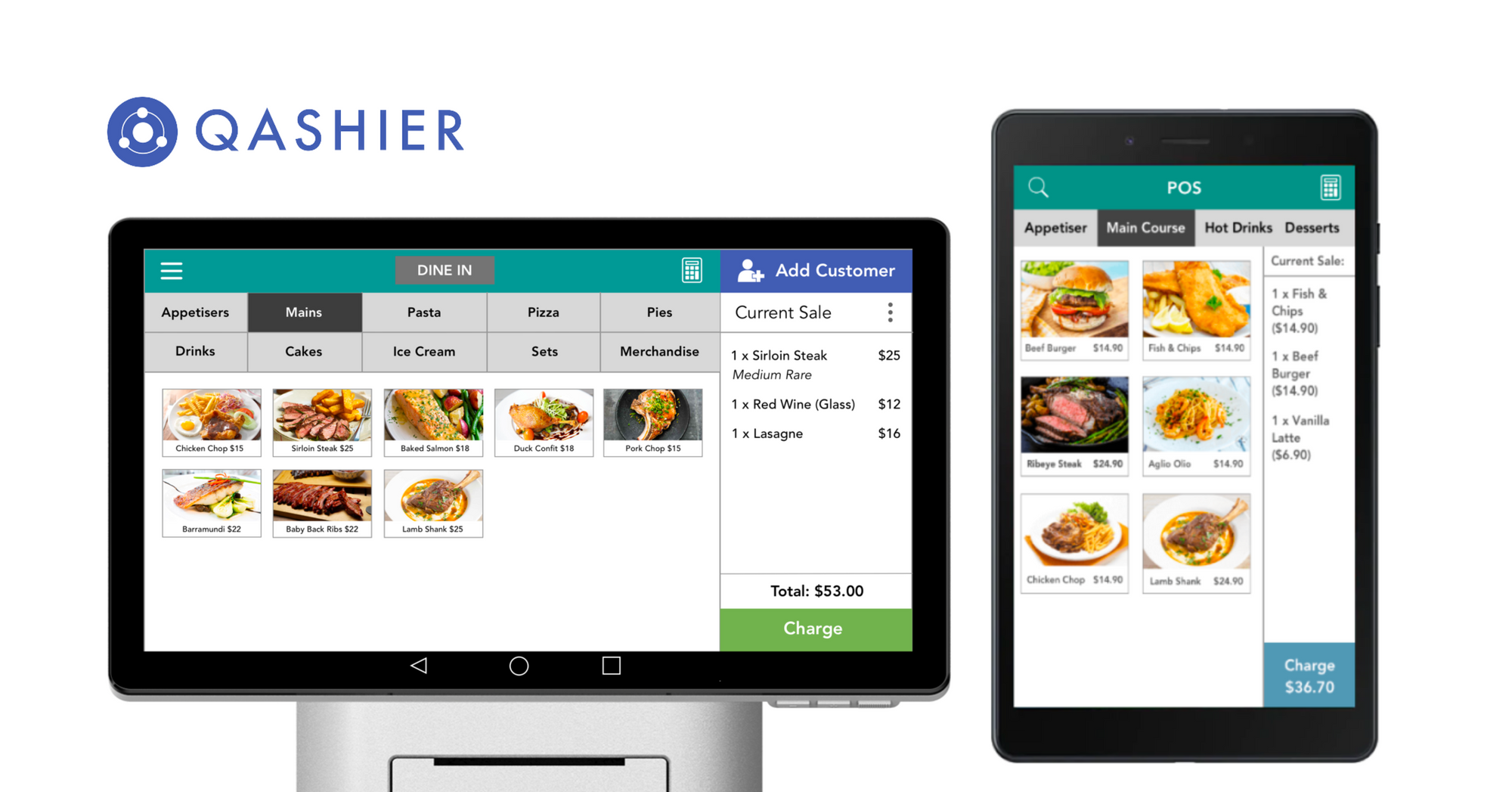 Qashier's online ordering features and food delivery integrations make it one of the better F&B POS systems to scale your business. It's expensive, but Singapore SMEs registered and operating in Singapore can get a sizeable 50% grant under the Productivity Solutions Grant (PSG) from 1st April 2023.
Their free Lite plan is sufficient to start a small business, but you'll need to upgrade to a paid subscription to scale.
✅ Pros:
Pre-approved solution under IMDA, meaning Singapore SMEs can get up to 50% off starter kits based on grants/subsidies for the first 12 months from the approval date.
Has the QashierEats Online Ordering and integrations with food delivery platforms like GrabFood and FoodPanda
Supports a wide range of local payment methods in Singapore
❌ Cons:
No iOS app
No free plan, basic plan has limited user management features
Need to pay a costly monthly subscription for e-commerce integrations or additional POS devices
2) Waffle POS
Waffle POS's customisable sales reports and CRM features make it easy for offline-only F&B operators to reward loyal customers and make data-driven decisions by looking at sales data. Its customisable menu is well-suited for F&B businesses with seasonal menus and lots of add-ons.
It also integrates with many local payment methods in Singapore and food delivery platforms, including GrabPay, FoodPanda and Deliveroo. However, you may need another solution if you plan to bring your business overseas, or if you want to easily integrate your POS and online sales.
✅ Pros:
Includes offline mode to minimise disruptions
Option to include a CRM feature to understand customer behaviour and build a customer loyalty program
❌ Cons:
Works in Singapore only
No e-commerce integrations
3) MegaPOS
MegaPOS strength is their customisability, with various add-ons and integrations available for F&B, retail outlets and salons. Grants help reduce your initial costs for small businesses and SMEs, making it a strong candidate for an F&B POS system in Singapore.
✅ Pros:
Pre-approved solution under IMDA, meaning Singapore SMEs can get up to 50% off starter kits based on grants/subsidies for the first 12 months from the approval date.
Wide range of add-ons specific to F&B, beauty & wellness and retail to customise your business's needs.
❌ Cons:
Limited payment support outside of Singapore
4) HitPay POS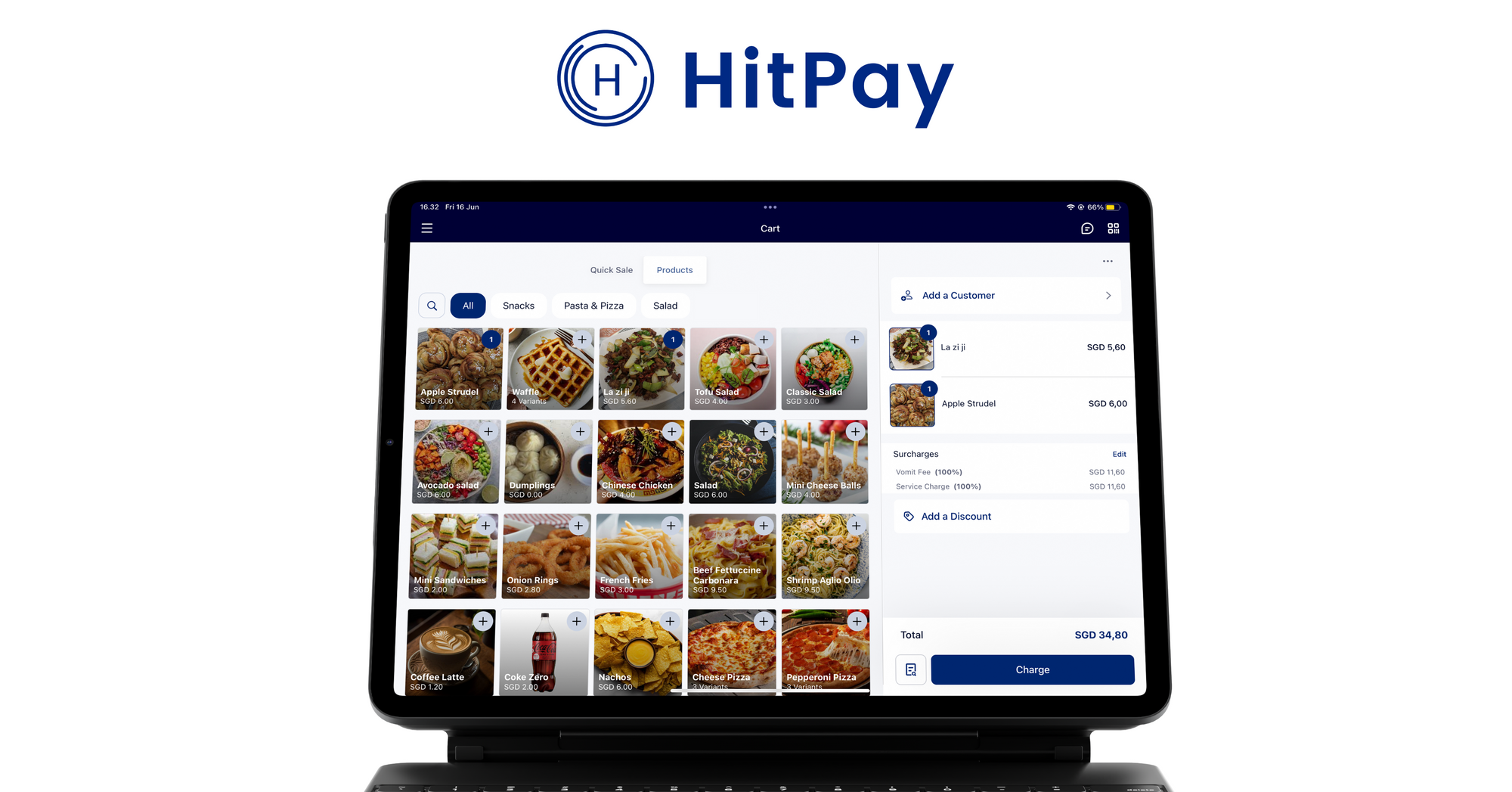 If you run a small business or SME, HitPay POS may be the best POS system for you.
You can use all features, such as inventory tracking, payment customisation options, unlimited product listing options, and multi-location support, without paying a subscription fee. For small businesses that want to expand their business, HitPay supports payments across Southeast Asia and major markets across the globe.
✅ Pros:
Simple pricing. No subscription fees, only pay per transaction
All features are unlocked for free, including customisable pricing and multi-location features.
Wide support of local payment methods in Southeast Asia markets like Malaysia, Indonesia and the Philippines to help scale your business
Inventory tracking & easy sync with e-commerce platforms like Shopify or WooCommerce
Syncs with Xero and Quickbooks for easy accounting
❌ Cons:
Specialised F&B and restaurant features like table-side ordering and table management coming soon
5) VendPOS by Lightspeed
VendPOS includes inventory management and multi-location support, making it well-suited for larger retail businesses that sell across multiple locations.
However, this POS software lacks a free plan and can get expensive quickly for small businesses with smaller budgets. For example, adding extra sites will set you back US$89 per location, while additional registers cost US$39 per month on the Lean plan.
✅ Pros:
Works offline
Includes Shopify and WooCommerce POS integrations
❌ Cons:
Costs rise exponentially based on number of locations
Doesn't support local payment methods like PayNow or GrabPay
Accounting and e-commerce platform integrations not available on the entry-level plan
6) Shopify POS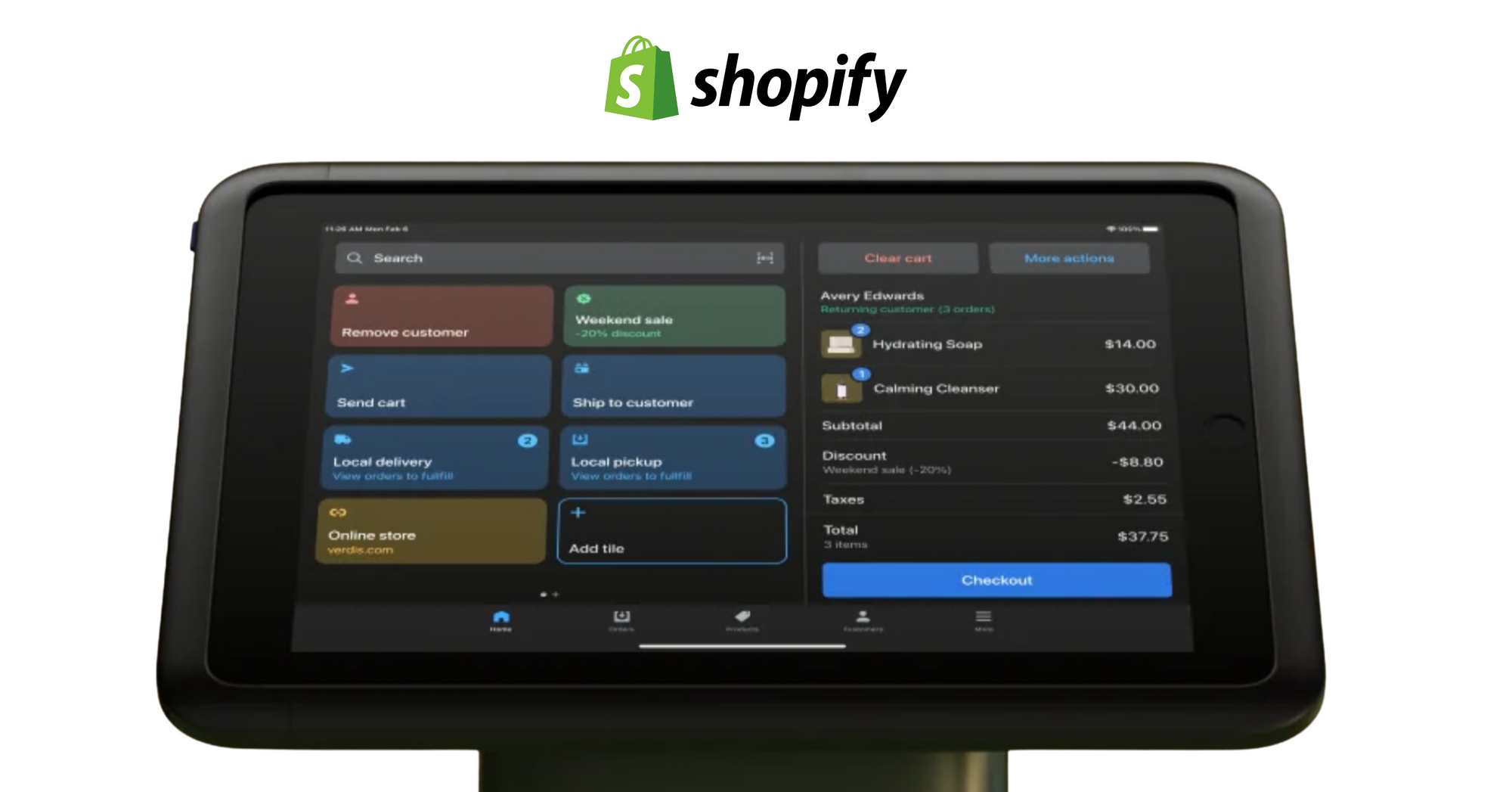 Shopify's POS solution comes bundled with all Shopify subscription plans. It also includes basic inventory and product management features. However, essential features like user permissions and analytics require the Shopify POS Pro plan. Upgrading will cost an extra S$132, besides your base Shopify plan's fee.
✅ Pros:
Included with Shopify subscription
Includes order and product management features
❌ Cons:
Advanced features like unlimited store staff and omnichannel selling locked behind Shopify POS Pro plan.
Limited support for local payment methods in Singapore.
Read more: Shopify POS and HitPay review
7) Revel
Revel's cloud-based POS is iPad only, making it best suited for businesses already invested (or willing to invest) in Apple's tablets.
Their POS software offers multi-store support, detailed business analytics, smooth ordering and more. However, the ongoing software and upfront hardware costs might be too steep for a small business.
✅ Pros:
Conversational ordering available to help cashiers input orders faster
Dedicated enterprise POS tier with support for an open API, delivery management and online ordering support
❌ Cons:
Ongoing software costs starting at US$99/month/terminal
Only works on the iPad
8) Loyverse
Loyverse offers a forever-free option with a robust feature set, including mobile/tablet apps, inventory management, basic employee access right management and a CRM.
It does lack local payment methods in Singapore, making this free POS system more suited for small businesses not based in Southeast Asia.
✅ Pros:
Wide range of integrations available to add more functionality, including accounting software, e-commerce platforms, online ordering and digital receipts
Robust free plan
❌ Cons:
Features like employee management and app integrations are add-ons and locked behind subscription fees
Lacks Singapore/Southeast Asia local payment method support
Try the best POS system for small businesses and Singapore SMEs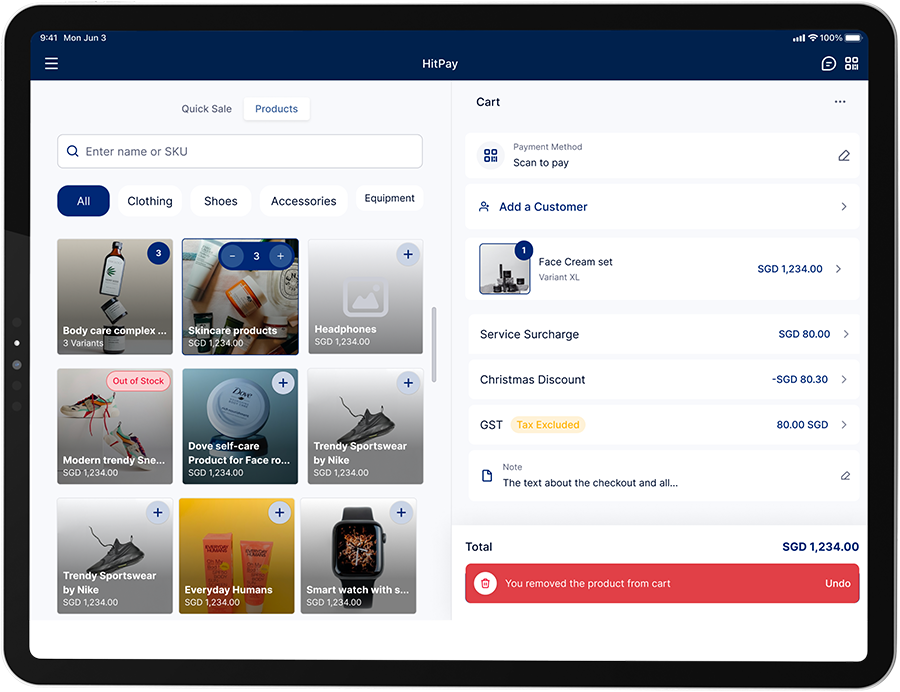 HitPay's all-in-one POS system can help you start or scale your business, regardless of whether you are starting a new business or upgrading your payment infrastructure.
Want to learn more about HitPay's free POS?
Click here to sign up for a free HitPay Singapore account or get in touch for a free 1-on-1 demo.
---
About HitPay
HitPay is a one-stop commerce platform that aims to empower SMEs with no code, full-stack payment gateway solutions. Thousands of merchants have grown with HitPay's products, helping them receive in-person and online contactless payments with ease. Join our growing merchant community today!