Best invoicing software for small businesses in Singapore (2023): Comparison of QuickBooks, Zoho, HitPay, and more
Say goodbye to late payments with the right invoicing software for your small business.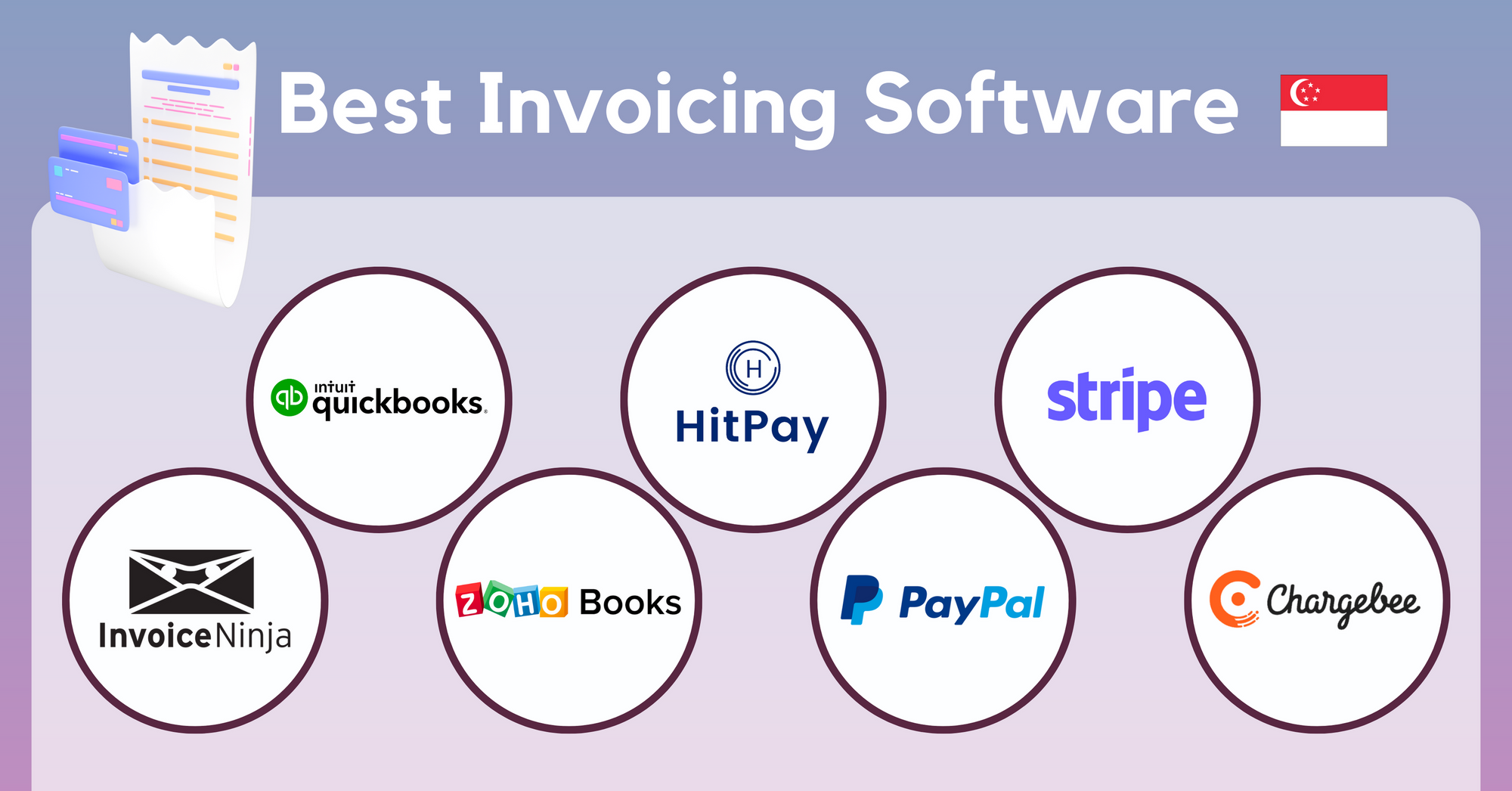 As a small business owner in Singapore, managing your finances can be a daunting task, especially when it comes to invoicing. With many invoicing software options available, it can be challenging to determine which one is the best fit for your business. The right invoicing software can make all the difference in terms of efficiency, accuracy, and ultimately, your bottom line.
In this article, we will compare some of the best invoicing software options for small businesses in Singapore in 2023. We look at the features, pricing, and user-friendliness of the 7 best invoicing software — QuickBooks, Zoho Books, Chargebee, Stripe, HitPay, PayPal, and InvoiceNinja — to help you better understand which invoicing software is the right choice for your small business needs.
What is an invoice?
Invoices are a request for payment to your customer after delivering a good or service.
Features of an invoice:
Name and address of buyer and seller
Invoice number and due date
Description of price and goods/services sold
Fees, discounts, or taxes included
Payment terms
Invoices are usually sent just once — unless you run a subscription-based business like a gym or a delivery service.
With recurring invoices and billing, you can automatically do the following on a set schedule:
Recurring invoicing: Create and send an invoice to your customer's email address for them to take action
Recurring or subscription billing: Charge your customer's provided payment method. No action is needed from your customer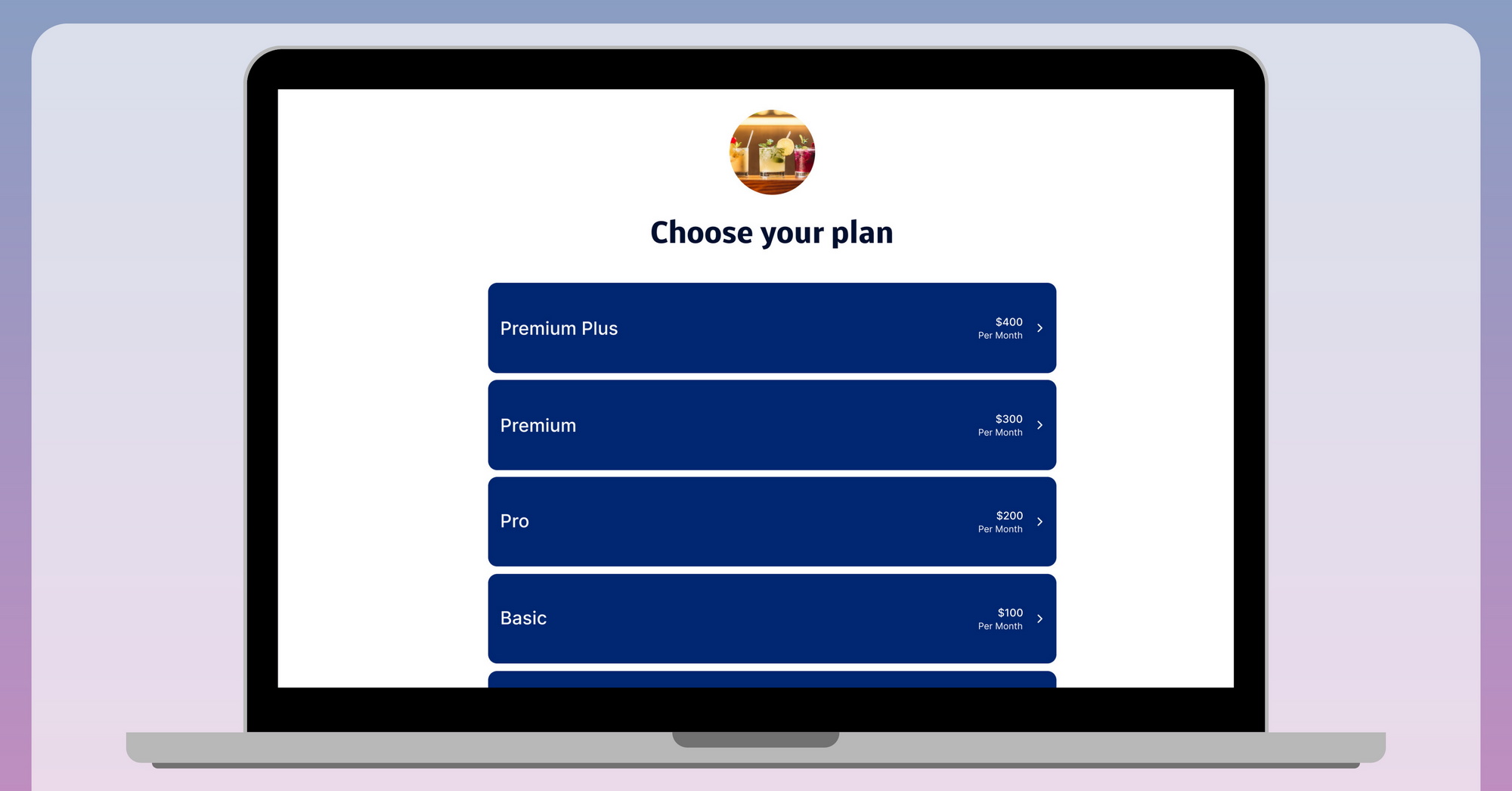 What does invoicing software do?
Manually managing billing and invoicing can take up to 10% of your work time, so here's where automated invoicing software comes in handy.
Instead of manually creating invoices in Word or Excel, converting them to PDF format, and sending them through email or WhatsApp for each customer, online invoicing software and recurring billing tools automate all these steps, helping you save time while minimising human errors or forgetting to follow up on late payments.
How to choose an invoicing solution for your small business
When choosing an invoicing software, consider these 4 factors:
1) How does it simplify or enhance payment collection?
Some features to look out for:
Partial payments support: Offer the flexibility of partial payments on your invoices. Also handy if you're delivering a longer-term product or service that's fulfilled over time.
Recurring billing support: Easily set up a credit card recurring payment, track payment status, and trigger automatic reminders to reduce the likelihood of late payments.
Manage payment reminders: Late payments are very common, with Xero's recent Small Business Insights report showing that small businesses on average receive payments 7.2 days late. You can skip the awkward customer conversations and cash flow anxieties by sending automatic reminders to pay an overdue invoice.
Personalising your invoices with your brand: Customised invoices makes your business look more professional and create a lasting impression. Does your invoicing software allow you to add your logo or brand colours to your invoices?
Setting preferred payment methods on an invoice: Make payment easier and deliver a familiar payment experience by putting your customer's preferred payment methods upfront on the invoice.
Some invoicing solutions might need technical integrations and support to use some of their features.
2) Can it support the currencies and payment methods you handle?
Planning to expand beyond Singapore or need to bill vendors in another currency? Check if your invoicing solution supports the currencies and payment methods you need. Some invoicing solutions also lock multi-currency support behind higher-tier subscription plans, so you'll need to factor those costs in when evaluating solutions.
Note: Check also that your invoicing solution operates in your country. For example, popular small business invoicing solution Wave Accounting is only available in the U.S and Canada.
3) How much does it cost?
Invoicing software can charge one or both of these fees:
Subscription fees: A monthly or yearly charge to use the software. Sometimes the features you need (like multi-currency support or user management) are locked behind higher-tier subscription plans.
Pay-per-transaction fees: These are charges you pay when you successfully make a transaction. Some tools like HitPay or PayPal only charge you when you make a sale, whereas others have separate payment processing fees depending on the payment gateway used.
4) Can it scale with my business?
As your business grows, you might need to add more customers to your invoicing platform or hire more staff to manage billing. This might mean upgrading to a higher-tier subscription.
Read also: Create and send invoices with HitPay's Online Invoicing Generator
Top invoicing software for small businesses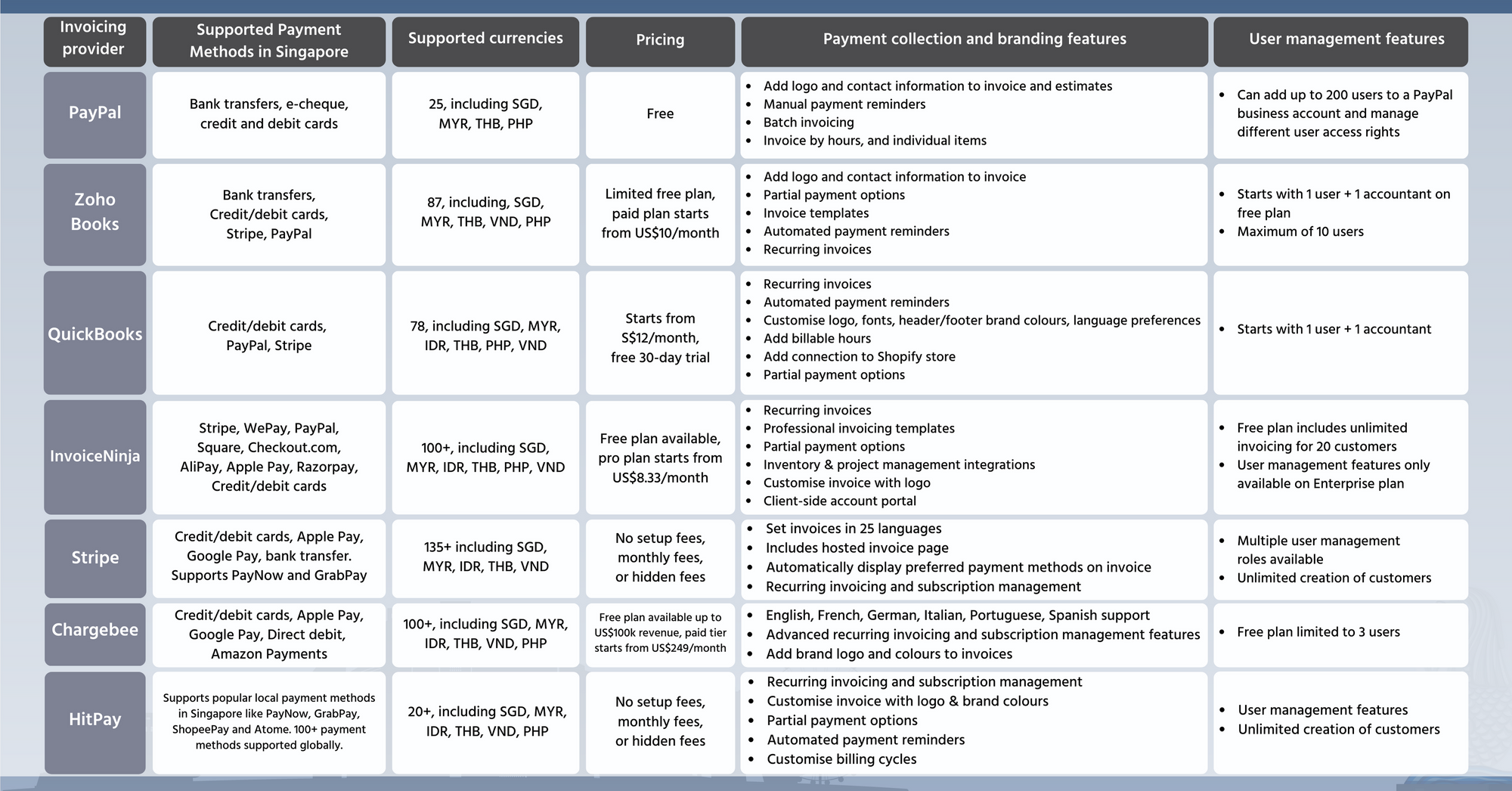 PayPal
PayPal's invoicing features are user-friendly and available to anyone with a PayPal account. However, PayPal lacks features to help manage payments, such as automated payment follow-up reminders.
Pros:
Recognisable brand name and interface
No setup or monthly fees
Cons:
Lacks automated payment follow-up reminders
Lacks local payment method support like GrabPay or PayNow
High processing fees
Zoho Books
Zoho Books is part of the Zoho ecosystem of apps — from running marketing campaigns to HR functions. Zoho Books is handy if you need tools to manage every part of your business.
However, note that advanced features are locked behind paid subscriptions. For recurring billing, you'll need a separate subscription to their Zoho Subscriptions, their recurring billing platform.
Pros:
Includes native integrations with the rest of the Zoho ecosystem, including CRM, expense reporting, inventory management, and more
Free plan includes recurring invoicing and automated payment reminders
Cons:
Multi-currency handling only available on Professional plan
Recurring billing features requires a separate paid subscription
Maximum of 10 users
QuickBooks
QuickBooks integrates with over 750 third-party business apps, making it ideal if you use multiple tools in your business tech stack. Their monthly plans can be expensive so keep your budget in mind.
Pros:
Generous 30-day free trial
Over 750 integrations with popular business apps available
Cons:
No free plan
Recurring invoicing feature only available on Plus and Essentials plan
Multi-currency handling only available on paid Essentials and Plus plans
InvoiceNinja
InvoiceNinja comes with a generous free plan and built-in time-tracking and project management features, making it suitable for freelancers or small business owners who charge by the hour. Take note that adding users is only possible on their top-tier plan.
Pros:
Generous free plan, includes unlimited, free invoicing up to 20 clients
Invoicing software supports 23+ languages
Includes built-in project management, vendor management and time-tracking features,
Cons:
User management features only available on Enterprise plan costing US$140/year
Lacks local payment method support like GrabPay or PayNow
Stripe
Global payment processing software Stripe's invoicing features has plenty of customisation options like customisable payment reminders and automated accounts receivable. However, this power and flexibility comes with a confusing pricing structure and high transaction fees.
Pros:
No setup fees, monthly fees, or hidden fees
Flexible and customisable platform if you have a developer or technical expertise
Wide variety of payment methods and language display options supported based on customer's location
Cons:
High transaction charges and processing fees
Partial payment option not available
Pricing structure between Stripe Billing (for subscription management), Stripe Invoicing (invoicing software) and Stripe Payments (payment gateway) can be confusing and costly
Chargebee
Catered to e-commerce and subscription-based software businesses, Chargebee allows you to manage the nitty-gritty of a recurring billing business. Its high subscription costs make it more suitable for established businesses or businesses planning to scale rapidly.
Pros:
Supports a wide range of subscription plans like different billing periods, contract lengths, free trial management and customised plans
Free plan available for your first US$100k in revenue
Cons:
Some features require technical expertise
Expensive paid plans
Limited local payment method support in Southeast Asia like PayNow or GrabPay
HitPay
If you run a business in Singapore and want a reliable invoicing and recurring billing solution without coding, try HitPay. Great for SMEs and fast-growing businesses, with no-code features, a full range of business tools, and affordable pricing.
Pros:
Wide support of local payment methods in Southeast Asian markets like Malaysia, Indonesia and the Philippines, with 100+ payment methods supported globally
Can choose which payment method to display on invoices and allows partial payments
Includes other features for online businesses like a free online store, online invoicing, and inventory management for free
Cons:
Invoicing and recurring billing software currently available in English only
Support for more payment methods and currencies coming soon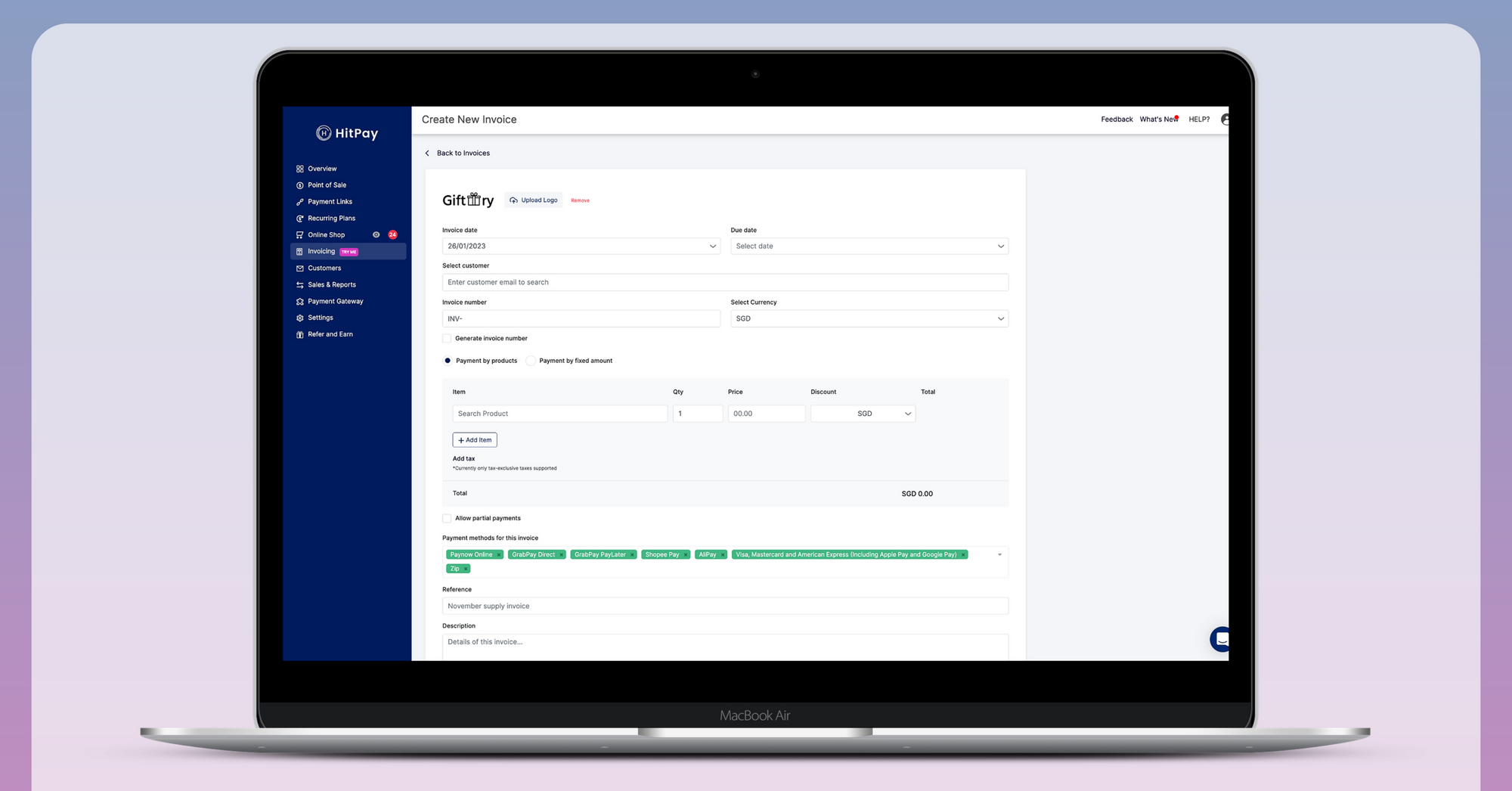 Is HitPay's invoicing software right for you?
You want to work within the Singapore market or intend to expand to other Southeast Asian or Asia-Pacific countries: HitPay supports many local payment methods in Malaysia, Indonesia and the Philippines. We also support the Australian and New Zealand markets.
You want a flexible and transparent pricing structure: Business ebbs and flows, and being locked into a subscription can become an unnecessary expense. With HitPay, you only pay when you complete a transaction, with no monthly fees or lock-in periods. See HitPay's transparent pricing here
You need a simple, no-code platform: HitPay's invoicing and recurring billing tools help you set up subscription billing and create a professional invoice in minutes without any coding—perfect for small business owners who don't want to deal with the technical details.
Try the best online invoicing software in Singapore for growing businesses
Ready to scale your business with free invoicing and billing software?
Click here to sign up for a free HitPay Singapore account or get in touch for a free 1-on-1 demo.
---
About HitPay
HitPay is a one-stop commerce platform that aims to empower SMEs with no code, full-stack payment gateway solutions. Thousands of merchants have grown with HitPay's products, helping them receive in-person and online contactless payments with ease. Join our growing merchant community today!