Shopify POS and HitPay review: Comparing the best POS systems for small businesses [2023]
Check out the pros and cons of Shopify POS and HitPay POS when it comes to growing your small business.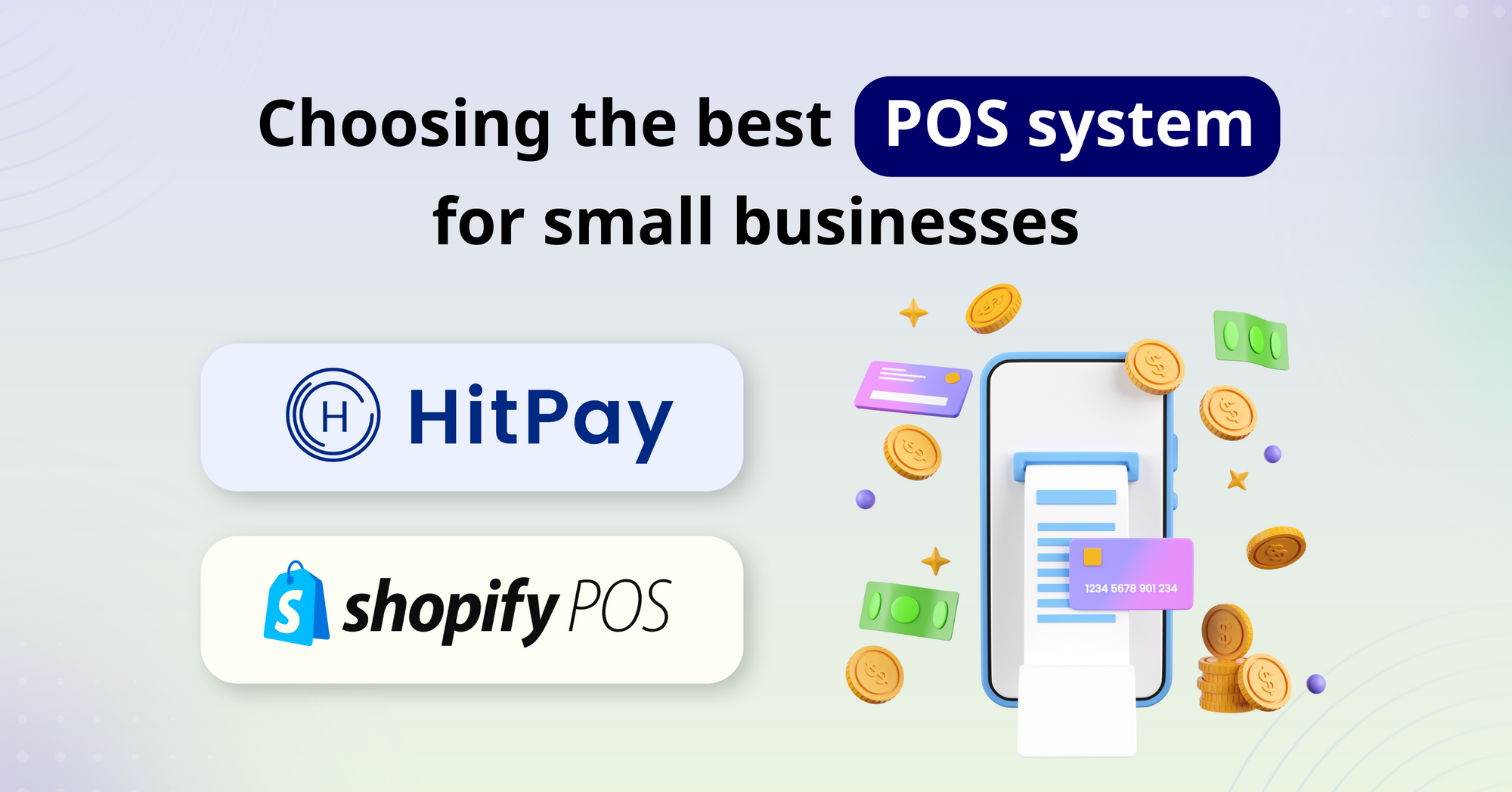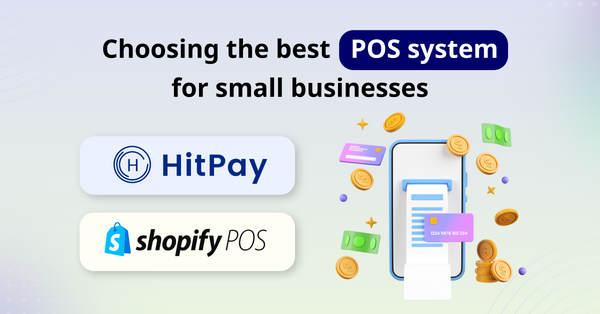 If you plan to accept payments in-person, you need an efficient point-of-sale system. The right POS system can do a lot more than just process payments — it'll help you save time, cut costs, and quickly scale your business.
Read on for an honest look at Shopify POS and HitPay — so you can choose the best POS system for your small business!
First, what makes a good POS system?
We review Shopify POS and HitPay based on these essential POS features:
POS System pricing
Some POS systems charge rental fees for credit card terminals, while others charge transaction fees. Make sure that pricing is clear and transparent, so you don't get surprised by hidden fees.
Local payment methods
Offering more payment methods can improve customer satisfaction and increase your sales. Besides credit cards, many customers also use local e-wallets and Buy Now, Pay Later options.
Card reader support
Which devices are compatible with the POS system? You may prefer a Bluetooth credit card terminal, a WiFi credit card terminal, or you may want to accept card payments directly through your phone.
Syncs Shopify products and inventory automatically
If you're a Shopify merchant, you can save time with a POS system that syncs inventory across your Shopify store and all other sales channels.
Inventory management
Your POS system should help you keep track of inventory and send low inventory alerts when you need to restock.
Staff support
Is it easy to add other team members to your POS system? The POS system should be able to define different roles and permissions for your cashiers and other team members.
Commerce tools
This includes invoicing, customising the appearance of your receipts and invoices, integrations with receipt printers, and recording customer details for easy reference.
Accounting integrations
Ensure the POS system you select integrates with other business tools like your accounting software.
With these essential features in mind, let's look at Shopify POS and HitPay POS.
What is Shopify POS?
Shopify's POS software is included with every paid Shopify subscription, allowing you to accept in-person payments and sync transactions across online and in-store sales channels.
Shopify's POS covers the basics for a small business, but certain features can only be accessed with a Shopify POS Pro subscription (additional US$89/mth).
Pros of Shopify POS:
✅ Included with your Shopify subscription. You may be able to use Shopify Payments with Shopify POS if your country supports it. However, Singapore, Malaysia, and other Asian countries are not included in this list, so you'll need an external payment provider to accept Shopify POS payments.
Cons of Shopify POS:
❌ Limited features in free Shopify POS system. Some features like detailed inventory management, in-store analytics and assigning staff roles require a separate subscription charge of US$89/month per location.
❌ Limited payment methods. Shopify supports Visa/Mastercard, AMEX, Apple Pay, Google Pay, and Shop Pay, with limited support for local payment methods across countries.
Read also: Pros and cons of Shopify POS system
What is HitPay POS?
With HitPay's POS system, you can accept in-person payments using a credit card terminal or directly on your mobile device. You can accept credit card payments without a credit card terminal using the free HitPay mobile app.
Pros of HitPay POS:
✅ No subscription fees. Unlike Shopify, HitPay doesn't charge subscription fees (only pay per transaction).
✅ All features unlocked. With a free HitPay account, you can access HitPay's free business tools, payment options, and more. Only pay per transaction based on your chosen payment method.
✅ Wide range of local payment methods. Offer credit cards, bank transfers, e-wallets, and Buy Now, Pay Later options in your country.
✅ Easy inventory tracking: Sync your Shopify inventory to HitPay's POS for free, automatically keeping your online store inventory up-to-date with every sale.
Read also: Accept payments easily with the HitPay POS system.
Cons of HitPay point of sale:
❌ Need to integrate on Shopify. Unlike Shopify POS, HitPay payments are not inbuilt on Shopify. However, HitPay has an integrated Shopify app that can be set up in just minutes — no coding required.
❌ Some local payment methods are available later. Afterpay support is coming soon to Australia and New Zealand, along with WeChatPay, Klarna, and Affirm support in the United States.
HitPay and Shopify POS Comparison: Features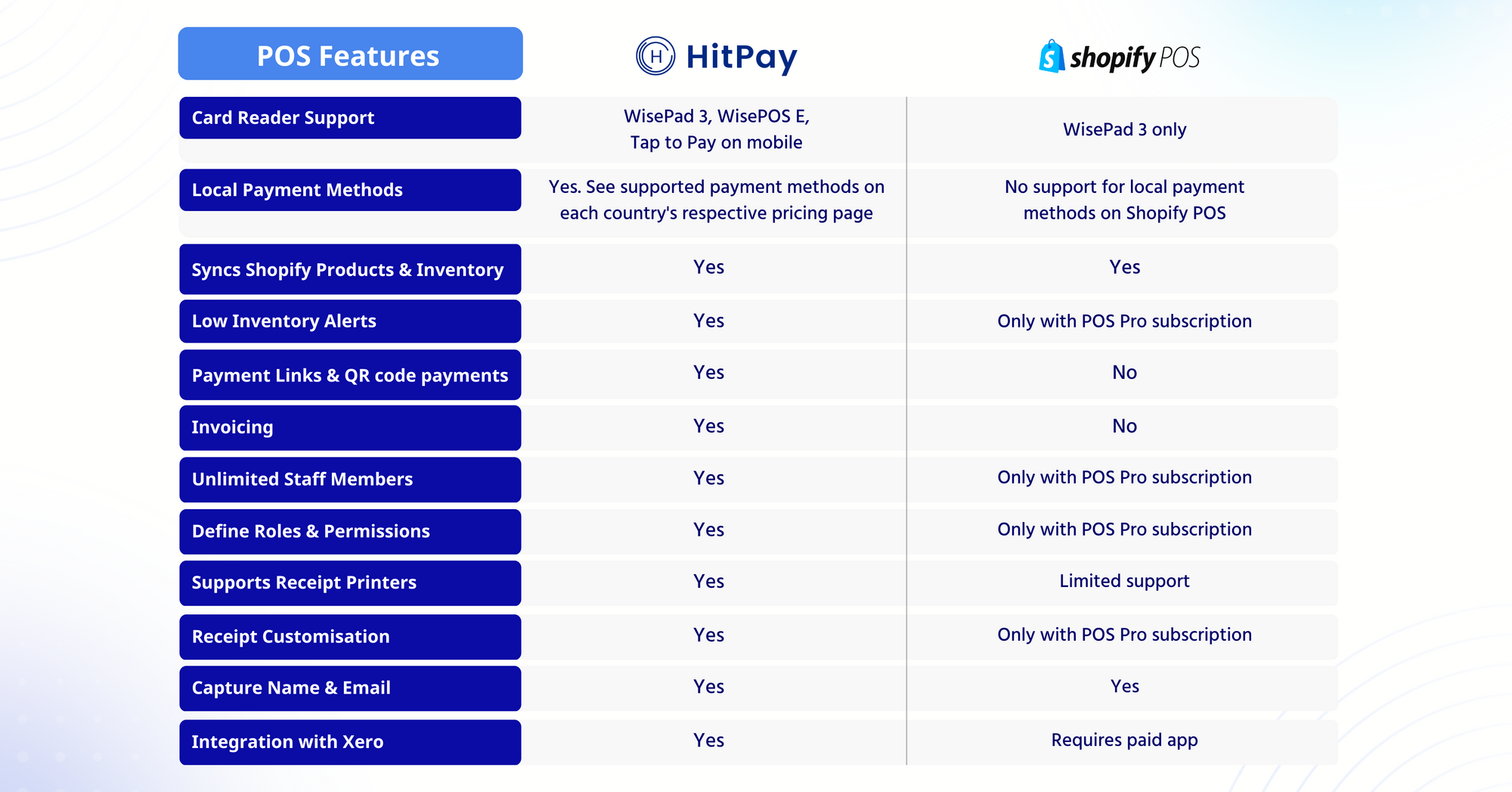 HitPay and Shopify POS Comparison:
Fees in each country
Singapore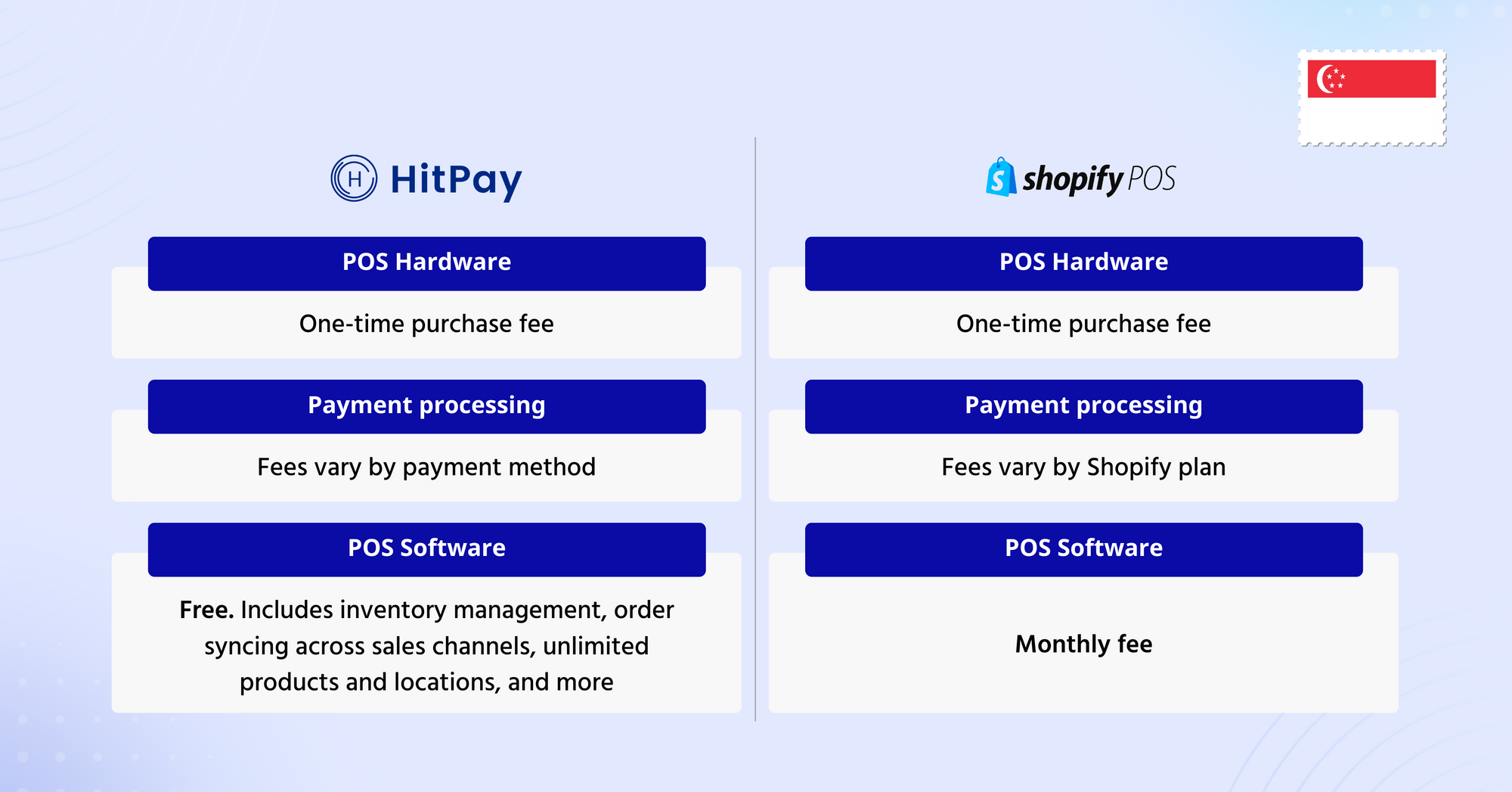 Malaysia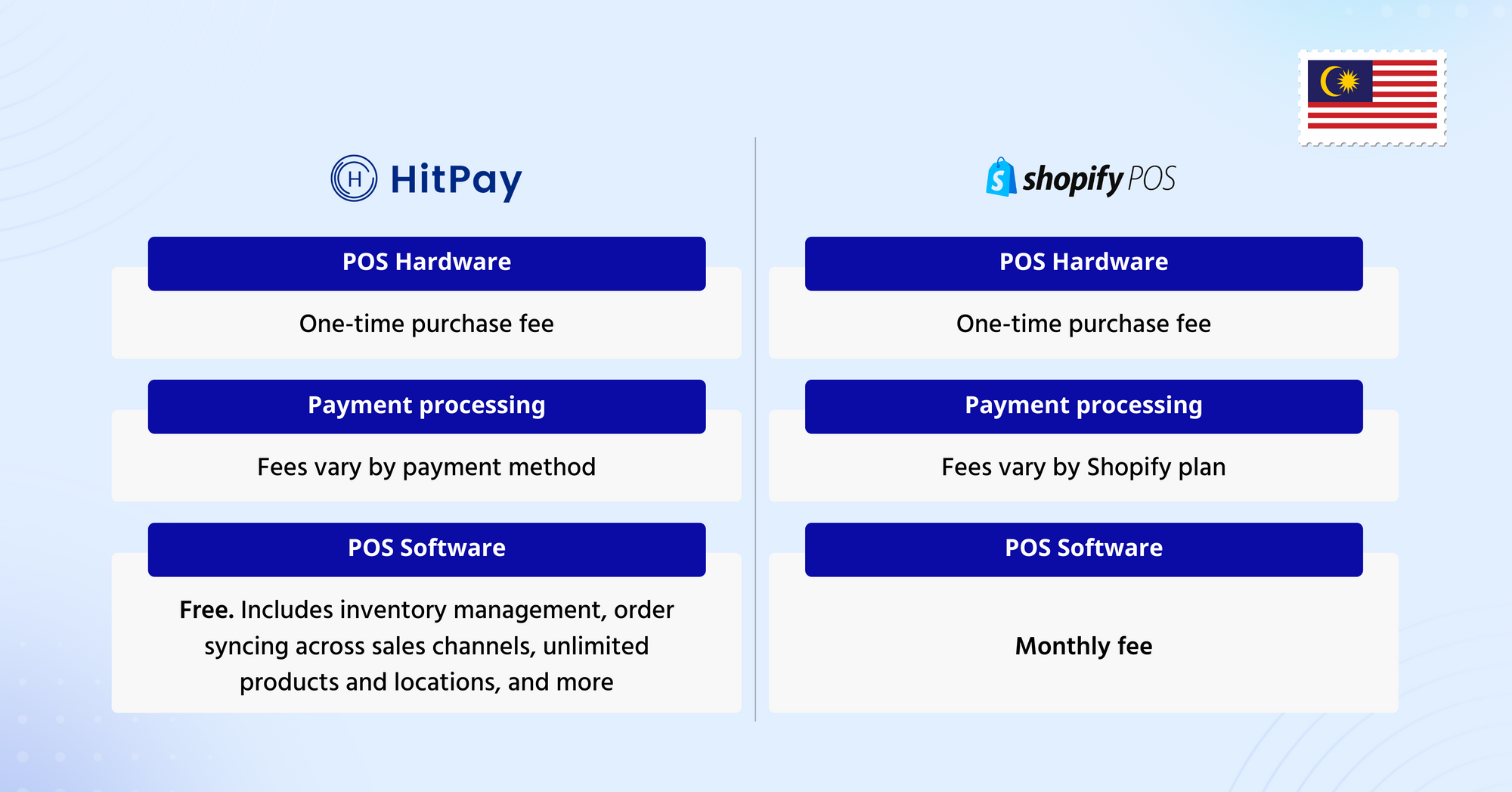 USA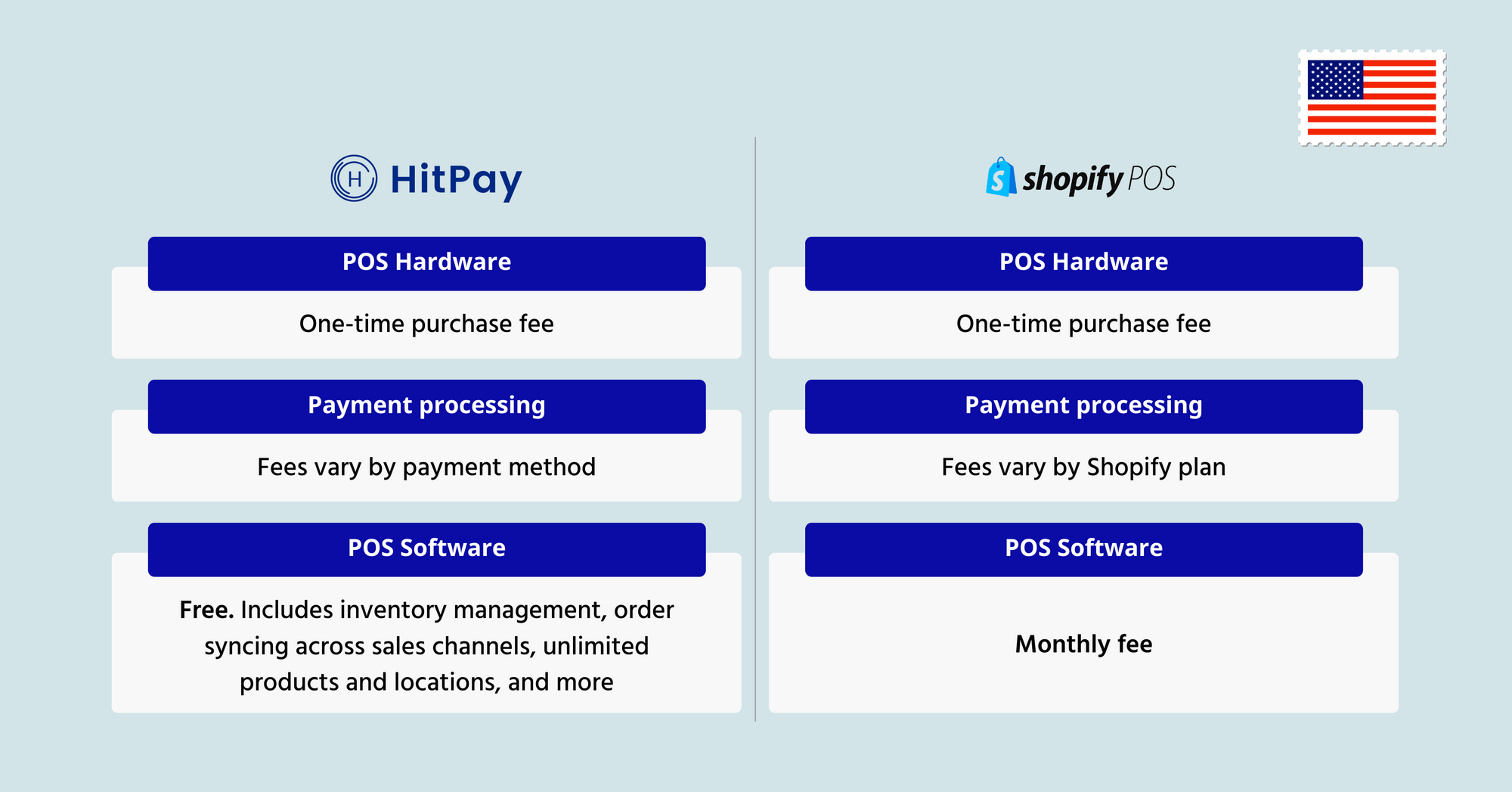 Australia
New Zealand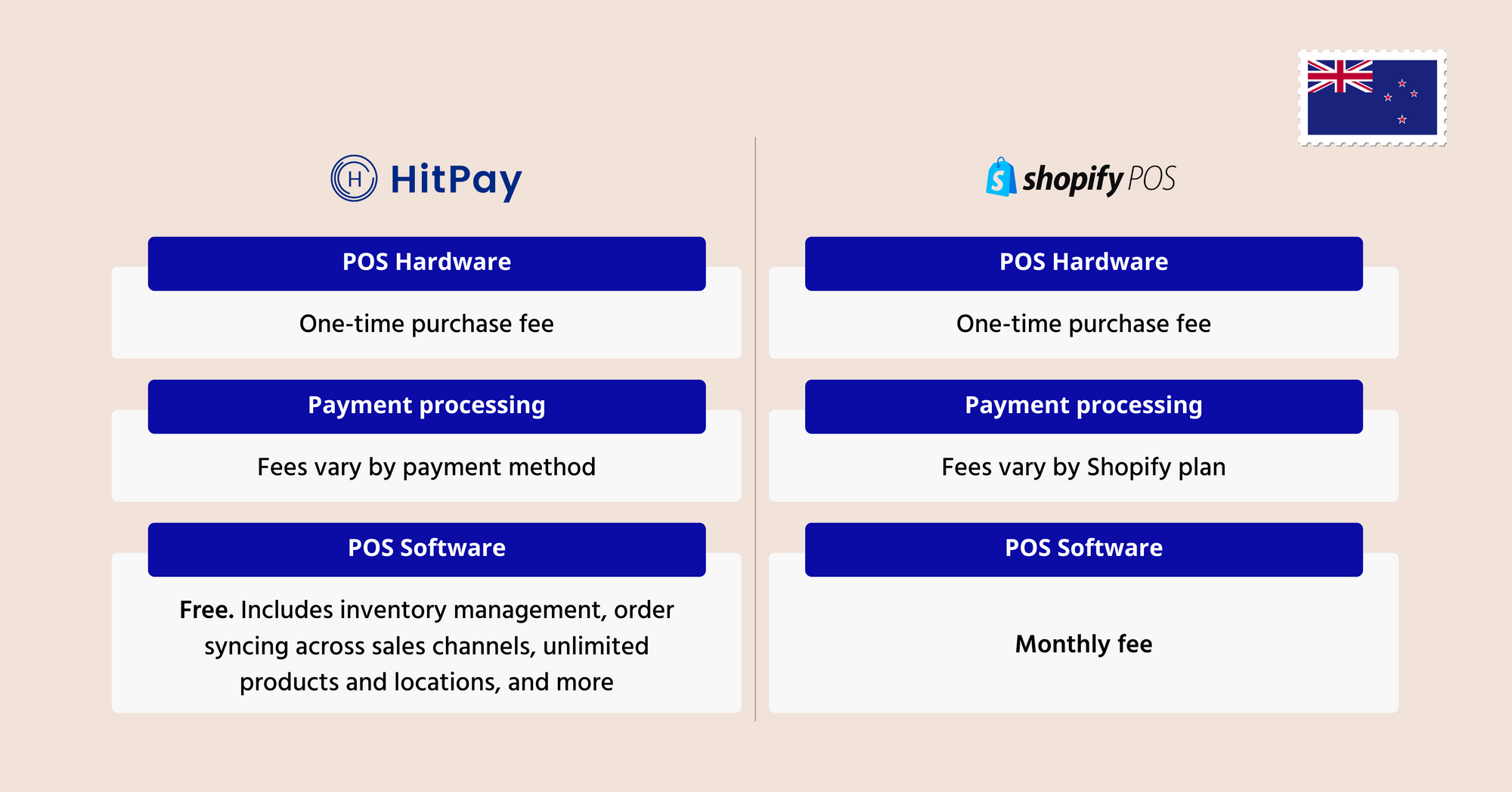 Ready to try a POS system?
If you're looking for an all-in-one POS system that can grow with your business, HitPay POS may be the right choice for you.
---
About HitPay
HitPay is a one-stop commerce platform that aims to empower SMEs with no code, full-stack payment gateway solutions. Thousands of merchants have grown with HitPay's products, helping them easily receive in-person and online contactless payments.
Join our growing merchant community today!