HitPay launches Payment Gateway in Malaysia with one-stop payment solutions
Grow your business with the best payment gateway in Malaysia for SMEs.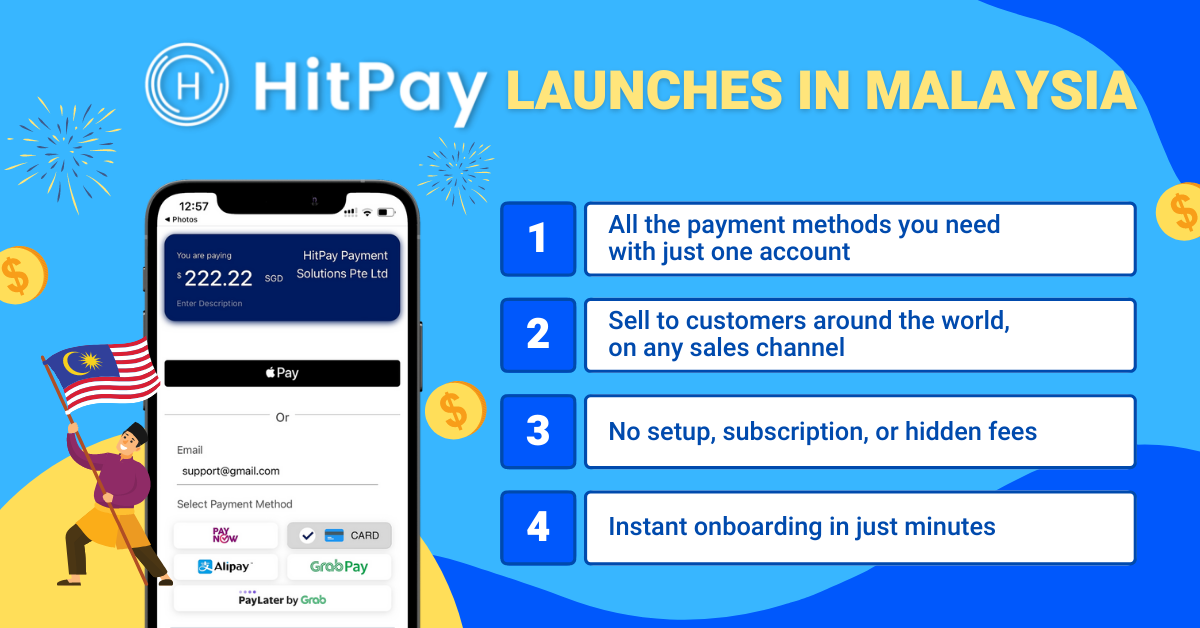 We're excited to announce that HitPay Malaysia is officially live! Starting today, businesses in Malaysia can easily accept customer payments with HitPay's wide range of online and offline payment solutions.
Introducing HitPay Malaysia
HitPay Malaysia is a one-stop commerce platform that empowers SMEs with no-code payment gateway solutions. Thousands of merchants have grown with HitPay's products, helping them receive POS and e-commerce payments with ease.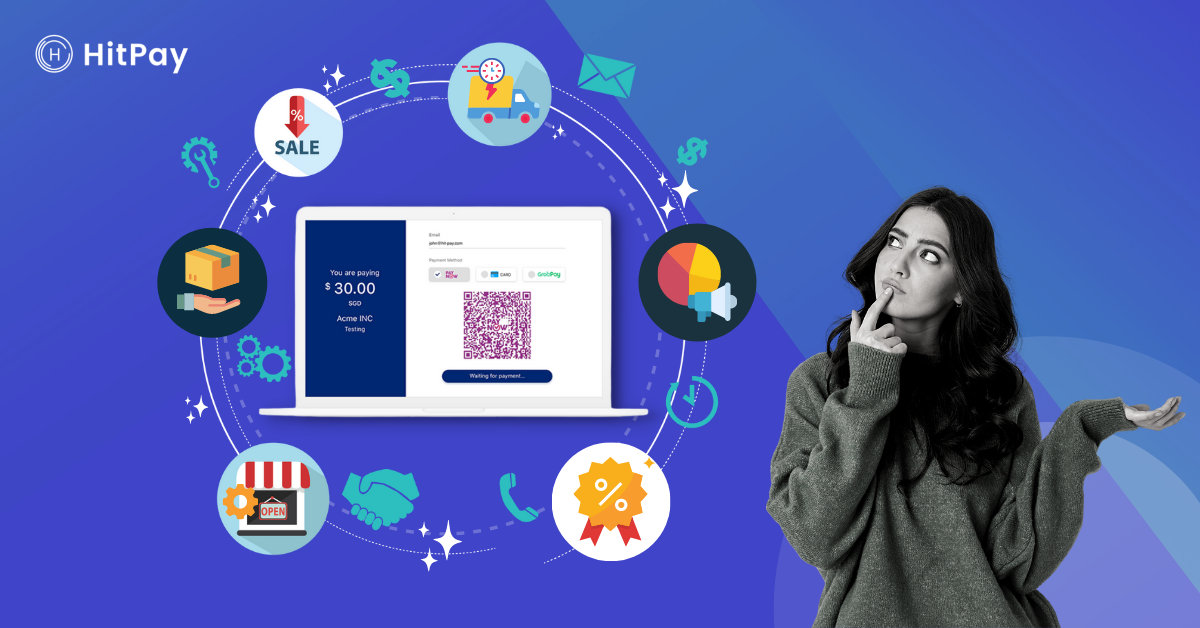 How does HitPay Malaysia help SMEs grow their business?

All the payment methods you need, on a single account
HitPay supports a wide range of online payment methods in Malaysia:
Visa
Mastercard
UnionPay
Apple Pay
Google Pay
FPX
GrabPay
You can easily choose which payment methods to display on each of your sales channels. HitPay payment options take just 1 day to set up (instead of the usual 2 - 3 weeks from other payment providers).
Free business management tools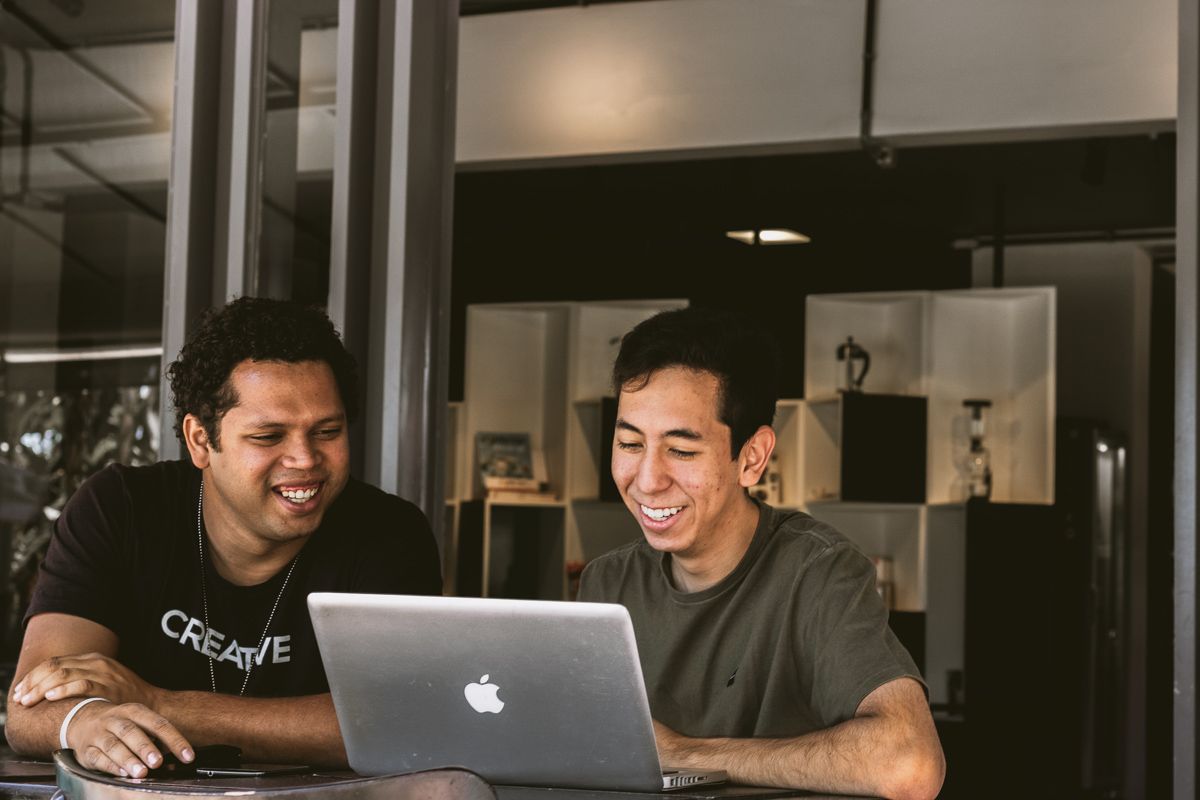 HitPay's one-stop platform includes essential tools to manage your business:
While other companies charge for these tools (or only offer a free trial), HitPay's small business software is free, with no subscription or setup fees. Users can access every single feature, and we're always launching new features to stay ahead of the trend.
Express onboarding and payouts
After you register for an account (with all necessary documents), your HitPay Malaysia account will be approved in just 3 business days or less.
You'll also receive payouts in just T+1 business days, much faster than other payment providers in Malaysia.
HitPay Malaysia pricing is low-cost and transparent to suit the needs of growing businesses. Signing up for our payment gateway is free, with no upfront costs or minimum-term contracts. Only pay per transaction, and always know exactly what you'll pay. See HitPay pricing here.
Easy-to-use payments platform
We offer instant onboarding without any waiting time. Simply set up a HitPay account and start accepting payments within 20 minutes.
HitPay's no-code payment solutions can be set up by anyone in your team, without any technical knowledge. We also provide step-by-step help guides and WhatsApp Support to assist with any query.
How HitPay compares with other payment gateway providers in Malaysia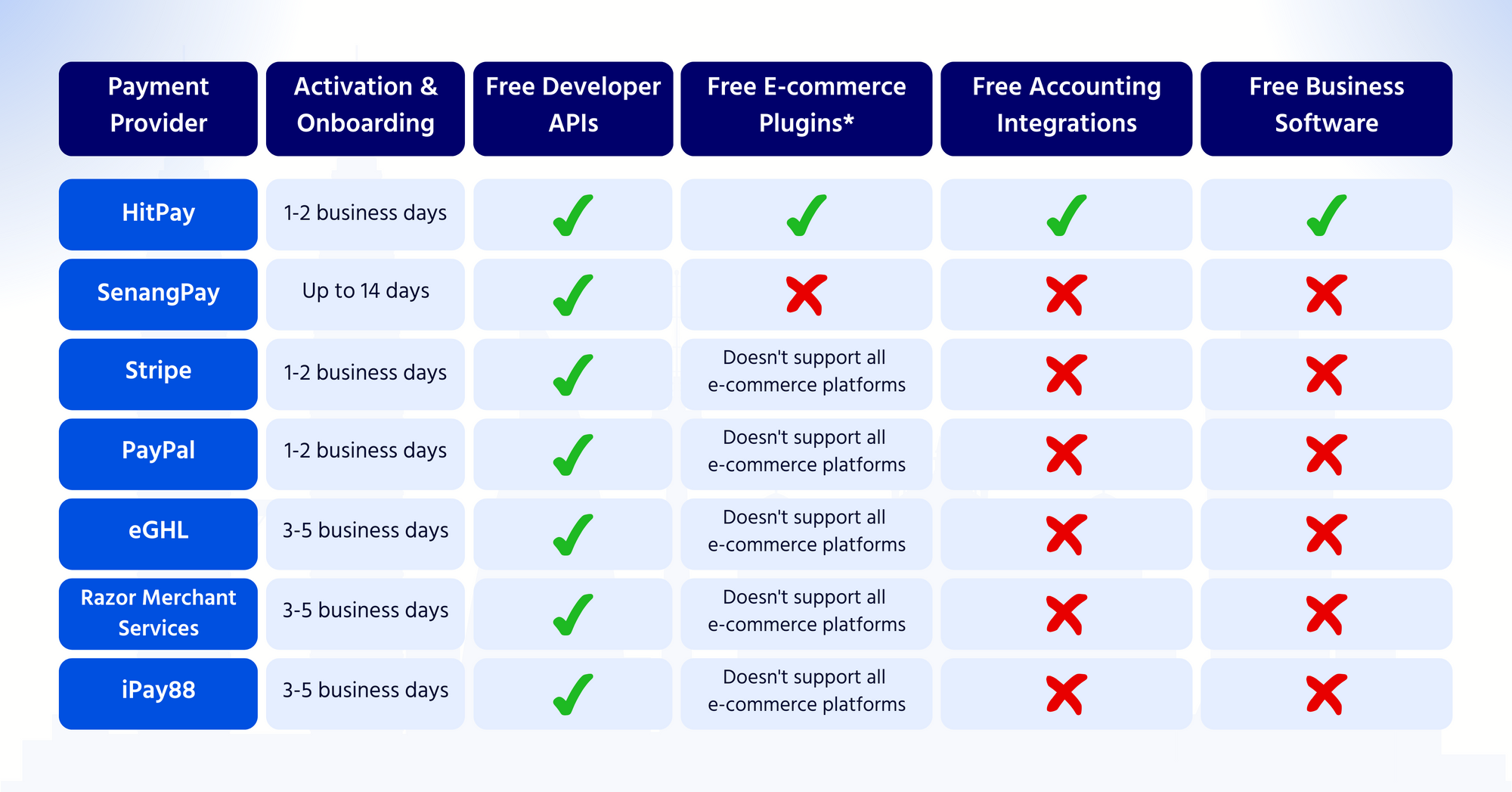 Compared to other payment gateway platforms in Malaysia, HitPay offers:
No monthly or annual fees
Free business tools. All features are completely free to use.
Instant onboarding. Set up an account and start accepting payments in just 20 minutes.
Cross-border payment acceptance. This lets you reach global customers as you scale.
Read also: Malaysia Payment Gateway Comparison — HitPay vs. SenangPay and other top payment platforms
What solutions does HitPay Malaysia provide?
The HitPay payment gateway is easy to use on any sales channel — from social media, custom-built websites, and every major e-commerce platform. We have easy e-commerce integrations for Shopify, WooCommerce, Magento, Prestashop, Opencart, EasyStore, Google Plugins, and more.
Unlike most other platforms, we don't charge a subscription fee. Activate our free payment solutions in minutes:
HitPay also provides easy payment customisation. Enjoy smart checkout features that let you pass credit card transaction fees to customers, display payment methods based on total order amount, and more.
Try the best payment gateway in Malaysia for growing businesses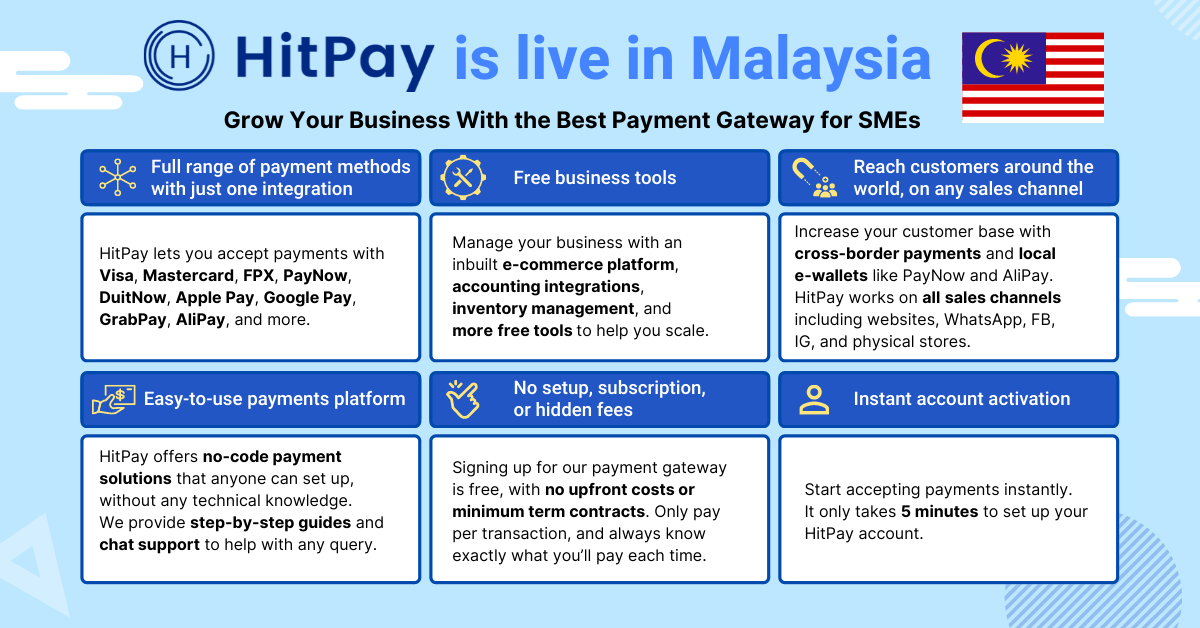 Ready to save costs and scale your business with HitPay?
Click here to set up your HitPay Malaysia payment gateway now.
---
About HitPay
HitPay is a one-stop commerce platform that aims to empower SMEs with no code, full-stack payment gateway solutions. Thousands of merchants have grown with HitPay's products, helping them receive in-person and online contactless payments with ease.
Join our growing merchant community today!