How to Start an Online Business in the Philippines: A Comprehensive Step-by-Step Guide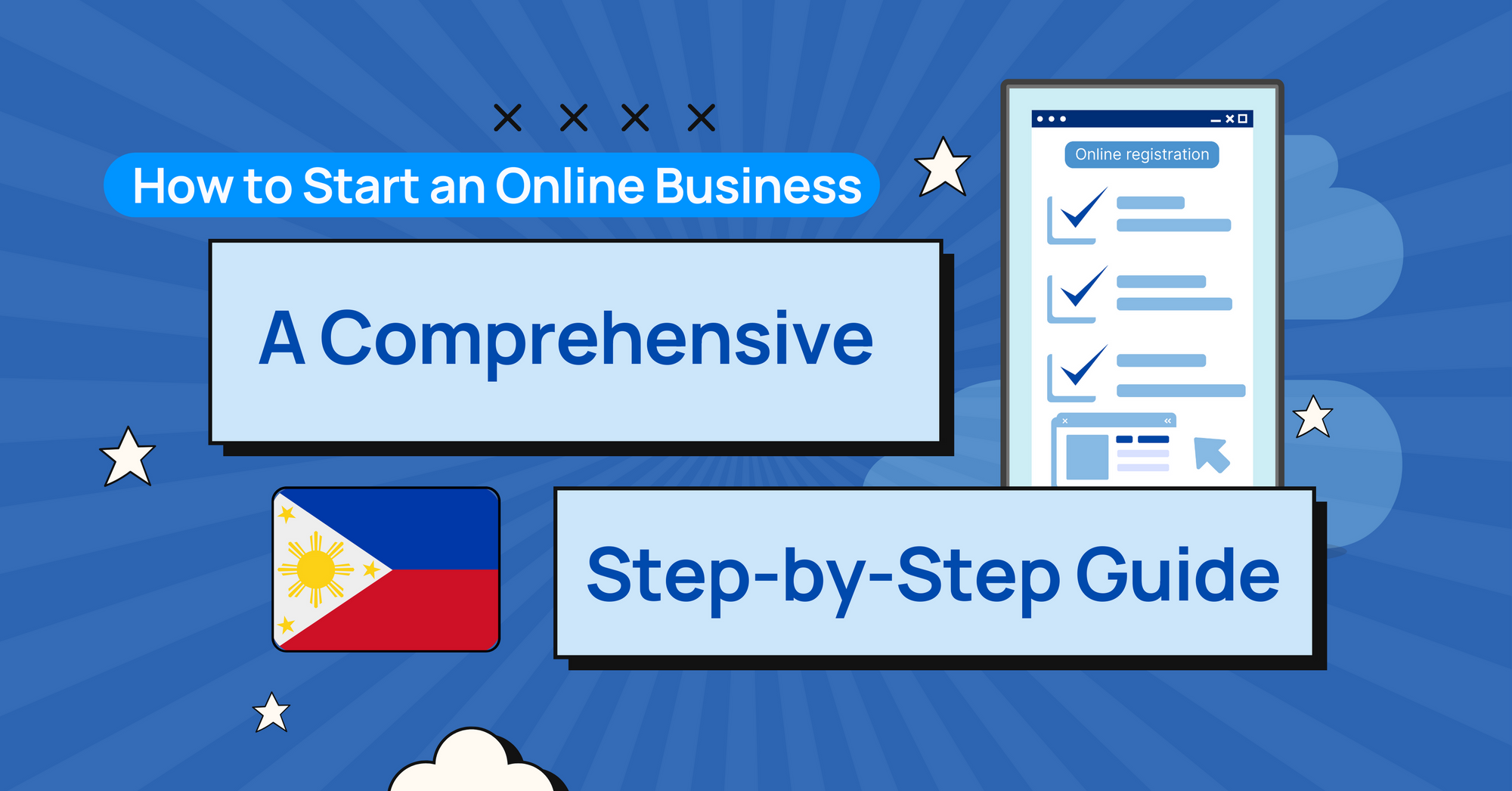 It's an exciting time to start an Online Business in the Philippines
The Philippines has experienced a significant surge in online businesses, fueled by the growing e-commerce industry projected to reach $28 billion by 2025. As more Filipinos embrace the convenience of online shopping, starting an online business can be an attractive venture for aspiring entrepreneurs.
Advantages of Starting an Online Business
Online businesses offer numerous benefits, including easy and affordable setup, location independence, and lower upfront costs. These advantages make it an appealing option for many individuals seeking to establish a successful business.
In this step-by-step guide, you'll learn how to set up an online business in the Philippines within just one week. Ready? Let's begin!
Step 1: Find a Profitable Niche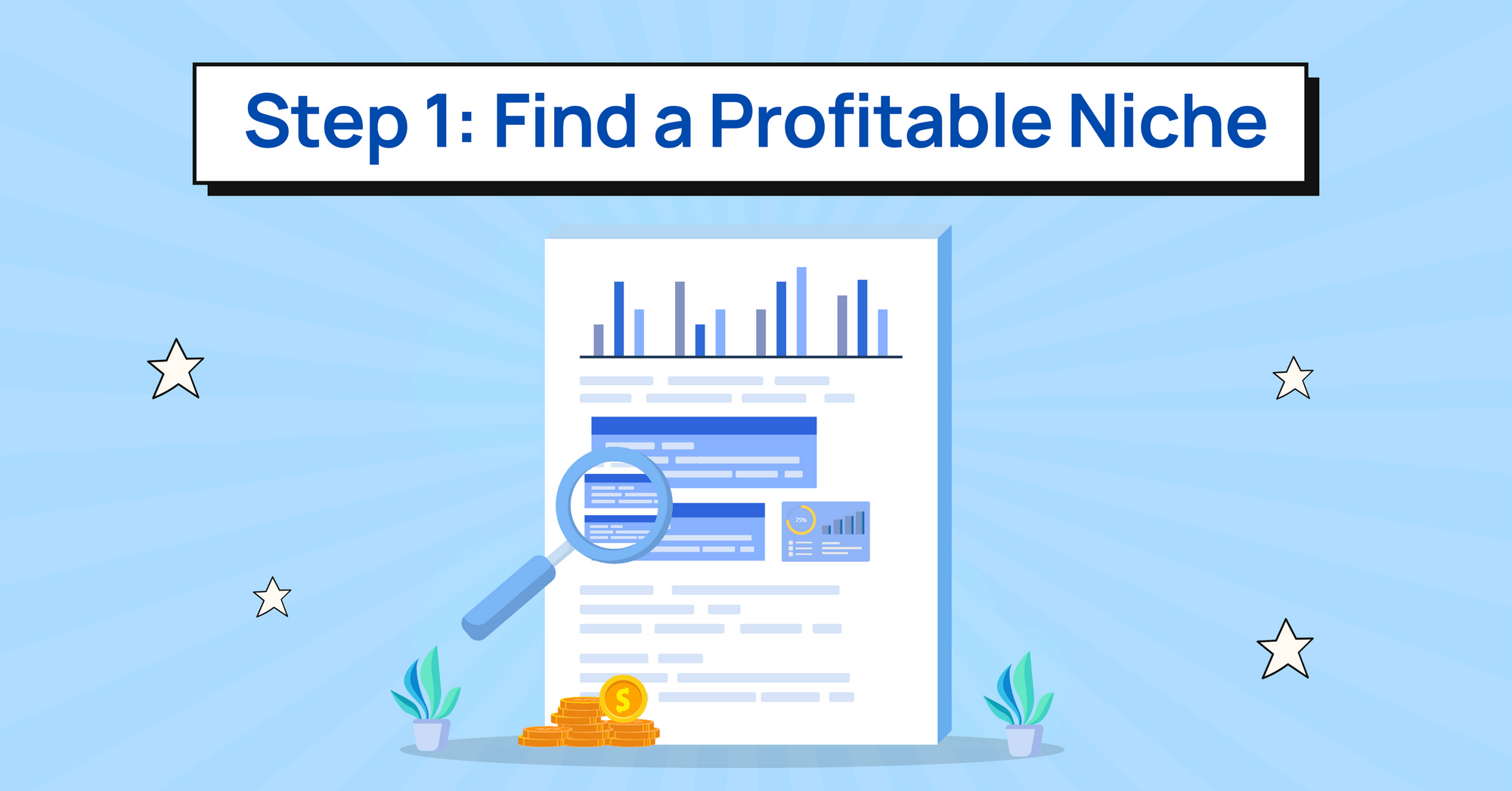 Finding a profitable niche is crucial for the success of your online business. This involves conducting market research, exploring potential business ideas, and assessing the feasibility and profitability of your chosen niche.
📋 Conduct Market Research to Identify Potential Business Ideas
Market research is an essential step in understanding the competition, trends, and customer preferences. By analyzing the market, you can identify potential business ideas that cater to the needs of your target audience. This process involves studying the strengths and weaknesses of competitors, assessing the demand for specific products or services, and identifying gaps in the market.
🔎 Assess the Feasibility and Profitability of Chosen Niche
Once you have identified a potential business idea, it is important to assess its feasibility and profitability. This involves evaluating factors such as market demand, competition, target audience, and potential revenue. By conducting a thorough analysis, you can determine if your chosen niche has the potential for long-term success and growth.
Step 2: Develop a Business Plan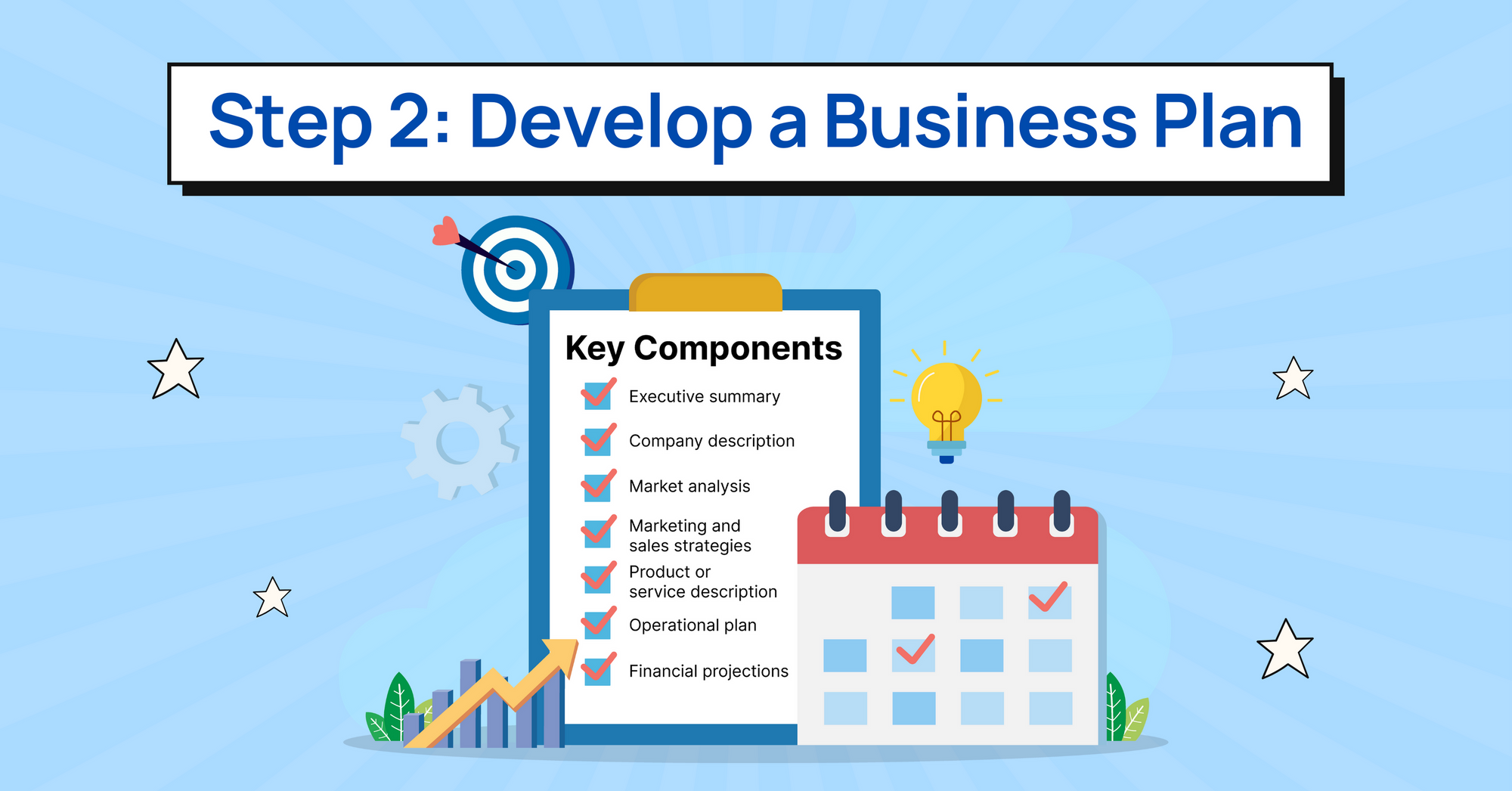 Creating a solid business plan is an essential step in starting and running a successful online business. It serves as a roadmap for your venture, outlining your goals, strategies, and resources, and helps streamline financial planning and budgeting.
Why do I need a business plan?
A well-crafted business plan is crucial for assessing the viability of your online business, attracting investors, and securing loans. Even if you're not looking for funding, a business plan helps you stay focused on your goals, monitor your progress, and make informed decisions. Additionally, a business plan can serve as a reference point for your team, ensuring everyone is aligned with the company's vision and objectives.
🗂 Key Components of a Business Plan
An effective business plan should include the following components:
Executive summary: A brief overview of your online business, its mission, and objectives.
Company description: Detailed information about your business, including its structure, target audience, and unique selling propositions.
Market analysis: A comprehensive assessment of the market, including trends, competition, and potential opportunities.
Marketing and sales strategies: Plans for promoting your online business, acquiring customers, and generating sales.
Product or service description: In-depth information about the products or services you plan to offer, including their benefits and unique features.
Operational plan: An outline of your business's day-to-day operations, including management, staffing, and logistics.
Financial projections: Estimates of your business's revenue, expenses, and profit over a specific period.
Step 3: Register Your Online Business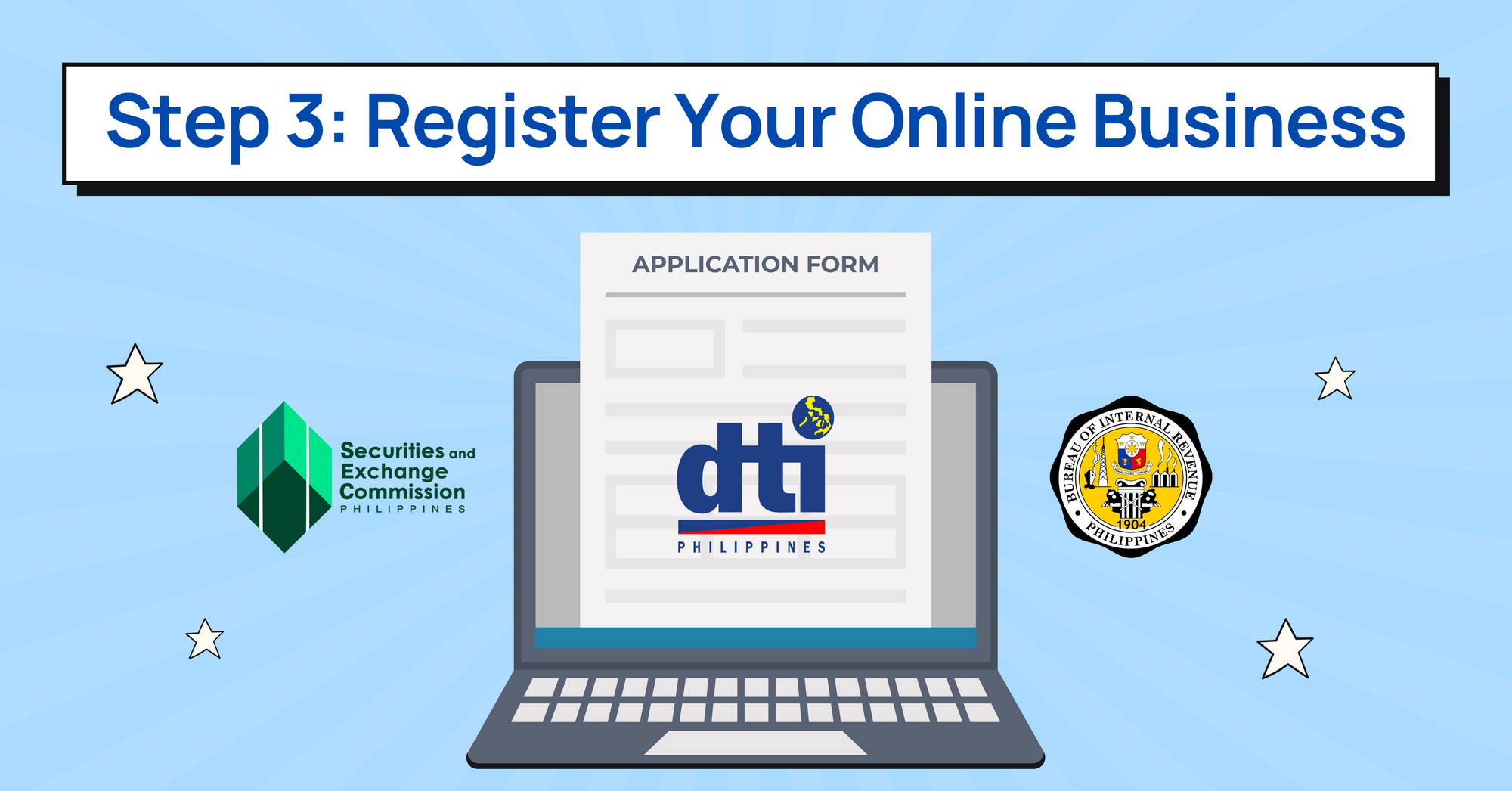 Registering your online business is a crucial step in establishing your venture in the Philippines. This process involves obtaining necessary government registrations, understanding the benefits of business registration, and following the detailed steps for the registration process.
Required Government Registrations (DTI, SEC, BIR)
Registering your online business with government offices such as the Department of Trade and Industry (DTI), Securities and Exchange Commission (SEC), and Bureau of Internal Revenue (BIR) is mandatory. These registrations provide legal recognition, credibility, and access to exclusive services for your business.
Benefits of Registering Your Business
Registering your online business offers several benefits, including:
Enhanced credibility and trust among customers, suppliers, and investors
Exclusive access to government services and incentives
Legal protection for your business name
Compliance with tax obligations and regulations
Read also: Step-by-step DTI registration guide
Step 4: Set Up Your Finances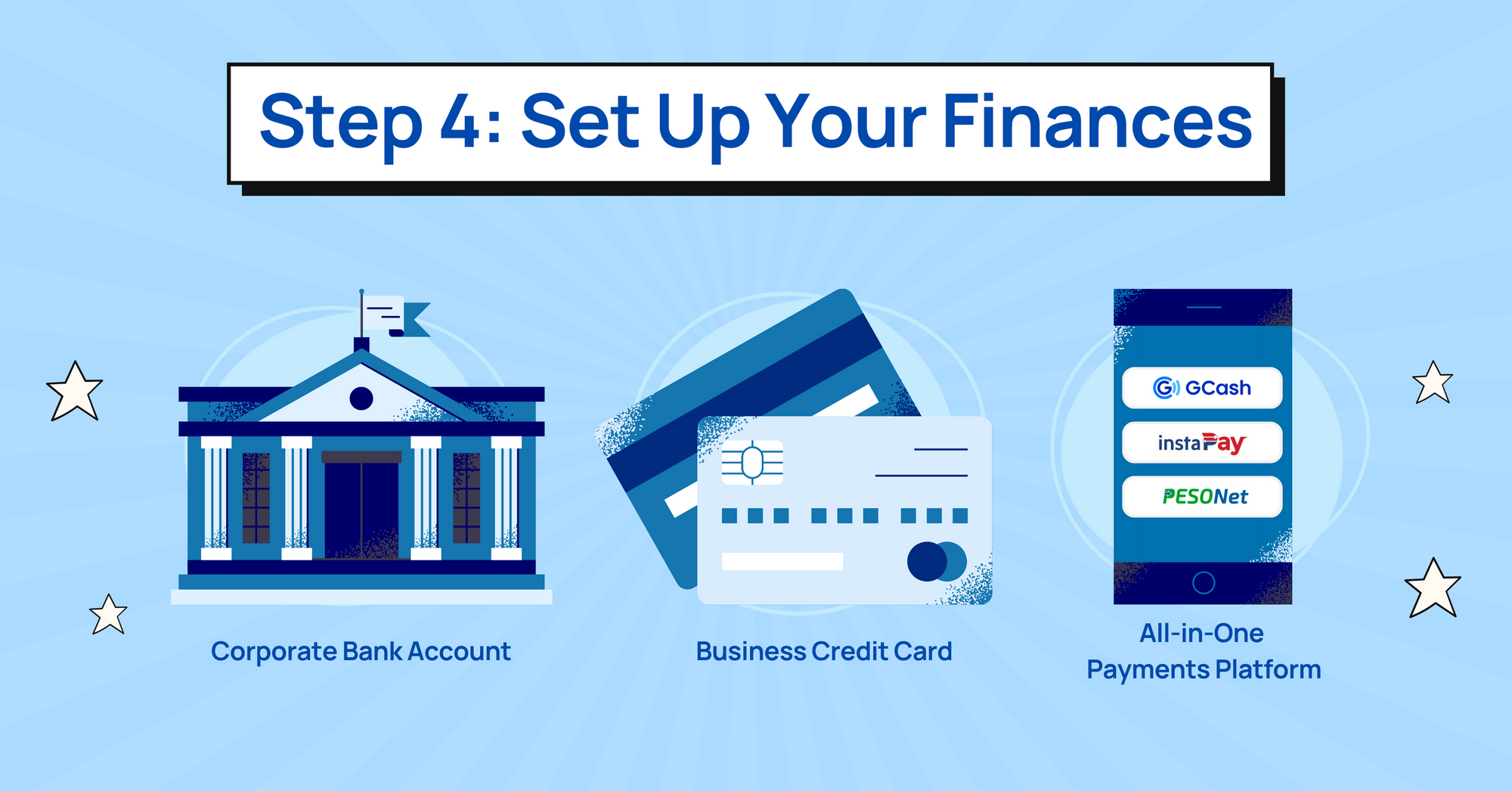 Setting up your finances is a critical aspect of establishing and managing your online business. This process includes opening a corporate bank account, obtaining a business credit card, and incorporating an all-in-one payment platform.
🏦 Open a Corporate Bank Account
Opening a corporate bank account is essential for managing your business finances, separating personal and business expenses, and ensuring financial transparency. Choose a reputable bank that offers business banking services tailored to your needs, such as online banking, low fees, and customized credit options.
💳 Obtain a Business Credit Card
Acquiring a business credit card can help you manage your expenses, improve cash flow, and build credit for your online business. Look for a card that offers competitive interest rates, rewards programs, and additional benefits such as travel insurance or purchase protection.
💵 Incorporate an All-in-One Payments Platform
To ensure the success of your online business, it is crucial to use a reliable payment platform. Look for an all-in-one payment solution that enables you to:
If you want the easiest and most affordable payment processing platform, you can try HitPay. Compared to other payment processors in the Philippines, HitPay offers express onboarding and payouts and no-code integrations for every payment channel. HitPay also offers a mobile POS for in-person payments, as well as a full range of business tools — which means you won't need to set up additional software as you grow.
HitPay supports all popular payment methods in the Philippines including GCash, UnionBank transfers, PESONet, Instapay QR PH, over-the-counter payments, credit cards, and BNPL like billease. See HitPay payment methods and pricing here.
Step 5: Source Products and Find Suppliers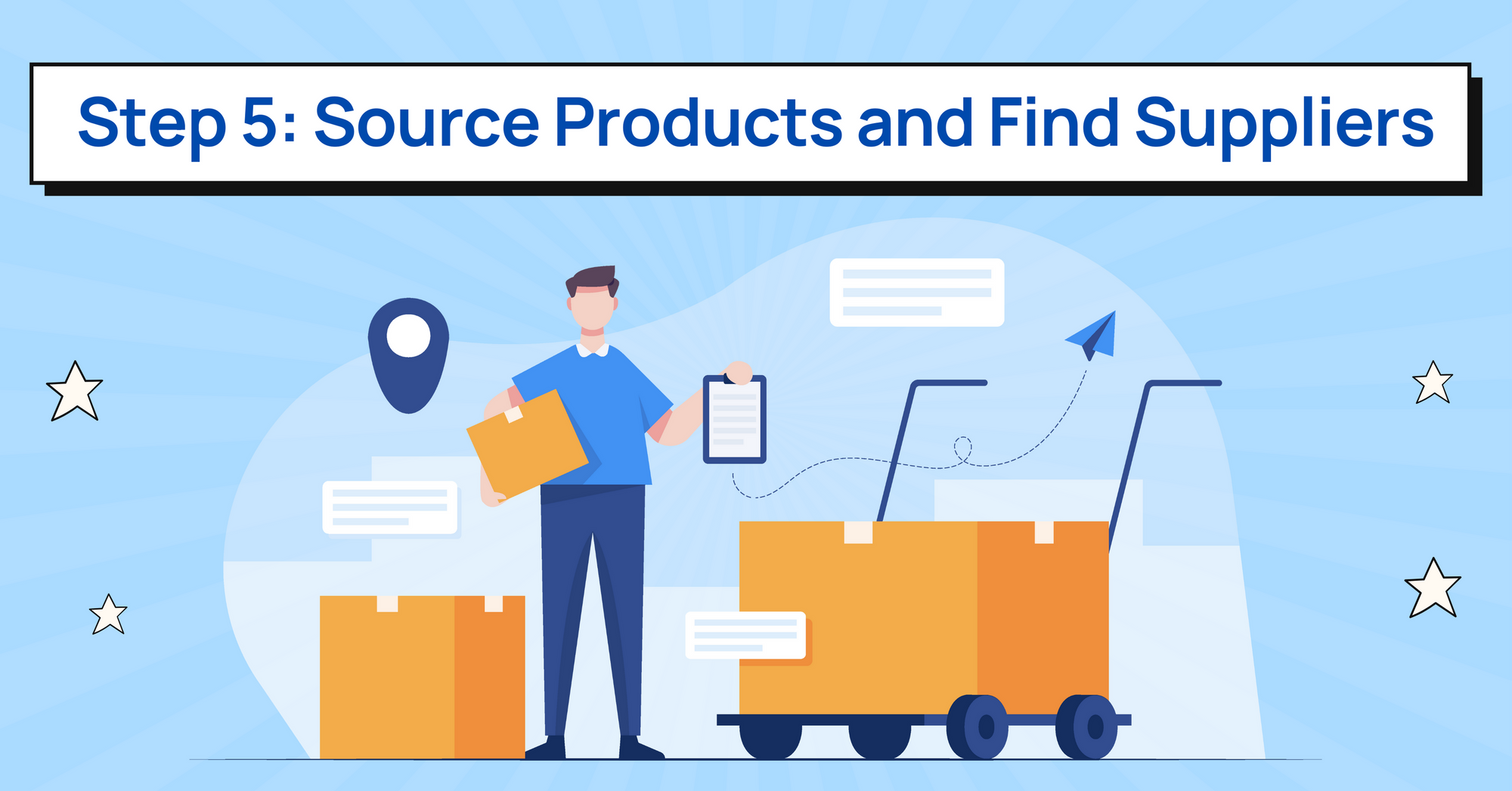 Finding reliable suppliers is vital for the success of your online business, as it ensures the quality and timely delivery of your products. In this step, we will cover tips for finding trustworthy suppliers and platforms where you can connect with potential partners.
Note: If you're selling digital products or other services, you might want to skip to Step 6. Read also: How to Sell Digital Downloads in the Philippines
🚚 Tips for Finding Reliable Suppliers
Some tips to help you find reliable suppliers include:
Seek recommendations from fellow entrepreneurs or industry contacts
Research suppliers online and read reviews from other businesses
Request samples and test the quality of products before committing to a supplier
Consider suppliers' pricing, lead times, and communication skills when making your decision
☕️ Platforms and Events to Connect with Suppliers
Various platforms and events can help you connect with potential suppliers:
Online directories like Alibaba, Global Sources, and ThomasNet
Local and international trade shows and exhibitions
Industry forums and networking events
Social media platforms and online communities related to your niche
By exploring these resources and following the tips provided, you can find reliable suppliers that meet your business requirements and support the growth of your online venture.
Step 6: Establish Delivery Methods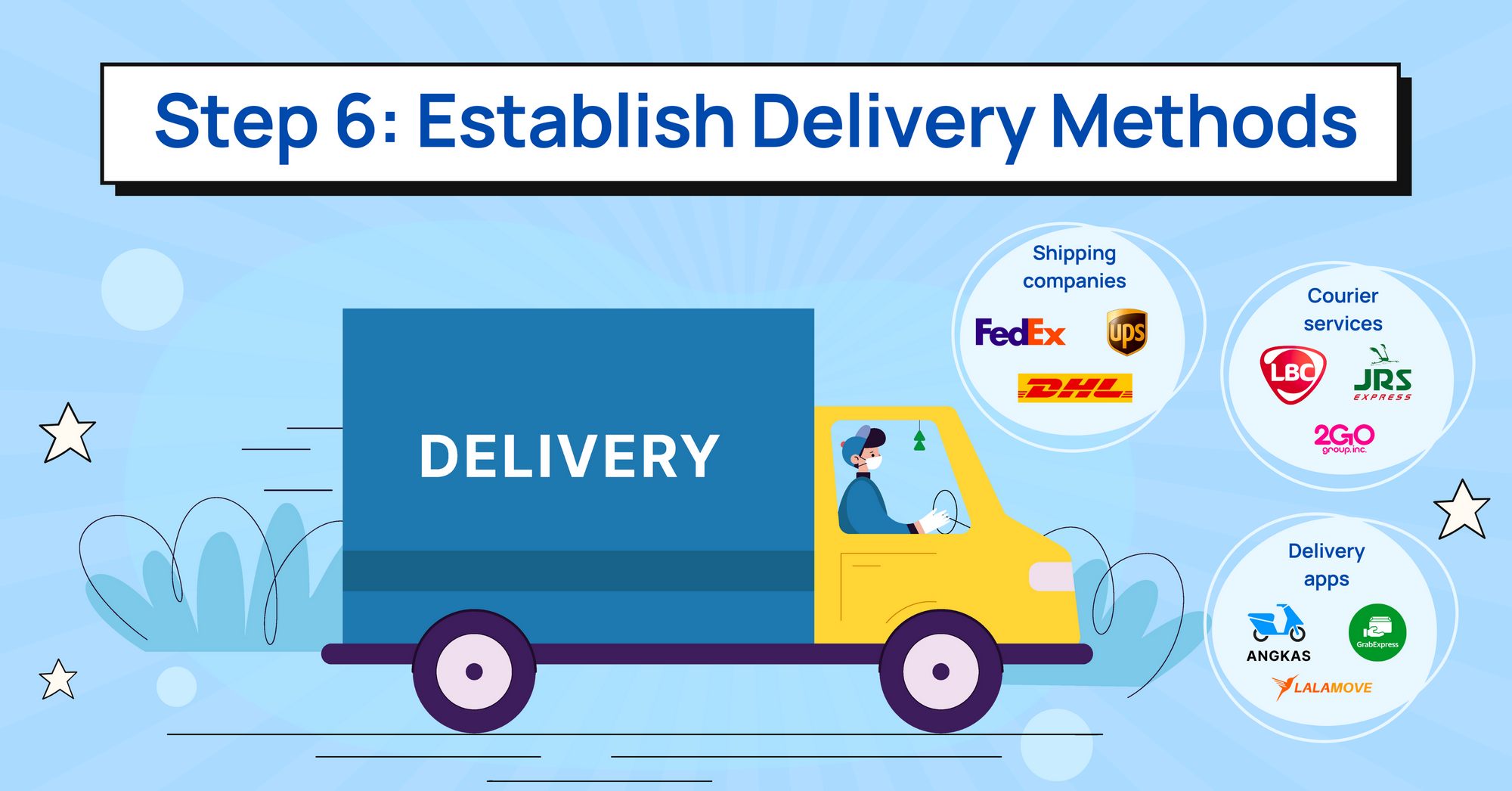 Setting up reliable delivery methods is essential for the success of your online business. In this step, we will discuss the importance of dependable delivery services for customer satisfaction and explore various delivery options available in the Philippines.
Providing efficient and reliable delivery services is crucial in ensuring customer satisfaction. Timely and accurate deliveries not only enhance your customers' experience but also help build trust and loyalty towards your brand. Furthermore, a dependable delivery service can minimize complaints, returns, and negative reviews, ultimately contributing to the growth of your online business.
📦 Options for Delivery Methods in the Philippines
There are several delivery options available in the Philippines to cater to the diverse needs of online businesses:
Selecting the appropriate delivery method for your online business depends on factors such as your target market, product type, and delivery timeframes. By exploring these options and choosing the right delivery partner, you can ensure a seamless shopping experience for your customers.
Step 7: Build Your Online Store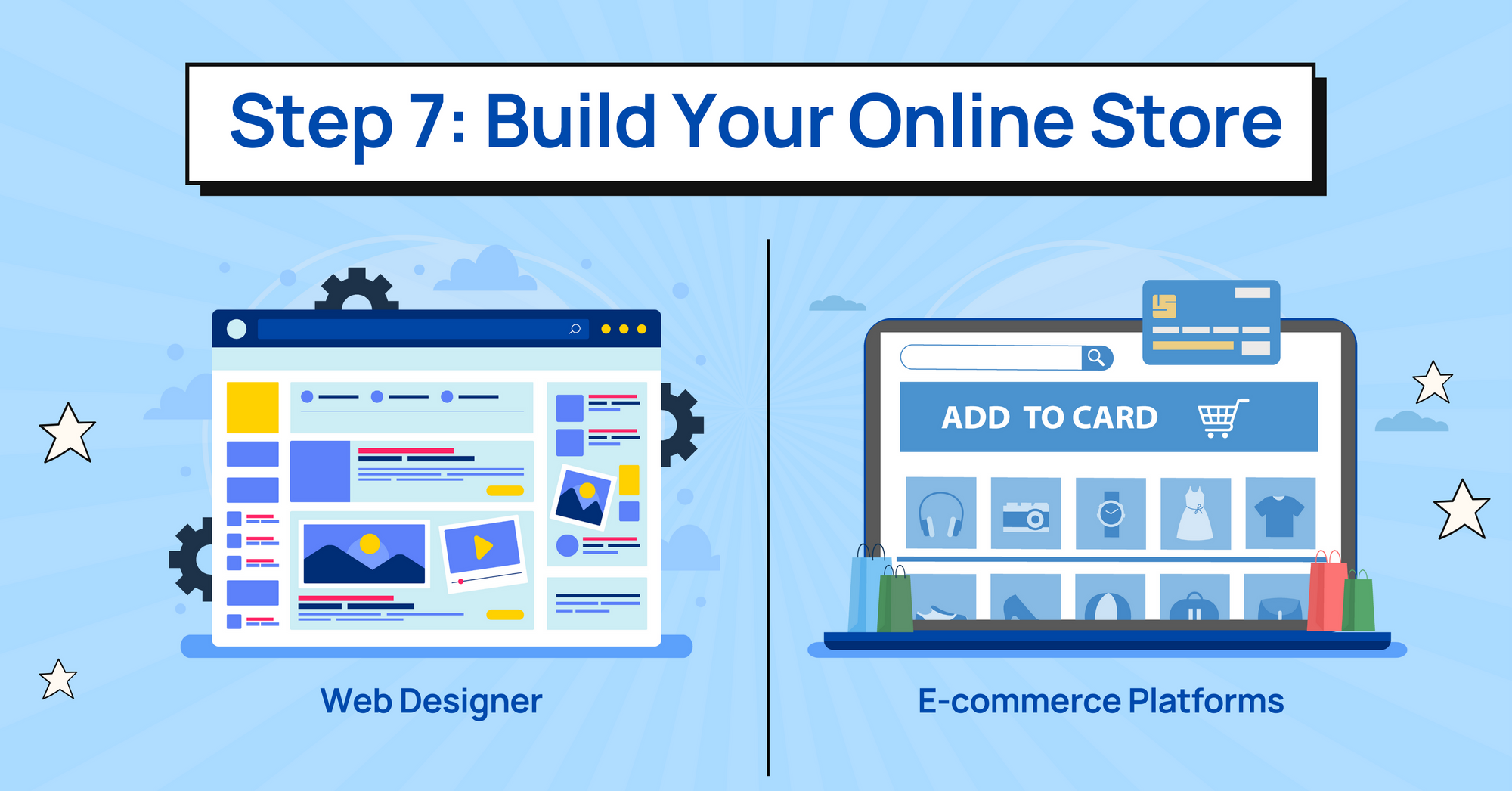 Creating a professional and user-friendly online store is essential for the success of your online business.
An attractive and easy-to-navigate website is crucial for establishing a strong online presence and attracting customers. A well-designed website can enhance the user experience, showcase your products effectively, and boost conversion rates.
🛍 Options for Creating Your Online Store (Web Designer, E-commerce Platforms)
There are several options available for creating your online store:
Hiring a web designer to create a custom-built website tailored to your business needs
Using e-commerce platforms like the HitPay Online Store, Shopify, WooCommerce, or Wix, which offer pre-designed templates and easy-to-use tools for building and managing your online store
Read also: What is the Best Website Builder in the Philippines for Small Businesses: Shopify vs. WooCommerce, HitPay, Wix, Cococart Comparison
Step 8: Create an Online Presence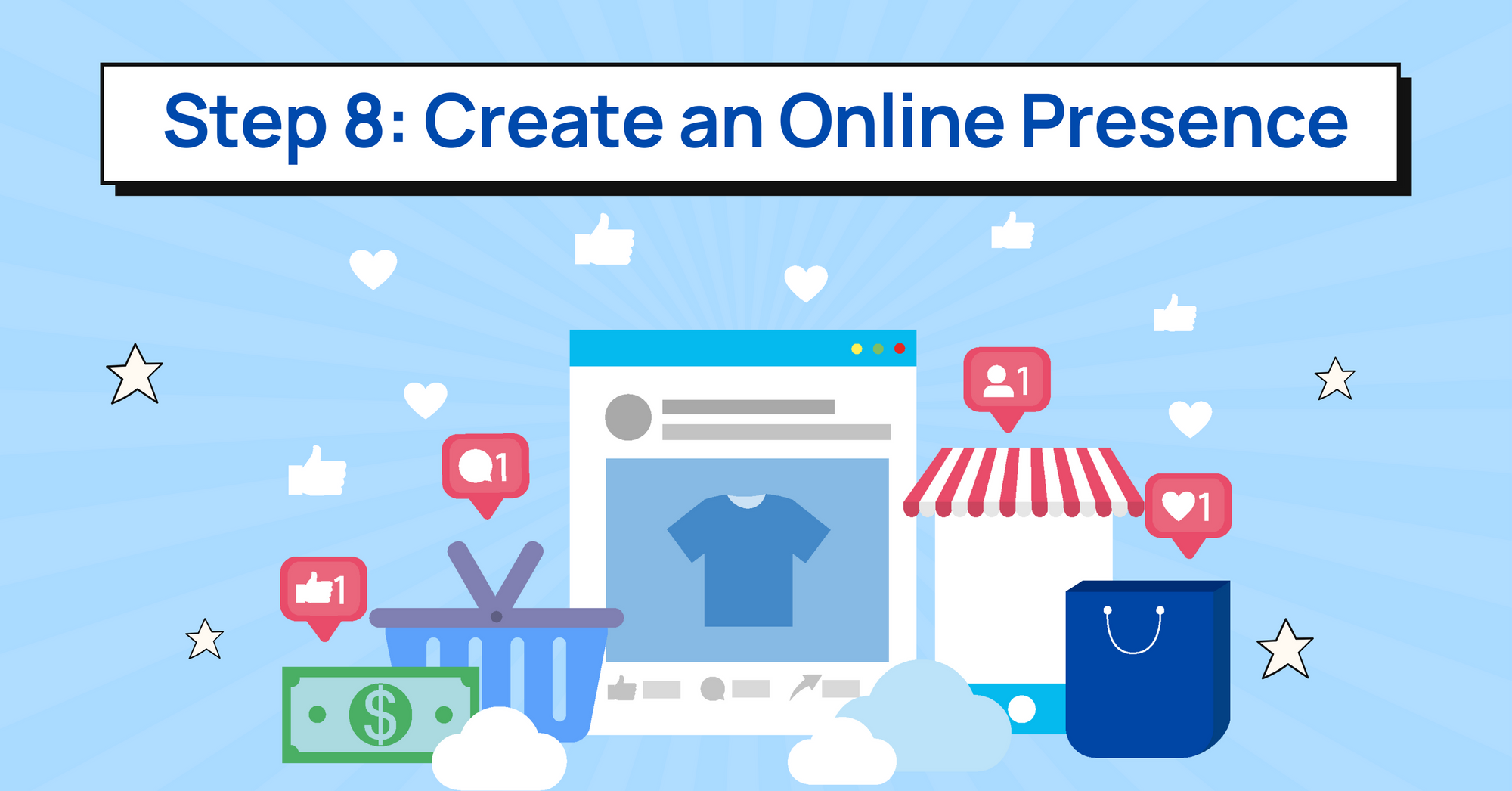 Establishing a strong online presence is vital for the success of your online business. This step covers utilizing social media platforms and online marketplaces, the importance of a robust marketing strategy, and tips for effective online advertising and promotion.
💬 Utilizing Social Media Platforms and Online Marketplaces
Expanding your online presence through social media platforms like Facebook and Instagram can help you reach a broader audience, engage with customers, and showcase your products. Additionally, leveraging online marketplaces like Lazada, Shopee, or Zalora can help increase your visibility and access to potential customers.
🎨 Importance of a Strong Marketing Strategy
A well-planned marketing strategy is crucial for driving traffic to your online store, generating sales, and building brand awareness. This includes identifying your target audience, selecting the most suitable marketing channels, and creating engaging content that resonates with your customers. A strong marketing strategy can set you apart from competitors and contribute to the growth of your online business.
🏷 Tips for Effective Online Advertising and Promotion
Here are some tips for effective online advertising and promotion:
Invest in search engine optimization (SEO) to improve your website's visibility on search engines
Use pay-per-click (PPC) advertising to target specific keywords and demographics
Engage with customers through email marketing campaigns and newsletters
Collaborate with influencers and bloggers to promote your products
Create engaging and shareable content, such as blog posts, videos, and infographics
By implementing these tips, you can create a strong online presence that attracts customers and drives sales for your online business.
Step 9: Manage and Grow Your Online Business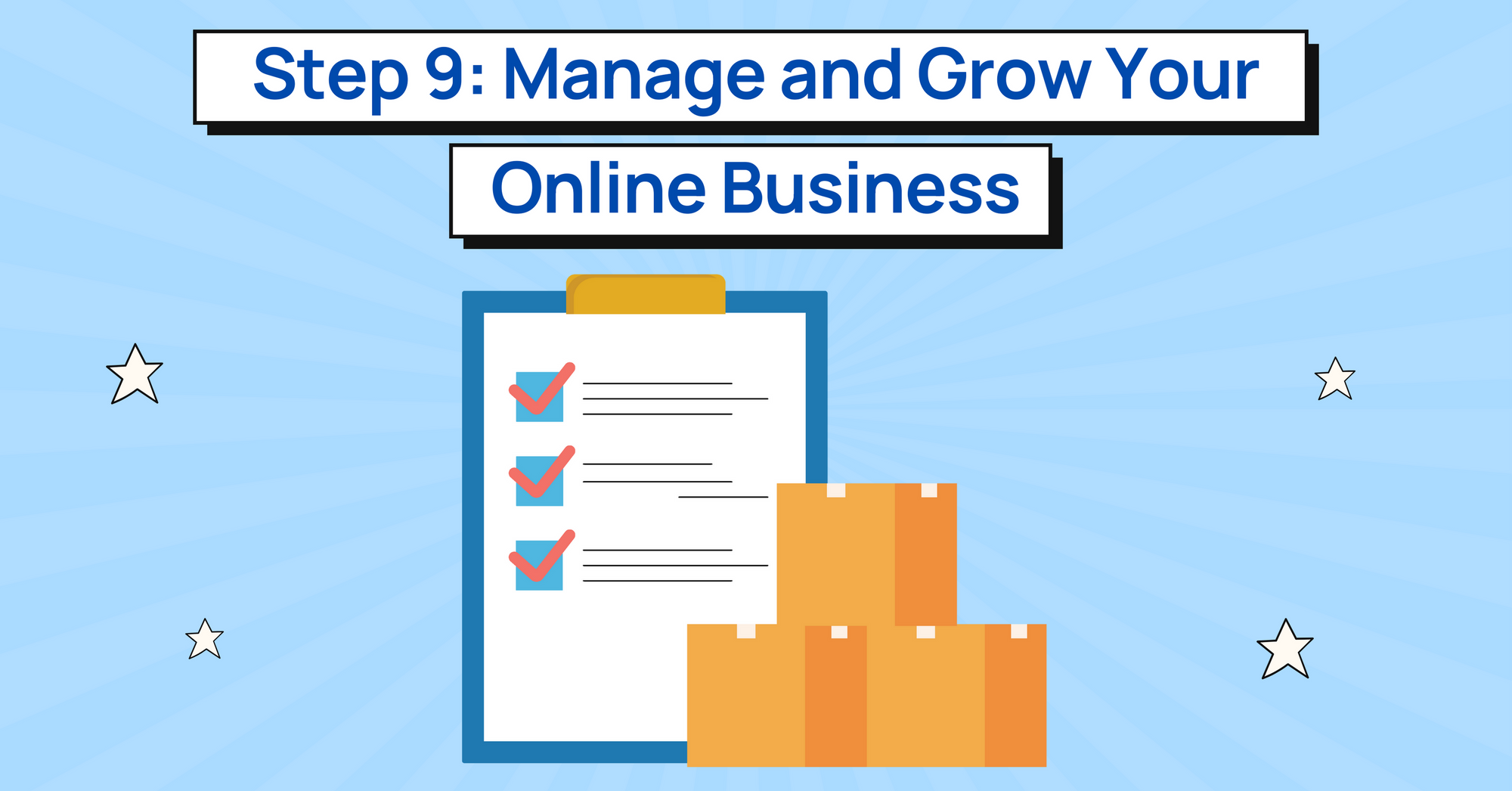 Managing and growing your online business requires consistent effort and adaptation to the ever-changing market.
🧾 Keeping Track of Inventory and Sales
Effective inventory and sales management is essential for meeting customer demands, minimizing stockouts, and optimizing warehouse space. By monitoring your inventory levels and sales data, you can make informed decisions on product restocking, pricing, and promotions. Utilizing inventory management software or e-commerce platforms with built-in inventory tracking features can help streamline this process.
📈 Continuously Growing Your Online Business
To ensure the long-term success of your online business, it is crucial to continuously improve and expand your offerings. This includes:
Regularly updating your product catalog to keep your store fresh and relevant
Implementing customer feedback to improve your products, website, and overall customer experience
Investing in marketing and advertising to increase brand awareness and reach new customers
Exploring new sales channels, such as online marketplaces and social media platforms
By focusing on these aspects, you can effectively manage and grow your online business in the competitive e-commerce landscape.
Launching Your Online Business Success
To start and grow a successful online business in the Philippines, follow these comprehensive steps: find a profitable niche, develop a business plan, register your online business, set up your finances, source products and find suppliers, establish delivery methods, build your online store, and create a strong online presence.
You can set up an online business within a week with HitPay's free business tools. Set up a website, send payment links, and accept and track payments all on one platform. It's free to set up, with no coding required!
Ready to start your online business in the Philippines?
Sign up for a free HitPay account or contact our team to learn more!
Read also:
- How to Start an Online Business in Singapore: Quick and Free Business Registration
- How to Monetize TikTok: A Complete Guide to TikTok Monetization
---
About HitPay
HitPay is a one-stop commerce platform that aims to empower SMEs with no code, full-stack payment gateway solutions. Thousands of merchants have grown with HitPay's products, helping them receive in-person and online contactless payments with ease. Join our growing merchant community today!