How to register your business with DTI in the Philippines: Step-by-step DTI registration guide
Learn how to set up your DTI business registration.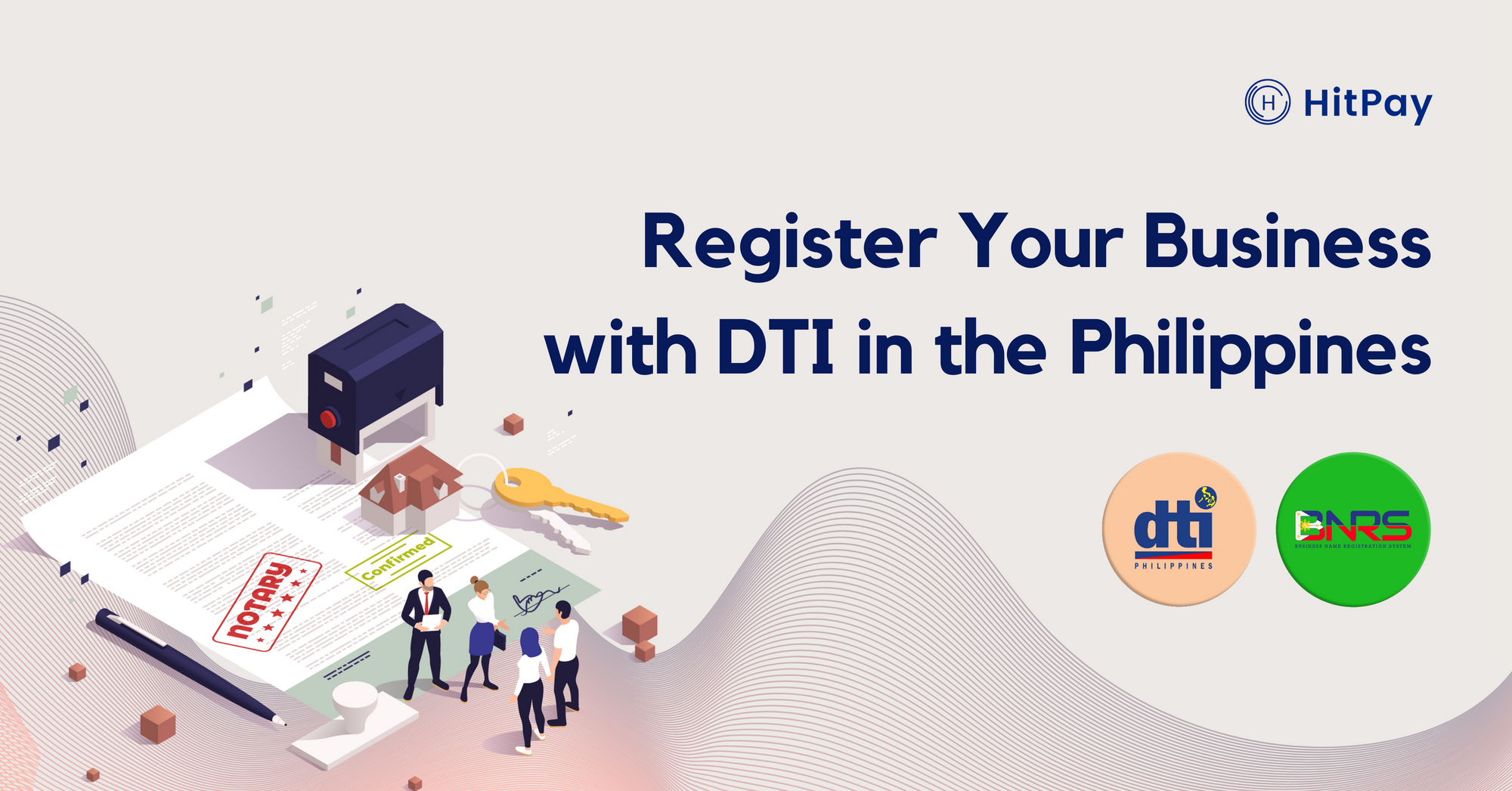 Starting a business can be exciting, but it also comes with important legal requirements. In the Philippines, a crucial step to setting up your sole proprietor business is registering with the Department of Trade and Industry (DTI).
What are the benefits of DTI registration?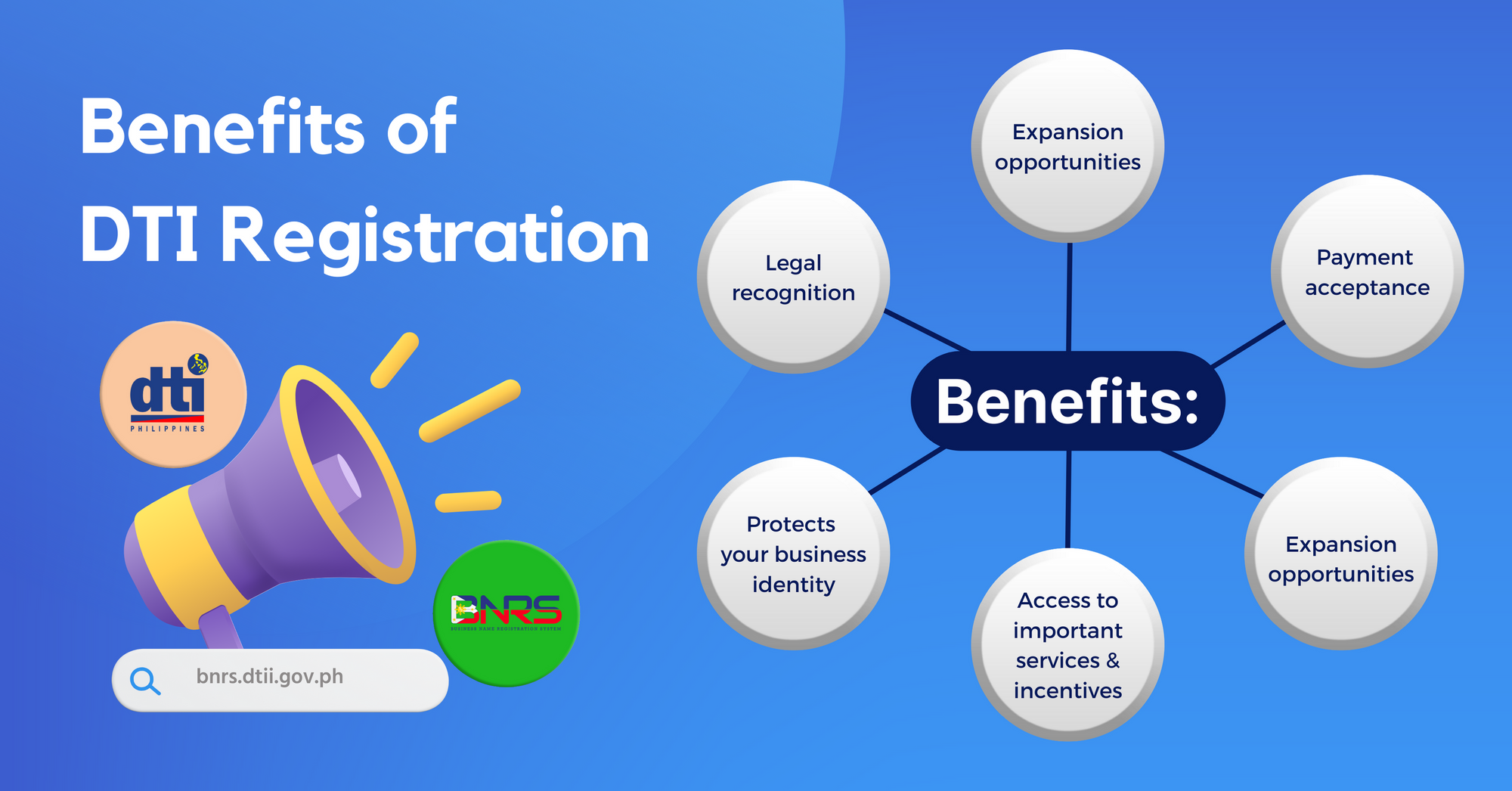 Legal recognition: Registering your business with DTI helps you build legitimacy and credibility among customers, suppliers, investors, and other important stakeholders. It also boosts customer confidence by showing that your business follows legal practices, which can improve trust in your products or services.
Protects your business identity: DTI registration gives you exclusive use of your business name, reducing the risk of brand confusion and potential legal disputes. DTI registration also protects your business identity from unauthorised use or infringement. It gives you the right to your brand and logo, making it easier to enforce your intellectual property rights if you need to.
Access to important services and incentives: DTI-registered businesses gain access to valuable government services and incentives. These may include business permits, government contracts, training programs, and other resources that can help your business grow.
Payment acceptance: DTI registration is a prerequisite for accepting card payments, an essential payment method if you want to expand and grow fast. For example, you will need a DTI registration to activate card payments on your online payment gateway.
Easier compliance with tax requirements: DTI registration is often a prerequisite for obtaining a Tax Identification Number (TIN) from the Bureau of Internal Revenue (BIR). Having a TIN is essential for fulfilling tax obligations, which ensures that your business can operate legally.
Expansion opportunities: If you plan to expand your business in the future, DTI registration is a solid foundation for setting up a business entity and securing financing in new markets.
Step-by-step DTI business registration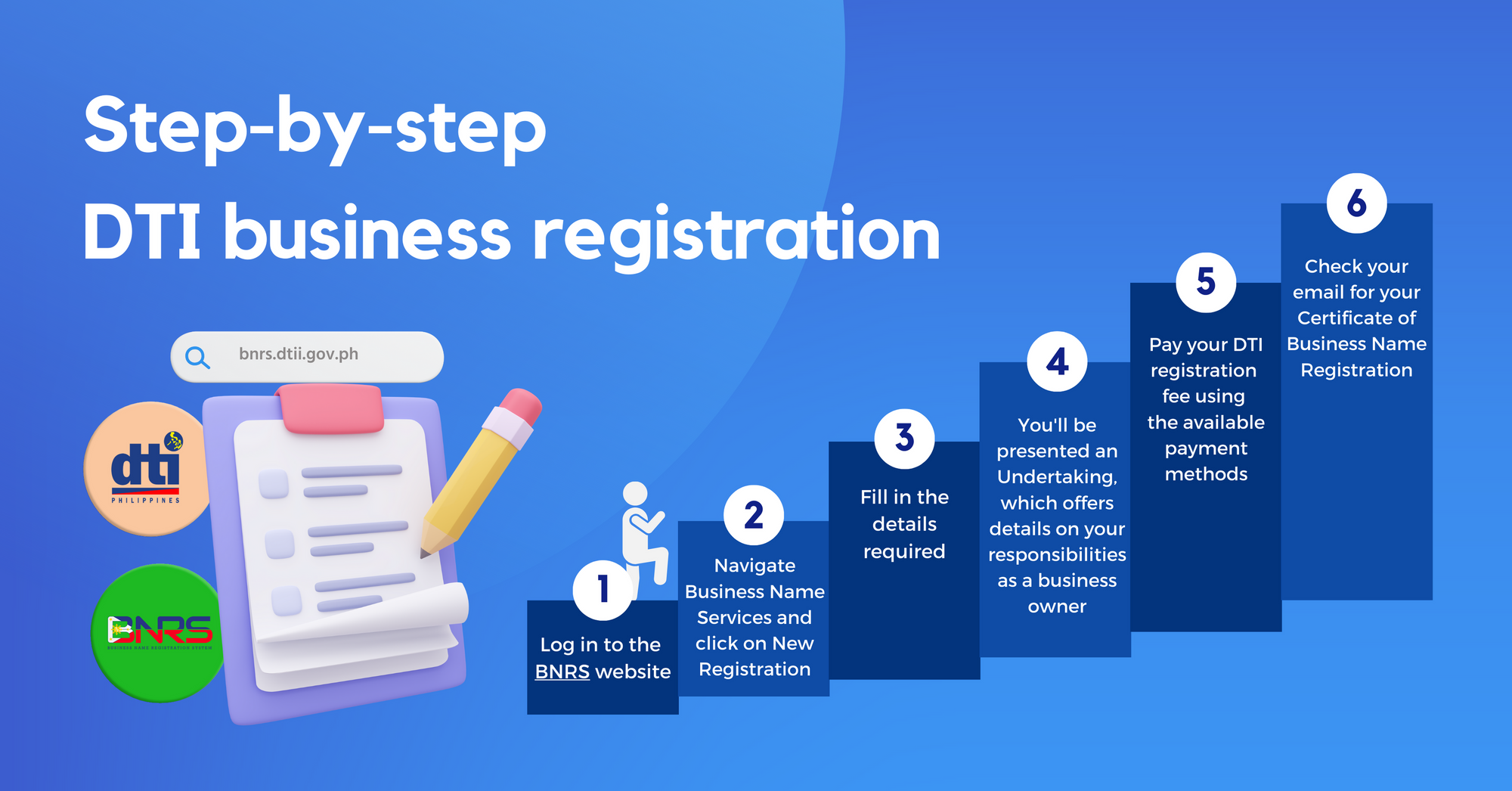 Follow these steps to set up your DTI business registration. You will need a stable internet connection and also be ready to pay a registration fee (via credit card, debit card, GCash, or OTC payments).
1) Log on to the Business Name Registration System (BNRS) website.
2) Navigate Business Name Services and click on New Registration.
3) Fill in the details required. These may include:
- Owner's Information
- Business Scope
- Business Name
- Business Address
- Personal Information
- Residence Address
Do check through the details carefully after completing the form.
4) You'll be presented an Undertaking, which offers details on your responsibilities as a business owner.

5)  Pay your DTI registration fee using the available payment methods — credit card, debit card, GCash, or OTC payments. Payment must be received within seven calendar days or your application will be voided. Once you have paid, you will receive a payment confirmation.
6) And you're done! Check your email for your Certificate of Business Name Registration.
I've gotten my DTI registration — what's next?
Now that your business is registered with DTI, you can apply for a business permit to operate your business. Depending on your business's location, you'll need to apply for local business permits from the city or municipal government. These permits are essential for operating legally within the area and may include a Mayor's Permit, Barangay Clearance, and other relevant licenses.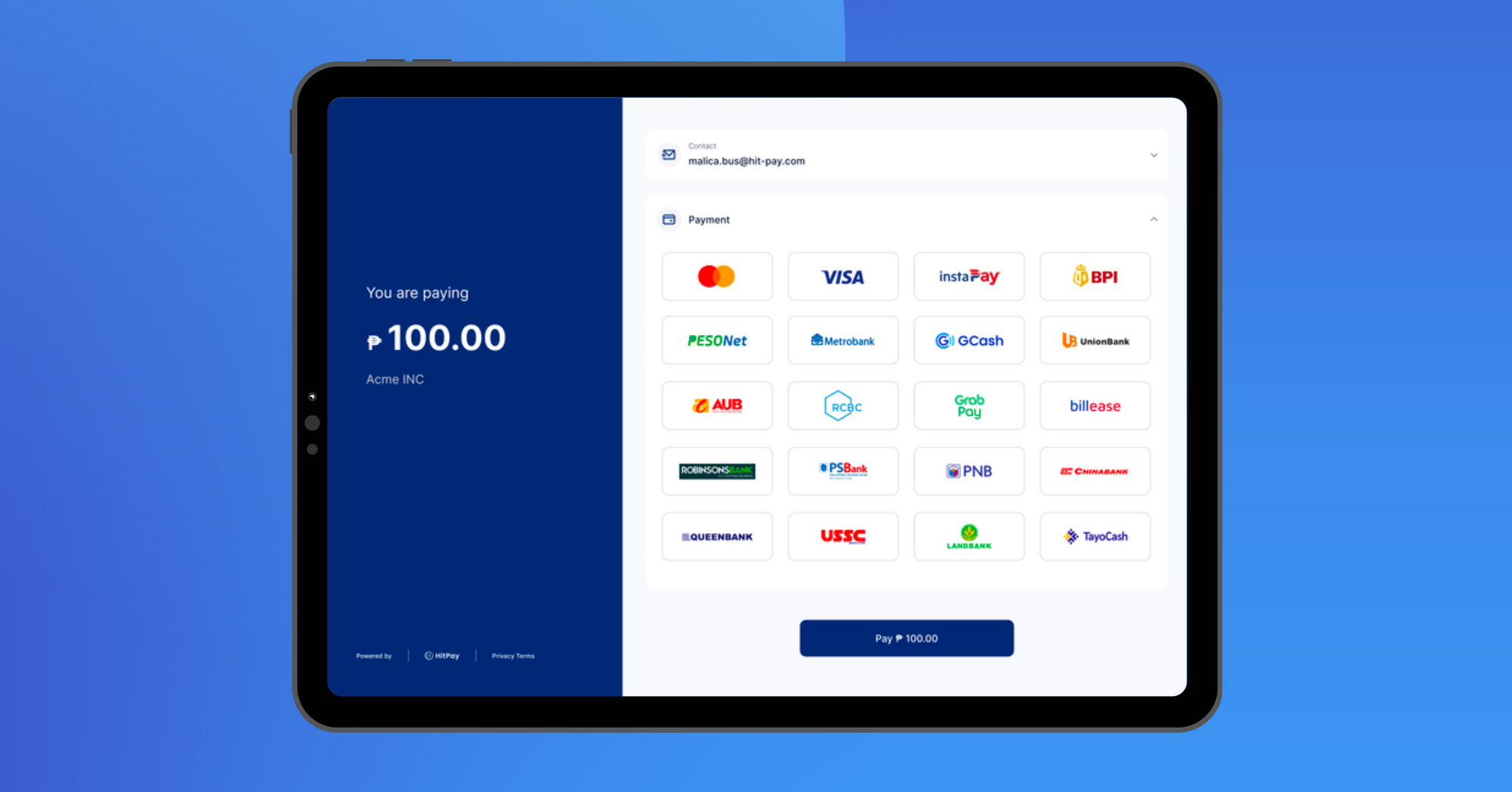 With your DTI registration, you can also set up your payment gateway to start accepting payments for your products or services. As a growing business or sole proprietorship, you can try HitPay, the best Philippines payment gateway for small businesses. With a DTI registration and a HitPay account, you can accept customer card payments, GCash, QR Ph, PESONet, OTC payments, online bank transfers, and BNPL — all with just one account, with no coding required.
Have questions on how to set up your business in the Philippines?
Contact us at support@hit-pay.com and our team will be happy to help.
---
About HitPay
HitPay is a one-stop, all-in-one platform that aims to empower SMEs with no code, full-stack payment gateway solutions. Thousands of merchants have grown their business with HitPay's products, helping them receive in-person and online payments with ease. Join our growing merchant community today!