Best payment link software in 2023: Which online payment link provider should you use?
Read about the pros and cons of the 6 best payment link providers in Singapore.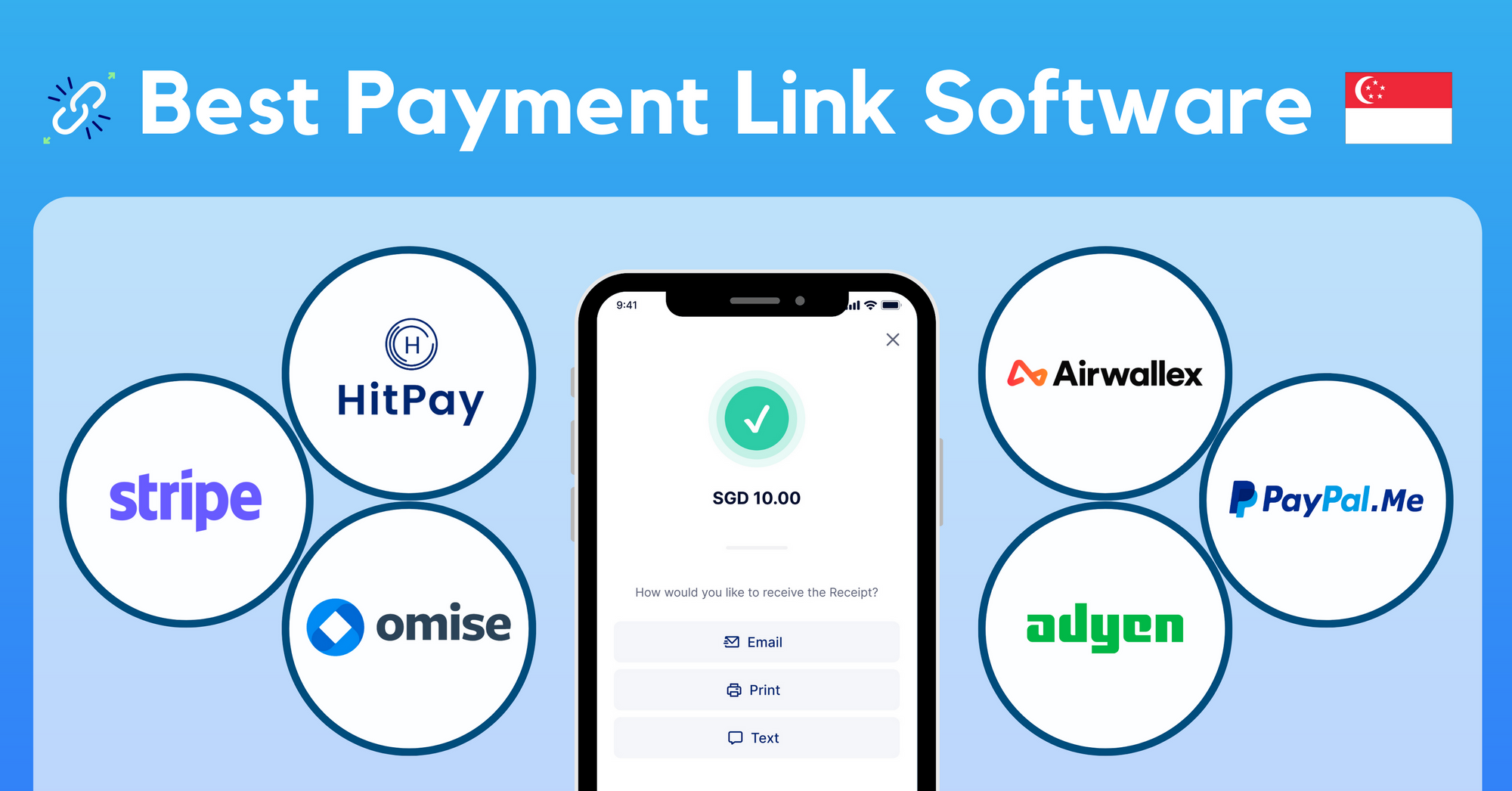 How do payment links work? What should I look out for when choosing a payment link solution?
We compare 6 popular payment link software solutions — Stripe, Airwallex, Adyen, Omise, HitPay, and PayPal.me — and assess how their payment link solutions measure up for a small business in Singapore. Read on!
What is a payment link and how do I use it?
Think of payment links as a bridge that allows the transfer of funds between you and your customers. They are unique URLs or QR codes that bring your customers to a secure checkout page to make payments.
Unlike bridges, however, you don't need to wait years to create a payment link.
You can create payment links in minutes with no technical expertise — as long as you have the right payment links software. You can easily share your unique payment link with customers through chat messaging apps, email, social media posts, and direct messages (DM).
Other places a payment link can help manage sales:
Embed a payment link on your link in bio if you sell through Instagram or TikTok to collect payments for a specific product
Create a pinned post on social media platforms to draw attention to a restocked product line
Send an email link in your chat messages with customers
Draw attention to an ongoing promotion by linking a payment link to your store's email signature
Should I use Payment Links?
Payment links can help you if:
You don't have a website that processes payments: Just add a payment link on your website to accept a full range of digital payment methods.
You sell mainly through social media or messaging apps: Simply copy and paste your unique URL or QR code into your chat or email with customers.
You want to accept in-person payments without a card terminal: Don't have a point-of-sale system at your pop-up store or need an easy way to handle payment-on-delivery? Text a payment link to your customer and get paid instantly.

Read also: How to get paid in seconds with payment links
How to choose a payment links solution — 4 things to consider
Supported payment methods: Do you know what payment options your customer demographics prefer, and does your payment link solution support those options? For example, if you sell to teenagers, you might want to offer PayNow or e-wallet payment options (and prominently display these options) on your checkout page to attract more customers.

Besides that, you should also consider which payment methods work best for your business model. For example, BNPL options like Atome may be popular if you're selling big-ticket items like furniture and electronics.

No-code customisation: Your checkout page is an opportunity to give customers a positive, lasting impression of your brand. Customers want smooth payment experiences, including clear payment flow and attractive, on-brand design. Check that you're satisfied with the customisation offers from your payment links solution and whether these customisation options are easy to add without technical expertise.

Processing fees: You'll pay a processing fee when customers buy something through a payment link so you'll want to factor these fees into your costs.

Integrations with your existing online store, e-commerce platform, or accounting software: Does your payment link software work well with other vital parts of your digital business, like your accounting software (e.g. Xero, QuickBooks) for easy transaction reconciliation, or your e-commerce platform?
Top 6 payment link software in Singapore — 2023 comparison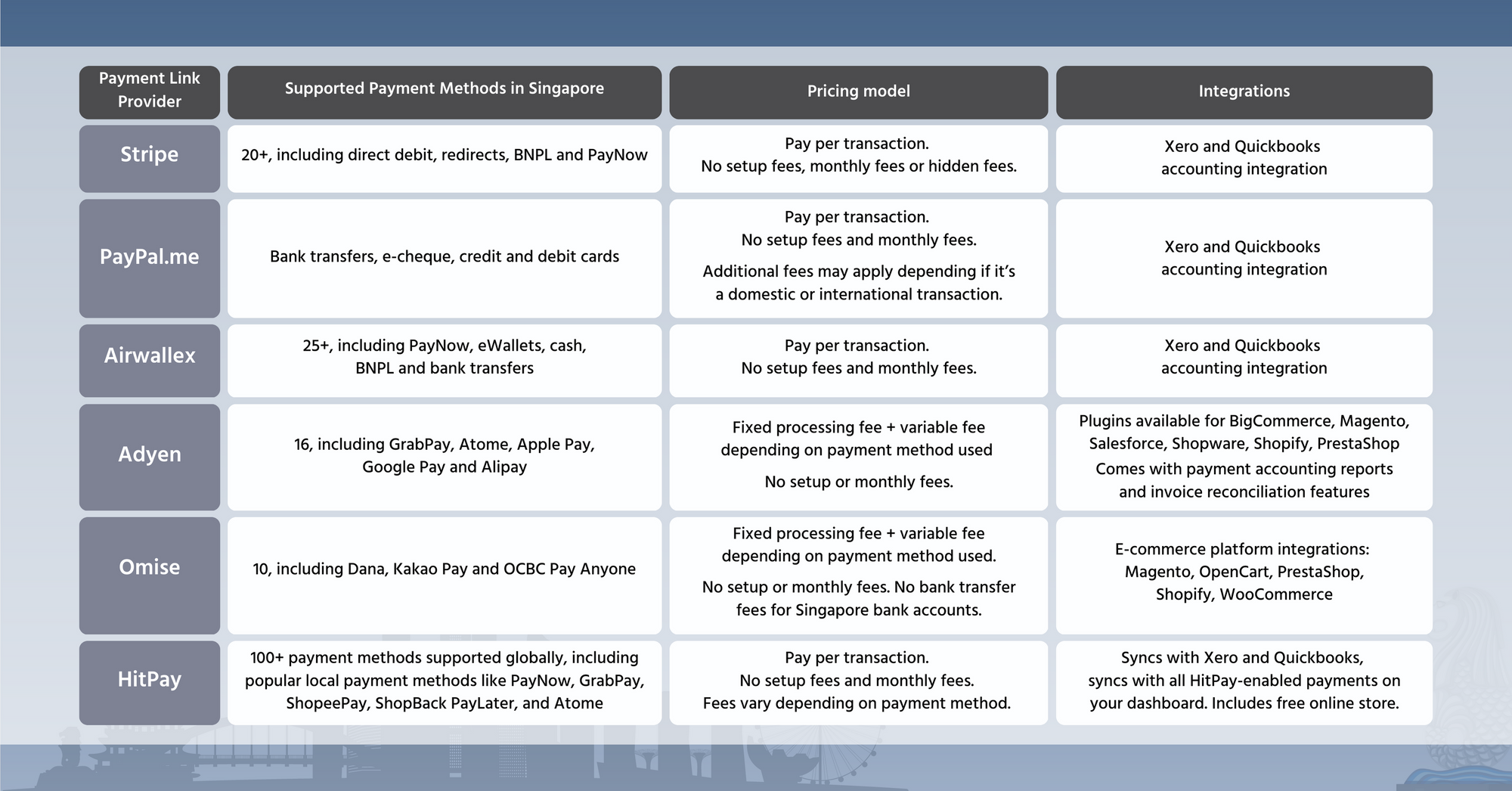 1) Stripe
Global payment processing software Stripe's payment link feature has plenty of customisation options from cross-selling, subscription upsells, and UTM code tracking. However, you'll need a developer's help to use its features.
Pros:
Integrates with Xero and Quickbooks accounting software
Wide range of payment link customisation options
Cons:
Can be challenging to set up without developer support
High processing fees
2) PayPal.me
PayPal.me's personalised payment link page also functions as a landing page where you can add identifying informations like a company description, profile photo, and even change the page to suit your brand colours. However, it only supports bank transfers and credit/debit card payments, making it limited for Singapore-based sellers.
Pros:
Comes with a searchable unique landing page URL where you can add a company description, profile photo, and brand colours
Automatically included with your PayPal account, if you have one
Cons:
Lacks popular local payment options in Singapore like PayNow, GrabPay, and ShopeePay
High processing fees
3) Airwallex
Airwallex is a good choice if you're looking for an all-in-one finance platform with the ability to manage credit cards for your employees and multi-currency wallets. However, it's less suitable for independent creators and part-time businesses, as you'll need to open and maintain a separate business bank account with Airwallex to use their payment links feature.
Pros:
Comes with native Xero integration
Includes multi-currency account support and borderless credit card support
Attractive exchange rates and wire fees
Cons:
Need to open a business account to use payment features
4) Adyen
Adyen stands out for its wide range of integration partners, which is useful if you want to sell in multiple countries. Adyen also has a minimum monthly invoice requirement, which may be difficult if you've just started your business or don't meet this sales volume consistently.
Pros:
Wide range of integration partners with large e-commerce platforms like BigCommerce, Oracle, and Salesforce
Can accept payments and payouts in multiple currencies
Cons:
Minimum invoice requirement of €100 (S$142) per month
No native integrations for accounting software Xero or Quickbooks
5) Omise
If you do business in Thailand, take advantage of Omise's array of local payment methods support exclusive to Thailand. However, its payment links feature lacks checkout page customisation or native accounting integrations.
Pros:
Specific Thailand-only integrations, features, and payment methods like KakaoPay, TrueMoney wallet, and PromptPay are available
Cons:
Lacks checkout page customisation options like brand logos
No accounting integrations like Xero or Quickbooks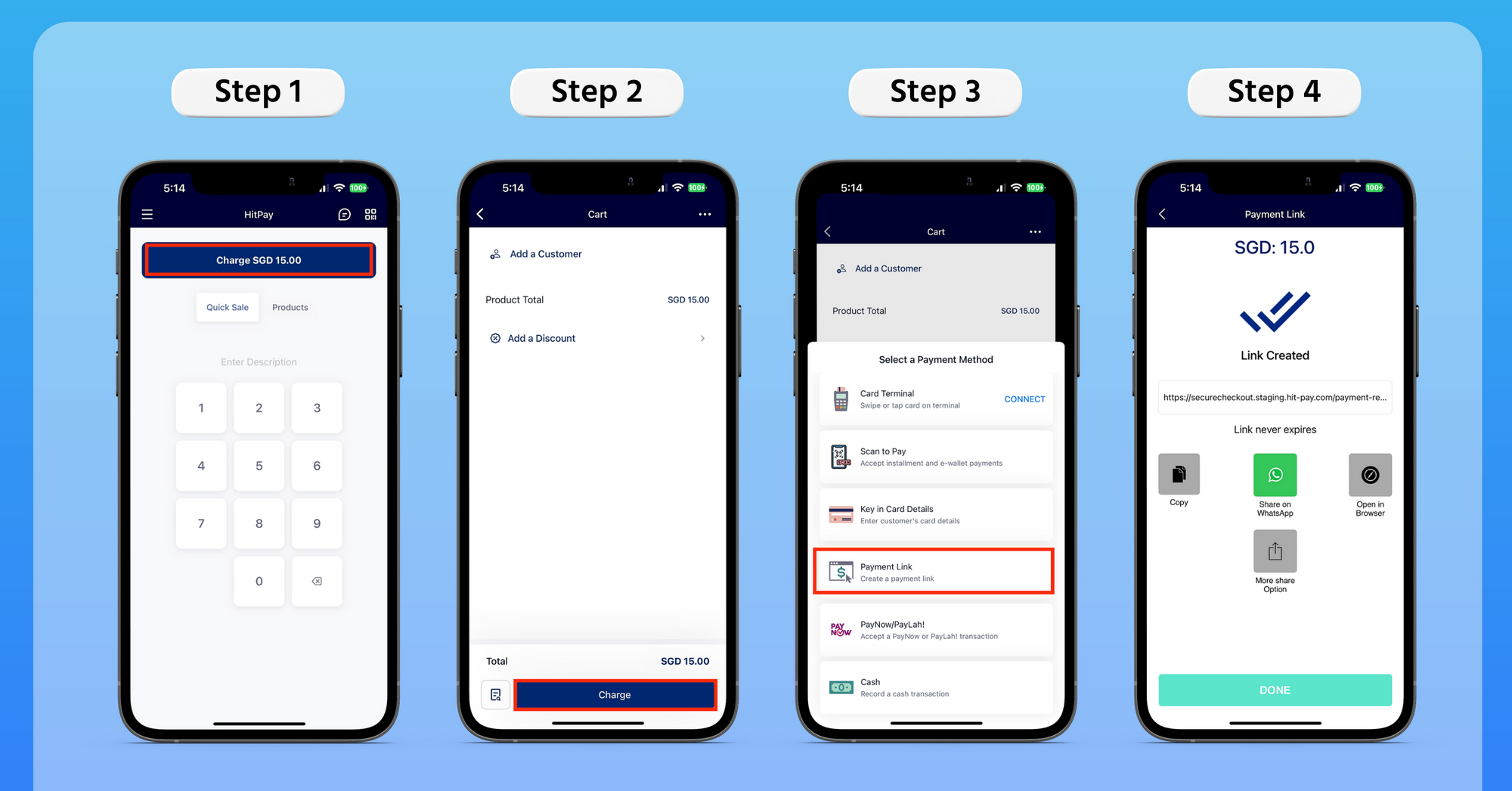 6) HitPay
If you're running a business in Singapore and need a simple, no-code payment links software, HitPay offers both ease of use and customisation options — without any technical set-up. HitPay is also available in Malaysia, Indonesia, and the Philippines, with Thailand coming soon, so you can scale your business across the region with an all-in-one payment solution.
Pros:
Native Xero and Quickbooks accounting integration
Supports 100+ payment methods
Syncs with all HitPay-enabled payments online and in-person
Can choose which payment method to display or customise payment method based on order amounts
Includes other features for online businesses like a free online store, online invoicing, and inventory management for free
Cons:
Support coming soon for more countries  
Try the best payment links software for growing businesses
Want to set up and send payment links in just minutes?
Click here to sign up for a free HitPay Singapore account — no coding required, no setup or subscription fees.
Need a demo first? Book a live demo with our support staff here.
---
About HitPay
HitPay is a one-stop commerce platform that aims to empower SMEs with no code, full-stack payment gateway solutions. Thousands of merchants have grown with HitPay's products, helping them receive in-person and online contactless payments with ease. Join our growing merchant community today!