Merchant's Guide to the Top Payment Methods in Indonesia: Online and In-Store (2023)
Find out here the seven most popular ways people in Indonesia pay for their shopping online and offline, from classics such as Visa and Mastercard debit and credit cards to the newcomer: BNPLs like Kredivo and QRIS, such as GoPay and OVO.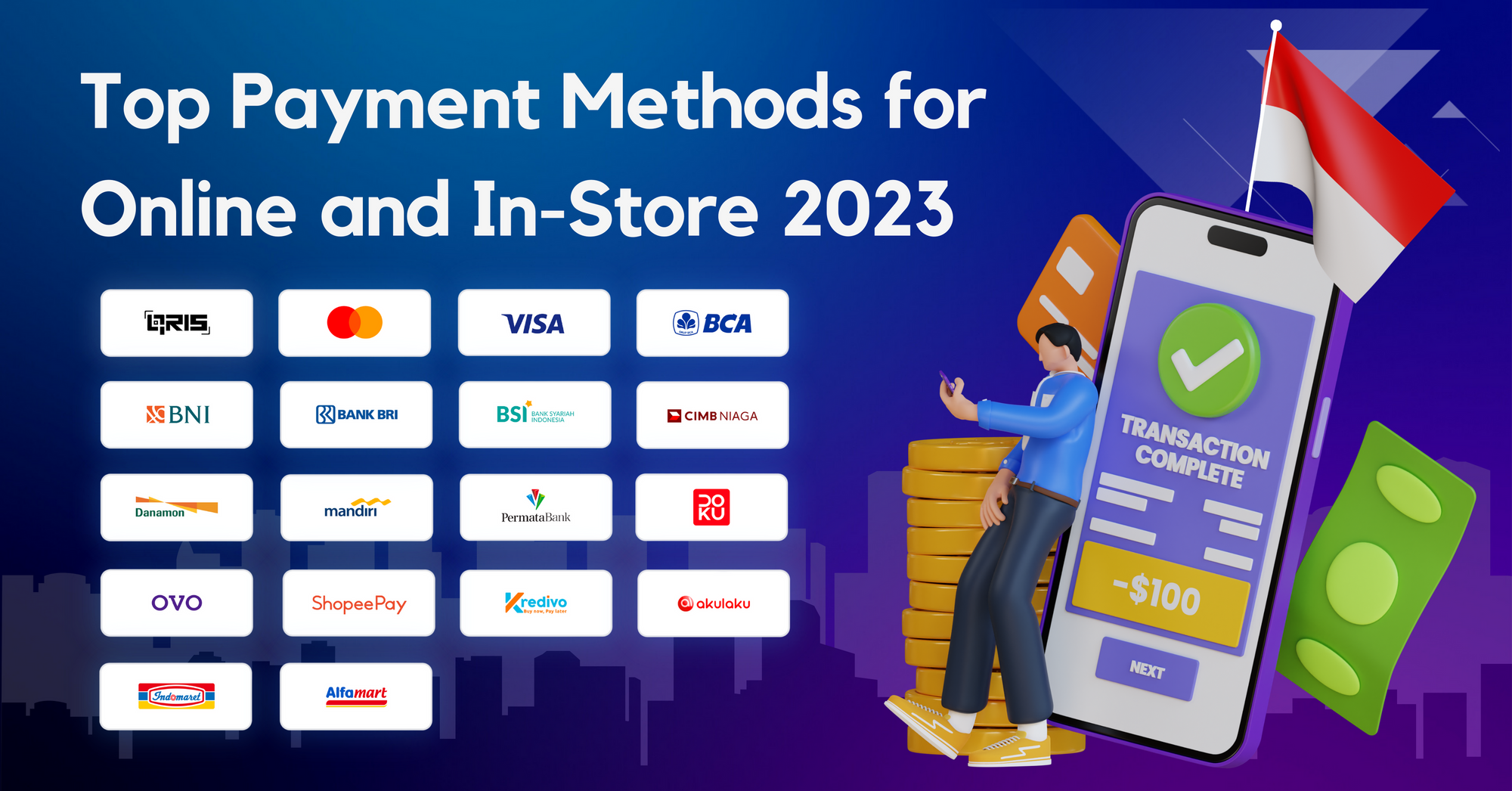 Learn about the top payment methods in Indonesia, and how to offer them to your customers: From QRIS-based payments GoPay, OVO, and ShopeePay to direct debit with BRI and CIMB Niaga.
When it comes to paying for transactions, there are many options that any person shopping in Indonesia could choose, whether they're filling their carts online or offline.
Some customers still like using cash, while others prefer to rely on cards. But the majority of people in Indonesia now use a combination of cash, cards, as well as at least one cashless payment method.
One way to do this cashless payment type is through paying with QR-codes, and by leveraging payment services such as OVO or ShopeePay. It's also possible that your customers may prefer paying by bank transfers — not just account numbers registered to your business, but also virtual account numbers designated specifically to one customer.
In this article, we'll be discussing the top payment methods in Indonesia in 2023, including ones that can be used for cross-border transactions. We'll also show you how to easily set up these payment methods as an SME merchant operating in Indonesia.
Top 7 Most Popular Payment Methods in Indonesia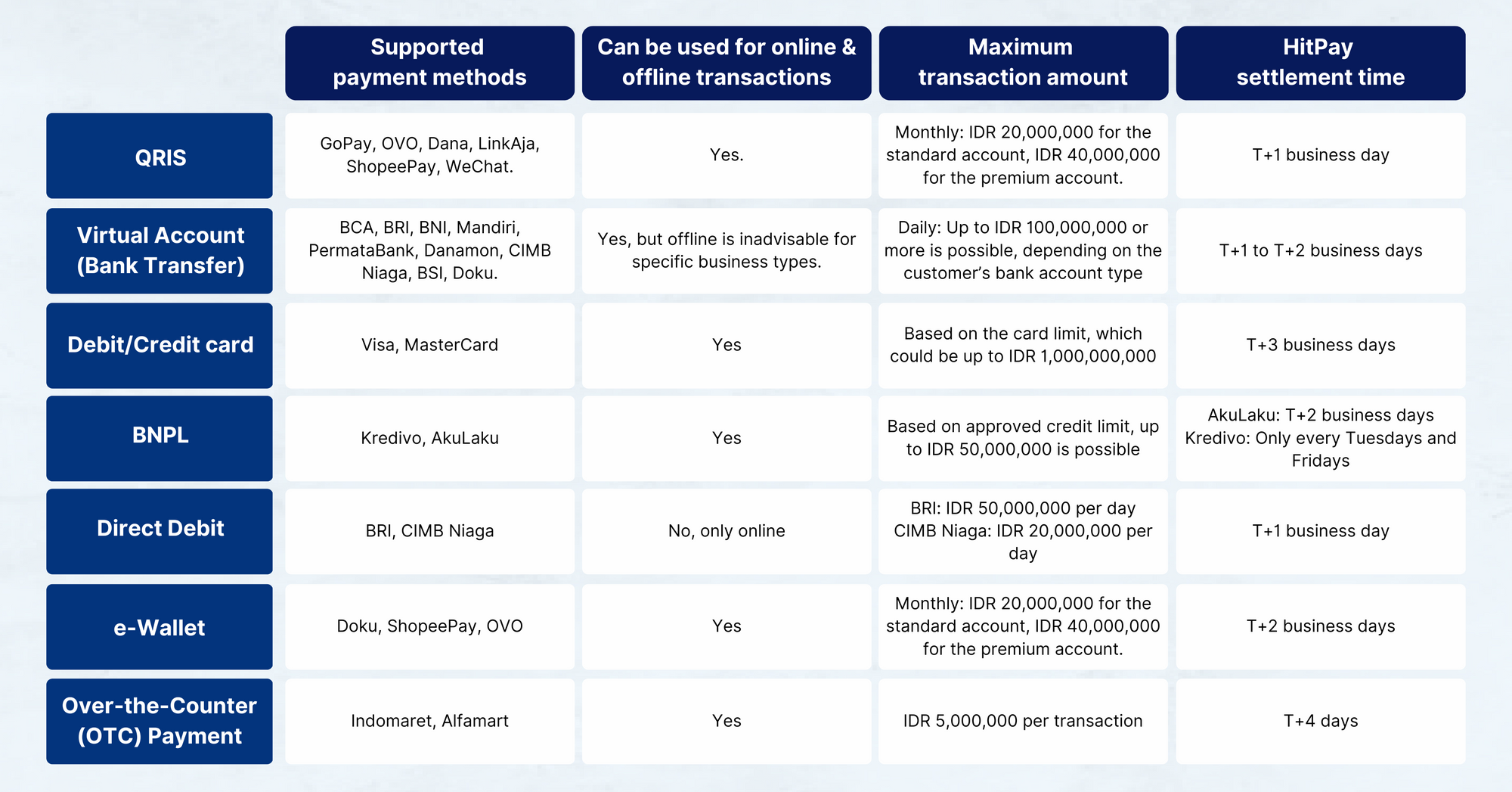 E-wallets, over-the-counter payments, and more — customers have a wide variety of payment methods to choose from when shopping in Indonesia. Among all of them, here are the seven most popular ways to pay for transactions in Indonesia:
1) QRIS 🤳
The Quick Response Code Indonesian Standard (QRIS) is a unified, standardized QR-code-based payment system that is available for use in Indonesia. Much like the Singapore Quick Response Code (SQRC), QRIS allows QR-based payments in Indonesia to occur across different providers, all while using the same QR code.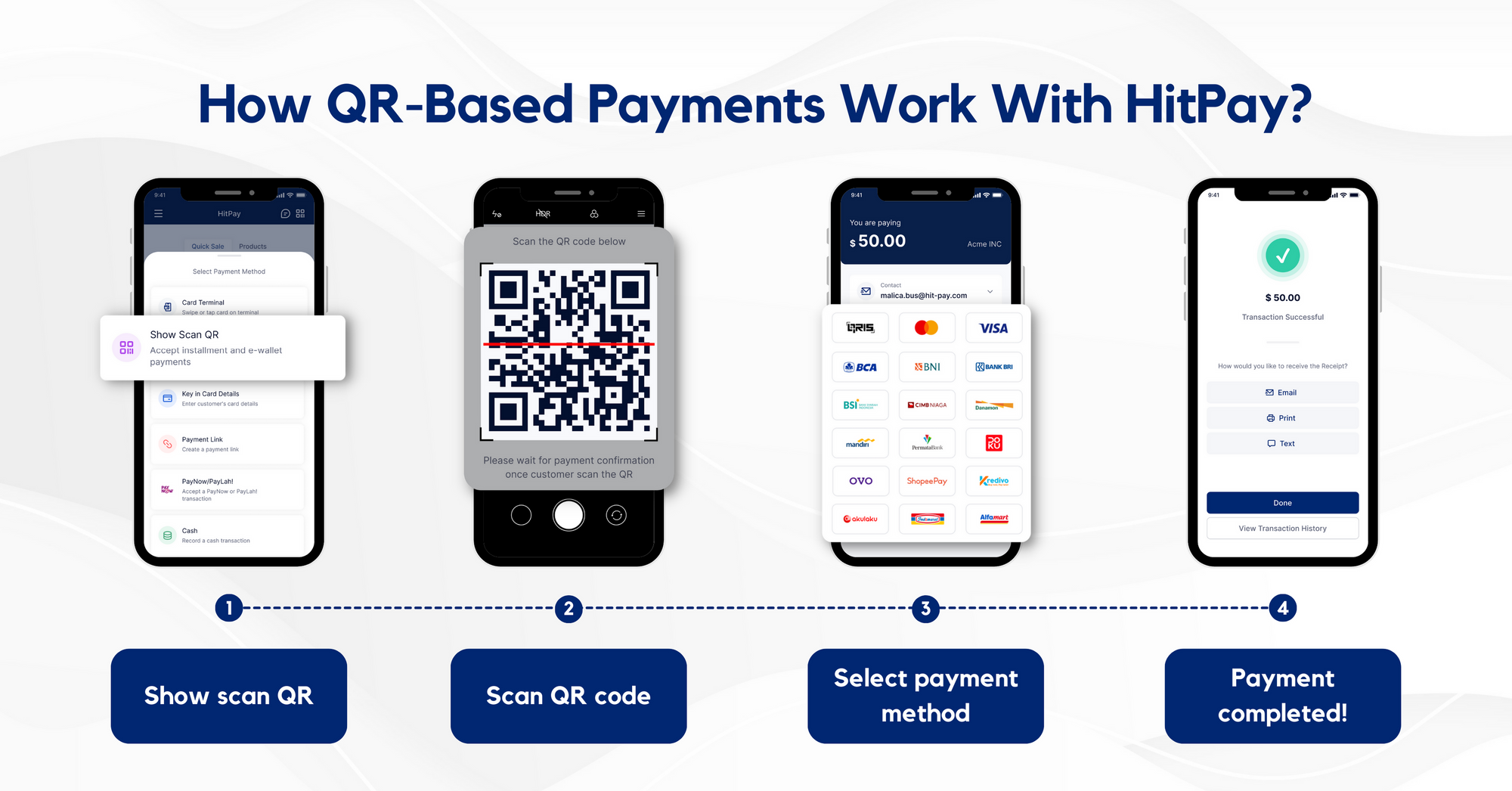 With QRIS, it doesn't matter whether you're using GoPay or LinkAja as a merchant: using the same merchant QR code, your customers can pay with any QR-based payment method they prefer, whether it's from the same e-wallet system or others such as DANA or OVO, to even banks such as BNI or BSI.
QR is a huge hit in Indonesia since the registration process for a basic account can be done with a phone number. Plus, the minimum transaction amount is much lower compared to payment with debit or credit cards.
Pros:
✅  Widely used by customers who prefer to pay cashless
✅  Transaction can be completed in a matter of seconds
✅  Settlement time is among the fastest — 1x24 is the average
✅  Accessible to both local and international customers, since the standard QRIS account only requires an Indonesian phone number for registration
Cons:
❌  May not be suitable if your business sells goods and services where the average consumer spends more than IDR 2,000,000 in one transaction
❌  Complicated refund mechanism
How to sign up for QRIS as a merchant in Indonesia
To start offering QRIS as a payment method, you'll need to sign up for a payment service provider that operates in Indonesia, like HitPay.
An extra benefit that you get from choosing HitPay is getting access to QR codes that can be used for both local and international payments. With HitPay, you can accept payments from customers that use local payment methods such as LinkAja or GoPay, and even foreign ones like WeChat Pay.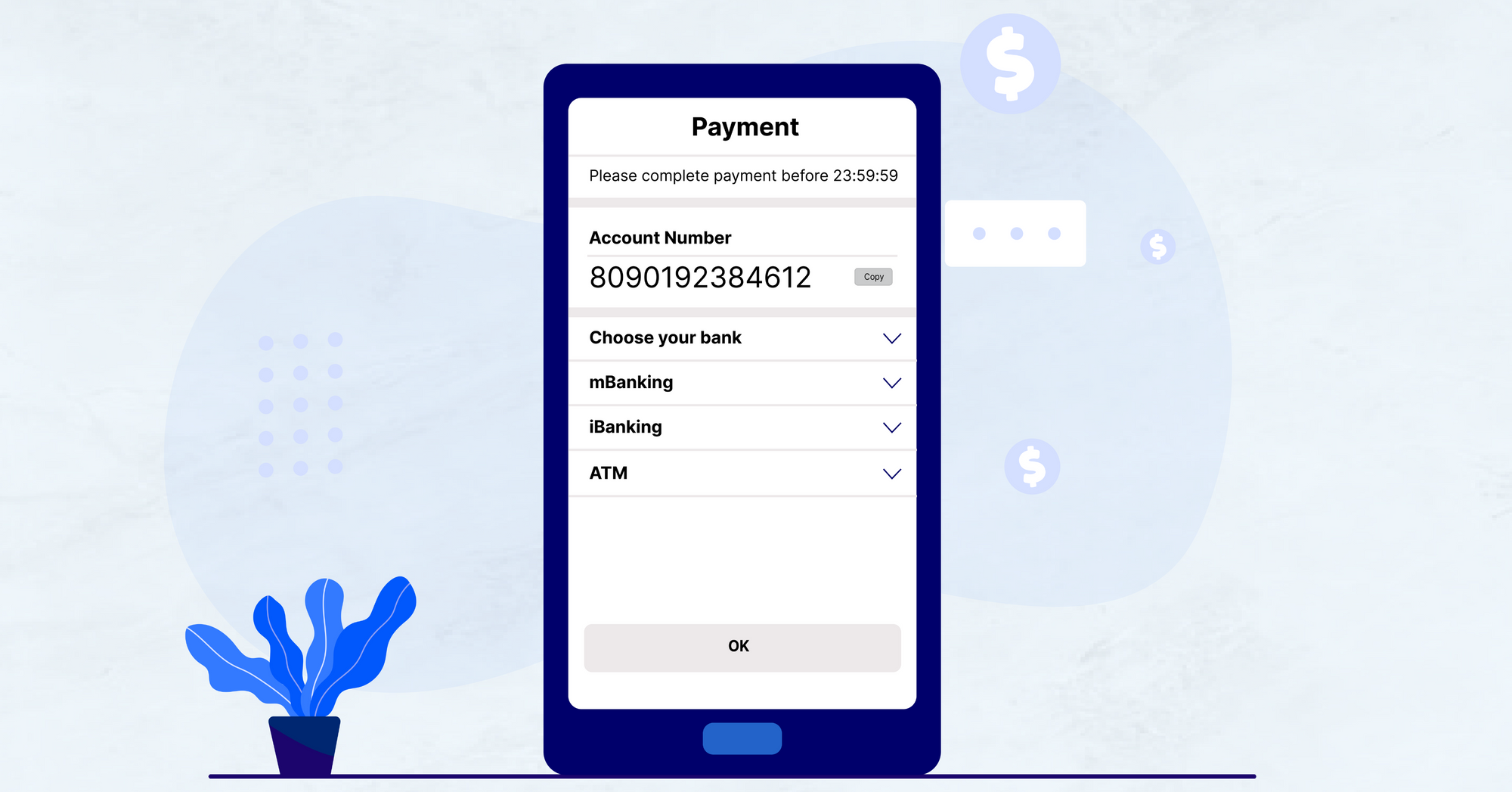 2) Virtual Account (Bank Transfer) 🏦
Virtual accounts are quite similar to bank transfers, in that funds are transferred from one bank account to another. However, there are some major differences between virtual account transfers and normal bank transfers:
A virtual account number is generated per transaction — the same account number cannot be used for a different transaction, unlike bank transfers.
Transferring money to a virtual account is simpler than a bank transfer. As a merchant, virtual account payments don't require any manual verification, which speeds up your payment processing time. On the customer side, there's no need to input any numbers, which decreases the chances of errors. Customers should also feel more at ease since the customer's name will be attached to the virtual account number.
Virtual accounts tend to be highly popular for online stores since incoming transfers arrive quickly and don't require manual verification.
Pros:
✅  Offers the lowest merchant transaction fees among all the other cashless payment methods (usually in flat fees not percentages, like HitPay which charges IDR 5,000 per transaction)
✅  Accessible to most customers in Indonesia
✅  Settlement time is among the fastest compared to other cashless payment methods
✅  Has one of the highest transaction amount limits (up to IDR 100,000,000 per transaction is possible)
Cons:
❌  May not be suitable for high-velocity, customer-facing, offline businesses, such as retail stores and restaurants, since virtual account payments are only automatically verified for bank transfers from the same bank (e.g. BNI personal account to BNI virtual account), while others may take more than 24 hours
❌  Not designed to accept international bank transfers
How to make a virtual account in Indonesia
Setting up a virtual account as a merchant will not be as simple as getting a QR code, unfortunately. Typically, most banks would need you to open a business banking account with them, such as BCA KlikBisnis, and there are a lot of other verification processes that you would need to undergo before they would be willing to issue you one.
If you're an SME owner, it might be better to use a payment gateway instead. It would be more cost-efficient since there's no need to have a business banking account with different banks — which translates to fewer bank admin fees — since just with one payment gateway, you'll get access to virtual accounts issued by multiple banks.
3) BNPL 📆
The buy-now-pay-later (BNPL) model has been around for quite some time in Indonesia, but its continued rise has mostly been due to the advent of online shopping. While Kredivo and Home Credit are some of the oldest BNPL players in Indonesia, there are also new names now that are equally as popular such as GoPayLater, Indodana, and AkuLaku.
In general, BNPL programs allow customers to purchase things in installments, alongside offering several interest-free schemes, such as Kredivo's 0% interest for the first three months.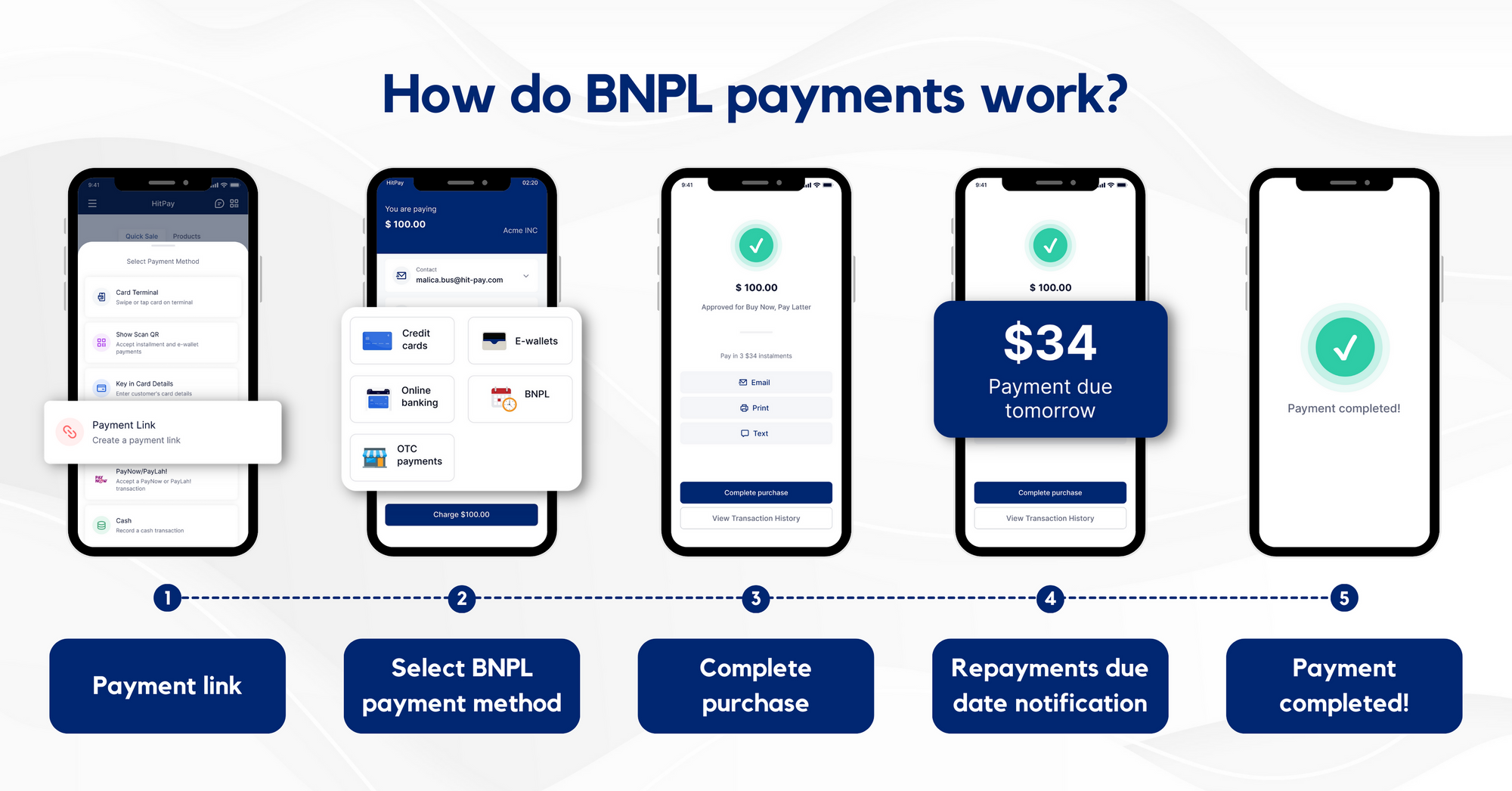 Pros:
✅  BNPLs tend to come with their own loyal user base, so offering them as a payment method can be a great way to attract new customers to your business
✅  Fast processing time
✅  High transaction amount limit, usually up to IDR 50,000,000
✅  Good for both online and in-store shopping

Cons:
❌  Not the most accessible payment method for the average customer
❌  Settlement time is one of the longest on this list
How to sign up for an Indonesian BNPL as a merchant
Each BNPL provider has their own requirements for registration, but typically, it seems to be simpler than all of the other payment options on this list. To sign up for AkuLaku as a merchant, for example, you only need to provide your ID card and tax identification number.
Looking for an easier and more efficient way to start offering BNPL as a merchant? HitPay could be your answer. With our payment application, merchants can register with popular BNPL providers such as Kredivo and AkuLaku, without having to deal with separate verification processes for these services. Additionally, with HitPay, you get the flexibility to choose when and where you offer them.
Want to activate BNPLs only during your seasonal sales, or offer them only for your in-store customers? HitPay can help you do both and more.
4) E-wallets 🛒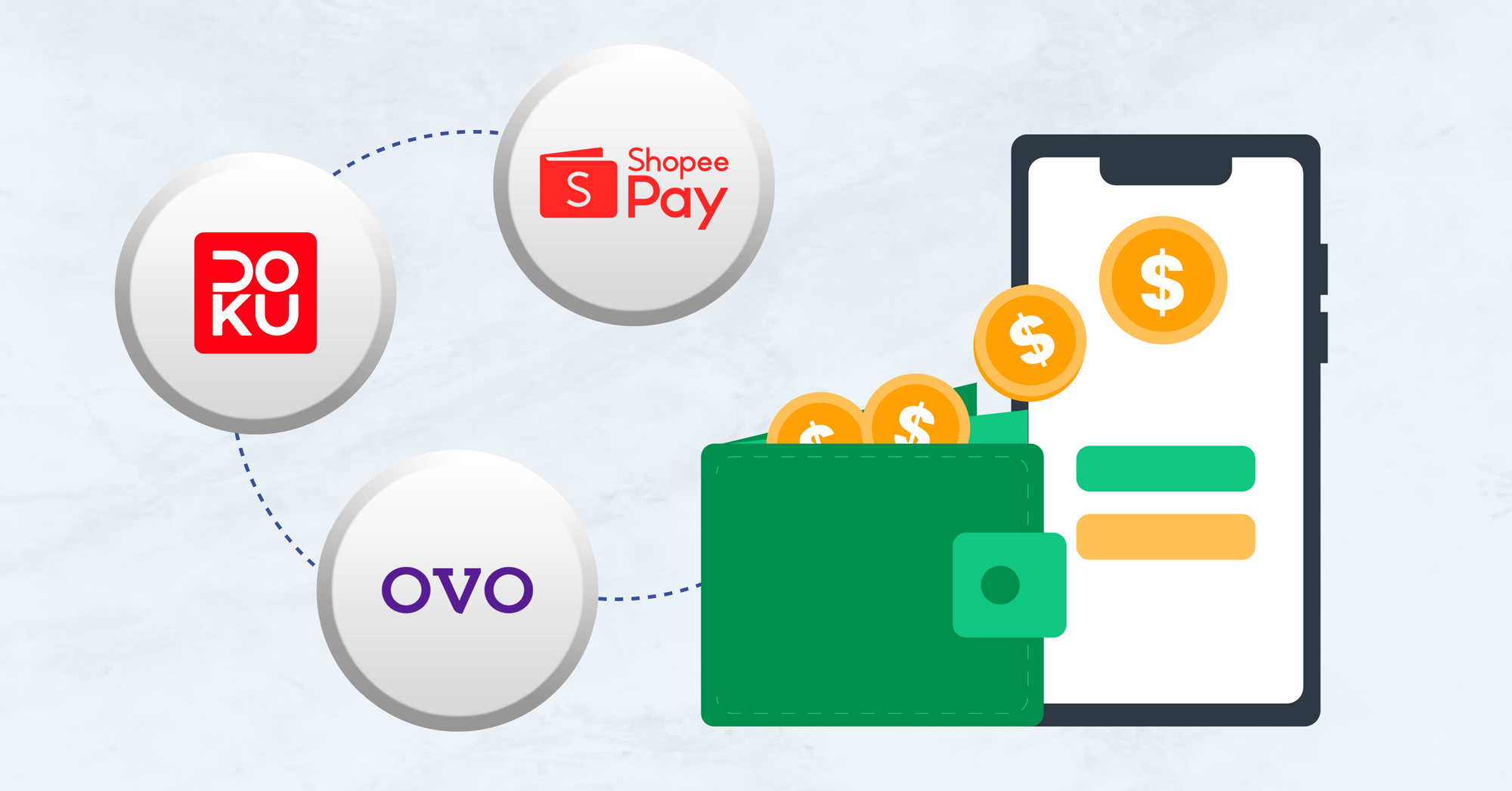 Similar to the rest of the world, e-wallets have gained significant popularity in Indonesia as a means for customers to temporarily hold their funds. From shopping in supermarkets to paying electricity bills, customers in Indonesia use e-wallets a lot in their daily lives, with some of the biggest names in the business being OVO, GoPay, DANA, and Doku.
Although payments made through these e-wallets typically cater to the Indonesian market, Doku stands out as one of the rare options that facilitate cross-border transactions, allowing Indonesian merchants to accept e-wallet payments from customers not based in Indonesia.
Pros:
✅  Can be used for online and offline shopping
✅  Offers higher transaction security and flexibility than QRIS-based payments
✅  Relatively fast settlement time
✅  Can partner with e-wallet providers to provide special offers for their user base
Cons:
❌  Transaction limit isn't the highest; up to IDR 2,000,000 per transaction for an unverified account
❌  If you're not using a payment gateway like HitPay, you'll need to have a certain degree of technical skills, since setting up this payment method often involves connecting to the payment provider's API
How to sign up for and use e-wallets in Indonesia as a merchant
The process of signing up as a merchant for e-wallets is almost identical to QRIS, since many of the payment providers are the same companies.
Typically, setting up an e-wallet requires you to have a certain level of technical expertise. However, you can avoid all that if you're using a payment gateway like HitPay, which offers a no-code system where you can manage e-wallet payments without the need for any API integrations.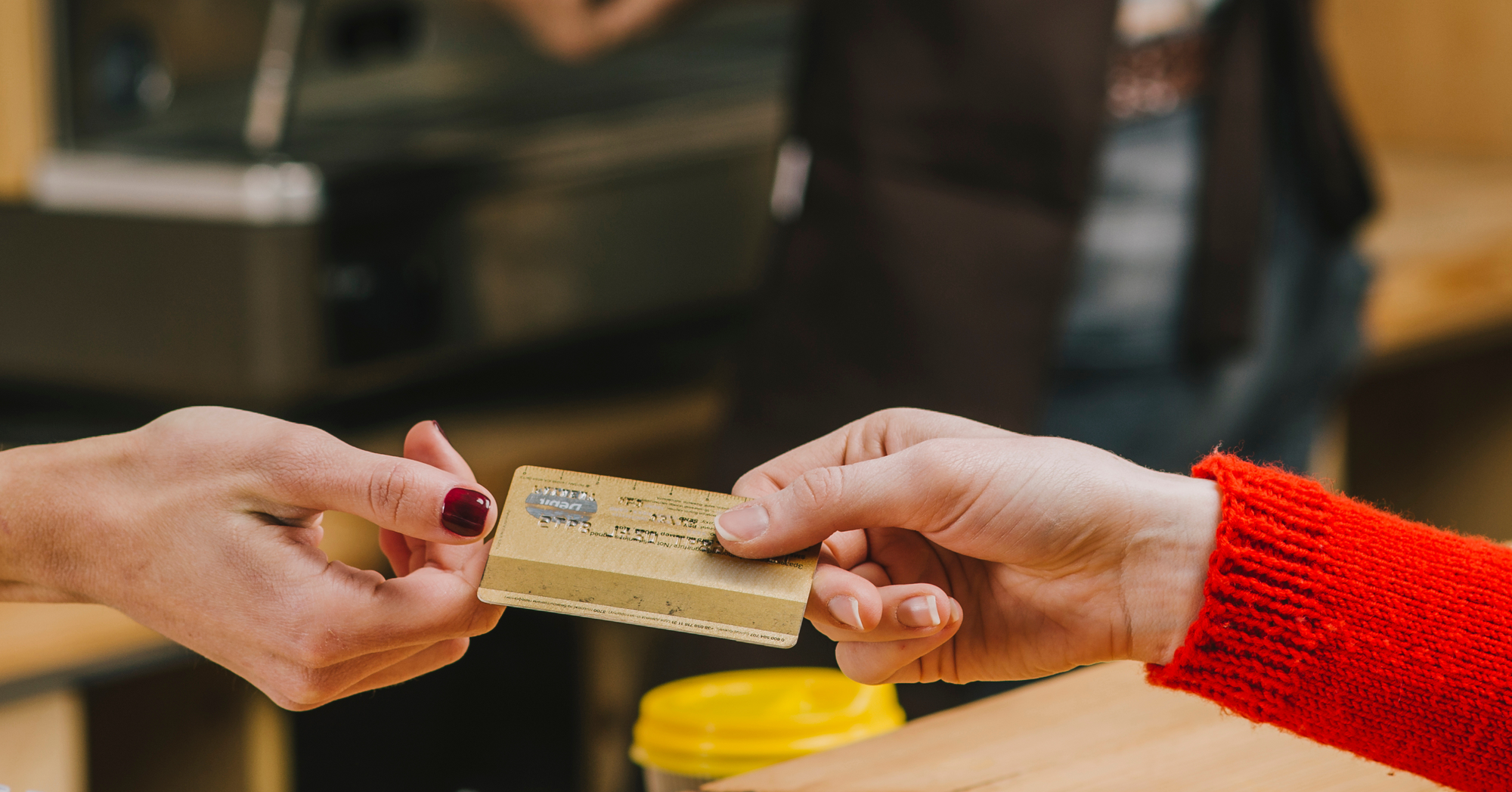 5) Credit and Debit Cards 💳
Although card-based payment is not as popular as it used to be, credit and debit cards are still one of the main methods to pay for transactions in Indonesia, especially in urban areas.
In addition, tourists and overseas customers still prefer to use this method as a primary way to do transactions, and as such, accepting payment using credit or debit cards should still be a priority if your customer base includes these groups.
The major issuers that are widely accepted in Indonesia, much as it is worldwide, are Visa and Mastercard. However, you can also offer JCB, American Express, or even the Indonesian-based GPN, if many of your customers use cards issued by these payment networks as well.
Pros:
✅  Can partner to offer special discounts to attract new customers
✅  Suitable if your business often services or sells to non-Indonesian customers as well
✅  Best at handling exception items (e.g. refunds, cancellations, or other transaction interruptions) in comparison to all of the other payment methods in this list
✅  Flexible payment option, since it's usually possible to turn a purchase into installments when your customer uses a credit card
Cons:
❌  High set-up and transaction fees, with the latter ranging between 1-4%
❌  Requires a higher level of security safeguards to reduce the risk of fraudulent behavior
How to become a Visa/Mastercard merchant in Indonesia
To be able to accept Visa or Mastercard as a merchant in Indonesia, the simplest way would be to rent a credit card terminal if your customers often shop in-store.
If you're looking for an online method to do transactions with cards issued by either Visa or Mastercard, you can set up HitPay, a payment gateway that already partners with both of them. It is usually easier to do this instead of becoming a Visa or Mastercard merchant directly, since by doing the latter, it would mean you'll have to set up their system by yourself, which can be costly.
6) Direct Debit 🌐
Direct debit is a fairly new way of paying for online transactions in Indonesia. It works quite similarly to the traditional way of paying with Visa or Mastercard debit and credit cards, except there's no one-time password (OTP) nor CVV/CVC requested for each transaction. A customer would only need to input OTP once, when a card is registered as a payment method for the very first time.
Direct debits are usually offered by banks, and some of the major names that provide this service include BCA (OneKlik), CIMB Niaga (OCTO Cash), Mandiri, and BRI.
Pros:
✅  Faster transaction time, since the payment method is more convenient for the customer even compared to debit or credit cards
✅  High transaction amount limits
✅  Merchant fees are generally lower than other card-based transactions (e.g. HitPay offers a 2% rate per transaction)
✅  Fast settlement time

Cons:
❌  Not yet widely adopted by customers compared to other payment methods
❌  The service is available only for online transactions
How to accept direct debit payments as a merchant
Much like offering virtual accounts as a payment method, to accept direct debit as a merchant, you'll have to create a business banking account with the service provider.
If that approach is unsuitable for you, consider setting up an account with a payment gateway service, so you'll still be able to accept direct debit as a payment method despite not having an account in certain banks.
7) Over the Counter (OTC) Payments 💵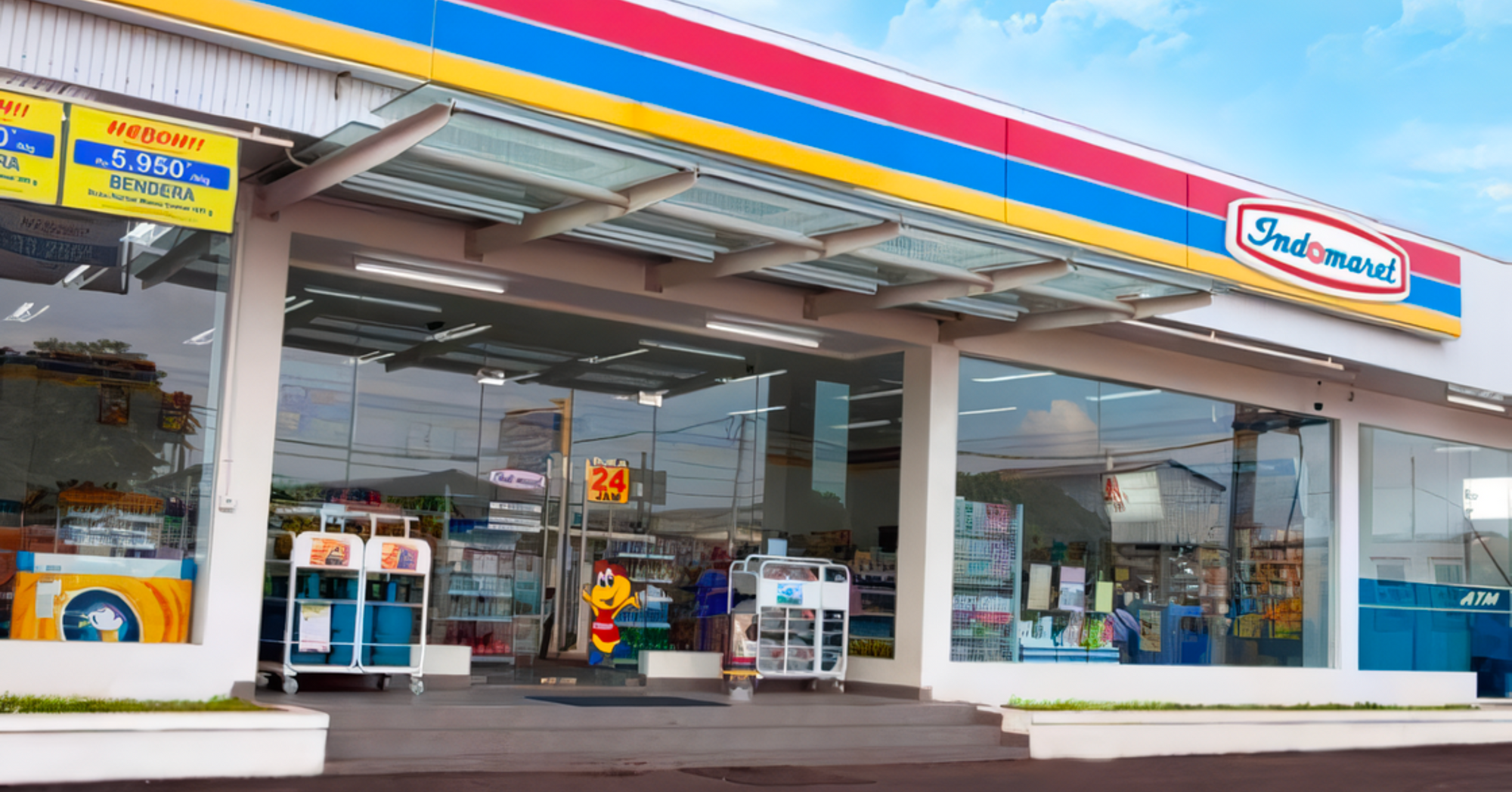 While more and more cashless payment methods are being quickly adopted nationwide, cash still remains the top payment method in Indonesia. Luckily, if you're an online-first operation, there is still a way for you to still accept payments from customers who pay in cash, and that is by offering OTC payments through minimarkets such as Alfamart or Indomaret.
Technically, there are other OTC payment providers aside from Alfamart or Indomaret, such as Pos Indonesia or other minimarkets such as Lawson. However, the ubiquitousness of Alfamart or Indomaret throughout Indonesia may make them a more ideal choice for you to partner with if you're looking to expand your reach.
OTC payments are great if you primarily sell online, but need a way to reach customers who prefer to pay in cash. It's also one of the more secure ways of accepting cash payments as an online store, compared to cash-on-delivery.
Pros:
✅  A great way to efficiently reach customers nationwide, especially those who do not have access to other payment methods
✅  Low merchant fees (e.g. HitPay offers a flat fee of IDR 5,500 per transaction paid in Alfamart)
✅  Requires the least amount of technical skills among the other payment methods
✅  One of the few cash-based methods that can be used for paying online transactions

Cons:
❌  Long settlement time — one of the longest compared to the others mentioned in this list
❌  Low transaction amount limit, for example, Indomaret imposes a maximum of IDR 5,000,000 per transaction
How to offer OTC payments as a merchant in Indonesia
To offer OTC payments through Alfamart or Indomaret as a merchant, you'll have to contact their corporate headquarters for more information, since they do not offer a way to sign up online. Or, you can just register with HitPay, a payment gateway that gives you access to multiple OTC payment providers without having to make an account at each separately.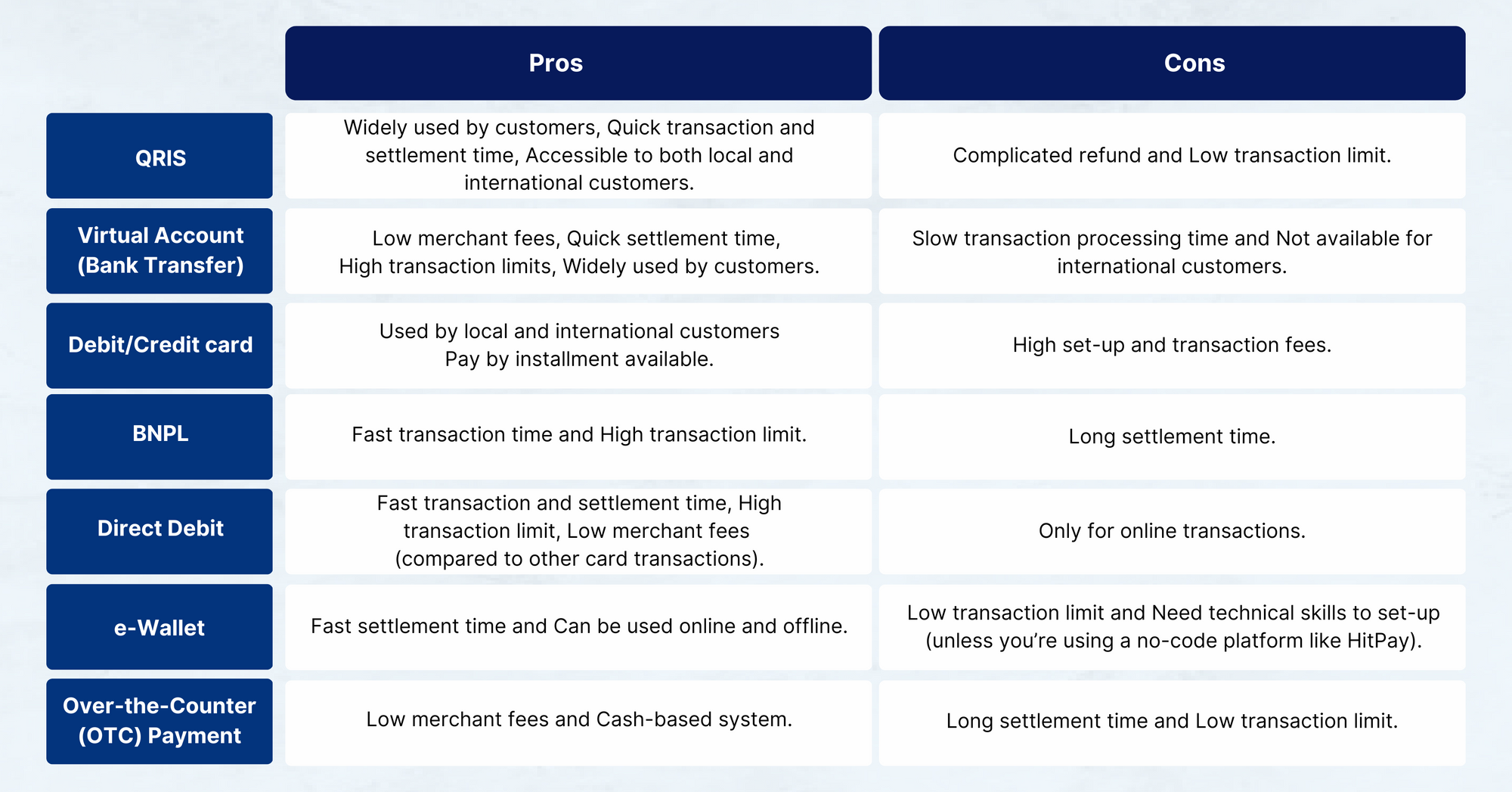 Which is the best Indonesian payment method for your business?
Instead of just picking one of these seven payment methods for your business, the wisest choice would be to offer several payment methods at once, because doing so can help you:
📈 Increase conversions: Shoppers often abandon their carts when their preferred payment method isn't available. When you offer more payment methods, they are more likely to complete their transactions.
💲 Save on payment costs: Some payment methods have lower fees than others, so offering more payment methods helps you give customers more options while keeping your fees low.
If you're aiming to offer several payment methods, make sure to choose the ones that are best suited for your business operations. That could mean accepting a combination of virtual accounts and debit/credit cards or just focusing on QRIS and BNPLs.
Alternatively, you could just use HitPay, and offer all of these seven payment methods through one payment gateway.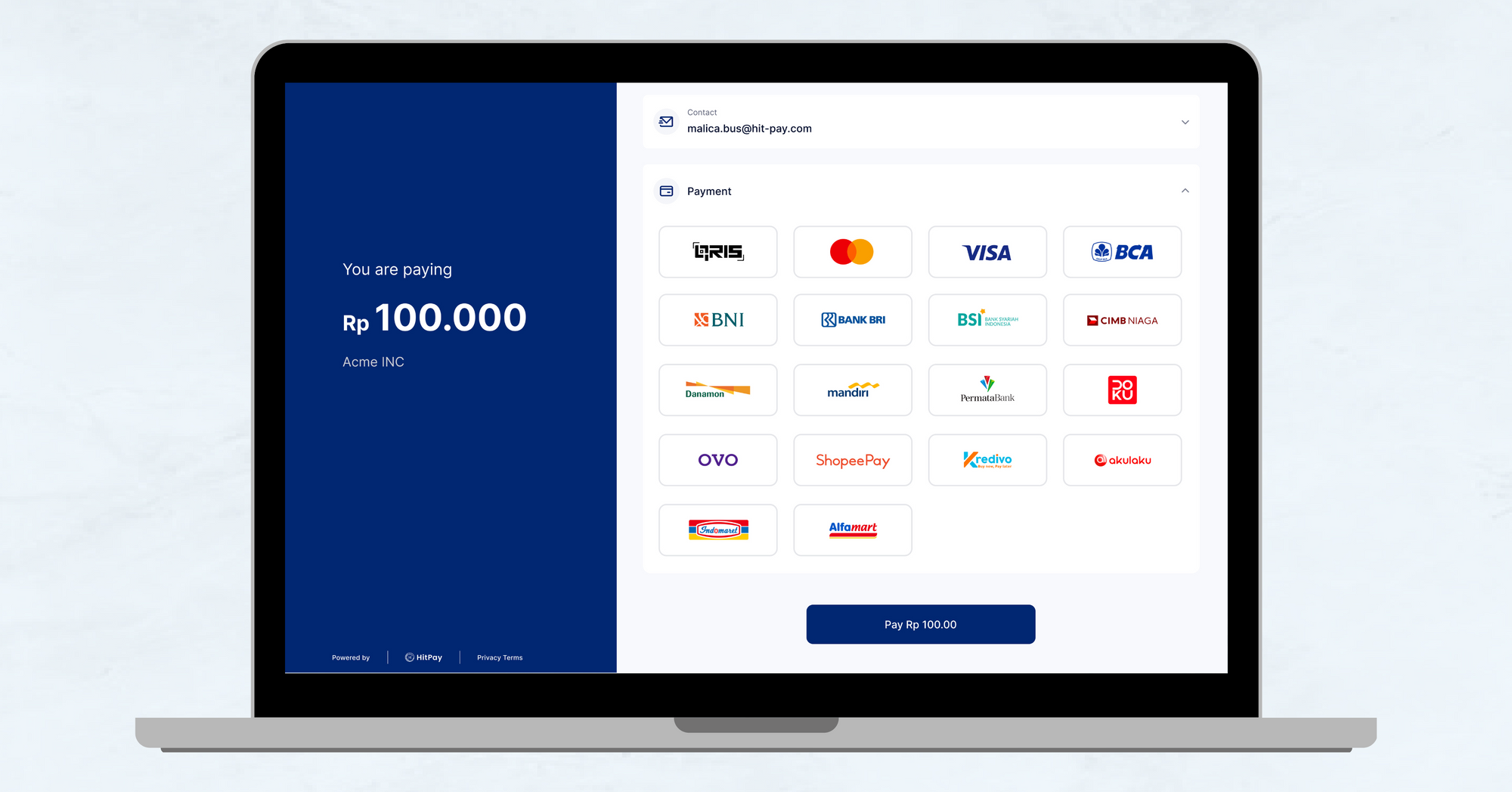 Imagine having to manually set up and reconcile payments from different providers. Using a payment gateway like HitPay solves this problem — as it can offer all the payment methods you need and record your transaction data all with one application, which saves you lots of time and manpower costs.
With HitPay as your payment gateway, you can accept payments done through QRIS, virtual account, BNPL, direct debit, OTC payment, e-wallet, and credit as well as debit cards. Plus, you don't have to wait for approval from different payment providers to start accepting payments — register with HitPay and you can instantly activate our offered payment methods.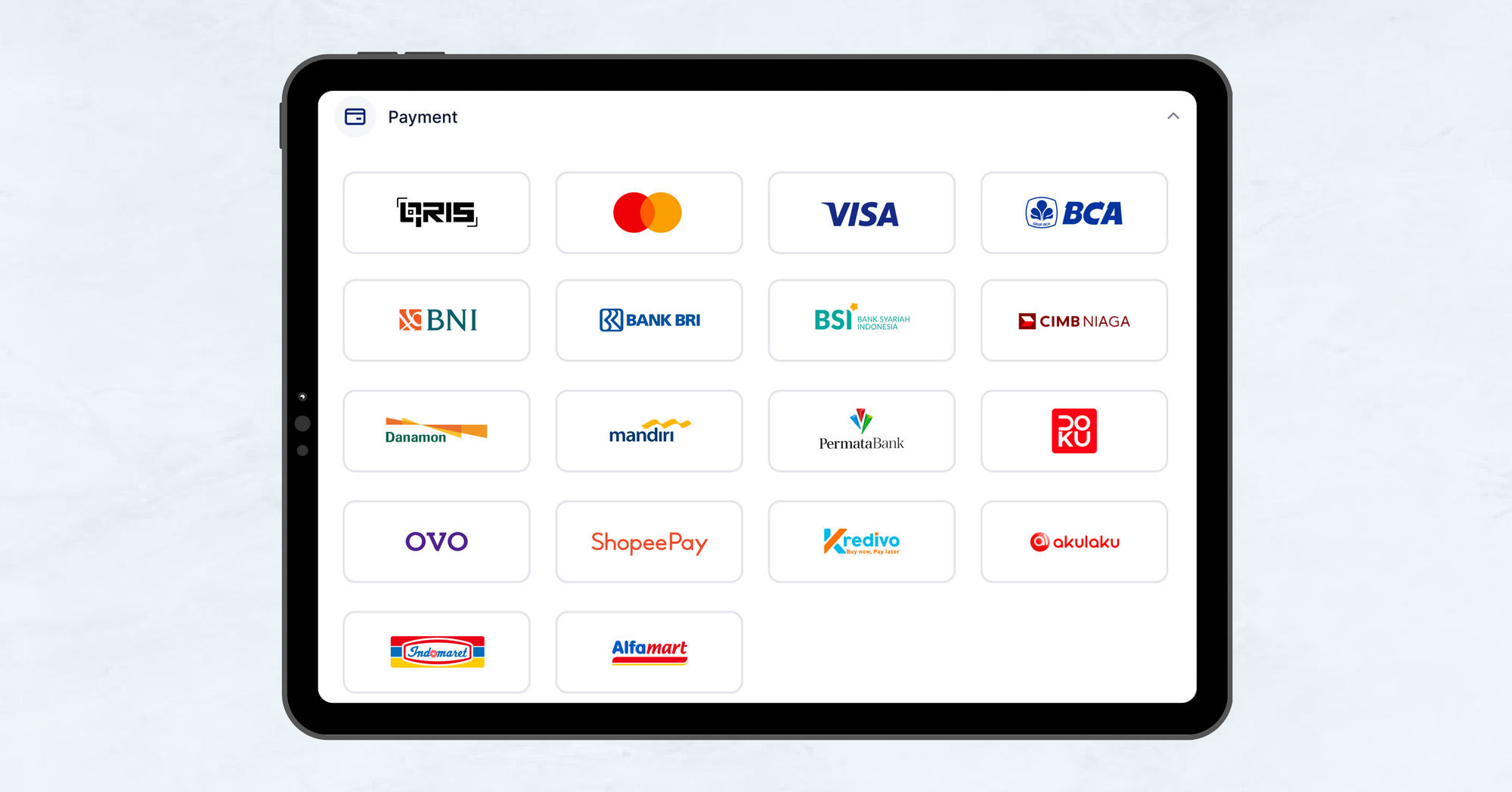 HitPay offers extra flexibility if you're selling both online and offline, as you can choose to offer different payment methods for specific sales channels. Only want to offer credit and debit cards for online stores and not for in-person transactions? HitPay can handle this process for you, easily.
HitPay's system is simple to set up, since there's no coding needed to get HitPay up and running on Android or iOS. No need to worry about any upfront fees, either — there are no set up or subscription fees that you have to start paying from the get-go. HitPay only charges a transaction fee when you start making a sale.
A payment gateway is not just what HitPay has to offer. Our all-in-one payment solution comes included with multiple business tools designed to help your business grow. From generating payment links and building an online store to a virtual POS system and e-commerce plug-ins, use HitPay and you can get access to these services, all for free.
Whether you're operating exclusively online or have customers who prefer to shop in-store, HitPay can meet your current needs and scale accordingly as your business continues to grow.

Interested in trying HitPay for your business? Schedule a free demo with us today.
---
About HitPay
HitPay is a one-stop, all-in-one platform that aims to empower SMEs with no code, full-stack payment gateway solutions. Thousands of merchants have grown their business with HitPay's products, helping them receive in-person and online payments with ease. Join our growing merchant community today!