Comparison of 13 Payment Links in Indonesia [2023]: The Best Payment Method for Your Online Business
Learn and compare the best payment links for small businesses in Indonesia.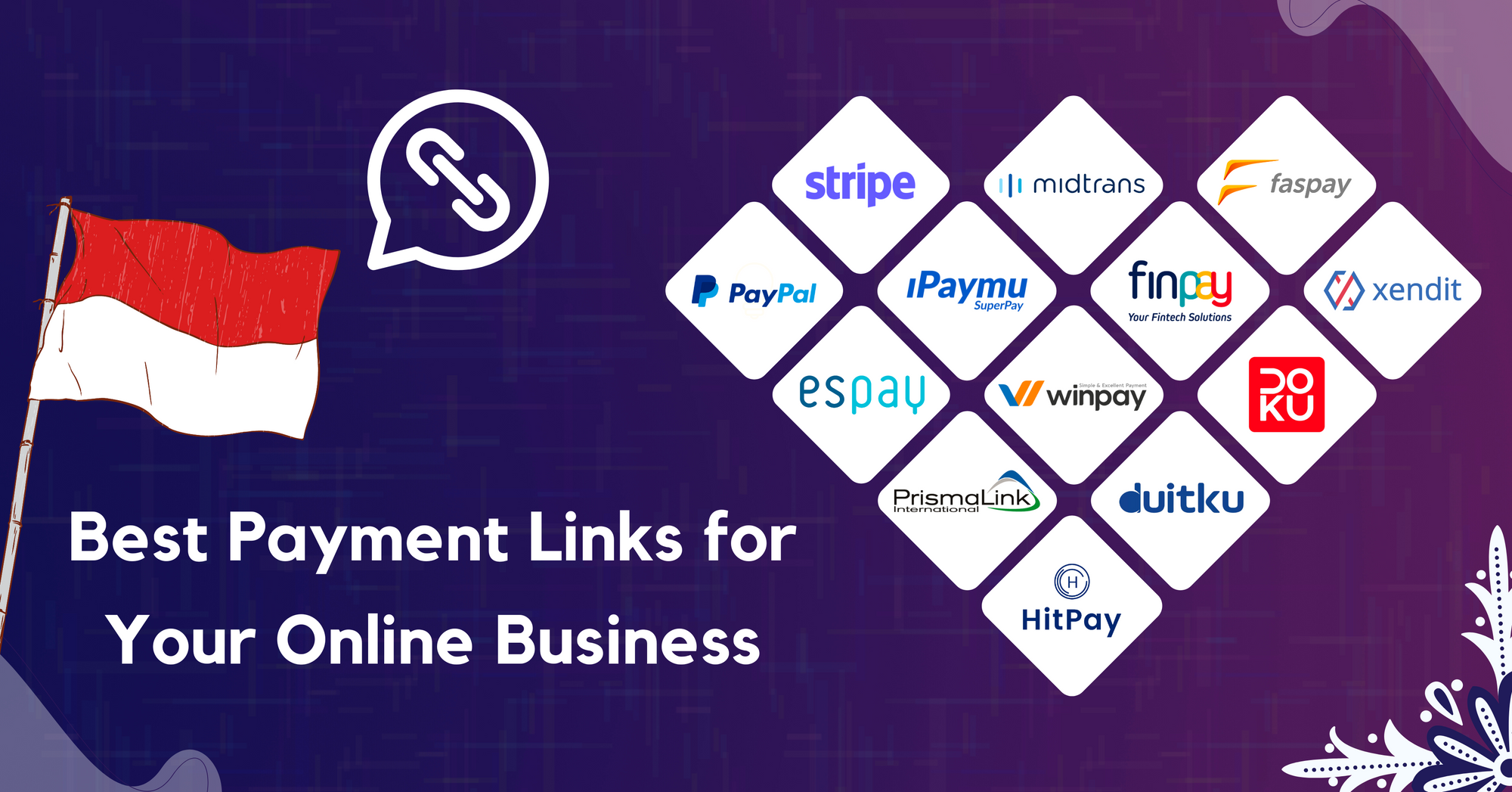 Looking for the best payment link for your small business in Indonesia? We compare iPaymu, Midtrans, Doku, HitPay, and more in this article.
In recent years, one of the newest payment methods that have become increasingly popular is the payment link.
A payment link is a URL that allows your customers to make payments online. This payment process is directly connected to the payment account owned by your business, making the payment process easier and more secure.
With this quick guide, you'll understand how payment links work and know how to choose the best payment link for online transactions between you and your customers.
Ingin baca artikel ini dalam Bahasa Indonesia? 🇮🇩
Click here: Perbandingan 13 Payment Link di Indonesia
What is a payment link?
A payment link is a URL used for online payments. By using a payment link, your customers can make payments directly by accessing the link and filling out the available payment form.
If the payment is successful, the payout will arrive in your payment link account balance or immediately in your bank account, depending on your payment link service's settlement schedule.
How do payment links work?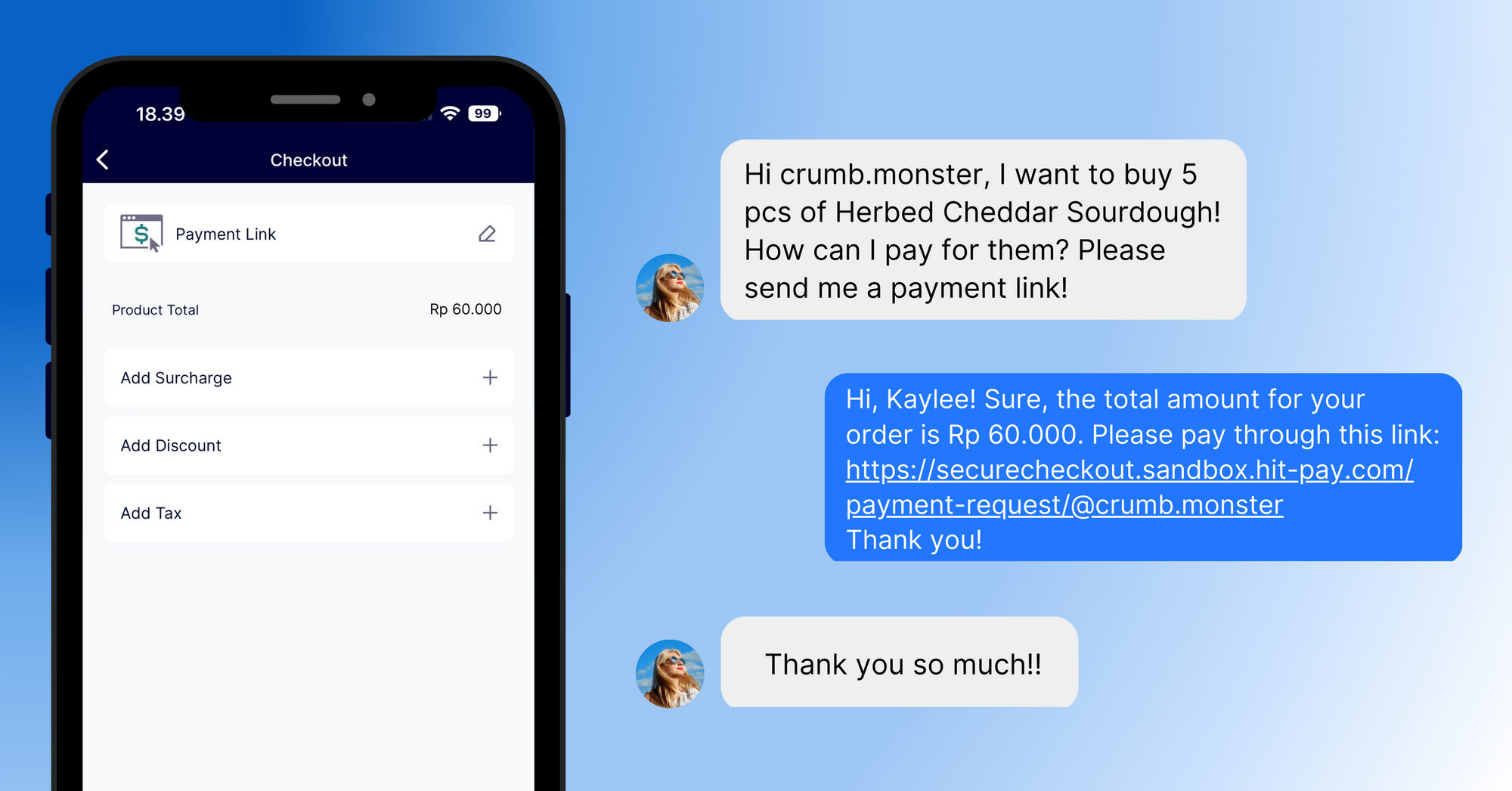 Although payment links may vary depending on what features each service offers, in general, this is how payment link works:
As a business owner, you create a payment link and send it to your customers
Your customers open the link and are directed to the payment page
Then, your customers select the payment method and fill in payment information such as the amount to be paid, the name and account number to be used, and so on
Next, your customers need to make payment by clicking the "Pay" button
After the payment is successfully made, your customers will receive a notification that the payment has been received
Five important aspects to consider before choosing a payment link service for your business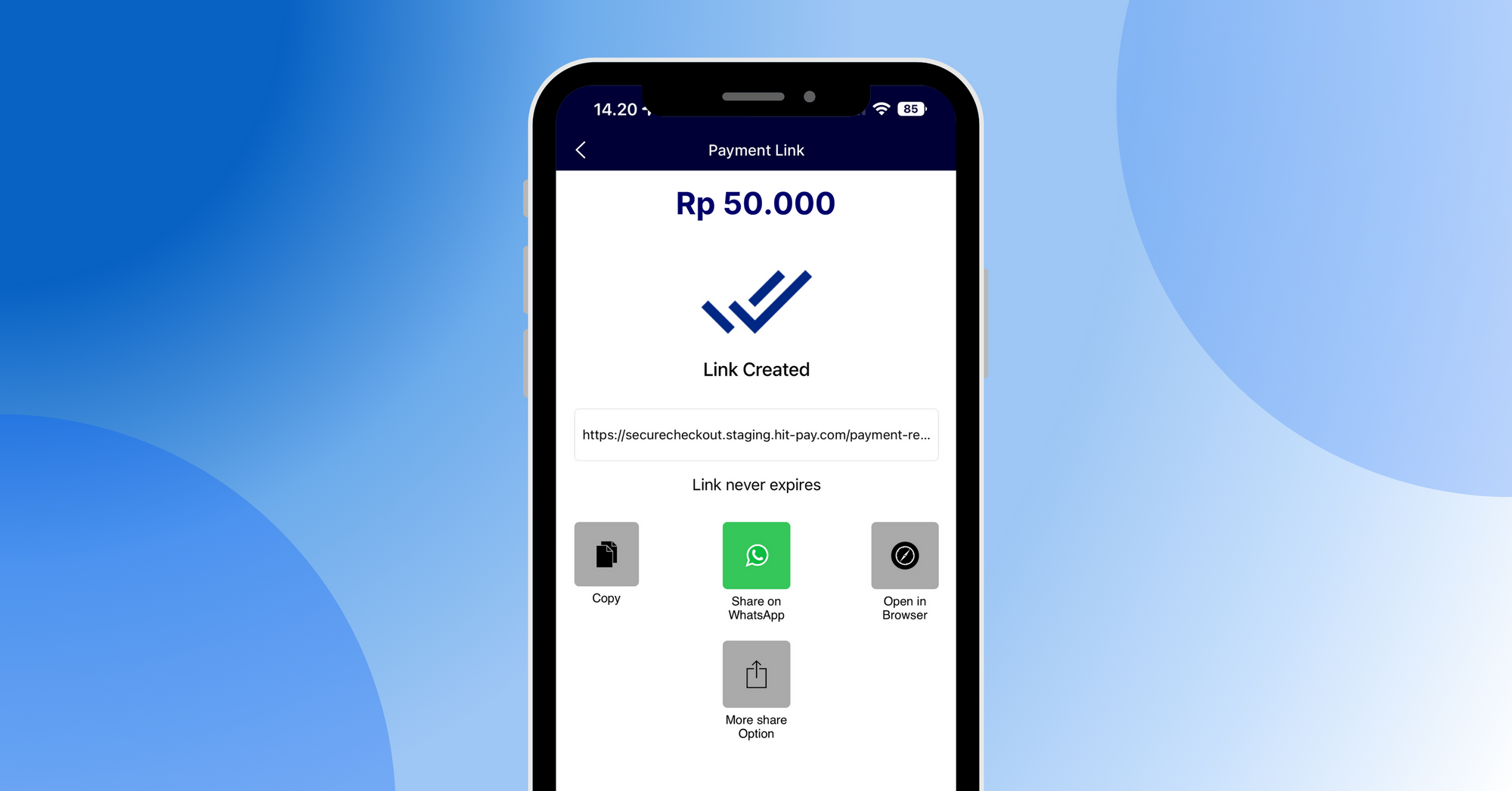 Choosing the right payment link service for your business is not an easy task. There are various aspects that you need to consider, with five of the most important ones being:
Security and reliability: Ensure that your preferred payment link service, such as Midtrans or HitPay, has the required security certification and data encryption standard to protect customers' personal and financial information.
Transaction fees: Understand all the transaction fees that will be charged and make sure that the transaction fees offered are in accordance with your business needs and budget.
Available payment methods: Make sure your preferred payment link provides a variety of payment methods that suit your business and match your customers' preferences.
Ease of integration: Your preferred payment link should be easy to integrate with the e-commerce platform you use. It would be even better if it is a no-code payment link service, so you could quickly set it up as one of your payment channels.
Customer service: Finally, make sure that the payment link service has good and responsive customer service. This is important to ensure that you can easily obtain assistance if there are problems with using the payment link service in the future.
---
Comparison of best payment links in Indonesia 2023
In this section, we'll discuss the 13 best payment links in Indonesia that are still in operation as of 2023. Here's a quick overview of how they compare: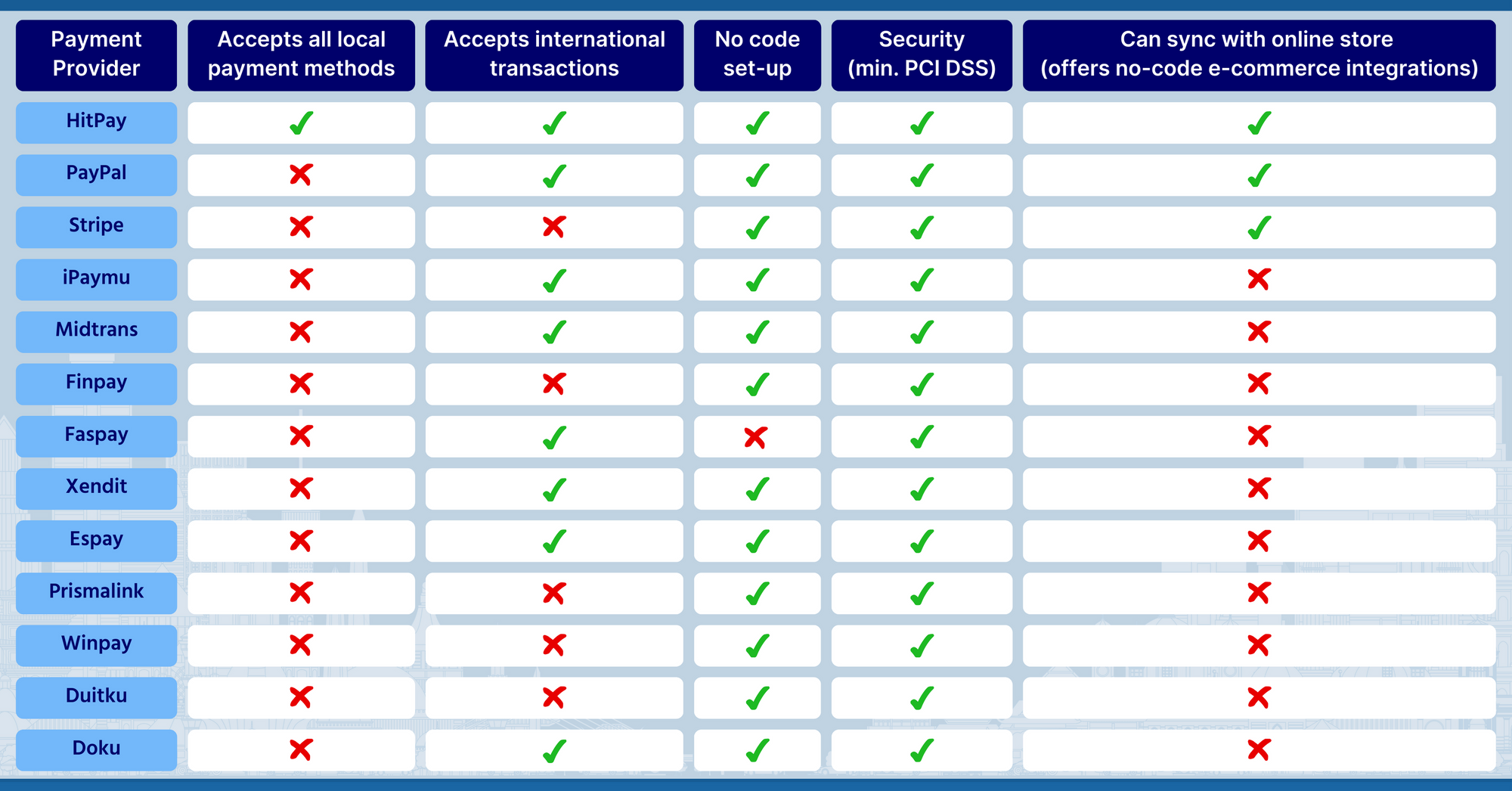 Here's more information about what each payment link service has to offer in terms of their features, as well as their respective strengths and weaknesses:
1) PayPal
PayPal is an American multinational company that provides money transfer online payment services. Although PayPal is commonly known for sending and receiving money to and from abroad, PayPal also has a payment link service called PayPal.Me.
Pros:
✅ Easy to use, especially for sellers and buyers who do not have much experience in online shopping
✅ Robust security system, including Payment Card Industry Data Security Standard (PCI DSS) and anti-fraud protection system, for both you and your customers
✅ No coding skills are needed to start using PayPal.Me
Cons:
❌  International transactions (applicable to all countries except the United States) are subject to an additional transaction fee of 1.5% per transaction
❌  Less suitable for local, Indonesian transactions, as the accepted payment methods are only debit cards, credit cards, and PayPal balance
2) Stripe
Stripe is a financial technology company founded in 2010 by John and Patrick Collison. Headquartered in San Francisco, Stripe has grown rapidly and is now one of the largest online payment companies in the world.
Pros:
✅ Features Stripe Checkout, which offers high flexibility in terms of customization, including UX/UI aspects
✅ Accepts transactions with various popular payment methods worldwide, including credit cards, debit cards, digital wallets, and bank transfers
✅ Setting up a Stripe account is easy and can be done in just a few steps
Cons:
❌ As of April 2023, Stripe registration is still invitation-based; few Indonesian businesses have the opportunity to use Stripe
❌ Stripe accounts created in Indonesia cannot be used for cross-border transactions
❌ May require technical knowledge or a developer team to set up
3) iPaymu
iPaymu is a free software that provides easy and secure payment solutions for online stores and business owners. Although originally founded in 2011 as a payment gateway, iPaymu now also offers payment link services.
Pros:
✅ Transactions can be done using various payment methods applicable in Indonesia, including bank transfers, debit/credit cards, minimarket outlets, e-wallets, and others
✅ Relatively easy set-up as it does not require coding for system integration
✅ Plug-in available for select e-commerce platforms (e.g. WooCommerce, PrestaShop, Opencart)
Cons:
❌ No integration to third-party accounting software, which means you'll need to manually move transaction data to your preferred accounting software
4) Midtrans
Midtrans provides a secure and reliable payment infrastructure for online businesses, including those needing a payment link solution. Founded in 2012, the company accepts transactions with various online payment methods, including GoPay, QRIS, bank transfers, credit/debit cards, and e-wallets.
Pros:
✅ Midtrans offers popular methods like e-wallets and Visa and Mastercard credit/debit cards, as well as cash payments at minimarkets and payments with JCB and American Express credit/debit cards
✅ The set-up process is relatively easy
✅ Midtrans has obtained PCI DSS certification to ensure safe transactions, and is equipped with a fraud detection system called AEGIS
Cons:
❌ Not all online stores are supported with third-party e-commerce platform integrations
❌ Does not accept integrated e-wallet payments using OVO
5) Finpay
Finpay is a subsidiary of Telkom Indonesia that offers payment link services. In addition, the company also provides other financial services such as fund transfers and e-wallets.
Pros:
✅ Finpay offers a user-friendly API-based checkout page that can be customized to your business needs
✅ Supported by robust security systems such as fingerprint and facial recognition, as well as additional security features such as the Address Verification System (AVS)
✅ Finpay set-up is easy and fast, and can be done entirely online
✅ There is an option for direct settlement time specifically for transactions above IDR 100,000,000
Cons:
❌ The fees associated with using Finpay can be quite steep if you are a small business (lower transaction volume and value)
❌ Although Finpay offers payment links as one of their services, there is not much information available about the details of their system
6) Faspay
Faspay is a payment gateway service that has been operating since 2011 and also offers payment link services as part of its Faspay Billing product.
Pros:
✅ Provides various payment methods that apply locally and internationally, including bank transfers, credit cards (Visa/Mastercard/JCB/Amex), virtual accounts, and e-wallets
✅ There is a free premium service with extra features such as discounted transaction rates and additional advanced integrations for businesses with more than 1,000 transactions per month
✅ Secure; already has PCI DSS certification
Cons:
❌ Not a no-code payment link; you need programming skills to start using Faspay Billing because the system is based on API integration
7) Xendit
Xendit is a company that provides payment infrastructure for Indonesia and other Southeast Asian countries, designed specifically for entrepreneurs. In addition to functioning as a payment link, Xendit also has a system designed to simplify and process payments and detect all forms of financial fraud.
Pros:
✅ Provides various online payment methods, applicable in Indonesia and globally, including credit and debit cards, bank transfers, OTC payments (through minimarkets such as Alfamart), and virtual accounts
✅ Has many features, including callback invoice integration and customization to receive notifications every time an invoice is created, paid, or expired
✅ Good security features; in addition to standard encryption for financial service providers, Xendit also includes a PIN setting feature on sensitive parts of your account (e.g., fund withdrawals)
Cons:
❌ Does not accept integrated e-wallet payments using GoPay
❌ Settlement time to your Xendit balance for debit and credit cards is relatively long compared to other payment links, namely 7 business days
8) Espay
Espay is a payment gateway that also offers no-code payment link services. Espay offers a B2BCB (business-to-consumer-to-business) concept for their services which allows payments received from your customers to be automatically forwarded to your supplier or delivery service responsible for getting your products to your customer.
Pros:
✅ Espay provides a payment platform called Tagih.id that allows your business to receive B2B payments
✅ Accepts payments with various methods applicable in Indonesia, including uncommon ones such as American Express debit/credit cards, microloans such as BTPN Wow, and B2B payment methods such as Mandiri FSCM and Maybank CoOLPay
✅ No monthly fees or minimum transactions are charged, and only successfully processed transaction fees are charged based on transaction volume and risk
Cons:
❌ The set-up process is not immediate and there's always a possibility that your business will not pass the verification process; it takes 2-3 business days for Espay to conduct due diligence on the legal aspects of your business
9) Prismalink
Prismalink is a financial services company founded in 2011 that provides payment gateway and payment link services. The company also offers various payment solutions, including bill payments through small and medium banks and using SMS banking.
Pros:
✅ The set-up process is quick and simple, and API integration is available via Amazon AWS
✅ Accepts credit card payments from all banks with VISA, MasterCard, and JCB logos; retail stores; e-wallets; and receives online payments from large banks such as BCA, Mandiri, and BNI in real-time without needing to manually confirm payment again
✅ Secure, as it already has PCI DSS license
Cons:
❌ There are additional fees such as 10% VAT that are not included in the transaction fee
❌ Does not provide 24/7 customer support, so it may be difficult to get assistance when experiencing problems outside of working hours
10) Winpay
Winpay is a company that provides technology-based financial services for businesses, including payment links. The company offers a variety of payment methods, making it convenient and fast for your customers to pay from wherever they're based in Indonesia.
Pros:
✅ Secure; Winpay already has ISO and PCI DSS certificates
✅ Accepts more than 20 payment methods, including e-money, virtual accounts, credit or debit cards (Visa/Mastercard), and OTC payments through minimarkets
✅ The set-up process is relatively fast and easy
Cons:
❌ Cannot perform integrated e-wallet transactions with GoPay (this option is still available through QR code scanning)
11) Duitku
In 2009, Duitku was founded in Indonesia and since then, has offered payment gateway services for credit and debit cards along with payments using smartphones, e-wallets, bank transfers, prepaid cards, and vouchers. Duitku also has a payment link feature and mass fund transfers through the Disbursement feature.
Pros:
✅ Duitku is licensed by the Ministry of Communication and Information Technology and has ISO and PCI DSS certificates
✅ Many payment methods are available, including uncommon ones such as JCB debit or credit cards, money transfers via Pegadaian and Pos Indonesia, and non-credit card installment programs such as Atome and Indodana
✅ Has a special pricing program for businesses with total transactions above IDR 500,000,000 per month
Cons:
❌ Does not accept integrated e-wallet payments using GoPay
❌ Some of the payment methods offered by Duitku have quite high transaction fees, such as Shopeepay, which is charged at 4%
❌ Does not handle refunds; this process is entirely handled manually by you
12) Doku
Doku was founded in 2007 and is the first electronic payment service in Indonesia. Doku is integrated with more than 20+ payment channels in Indonesia and offers various solutions such as payment links and international money transfers.
Pros:
✅ Has many payment method options from banks and non-financial institutions such as OTC payment through minimarkets, or even by using Doku Wallet
✅ Doku's payment link can be used for cross-border transactions
Cons:
❌ Not integrated with any accounting applications
❌ Third-party e-commerce integration is limited only to Magento, PrestaShop, Shopify, and WooCommerce
❌ Settlement time to Doku's balance takes some time, starting from 1 day for virtual account payments to 4 days for minimarket store payments
❌ It takes a long time to refund money to overseas customers (up to 45 days from the transaction date)
13) HitPay
HitPay is a multifunctional online payment solution from Singapore designed for SMEs throughout Southeast Asia, including Indonesia.
HitPay provides a payment link feature that allows your business to accept various payment methods, both local and global. HitPay offers a complete set of features for small businesses, such as API integration, an online store site, invoice generator, and a no-code system—all for no additional cost.
HitPay has a transparent and pay-per-transaction pricing without setup fees, subscriptions, or other hidden fees.
Secure, all-in-one, and easy to use, HitPay is the online payment solution for you if you need a system that can continuously meet your business needs as it continues to grow.
Pros:
✅ Accepts more than 100 currencies and hundreds of payment methods that are valid in various countries, including Indonesia, such as e-wallets (GoPay, OVO), bank transfers (BNI, Mandiri, etc.), or OTC payments via Indomaret or Alfamart
✅ Create a custom payment link for each of your customers—or use the same payment link for all of your customers
✅ Easy to use; no coding knowledge is required to start using HitPay's payment link
✅ HitPay's payment link can be used on all platforms; from email, WhatsApp messages, or even Instagram DMs. Need more features? Use HitPay's no-code plugin for your online store on e-commerce platforms like Shopify, WooCommerce, Magento, and more
✅ All processes are automatic—customer payment notifications occur in real-time and transaction data are directly recorded in your HitPay account
Cons:
❌ Website and app not yet available in Bahasa Indonesia, but coming soon
For more details about HitPay's pricing and available payment methods in Indonesia, go here.
So, which payment link is the one for you?
If you're a growing business, HitPay Indonesia may be the right choice for you. Contact us today and get a free payment link demo from our team.
Book a free demo from HitPay today!
---
About HitPay
HitPay is an all-in-one financial platform that aims to provide full-stack payment solutions without coding for SMEs. Thousands of partners have grown with HitPay products, which help them easily receive online or direct payments. Join our partner community now!