Free alternative to Squarespace for your e-commerce business
Squarespace is a great e-commerce platform, but it can also be costly. Sell online for free with this great Squarespace alternative!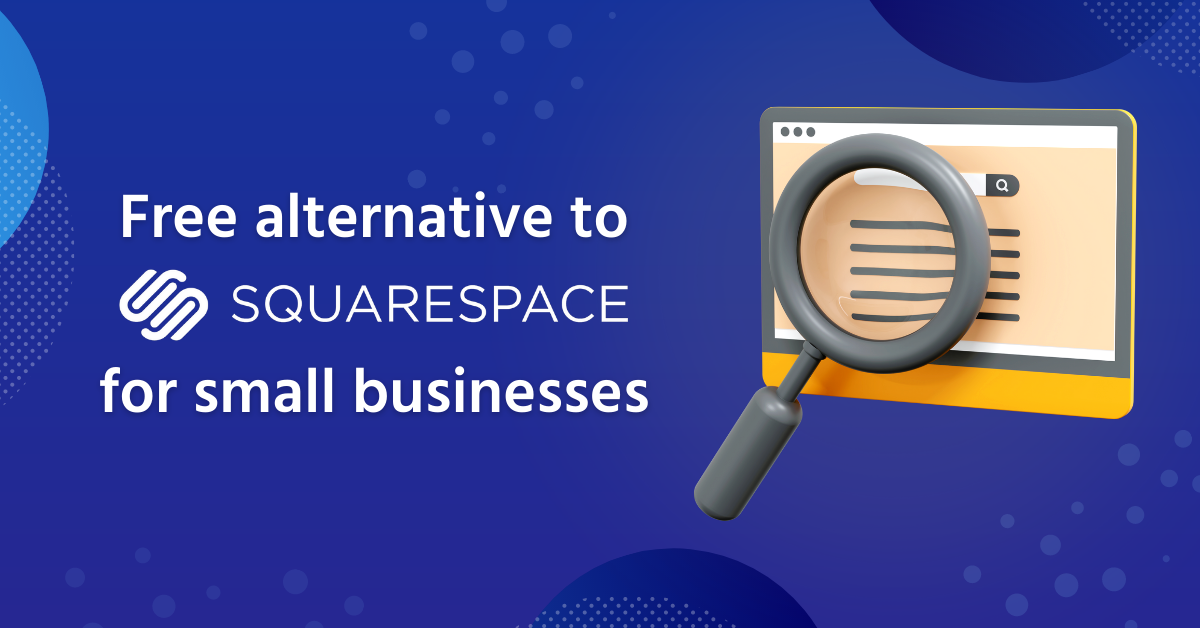 Squarespace is one of the best website builders for starting your online business. The platform hosts close to a million websites worldwide, with user-friendly features that are great for beginners.
However, Squarespace may not be the right choice for every business, with premium subscription plans and limited support outside the US. In this article, we review the pros and cons of selling on Squarespace Commerce — especially if you run a small business in South East Asia. Plus, we introduce a free Squarespace alternative that's great for SMEs!
Selling on Squarespace - Pros and cons
Pros ✅:
- Easy to set up and use, even for beginners with no coding skills
- Beautiful templates and design
- Has all the features you need to sell online. Integrates with Stripe and PayPal, which are available worldwide.
Cons ❌:  
- Subscription plans start from US$23/month (certain plans also charge an additional 3% transaction fee on sales). You need to upgrade for more advanced features like POS integration.
- Does not support local payment options like GrabPay, PayNow, and Zip BNPL in Singapore and FPX and DuitNow in Malaysia. Squarespace Commerce only supports Stripe, Paypal, credit/debit cards, and Apple Pay — which come with higher transaction fees.
- The Squarespace POS machine, Square Reader, is only available for US-based merchants.
Should you upgrade to Squarespace Commerce?
Upgrade if:
You can cover the subscription costs (Squarespace recommends upgrading if you make over US$3,200 in annual revenue.)
Most of your customers are based in the United States, United Kingdom or Europe
You sell physical products in the United States and can take advantage of their Square POS integration
Don't upgrade if:
You're a small business and it's not comfortably within your budget
You're targeting customers outside of the United States, United Kingdom, or Europe (e.g. in Singapore and Malaysia)
Free alternative to Squarespace for e-commerce
If you're looking to add simple e-commerce features to your Squarespace website without extra subscription or transaction fees, try the HitPay Online Store.
HitPay Online Store: A good free alternative to Squarespace?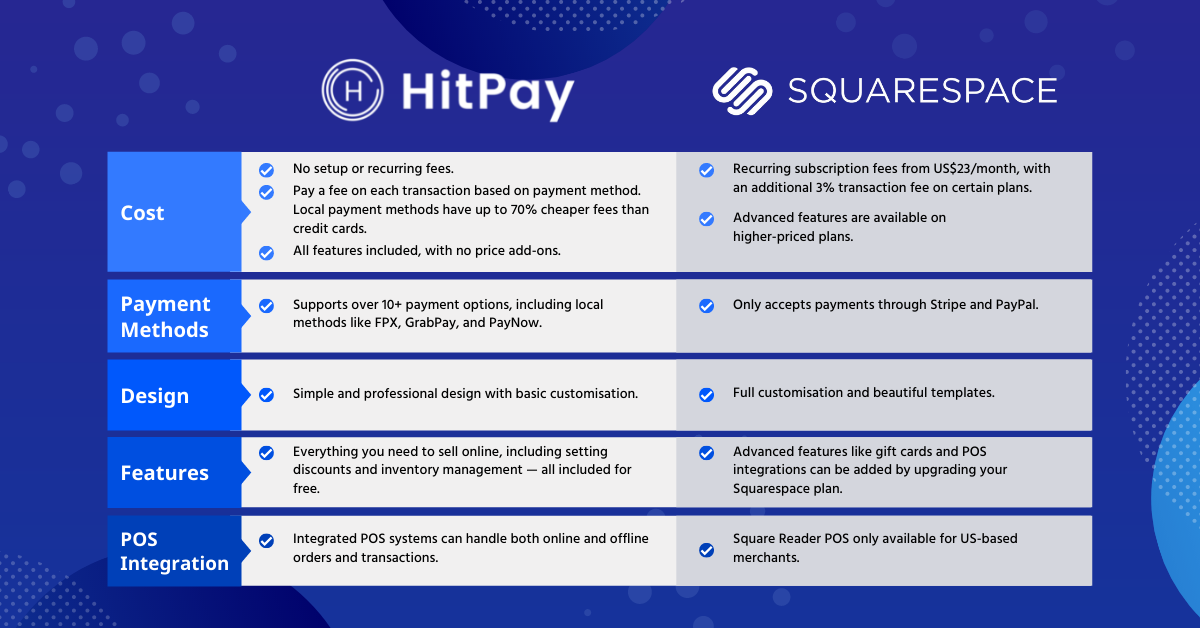 How to sell on Squarespace for free
Promote your products and accept payments via the HitPay Online Store. Once you've set up your free account, you'll receive a unique online store link to add to your Squarespace website.
If you don't have a Squarespace account, you can also sell for free on web platforms like Facebook, Instagram, GoDaddy, Shopmatic, Shopline, Cococart, and Weebly!
Once your customer completes their purchase, they'll be automatically redirected to your social media page or website. This gives customers a seamless shopping experience — without any additional costs on your end. Here's how to set up the redirect from the HitPay store to your Squarespace website.
Set up your free Squarespace alternative
Want to set up a free online store in just 20 minutes? Follow this easy step-by-step guide to sell online now.
Read also:
---
About HitPay
HitPay is a one-stop commerce platform that aims to empower SMEs with no code, full-stack payment gateway solutions. Thousands of merchants have grown with HitPay's products, helping them receive in-person and online contactless payments with ease.
Join our growing merchant community today!