Simplify Your Billing Process: Best Online Invoicing Software in Indonesia Comparison (2023)
Learn about the best online invoicing software solutions used by small businesses across Indonesia.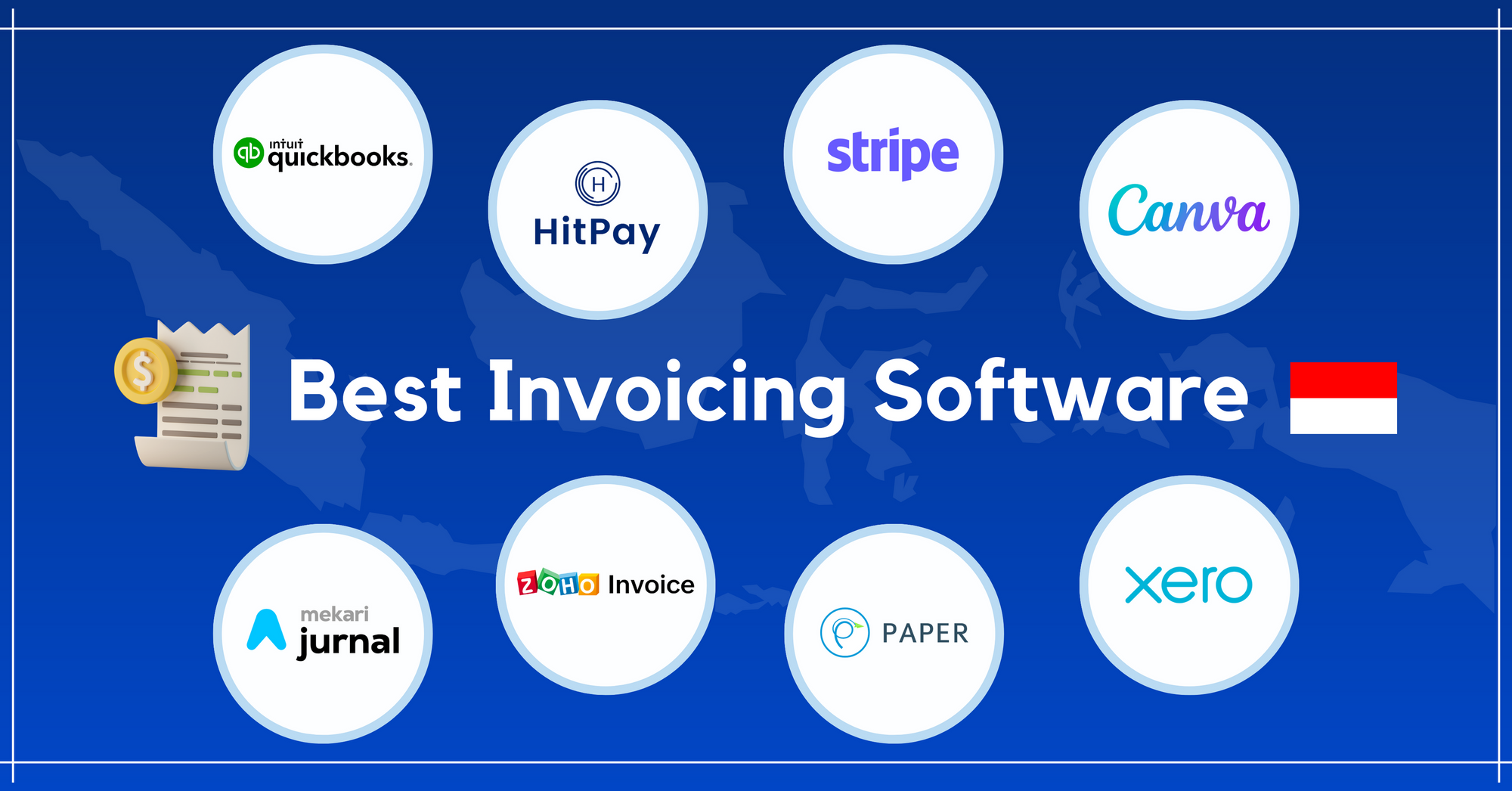 Learn about the best online invoicing software solutions used by small businesses in Indonesia, including the newly launched HitPay Invoicing, and discover the invoicing solution that best suits your business.
As your small business starts to grow, it can be easy to get overwhelmed by the mountain of invoices that you have to track and follow up with. If you're at a point where you need to find a better way to manage your invoices, an online invoicing software can be the solution.
What is an online invoicing software?
Online invoicing is a cloud-based software used to create, send and track invoices from any device anytime, anywhere. In general, it helps you save time, reduce costs, and speed up payments.
In this article, we'll discuss in detail some of the top online invoicing software in Indonesia, including their pros and cons so you can choose which solution is most suitable for your business needs.
Ingin baca artikel ini dalam Bahasa Indonesia 🇮🇩?
Klik di sini: Perbandingan Aplikasi Invoice Online 2023 Terbaik di Indonesia
Why should you use online invoicing software?
Old-style invoicing is usually manually generated, where you usually do the following steps:
Get a list of your customers who have payments due
Create a document, one by one, with specifications for each customer
Send it via email, one at a time
With online invoicing software, you do all of the above simultaneously, with minimal effort needed.
No need to switch between spreadsheets, email inboxes, and point-of-sale systems. You're able to generate invoices more efficiently just with one software.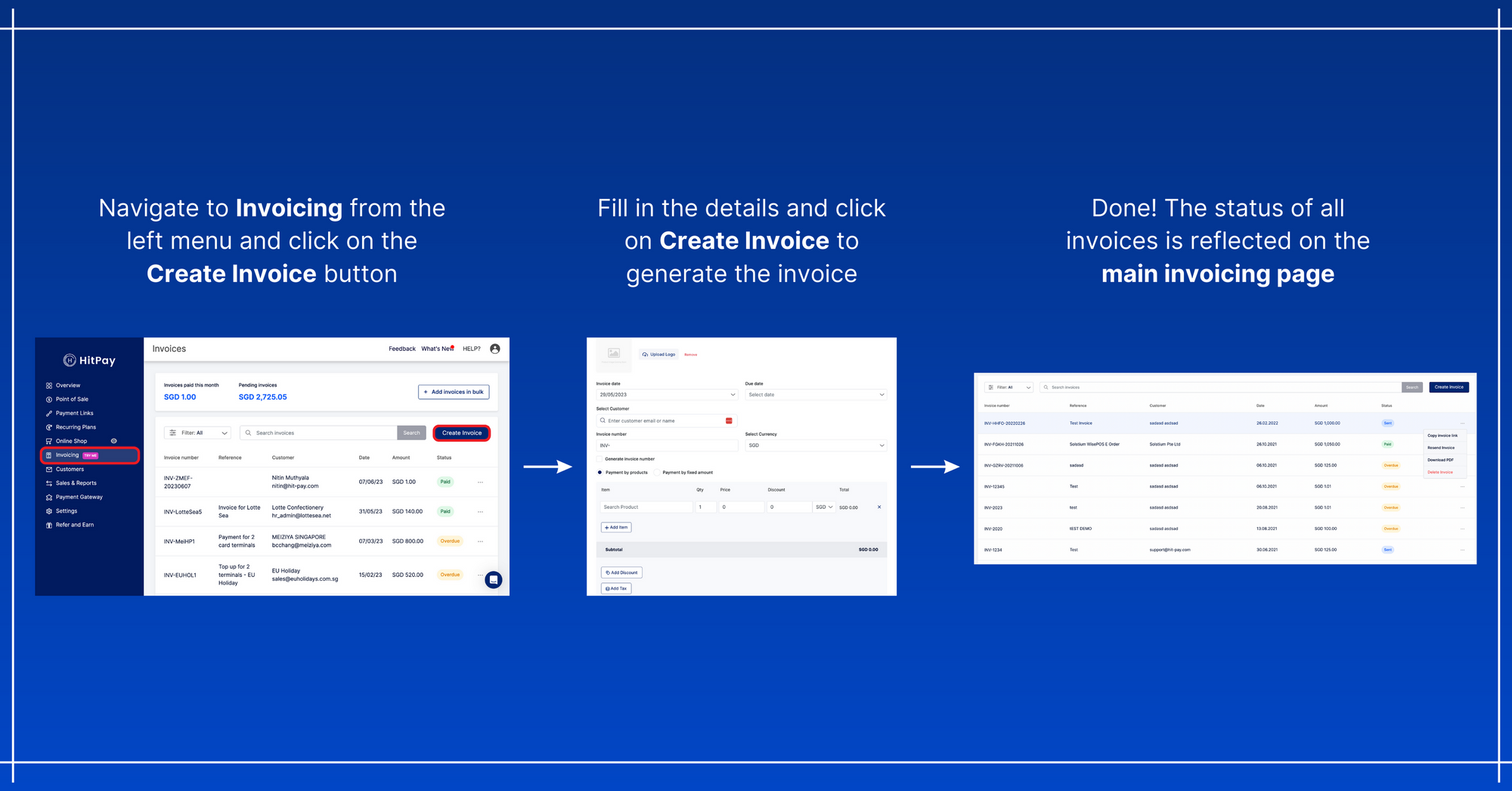 By using an online invoicing software, you're also less likely to commit errors. No more accidentally putting in too many zeroes or misspelling names.
What are some features that you can find from online invoicing software?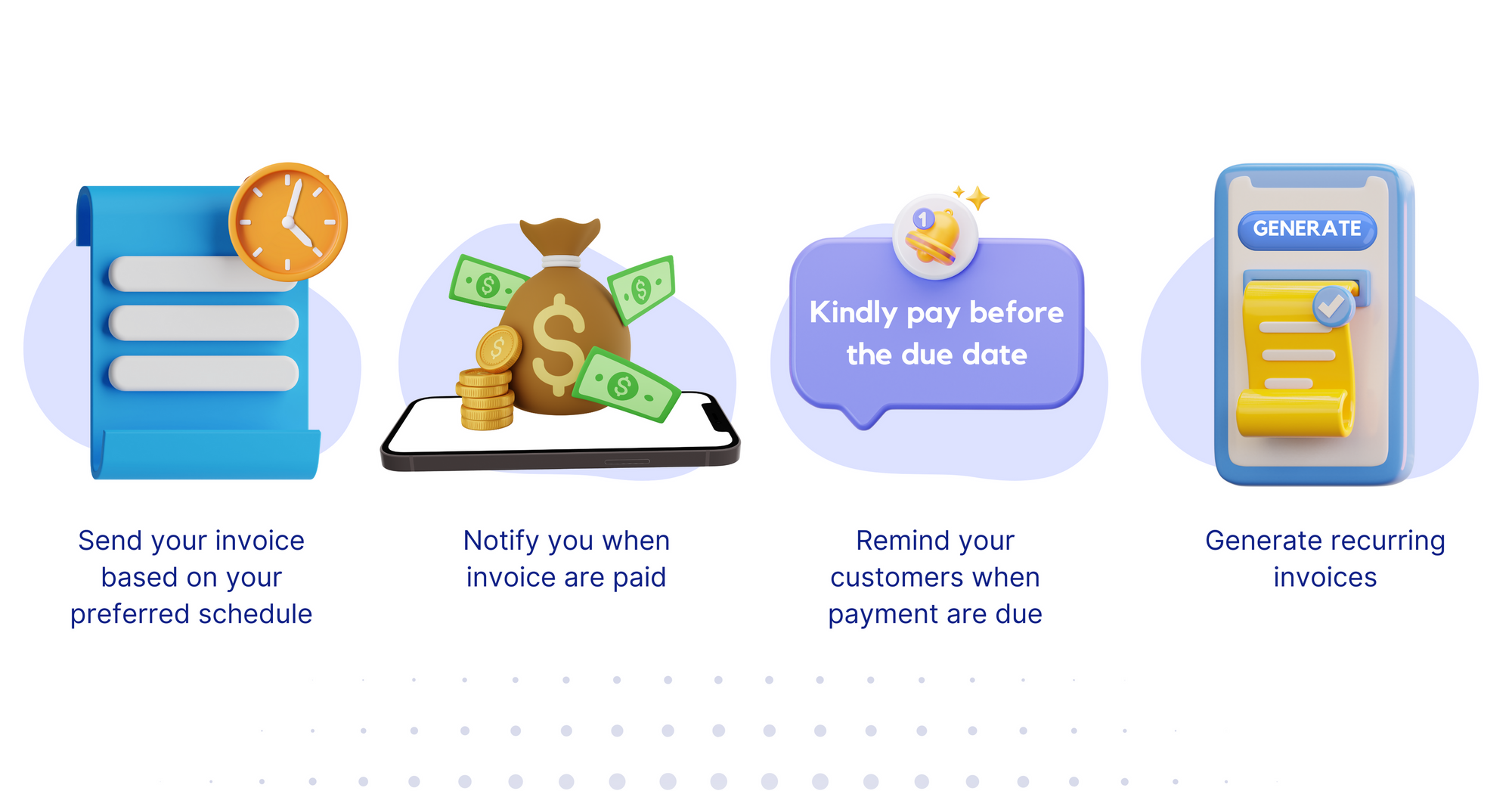 Online invoicing software come in a lot of variety, including all-in-one solutions that allow you to not only send out invoices, but also manage incoming payments.
The most basic invoice generators help you quickly generate multiple invoices and send them out on your behalf. Canva is a good free online invoice software that functions in this manner.
If you're looking for more features, there are other options available in the online invoice software market such as Zoho Invoice and QuickBooks Invoice, that are able to do the following:
Send your invoice based on your preferred schedule
Notify you when invoices are paid
Remind your customers when payments are due
Generate recurring invoices
But what about online invoicing software that can accept payments as well? This can help you with invoicing from end-to-end, so you don't need to integrate a third party payment gateway. You'll need to get an online invoicing software that comes with a payment gateway, such as HitPay and Paper.id.
Read on to compare our pick of the eight most popular online invoicing software solutions in Indonesia and learn about their features and pros and cons in detail: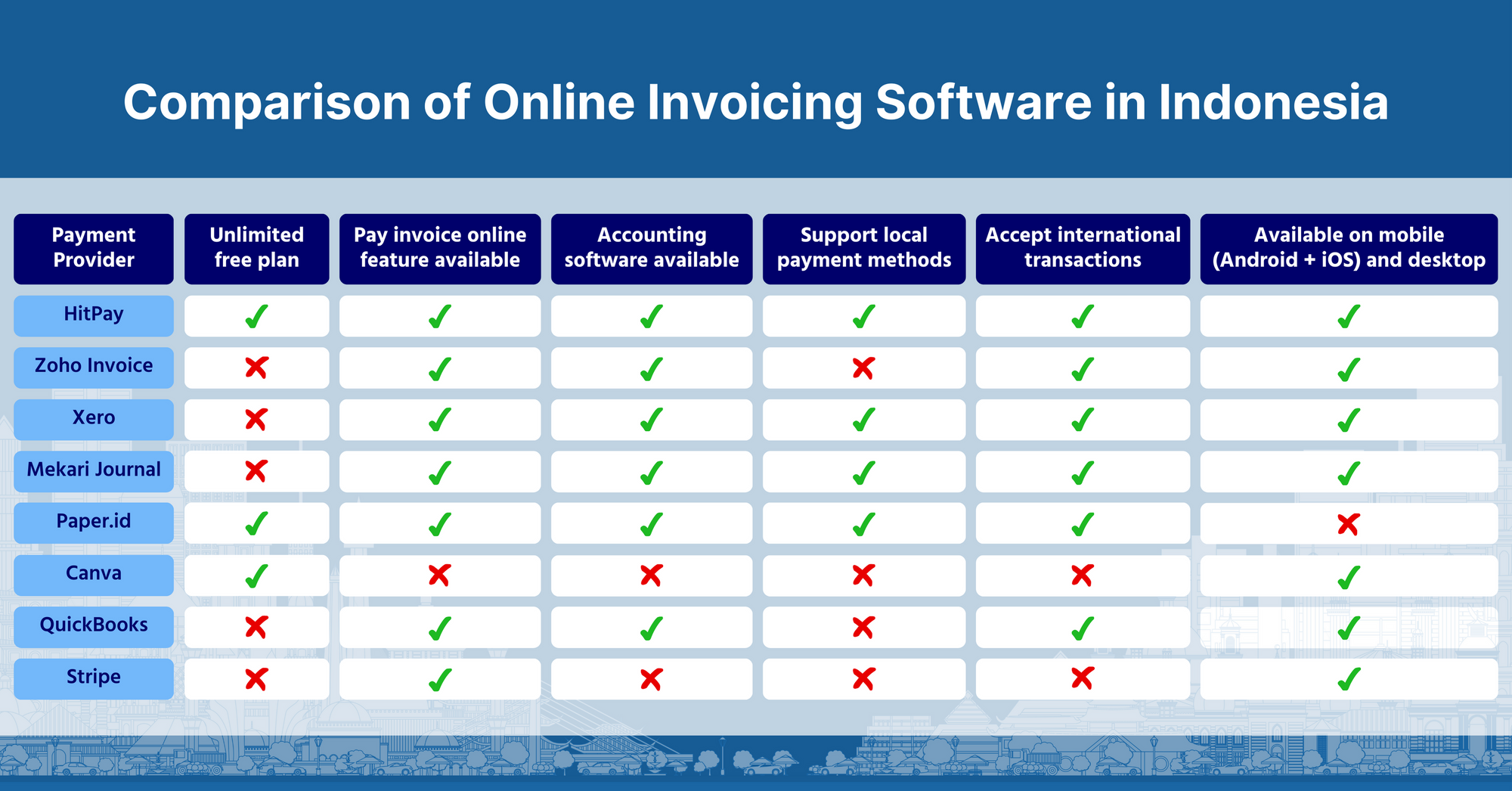 1) Zoho Invoice
Zoho Invoice is a popular free invoice billing software for businesses across many industries and sizes, from freelancers operating solo to large multinational enterprises.

Besides crafting professional-looking and highly customized invoices, Zoho Invoice also has features that allow you to schedule payment reminders, keep track of expenses, manage your projects, and receive payments faster—all accessible without having to pay for any subscription plans.

Pros:
✅  All features, including digital invoices, are available for free, with transaction fees applied only by third-party payment gateways (e.g. Stripe, PayPal, and Worldpay)
✅  Supports multiple currencies, including IDR
✅  Available on desktop as well as smartphone apps (iOS and Android)
✅  Includes extra features such as a custom built-in-customer portal, project time-tracker, and more

Cons:
❌  Limited to 1,000 invoices per year
❌  Only accepts PayPal for Indonesian customers, and thus payment methods are limited only to debit and credit card + PayPal balance
2) Mekari Jurnal
Although Mekari Jurnal is primarily known for its accounting software, it also has a robust built-in invoicing feature. As it is designed for Indonesian businesses, many of its invoicing mechanisms are specific to Indonesian contractor payment terms, such as cash-on-delivery and net 15 to 60.

Mekari Jurnal provides its services through three subscription tiers: Pro, Enterprise, and Enterprise+, starting from IDR 499,000 per month.

Pros:
✅  Lowest subscription tier comes included with the ability to pay invoices directly through the platform (Mekari Pay)
✅  Access to accounting features available as part of all subscription plans
✅  Supports most Indonesian payment methods, from GoPay to MasterCard debit card
✅  Designed to handle international transactions, multi-currency support is available as a feature for Enterprise users and above

Cons:
❌  Invoices are limited on a monthly basis, even for the highest-subscription tier at IDR 1,299,000 (up to 10,000 invoices per month)
❌  Subscription is on a quarterly or yearly basis, no monthly plans available
3) Xero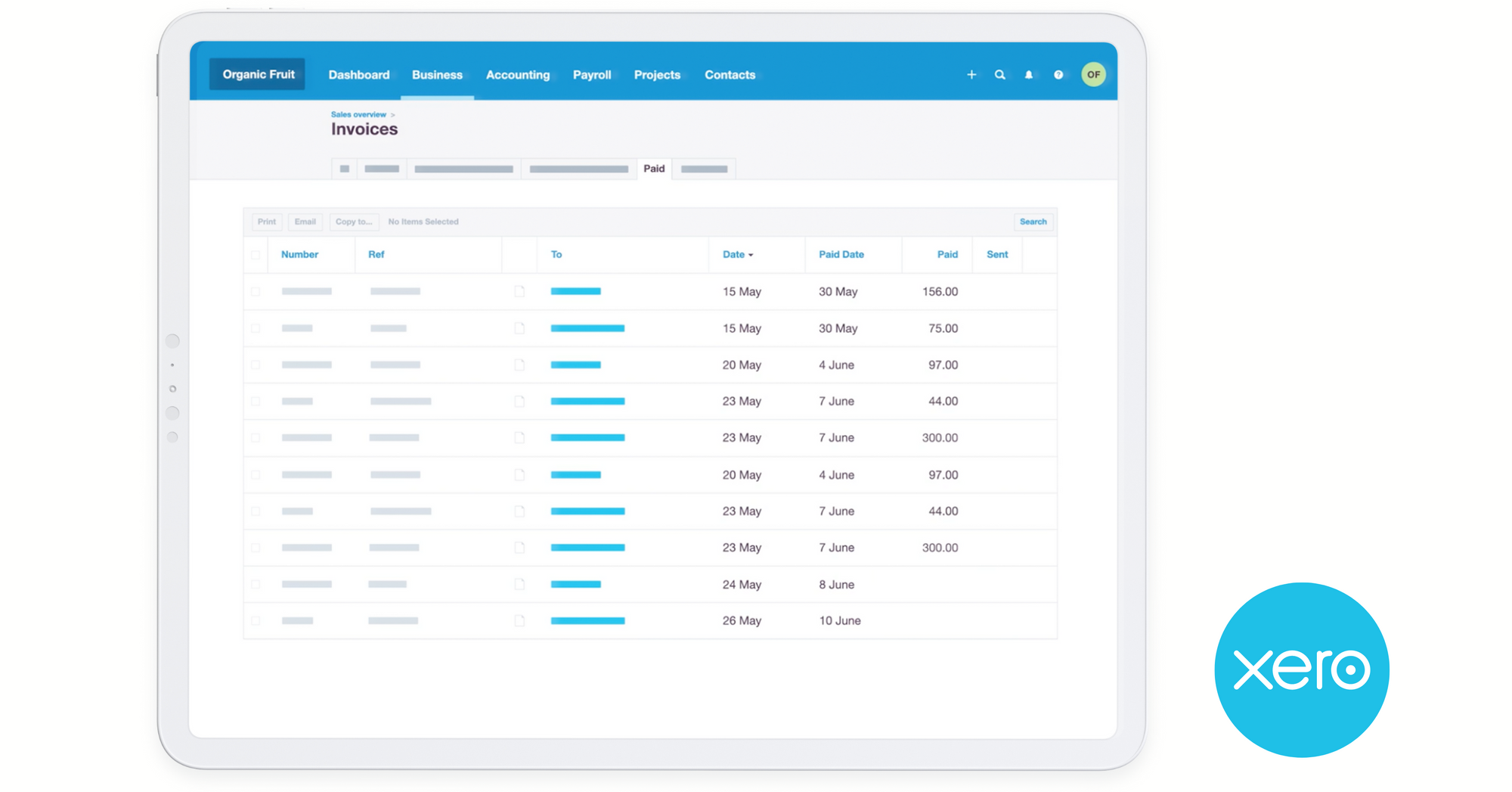 Xero's professional invoicing software allows you to create customized invoices, accept payments instantly, set automated reminder emails and send invoices directly from its mobile app.

These features don't come for free, but Xero offers a 30-day free trial which you can upgrade to a paid subscription starting at USD 25/month (Starter plan).

Pros:
✅  Accounting features are included with the subscription plans
✅  Accept payments online with payment gateways such as Stripe, PayPal and HitPay
✅  Create and send invoices from Xero mobile app (iOS and Android) or desktop
✅  Subscription also includes tools such as financial analytics and inventory management
Cons:
❌  No forever-free plan, 30-day free trial only
❌  Limited to 20 invoices per month on the Starter plan
❌  Supports multiple currencies only on the highest subscription tier, Premium plan, at USD 54/month
4) QuickBooks
QuickBooks Invoice is a feature that comes included with QuickBooks' accounting solution, which allows you to create and send unlimited professional personalized invoices, schedule automated invoice reminders, and set up recurring weekly, monthly, or even yearly invoices for your regular customers and send them in bulk.

The cheapest QuickBooks subscription plan starts at USD 17 per month, although they often offer a 50% discount for the first three months.
Pros:
✅  Subscription plan comes included with robust accounting and bookkeeping features
✅  Supports multiple currencies and generating invoices in several languages (e.g. French, Italian, Traditional Chinese)
✅  Flexible invoicing mechanisms, from recurring invoices to split payments based on project milestones
✅  Unlimited invoices, even for the cheapest subscription plan (Simple Start)
Cons:
❌  No unlimited free plan, 30-day free trial only
❌  Multiple currencies available only on higher subscription tiers (starting from USD 26 per month)
❌  Multi-user accounts are limited only to six, even for the most expensive plan
5) Paper.id
Paper.id is one of the best free invoice software in Indonesia. Not only do you get to generate unlimited invoices for free, but you also get access to their inventory management and bookkeeping features at no additional cost.

You can choose to use their free version, where transaction fees would only be incurred if your customers pay using their payment gateway (PaperPay), or use their paid plan, Paper+ and get more features and better deals for their invoicing services and more, starting from IDR 99,600 per month.
Pros:
✅  Unlimited, lifetime free plan available
✅  Paying Paper+ subscription fees lead to substantially lower transaction fees with PaperPay (up to 60%)
✅  Free plan gets access to payment gateway
✅  Get access to extra features such as inventory management, financial reports, and more, even on the free plan

Cons:
❌  Paper+ subscription fees have to be paid six months in advance
❌  Is not designed to accommodate international transactions (no support for multiple currencies, etc)
❌  Not available on iOS
6) Stripe Invoicing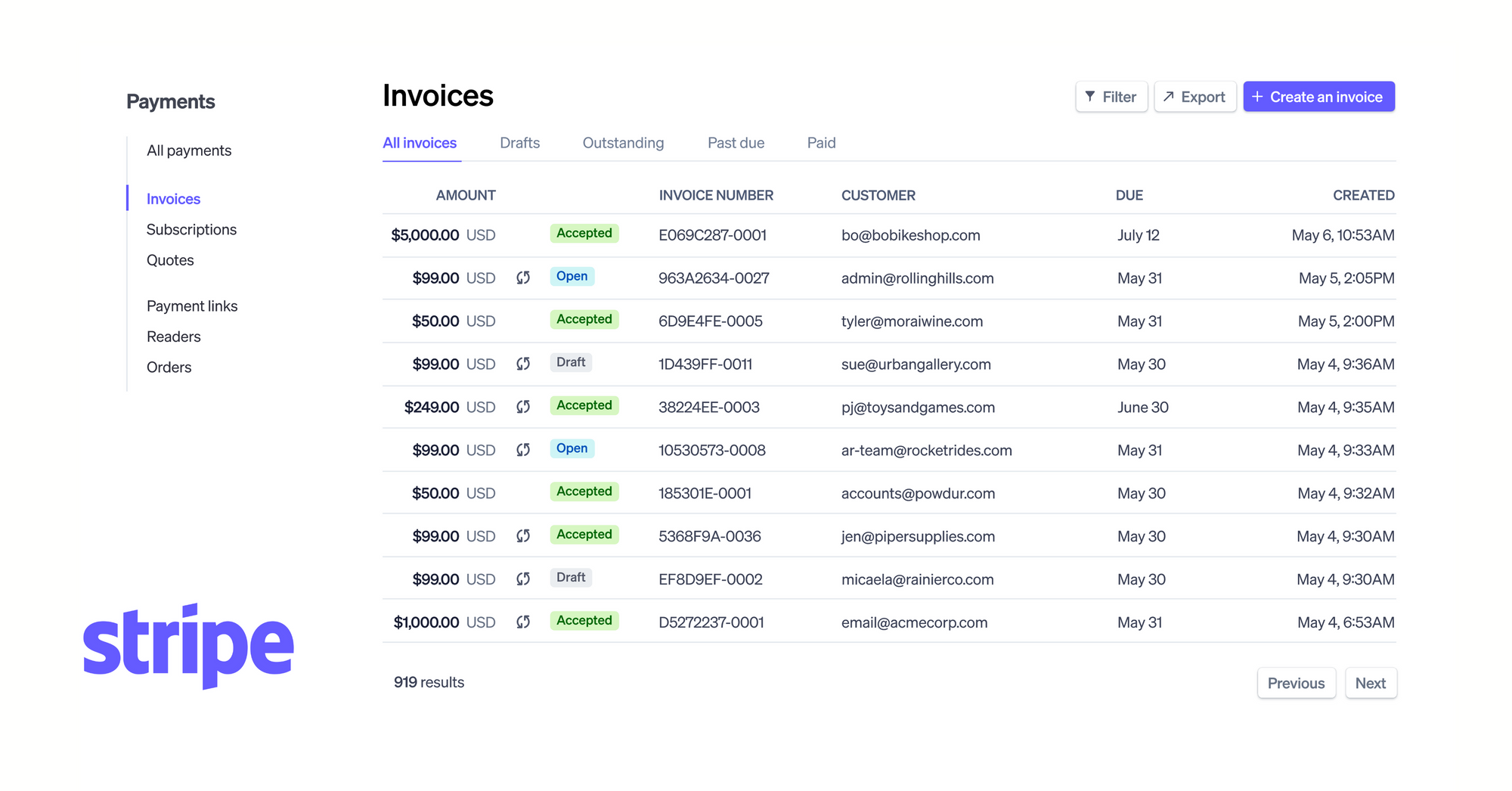 Stripe Invoicing is an online invoicing software solution built on top of the global payment platform, Stripe. You can receive payments immediately by credit cards, direct debit, bank transfer, or other global payment methods such as EPS, iDEAL and WeChat Pay.

If you decide to use Stripe Invoicing for your business, fees start at 0.4% per paid invoice. Stripe Payments per-transaction pricing will also be added separately.

Pros:
✅  Flexible; you can choose a Stripe-hosted online invoicing service or just export a PDF
✅  Get your customers to pay directly through Stripe with their preferred payment method, automatically adjusted according to their location
✅  Supports over 25 languages and 135 currencies and provides seamless integration with accounting software such as Xero and QuickBooks
✅  Advanced features and APIs available to help you automate accounts receivable processes, including invoicing workflow, payment collection and transaction reconciliation
Cons:
❌  Limited local payment methods—supports only bank transfers
❌  As of May 2023, Stripe registration in Indonesia is invitation-only
❌  As of May 2023, Indonesian Stripe user accounts cannot be used for cross-border transactions
7) Canva Invoicing
If you're looking for attractive e-invoices, Canva is a good choice. Primarily known for its online image editing services, Canva also offers invoice generators with a multitude of template selections, with many available for free.
Although Canva cannot handle invoice payments directly, you can spend time to add a payment link to an invoice document that you make using Canva.

Pros:
✅  Unlimited, free and great-looking invoices with many template options
✅  Recurring and scheduled invoices are available
✅  Highly customizable, which allows you to design invoice documents according to your business' brand identity

Cons:
❌  Customer data has to be manually inputted into the invoice
❌  No support for payment gateways natively
❌  Limited features available (e.g. no payment reminders, no spreadsheet data export)
Looking for an online invoicing solution that helps you with end-to-end invoicing?HitPay Invoicing can be your solution—a free and simple online invoicing software built for small businesses and SMEs in Indonesia, including freelancers, contractors and service providers. You can also accept local and international payments through your invoices.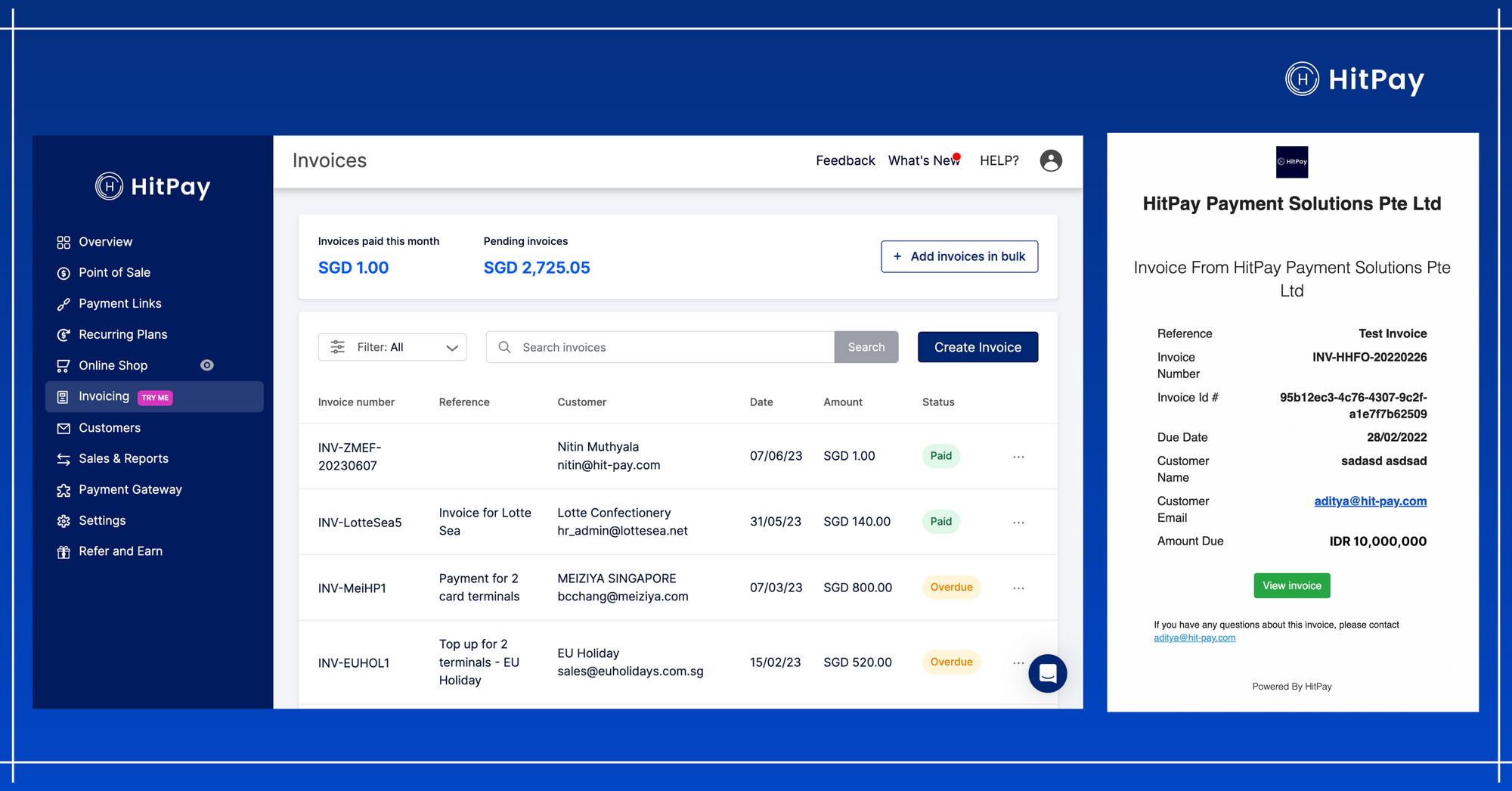 HitPay Invoicing helps you create and send professional, customized invoices with no code required. Whether you need to create invoices in bulk or enable partial payments, HitPay Invoicing allows you to easily manage your customer details and payment reports—all on the same dashboard.

For a Zoho or WaveApps Invoice alternative that can create and send unlimited customized invoices and supports local and international payment methods without additional integrations, you can seriously consider HitPay Invoicing.
Pros:
✅  Unlimited, free, and customizable invoice
✅  No setup or subscription fees
✅  Local and international customers can pay directly through HitPay's payment gateway (transaction fees apply)
✅  Supports foreign currencies and IDR
✅  Powerful invoicing features, including recurring invoice set-up and scheduled payment reminders
✅  Accounting integrations available with Xero and Quickbooks
✅  Comes included with other free software such as a website for your online store and POS software
Cons:
❌  Credit card terminals for in-person payment not yet available
QuickBooks Invoice, Paper.id, Stripe Invoicing, or HitPay — which billing software can help your business best?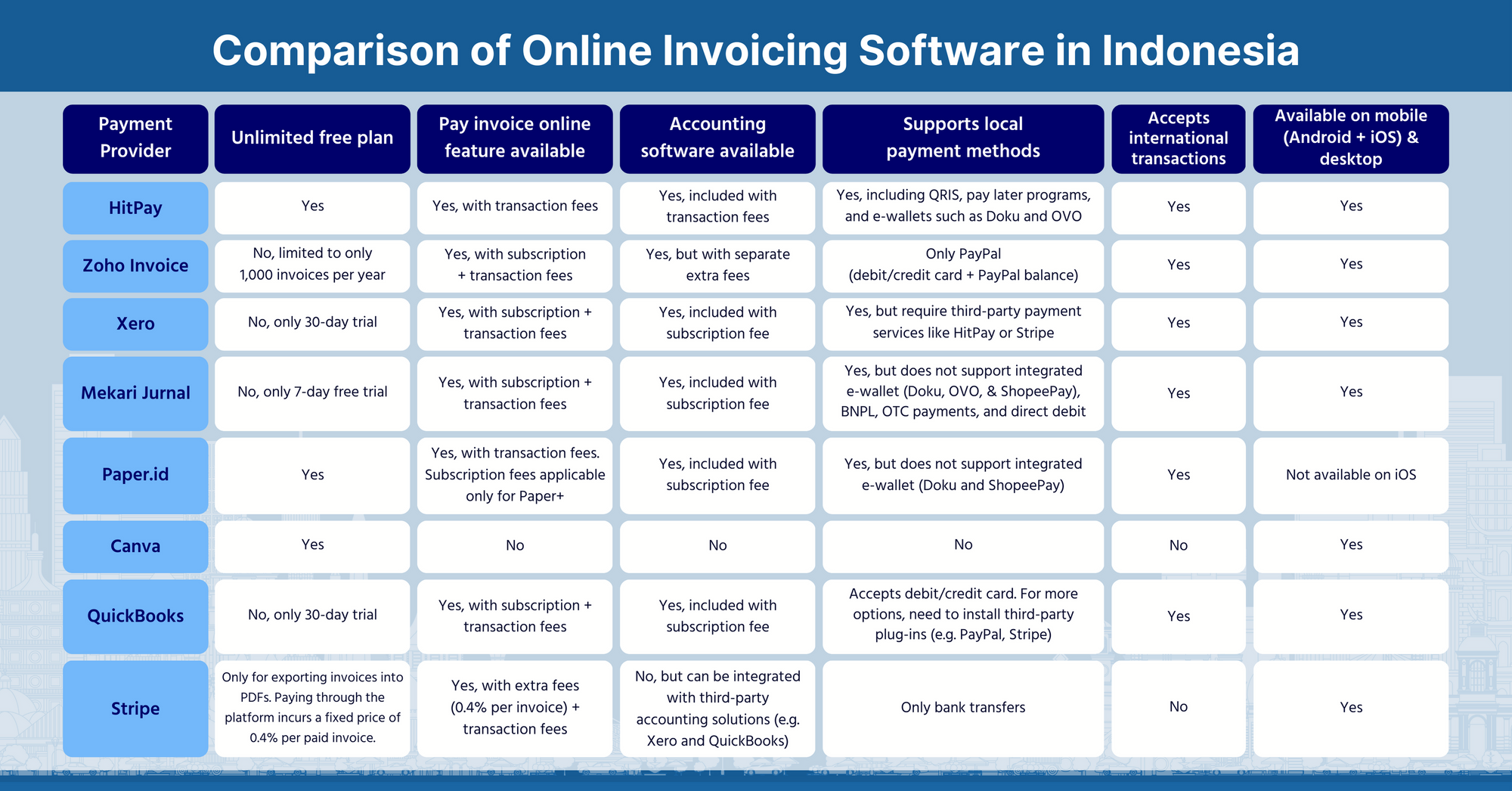 When determining which online invoicing service to use, make sure that you also consider your long-term business plans.
It's best to choose a professional invoicing software that can handle your current and future business needs, since not every invoicing software is built for scale or has data that is transferable from one system to another.
With HitPay, that isn't a problem. Our end-to-end invoice software is designed to handle all your business needs, whether that's selling to a customer just across the street or halfway across the world.
Even if you're just starting out, HitPay can help you from day one, since setting up our all-in-one platform requires no coding skills, unlike most invoicing software with payment gateways. Plus, there are no upfront fees that you need to pay, whether that's subscription or setup fees. We only charge a transaction fee, which you can learn in more detail here.
It's always better to get in touch with the service that you're interested in first before choosing to sign up—so schedule a free demo with HitPay any time, if you want to learn more about our service.
Want to see how HitPay Invoicing works?
Contact us for a free demo!
---
About HitPay
HitPay is a one-stop commerce platform that aims to empower SMEs with no code, full-stack payment gateway solutions. Thousands of merchants have grown with HitPay products, helping them easily receive in-person and online contactless payments. Join our growing merchant community today!