US Payment Gateway Comparison (2023) – Square vs HitPay, Stripe, and more
Learn how to choose the best payment processor in the US for your business needs.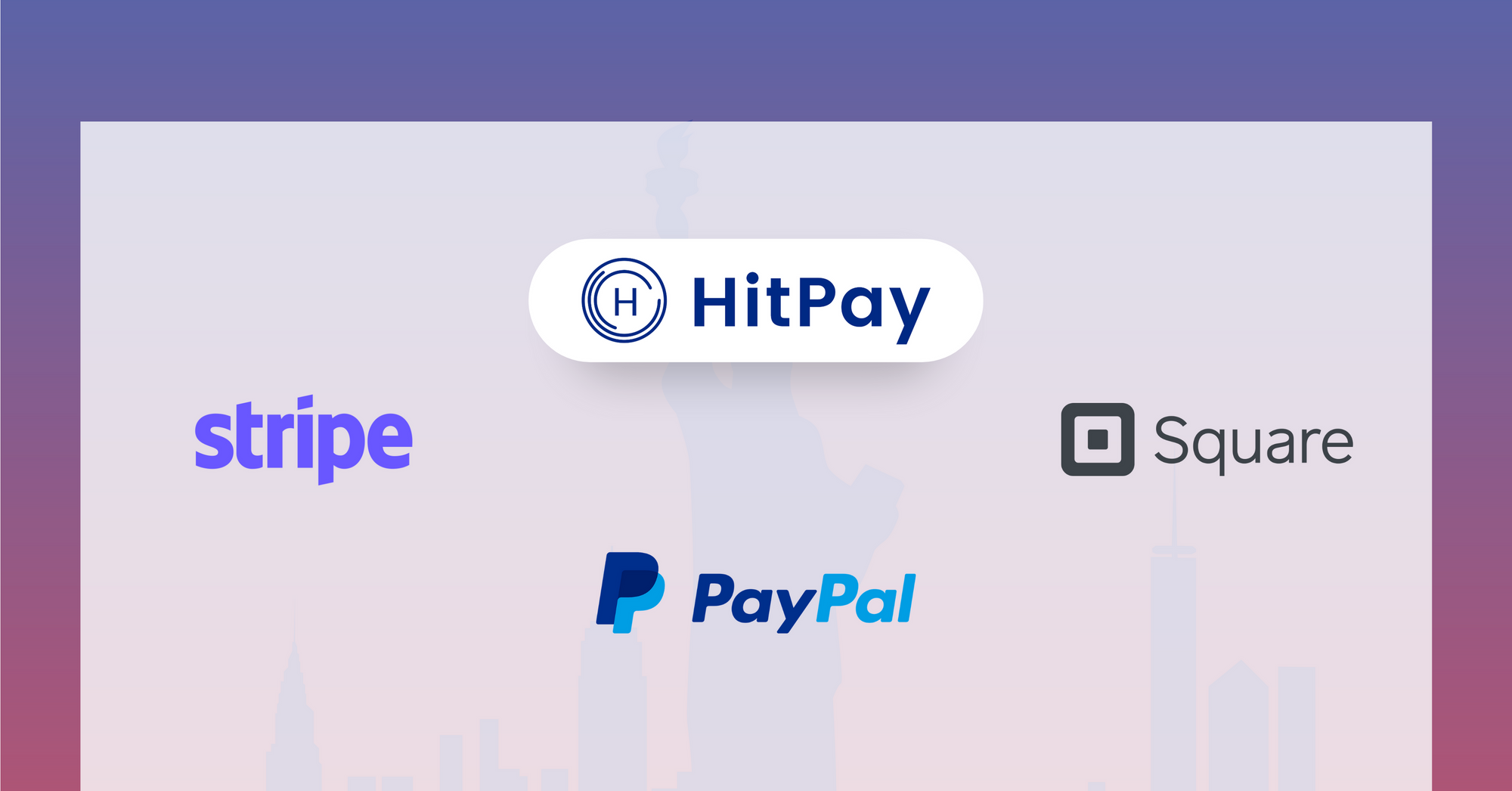 Whether you're selling online or in-person, you'll need a reliable way to collect payments. But how do you choose the best online payment gateway for your business?
In this US payment gateway comparison, we summarise the pros and cons of popular payment gateway providers — Stripe, PayPal, Square, and HitPay US. Plus, a comparison between Square vs HitPay and other payment platforms in the US. Read on!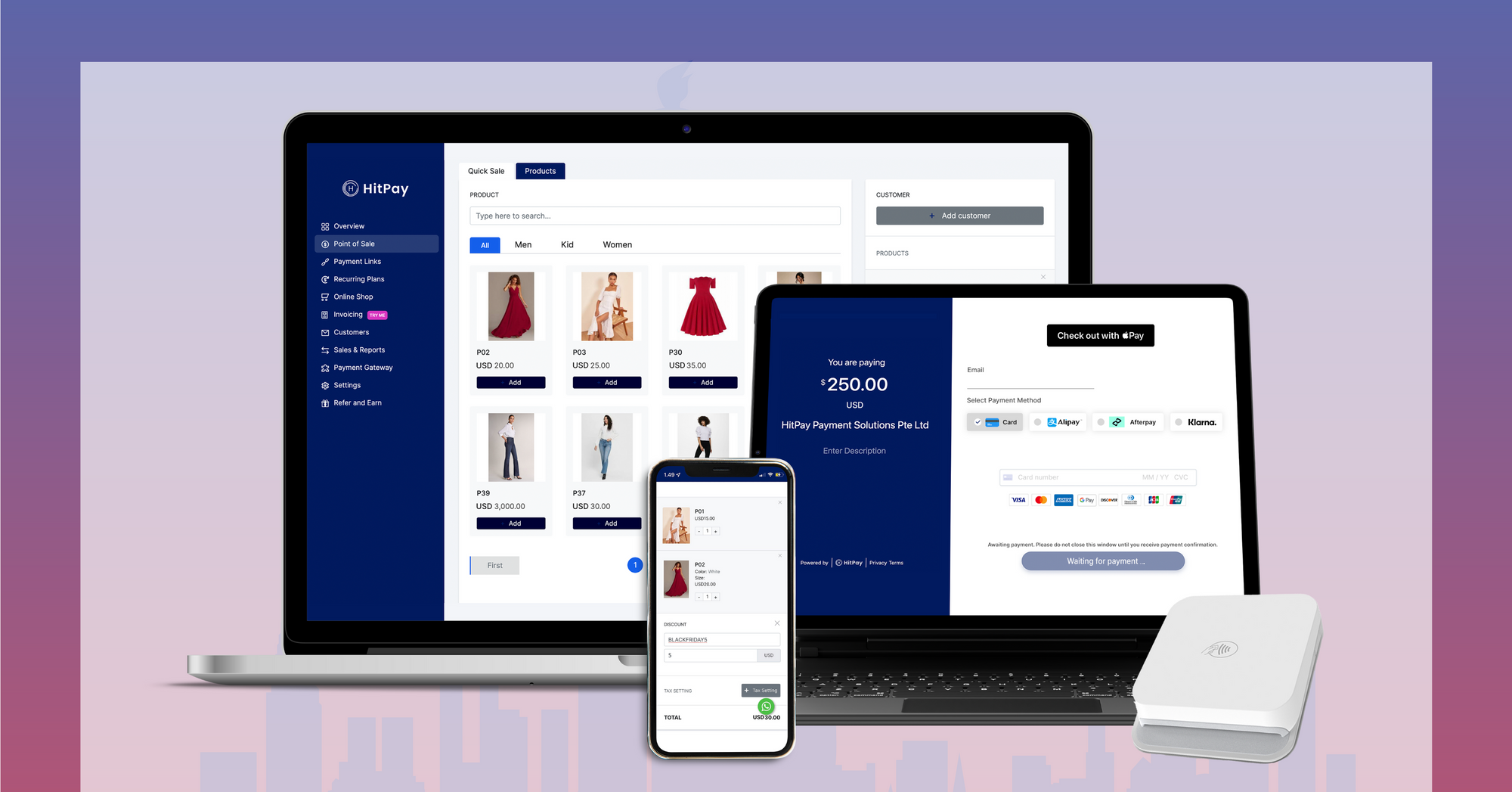 Best payment gateways in the US
1) Square
Square is a decent choice for new businesses with its user-friendly interface, but it may not be the best option for businesses that intend to scale fast.
Pros
✅ Free plan available, with a basic online store builder
✅ Syncs with Square POS
Cons
❌ Doesn't integrate with certain e-commerce platforms, including Shopify
❌ Some features like custom domains and PayPal acceptance have subscription fees
❌ Pricing is complicated, with many complex subscription tiers
---
2) Stripe
Stripe Payments supports all major credit cards and more than 130 currencies — a good choice if you serve international customers and have technical expertise in your team.
Pros
✅ Instant onboarding
✅ No setup or recurring fees
Cons
❌ Requires an experienced developer to set up most features and payment options
❌ Need to pay for essential business tools like discount customization and invoicing
---
3) PayPal
With a strong reputation for security, PayPal is suitable if you're willing to pay a premium for a reliable and established payment gateway.
Pros
✅ Easy to use and set up
✅ Offers PayPal seller protection
Cons
❌ Higher transaction fees than other payment processors
❌ Doesn't offer any e-commerce business tools
❌ Slowest onboarding and settlement time
---
4) HitPay US
HitPay is a one-stop payment platform built for small businesses and SMEs. Founded in Singapore, HitPay has just launched in the US.
Pros
✅ No-code integrations on any e-commerce platform (e.g. Shopify, WooCommerce) and popular sales channels (e.g. WhatsApp, email, Instagram).
✅ Free business software including recurring billing management, invoice generator, and an online website builder
✅ Simple and transparent pricing, with no hidden fees or surprises. No subscription fees or minimum transaction amounts. Only pay when you make a transaction.
✅ Integrated POS system to automatically sync online and offline sales
✅ Accounting integrations with Xero and Quickbooks
Cons
❌ Certain payment methods (e.g. Klarna, Affirm) are not available yet but coming soon
US payment gateway comparison
Payment Gateway Features & Pricing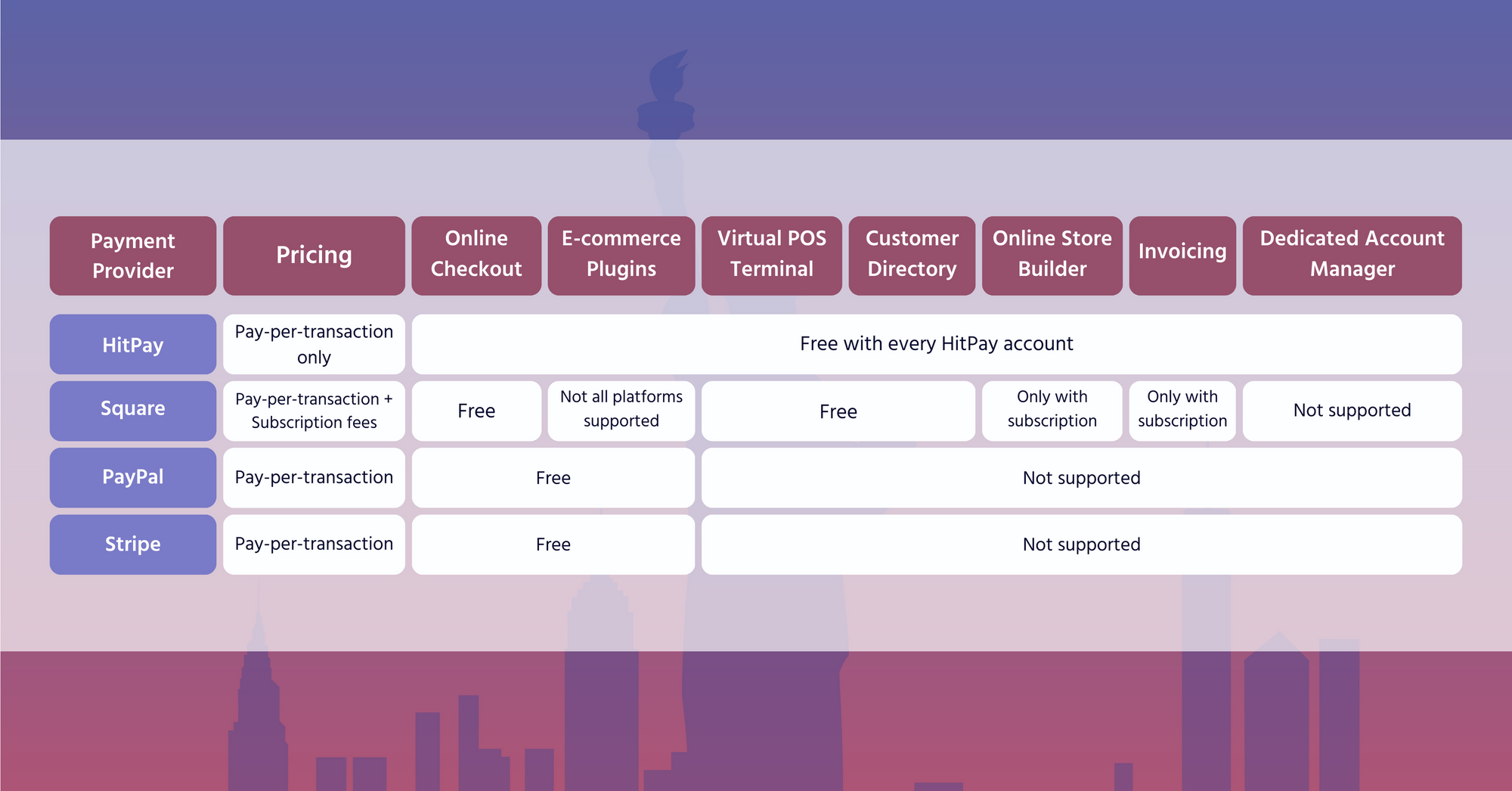 Major e-commerce platforms include Shopify, WooCommerce, EasyStore, Prestashop, Magento, OpenCart, Shopcada, Ecwid, Wix, and Google Forms.
Best online payment processor in the US
HitPay US may be the best choice for you if you are looking for a one-stop online payment platform. See HitPay pricing here.
Set up an account for free and start selling in-person and online! Click here to start your free HitPay US account.
---
About HitPay
HitPay is a one-stop commerce platform that aims to empower SMEs with no code, full-stack payment gateway solutions. Thousands of merchants have grown with HitPay's products, helping them receive in-person and online contactless payments with ease. Join our growing merchant community today!