Comparing HitPay with PayPal: Which Is the Better Payment Solution for SMEs?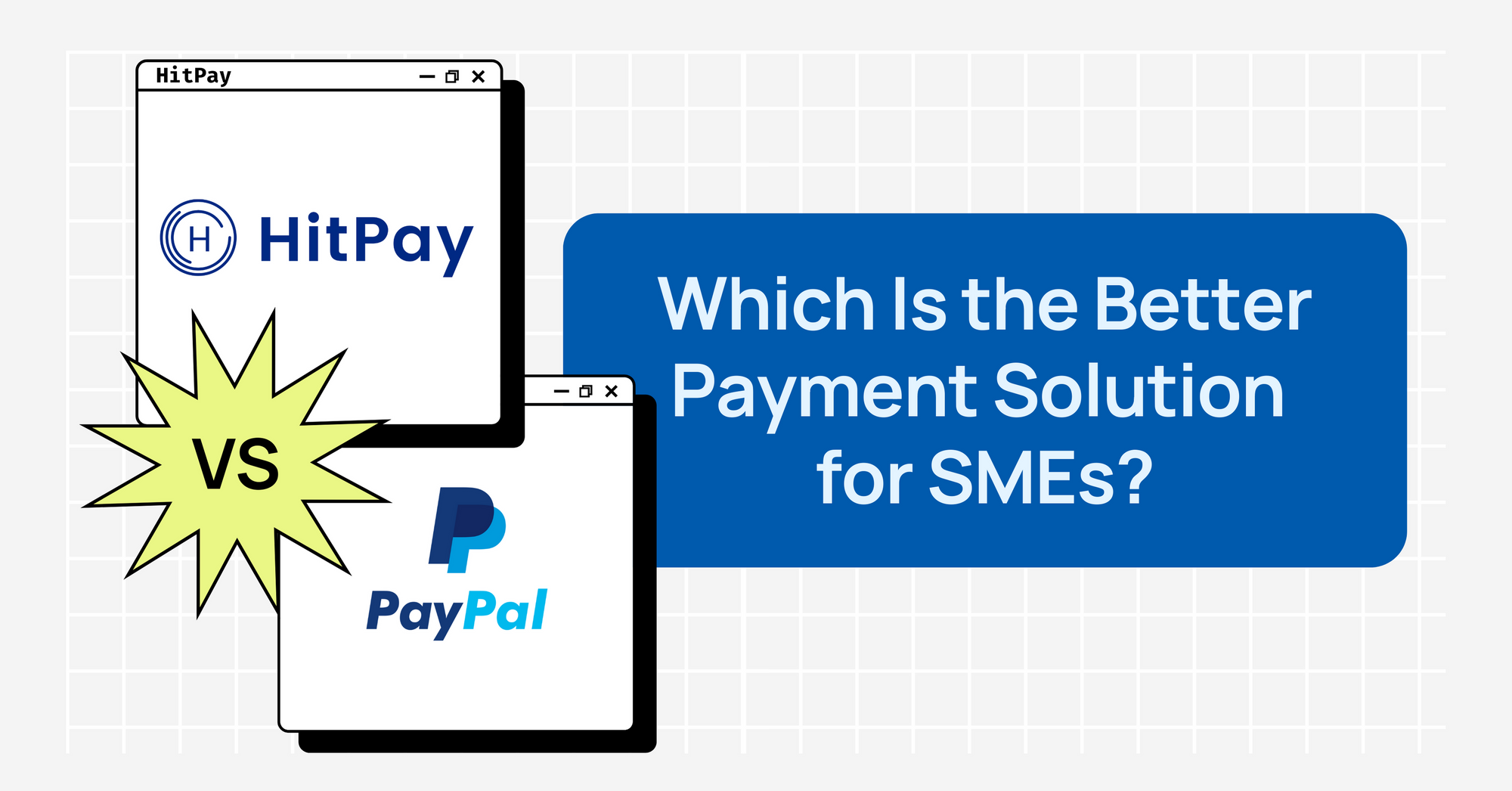 For small and medium-sized enterprises (SMEs), choosing the right payment solution is crucial for ensuring smooth transactions, fostering customer trust, and boosting overall business growth. Two popular payment solutions in the market today are HitPay and PayPal. This article aims to provide an objective comparison of these two platforms, considering factors such as features, pricing, security, and customer satisfaction. By the end of this article, you'll have a clearer understanding of which platform is better suited for your SME's needs.
1) Features and Services
One of the key factors in choosing a payment solution is the range of features and services offered. These can be broken down into three main categories: Payment methods, e-commerce tools and integrations, and onboarding and settlement time.
PayPal Payment Methods and Options — How does it compare to HitPay?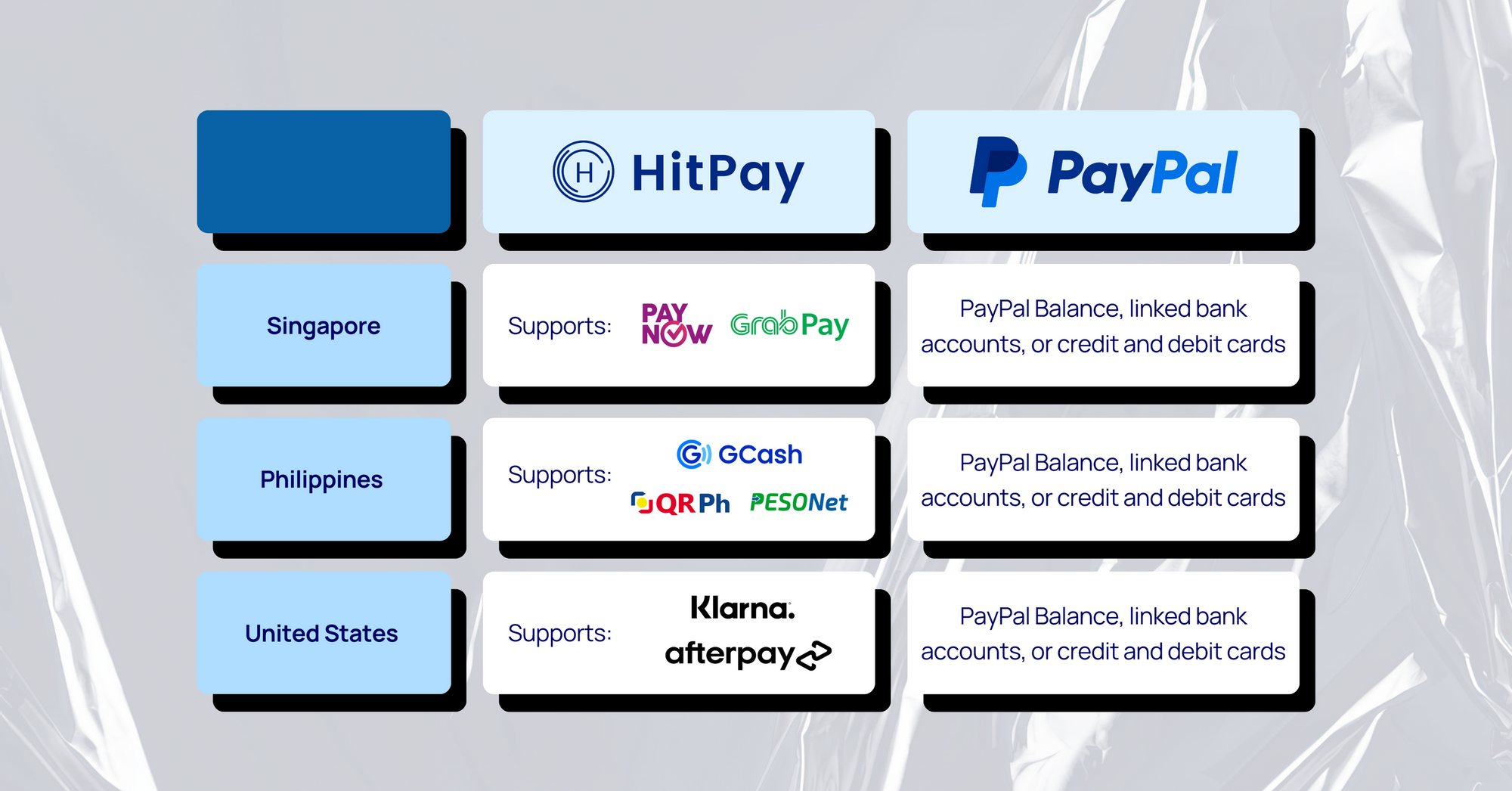 HitPay offers both local and international payment methods on one platform, helping you sell to a range of diverse customers. For example, in the Philippines, HitPay supports GCash, InstaPay QR PH, and PESONet. In the United States, HitPay offers Klarna and Afterpay as payment options. For businesses in Singapore, HitPay supports local payment options like PayNow and GrabPay.
On the other hand, PayPal's payment methods revolve around its platform. Customers can pay using their PayPal balance, linked bank accounts, or credit and debit cards. While this makes transactions easy for those with PayPal accounts, it may limit options for customers who prefer other payment methods.
E-commerce Tools and Integrations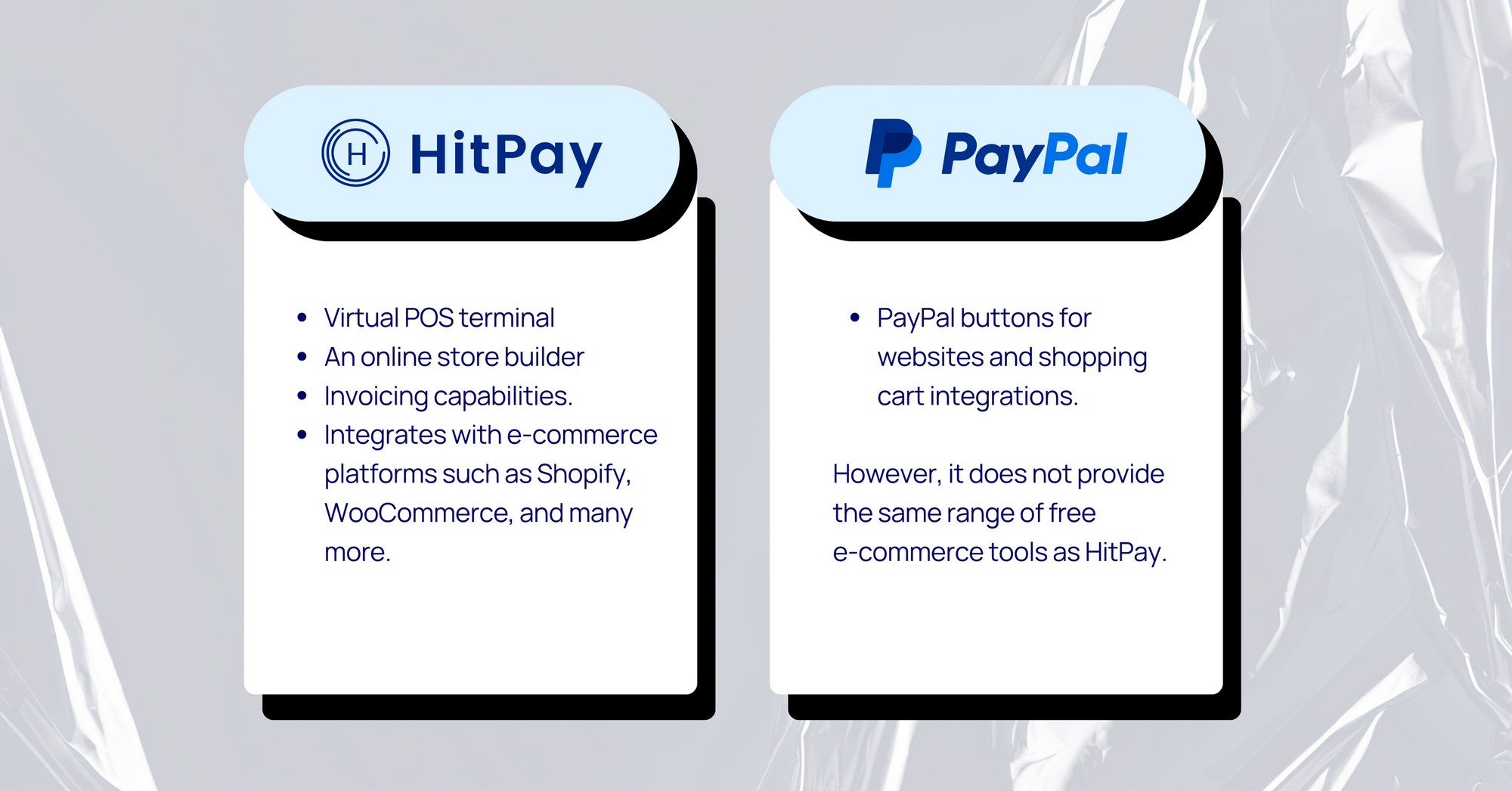 HitPay provides a suite of free e-commerce business tools that can help SMEs thrive in the digital space. These tools include a virtual POS terminal, an online store builder, and invoicing capabilities. Additionally, HitPay integrates seamlessly with popular e-commerce platforms such as Shopify and WooCommerce, making it easy for businesses to adopt the service.
PayPal also offers e-commerce tools and integrations for businesses, such as PayPal buttons for websites and shopping cart integrations. However, it does not provide the same range of free e-commerce tools as HitPay, which may be a deciding factor for SMEs with limited resources.
Onboarding and Settlement Time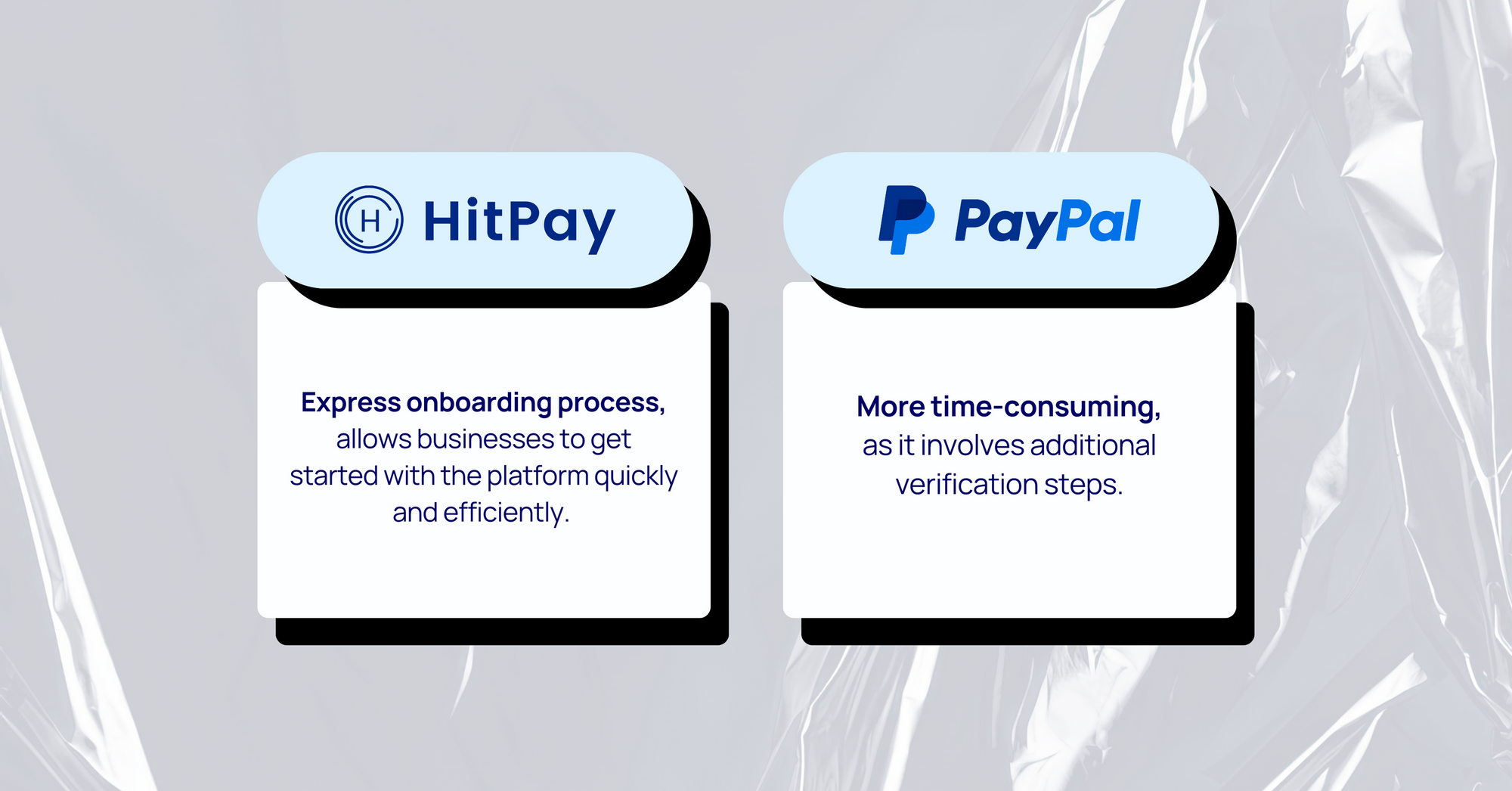 HitPay boasts an express onboarding process, which allows businesses to get started with the platform quickly and efficiently. In contrast, PayPal's onboarding process may be more time-consuming, as it involves additional verification steps.
When it comes to settlement times, both platforms aim to process transactions as quickly as possible. However, the exact timeframes may vary based on factors such as the transaction amount, the user's location, and the type of transaction. It is essential for SMEs to consider the potential differences in settlement times when choosing a payment solution.
2) Pricing and Fees
Another critical factor in choosing a payment solution for SMEs is the associated pricing and fees. Both HitPay and PayPal have their own pricing structures, which include transaction fees and foreign exchange fees. This section will compare these fees to help businesses make an informed decision.
HitPay's Pricing Structure
HitPay charges transaction fees based on the payment method and region. The fees vary depending on the specific payment option chosen by the customer. Additionally, HitPay applies foreign exchange fees for transactions involving currency conversion. These fees are competitive and typically lower than traditional banking rates, making HitPay an attractive option for businesses with international customers.
PayPal's Pricing Structure
PayPal's transaction fees depend on the type of transaction and the country in which the business is located. Fees for receiving payments for goods and services usually range from 2.9% to 4.4% of the transaction amount, plus a fixed fee based on the currency. PayPal also charges foreign exchange fees for cross-border transactions and currency conversions, which can add up for businesses with a global customer base.
Comparison of Pricing and Fees for SMEs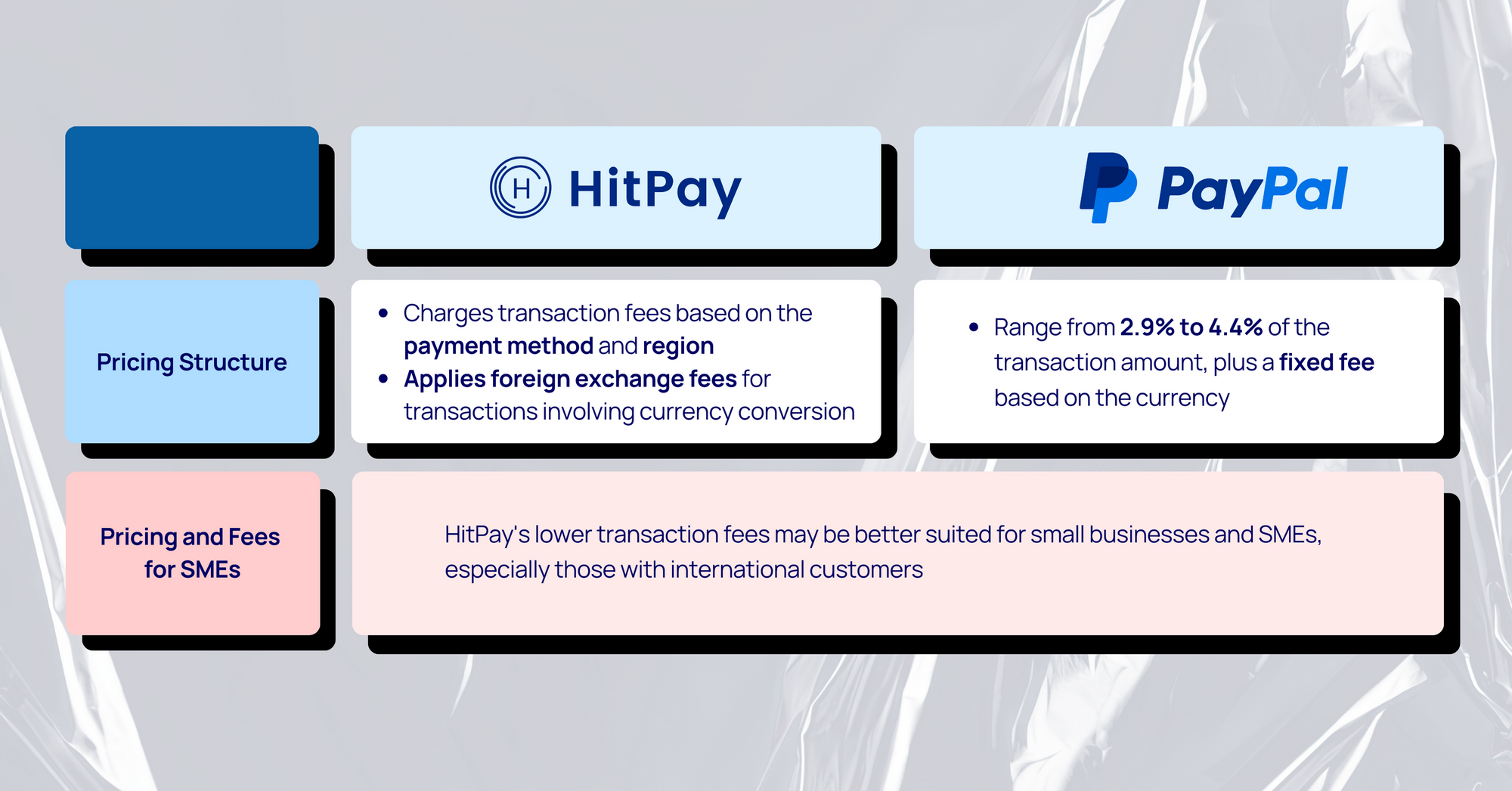 When comparing HitPay and PayPal's pricing structures, it is essential for SMEs to consider the specific fees that apply to their business and customer base. HitPay's lower transaction fees may be better suited for small businesses and SMEs, especially those with international customers.
3) Security and Trustworthiness
Security and trustworthiness are essential factors to consider when choosing a payment solution for SMEs. Both HitPay and PayPal employ robust security measures, including encryption and fraud prevention, to ensure the safety and privacy of their users' data and transactions.
HitPay's Security Measures
HitPay prioritizes the security of its users' information and transactions. The platform employs encryption to protect sensitive data, ensuring that only authorized parties can access it. Additionally, HitPay has implemented fraud prevention measures to detect and prevent unauthorized transactions, providing an added layer of security for its users.
PayPal's Security Measures
PayPal is known for its stringent security measures, which have contributed to its reputation as a trusted payment solution. Like HitPay, PayPal uses encryption to safeguard user data and transactions. The platform also employs sophisticated fraud prevention techniques, including machine learning algorithms and real-time monitoring, to detect and prevent fraudulent activities.
Comparison of Security and Trustworthiness for SMEs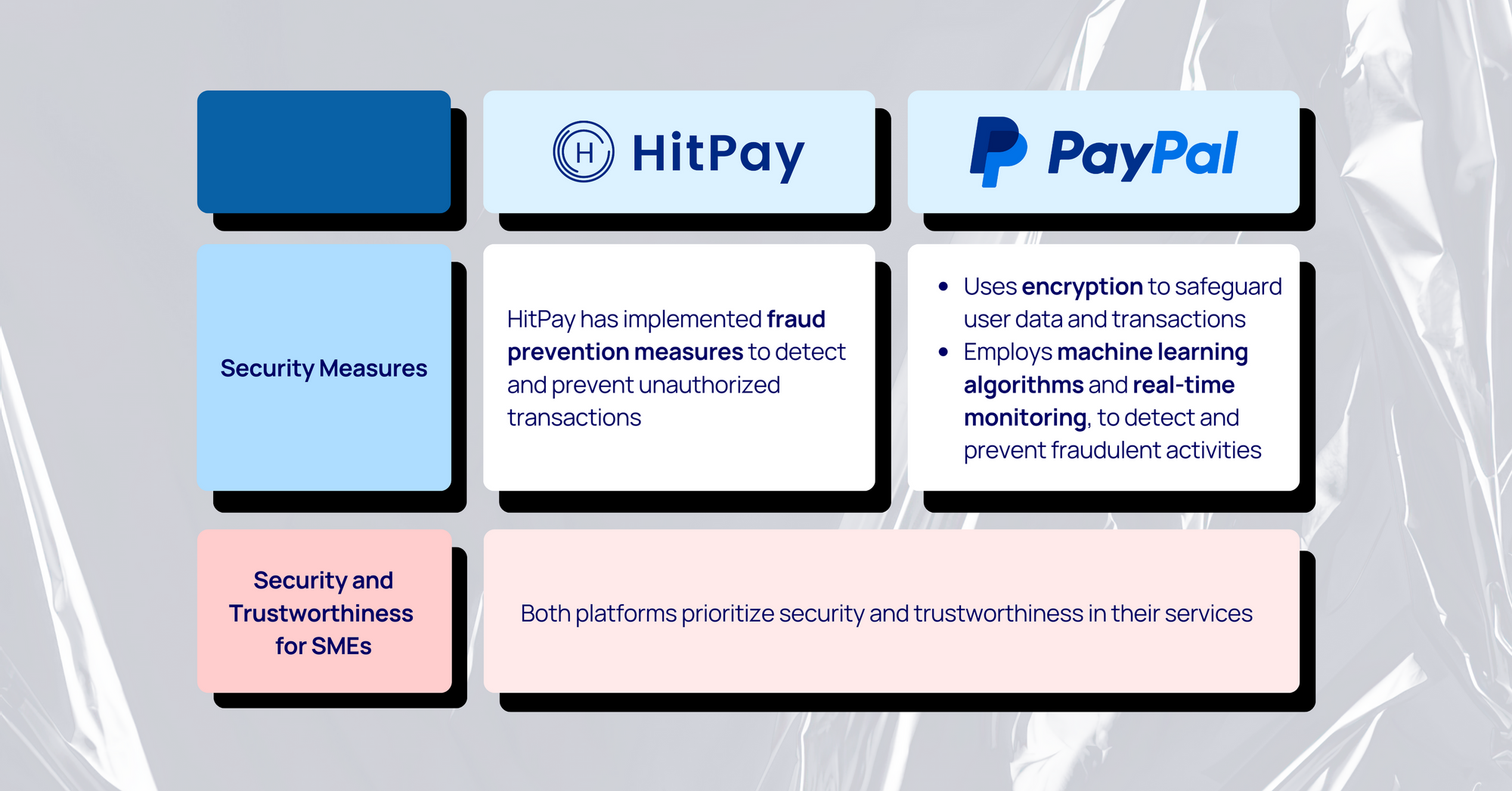 When comparing the security and trustworthiness of HitPay and PayPal, it is clear that both platforms take user safety and privacy seriously. SMEs can be confident that both platforms prioritize security and trustworthiness in their services.
5) Customer Support and Satisfaction
Customer support and satisfaction play a crucial role in the overall experience of using a payment solution. Both HitPay and PayPal offer customer support options, catering to the needs of their users and ensuring a seamless experience.
HitPay's Customer Support Options
HitPay provides an online help center with a wealth of information and resources to help users navigate the platform and resolve any issues they may encounter. Additionally, HitPay offers email support for users who require further assistance or have specific inquiries about their account or transactions.
PayPal's Customer Support Options
PayPal also has an extensive online help center, offering users access to articles, tutorials, and troubleshooting guides. In addition to the online resources, PayPal provides phone support, which allows users to speak directly with a customer service representative for immediate assistance with their concerns.
Comparison of Customer Satisfaction and Testimonials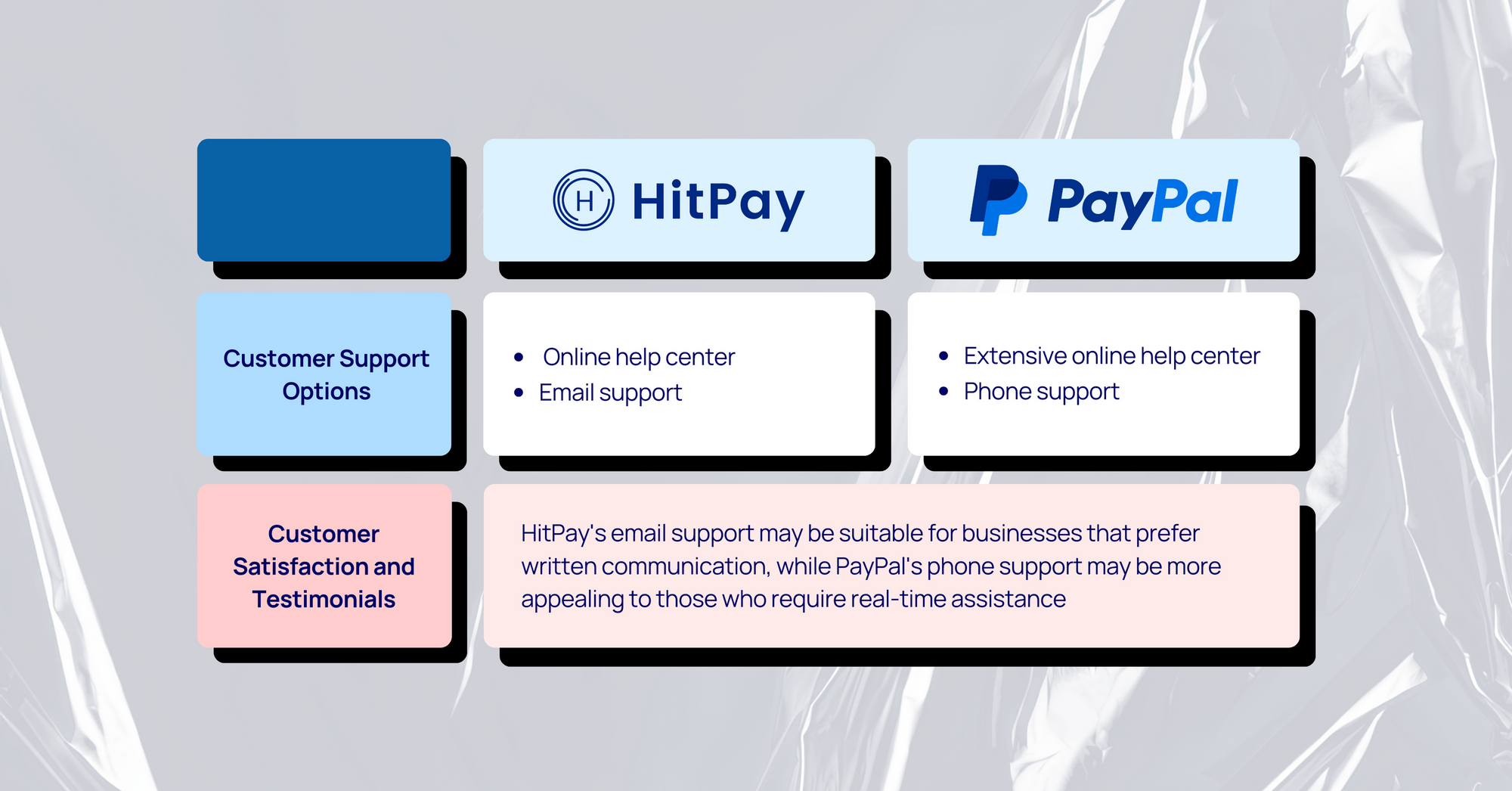 Both HitPay and PayPal have received positive feedback from users, with many customers praising the platforms' ease of use, features, and customer support. However, it is essential for SMEs to consider their specific requirements and preferences when evaluating customer support options. HitPay's email support may be suitable for businesses that prefer written communication, while PayPal's phone support may be more appealing to those who require real-time assistance. Ultimately, the best payment solution will depend on the unique needs and priorities of each business.
HitPay and PayPal — Which Is the Better Payment Gateway for SMEs?
In conclusion, this comparison of HitPay and PayPal has highlighted the various factors SMEs should consider when selecting a payment solution, such as features, pricing, security, and customer support. While both platforms have their advantages, HitPay stands out for SMEs due to its free e-commerce business tools, wide range of local and international payment methods, express onboarding and settlement time, and compatibility with all major e-commerce platforms.
As SMEs continue to navigate the digital landscape, having a reliable and efficient payment solution is crucial for success. We encourage you to explore HitPay as your payment solution and experience the benefits it offers first-hand. By choosing HitPay, SMEs can unlock new opportunities and streamline their transactions, ultimately leading to business growth and customer satisfaction.