BillPlz vs HitPay Pricing Comparison
This article explores the crucial role of payment processing for SMEs in Malaysia, comparing two popular platforms - BillPlz and HitPay.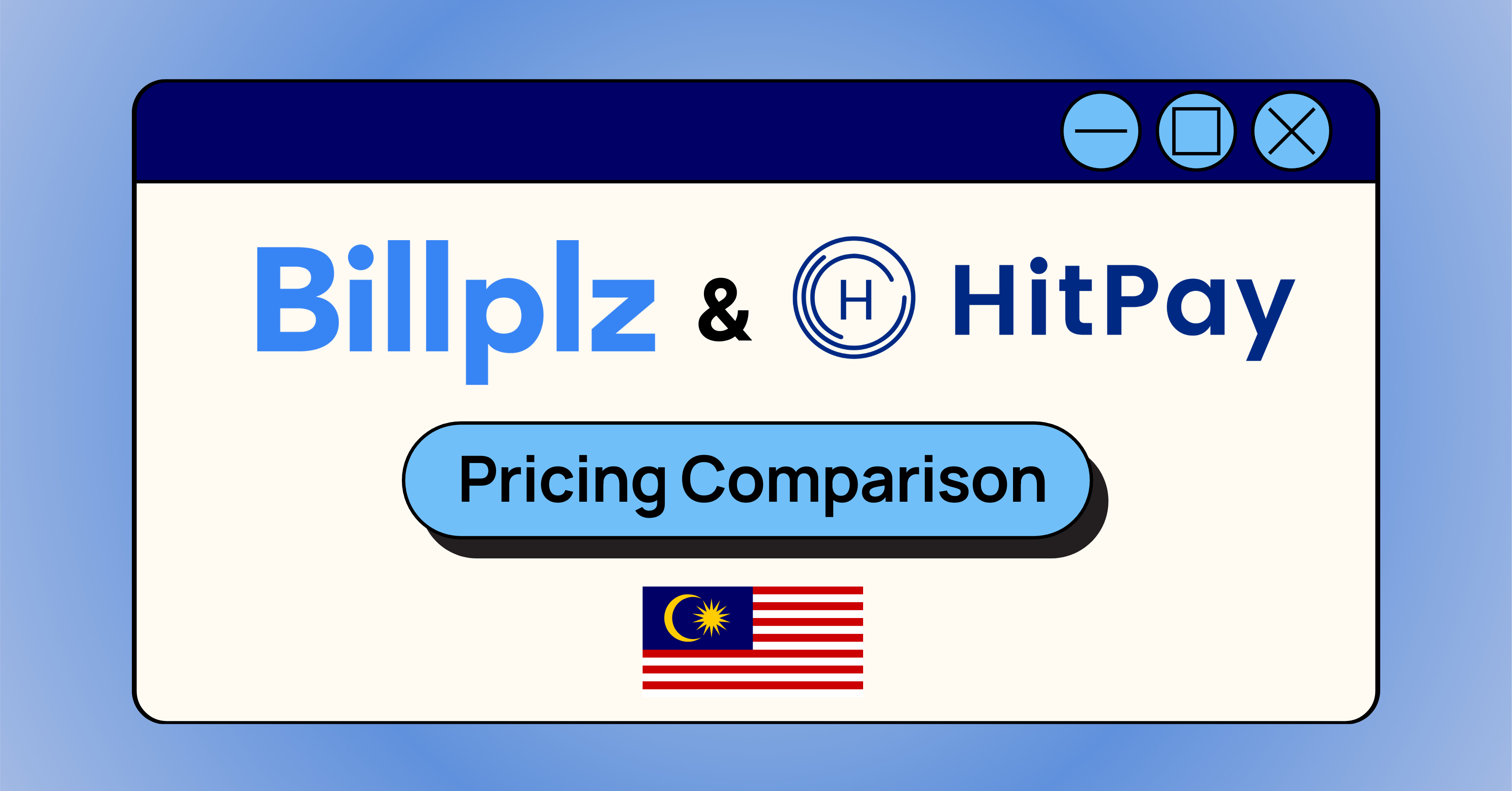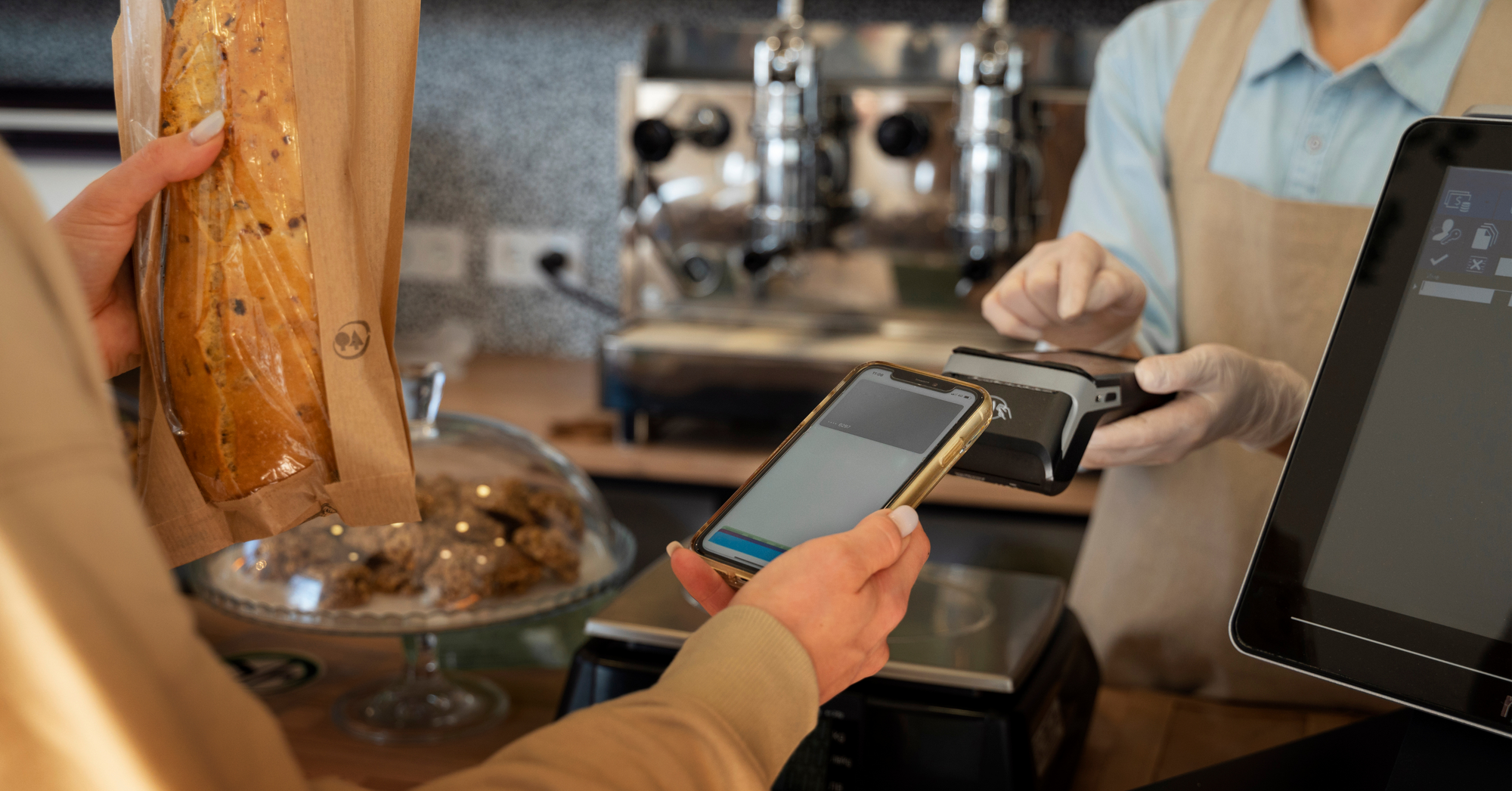 Importance of Payment Processing for Businesses
Choosing a payment processor for your small or medium-sized enterprise (SME) is crucial for smooth transactions, customer trust, and business growth. Two popular options in Malaysia are HitPay and BillPlz.
BillPlz has gained popularity in Malaysia due to its extensive payment options. However, businesses often seek alternatives that offer better pricing and additional features to maximise their savings and enhance customer experience.
This article will compare the pricing of these two platforms to help you decide which one is right for your SME.
About BillPlz
BillPlz is a Malaysian payment gateway that allows businesses of all sizes to accept online payments. It offers a variety of features, including payment links, online payment forms, recurring payments, invoicing, and checkout pages.
BillPlz also supports a range of payment methods, including online banking, Visa and Mastercard, wallets, and Buy Now, Pay Later options.
BillPlz Pricing Overview
Whilst BillPlz is a trusted payment gateway, understanding their pricing plans is difficult and complicated. They have multiple subscription tiers that can be confusing for small business owners.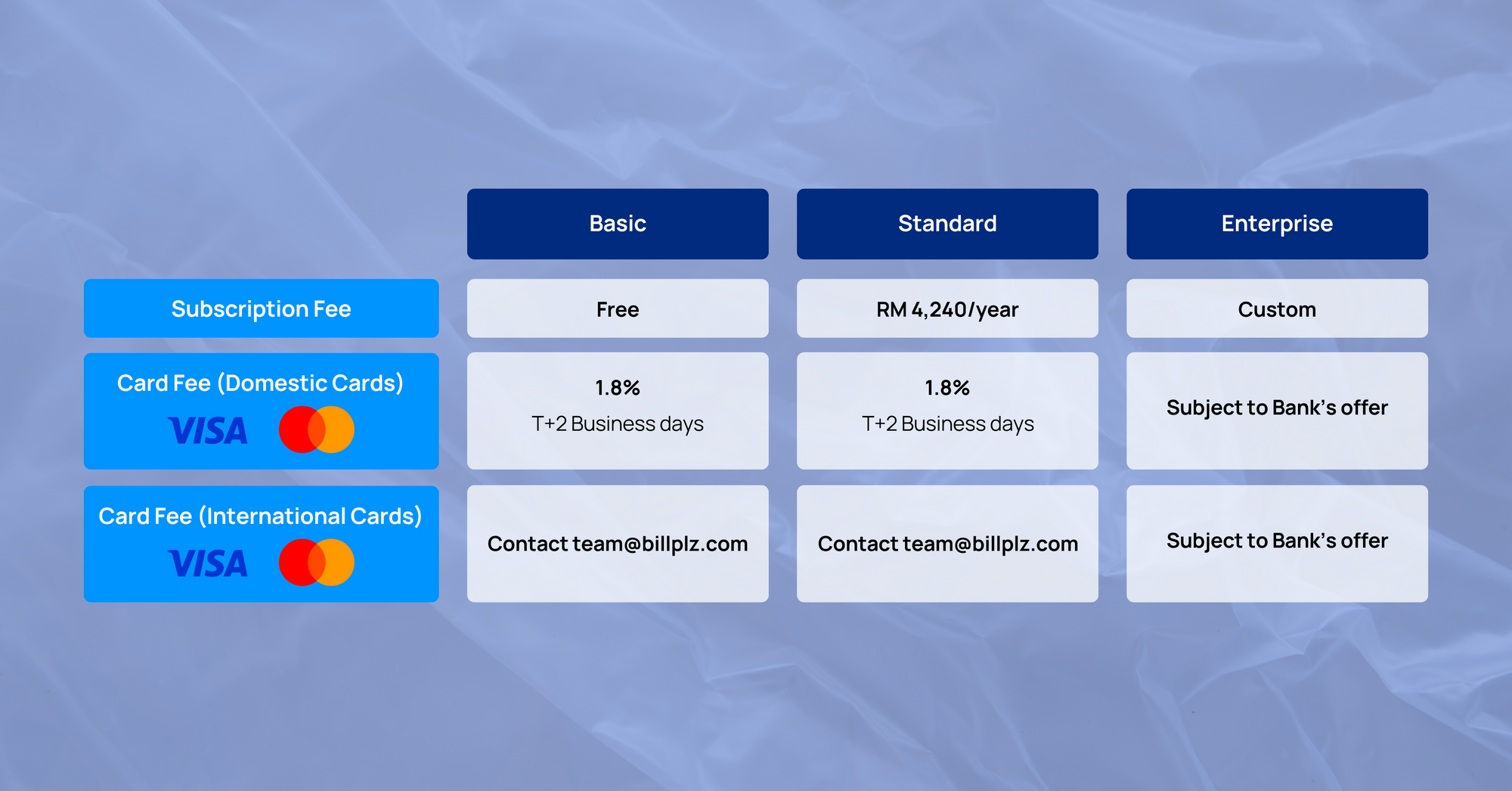 Subscription Fee
BillPlz has three membership plans: Basic, Standard, and Enterprise:
The Basic plan is free, but has higher transaction fees and does not allow for FPX B2B transfers or PayPal transactions
The Standard plan costs RM4,240 per year and has lower transaction fees.
The Enterprise plan has custom pricing and includes additional features such as real-time payout and reconciliation tools.
Card Fee
Local and foreign card fees vary depending on the chosen plan:
The Basic plan has a local card fee of 1.8% and the foreign card fee is not disclosed online which emphasises the lack of transparency in their pricing.
The Standard and Enterprise plans offer lower rates, with a 1.8% local card fee and the foreign card fees are not disclosed online.
HitPay Pricing
When compared to BillPlz, HitPay offers several advantages, including no subscription, rental or hidden fees. The detailed pricing can be found here.
Subscription Fee
HitPay has no rental or subscription fees. Instead, it operates on a simple pay-per-transaction pricing model - with no hidden fees or surprises.
This allows SMEs to start using the platform without upfront or monthly fixed costs. This straightforward approach allows growing businesses to plan their expenses effectively.
Card Fee
HitPay's lower transaction fees for both local and international card transactions provide businesses with significant savings.
The platform charges a local card fee of 1.2% + RM1 and an international card fee of 3% + RM1. This stays the same for online and in-person payments.
Why Choose HitPay Over BillPlz?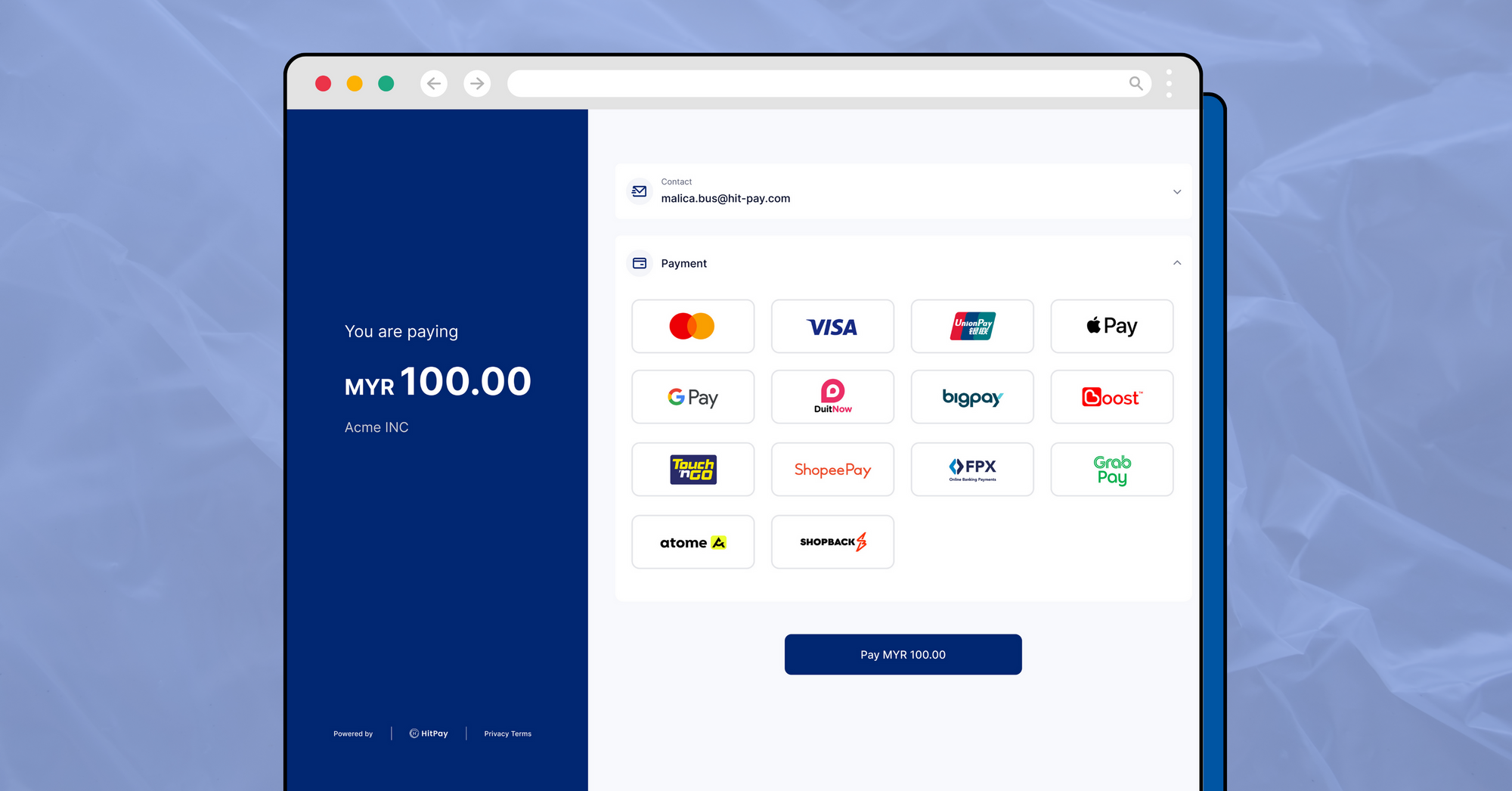 Payment Options
In addition to better pricing as outlined in the previous section, HitPay supports a wider range of payment options, including GrabPay, Boost, ShopeePay, Maybank QRPay, FPX B2B, and FPX CCA.
This versatility enables businesses to cater to diverse customer preferences and facilitate seamless transactions.
Integrations
HitPay has the widest range of integrations with various e-commerce platforms and sales channels, including Shopify, WooCommerce, Wix, Xero, and Google Forms.
This means you can sync your online and offline sales in one place without having to build your own integrations.
No Code Tools
HitPay's no-code tools allow businesses to create and manage their own payment solutions without having to write any code. This includes features such as:
Payment links: Create custom payment links that you can share with customers via email, text message, or social media.
Online payment forms: Create customizable online payment forms that you can embed on your website or landing page.
HitPay's no-code tools are easy to use and require no coding experience. They are also highly customisable, so you can create payment solutions that meet the specific needs of your business.
Business Software
HitPay also offers free business software, such as recurring billing management, an invoice generator, and an online website builder, to help businesses save money.
There are no subscription fees for these tools - you only pay per transaction and are available to all users.
On the other hand, business services such as Receivables Business Process Outsourcing and Payable Business Process Outsourcing are only available for Enterprise customers on BillPlz which is their most expensive plan.
Embracing Cost-effective Payment Solutions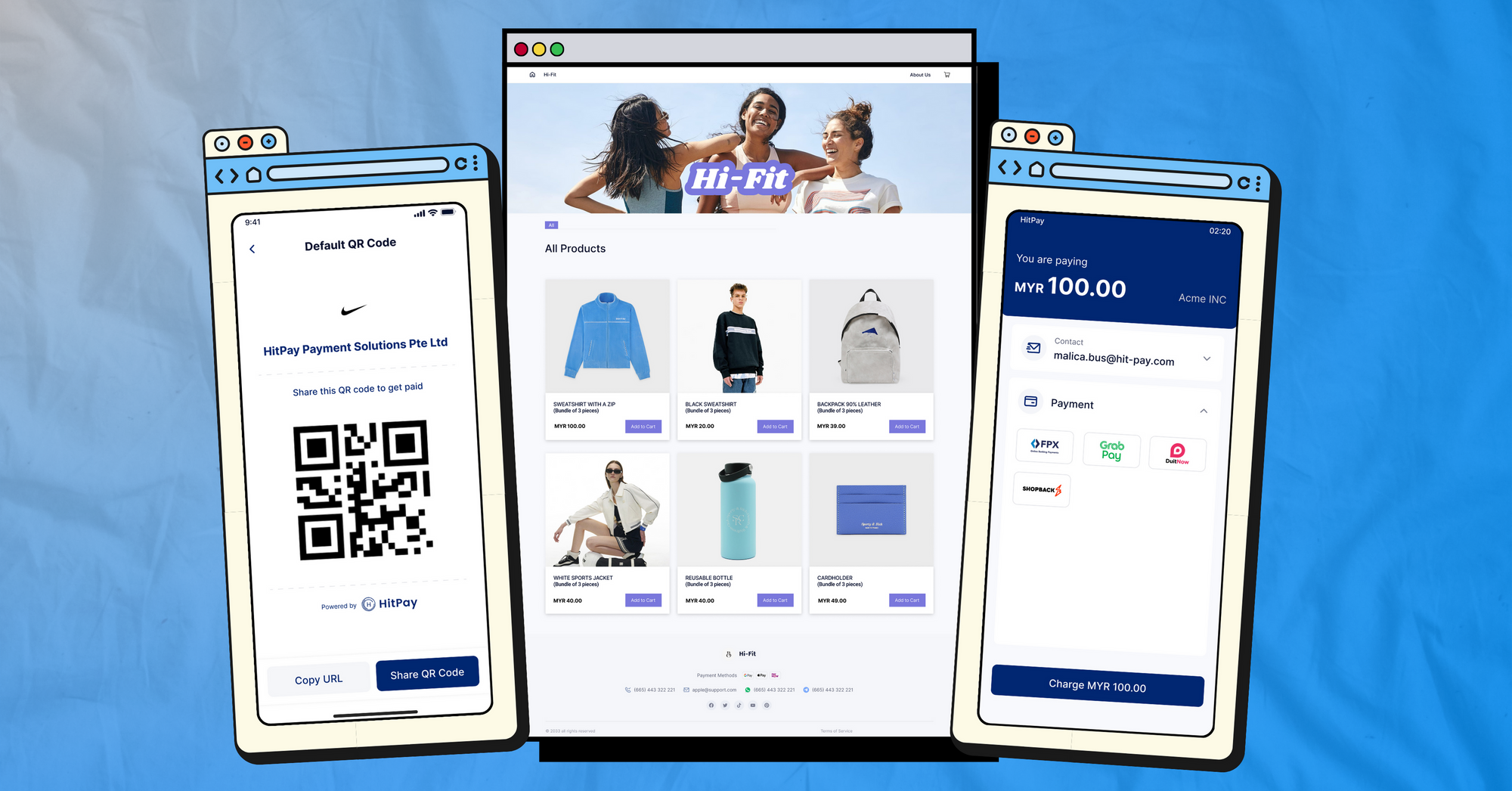 HitPay is a payment gateway that offers lower transaction fees and a wider range of payment options than BillPlz.
HitPay also offers a variety of features to help businesses collect payments, such as payment links, online payment forms, recurring payments, invoicing, and checkout pages.
Overall, HitPay is a good choice for businesses of all sizes that are looking for a cost-effective and comprehensive payment gateway solution.
Have questions about HitPay?
If you're a customer who has questions about paying with HitPay, feel free to contact us on our website.
Are you a merchant who wants to offer more payment methods with HitPay's secure payment gateway?
Set up an account for free or find out more with a 1-on-1 demo.
Read also:
---
About HitPay
HitPay is a one-stop commerce platform that aims to empower SMEs with no code, full-stack payment gateway solutions. Thousands of merchants have grown with HitPay's products, helping them receive in-person and online contactless payments with ease. Join our growing merchant community today!