Top 12 Online Website Builders for SMEs in Singapore: A Comparison
Create a website and sell online easily with an e-commerce website builder. Here's how to choose the right one for your small business in Singapore.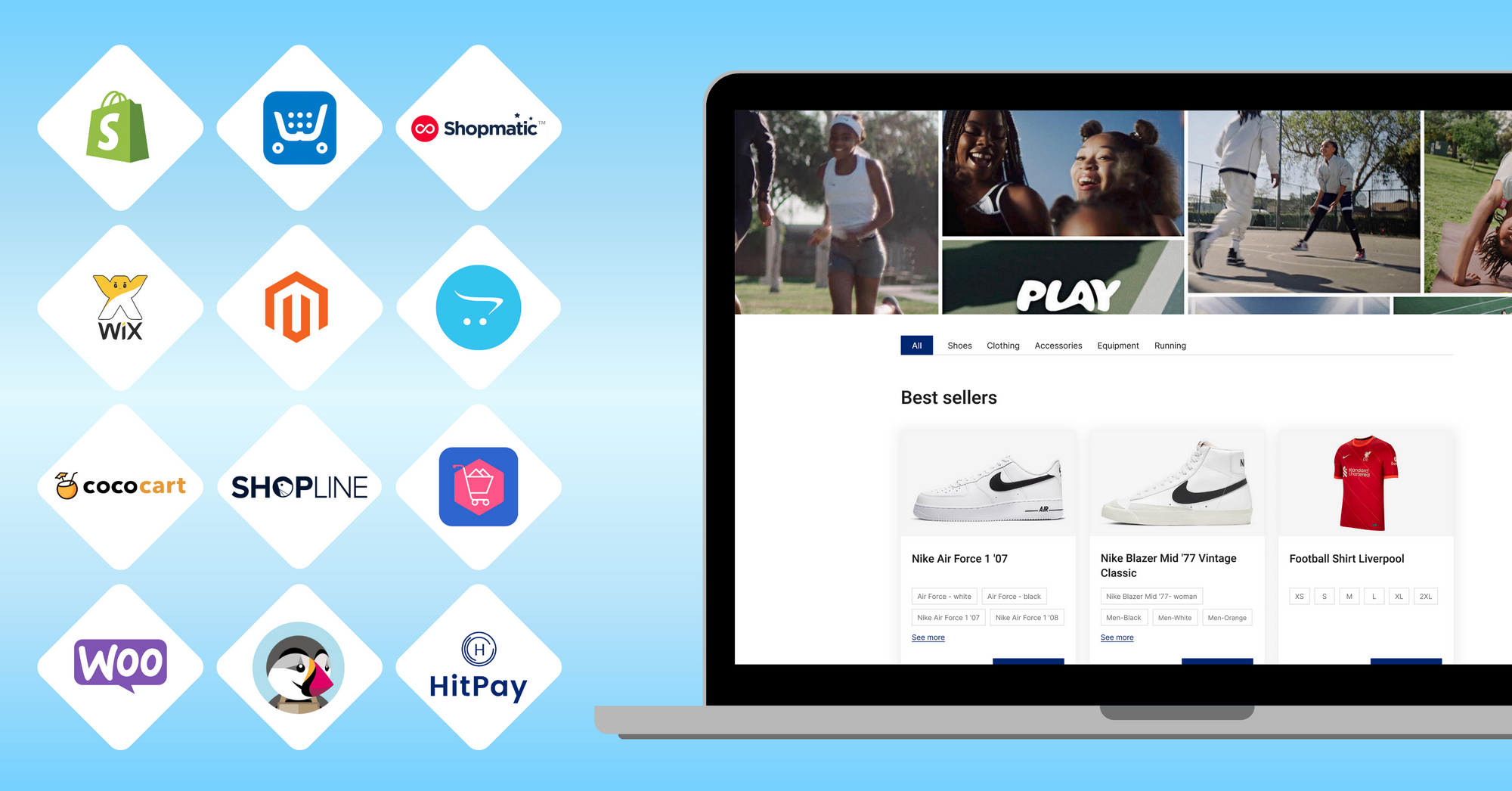 Started a business and want to start selling online? Or maybe you already have a Facebook Shop or Instagram Shop and want to upgrade to a professional e-commerce website.
However, building your website and ensuring it has all the necessary features takes time and effort. That's where e-commerce website builders come in to help you. Many website creator solutions exist, so how do you decide on the best e-commerce website builder for your small business?
We compare 12 popular website builders in Singapore so you can choose the best one for your needs. Read on!
---
5 questions to help you choose the best e-commerce site builder for your small business
1) How easy is it to take payments online (or offline)?
E-commerce site builders often come with an integrated payment solution to help you accept payments online across multiple payment methods. For instance, a Shopify subscription comes with Shopify Payments support.
Make sure that your site builder offers the payment methods and currencies your target audience will most likely use. For example, over 80% of Singapore residents and businesses use PayNow, so offering PayNow can save you time accepting payments and money from lower transaction costs.
Are you planning to sell at a physical location? Check that your payment gateway integrates with your chosen point-of-sale (POS) system for smooth payment processing.
2) How much does it cost?
Costs for website builders fall into three categories. Calculate these costs into your pricing and target sales volume, so you only pay for what you need.
Ongoing subscription fees: Check that the features you need are included in your chosen subscription plan
Transaction fees: The percentage of your revenue taken by your website builder when you successfully make a transaction. These fees differ across payment methods and platforms.
Other essential features add-ons like domain hosting, integrations, or custom website themes: Some e-commerce website builders include these in their subscription plans, while other website creators (like WooCommerce or PrestaShop) count these as separate charges.
3) What kind of design skills/technical expertise do you have?
Based on your familiarity with design or coding, assess how much effort and time you need to bring your e-commerce website to life.
Most website builders come with pre-built templates or a drag-and-drop builder to help you build your e-commerce website without coding. Some templates allow you to purchase a website template from marketplaces.
Consider whether you're looking for complete control over your store's branding and layout, or you'll like a pre-filled website template that works with minimal effort. Open-source platforms usually offer more flexibility, but you'll need technical skills and time to create your online store.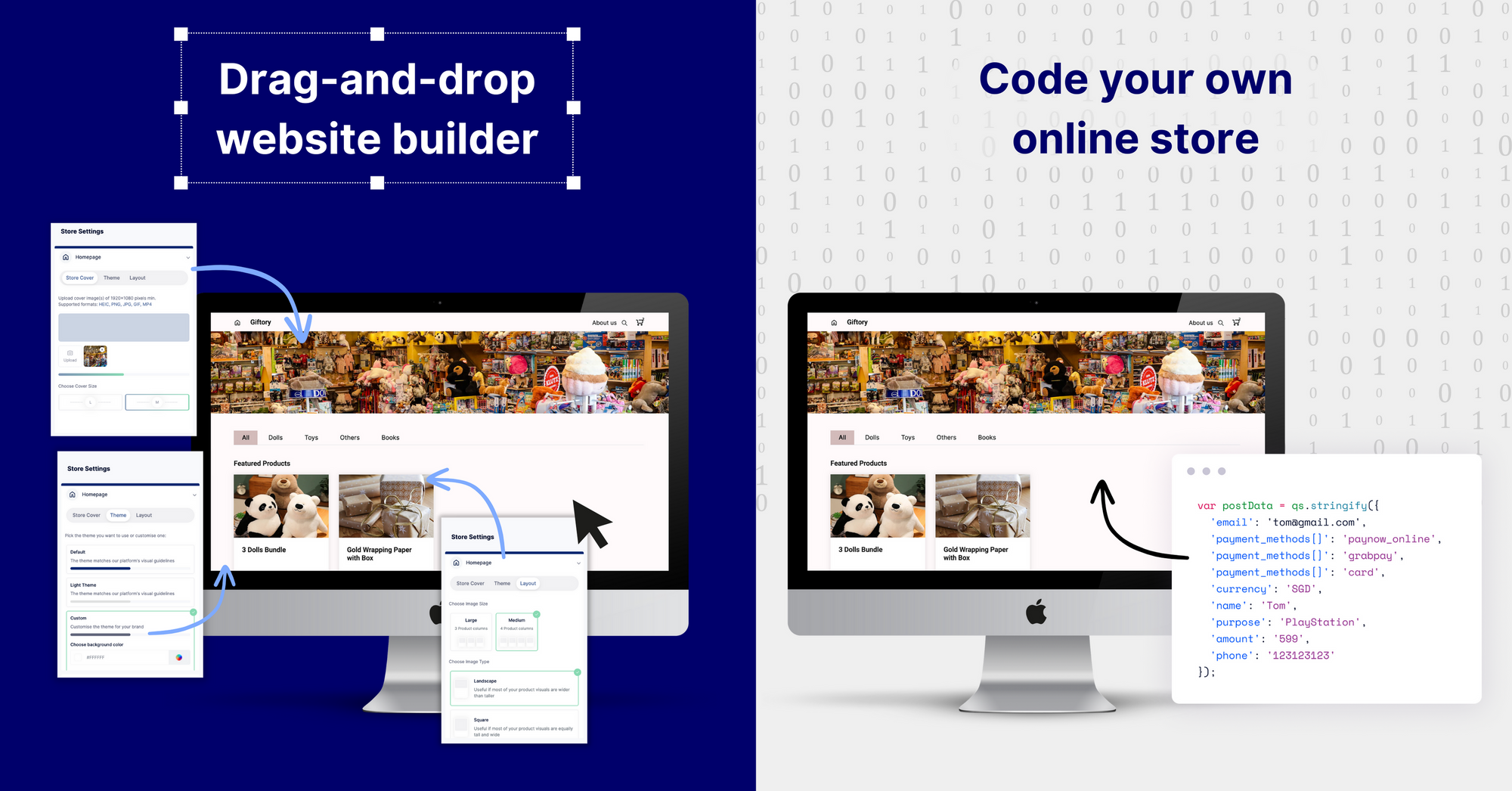 4) Does it have the e-commerce features you need?
Besides website builder features, you also want to look at what e-commerce features the website builder offers. Some essential e-commerce features for small business owners include the following.
Product category management: Organising and listing your products logically helps customers find what they need. It's also best to find website builders that can accommodate all your selling needs—even atypical ones like selling services or digital products
Multi-channel selling: Your e-commerce website should help you list products, sell across your preferred sales channels and process payments. Features like a link-in-bio page make creating a hub page to share across multiple channels easy.
User management: Need to add more people to manage your e-commerce store? You'll need a system that assigns user permissions based on what they do.
Sales tools like store coupons and discount codes: Run themed sales or celebrations to create excitement around your store or a specific product range.
If you sell physical products instead of digital products, you'll need these two extra features.
Shipping management: Describing your shipping methods and costs upfront will provide much-needed transparency to your customer to close more sales.
Inventory management: Avoid over-ordering inventory and maximise sales by tracking how much you're selling and what you need to restock.
5) Does it include the business tools you need to run your online store?
Besides sales and marketing, running a business means dealing with admin work, like sending out and tracking invoices, accounting, and collecting payments in person.
It's better to find an e-commerce site builder and platform that include tools that help you minimise time spent on administrative tasks so you can focus 100% on your business.
Top 12 e-commerce website builders in Singapore - A comparison
From local players to global household names, here are 12 of the most popular website builders in Singapore, all designed to help you reach customers better.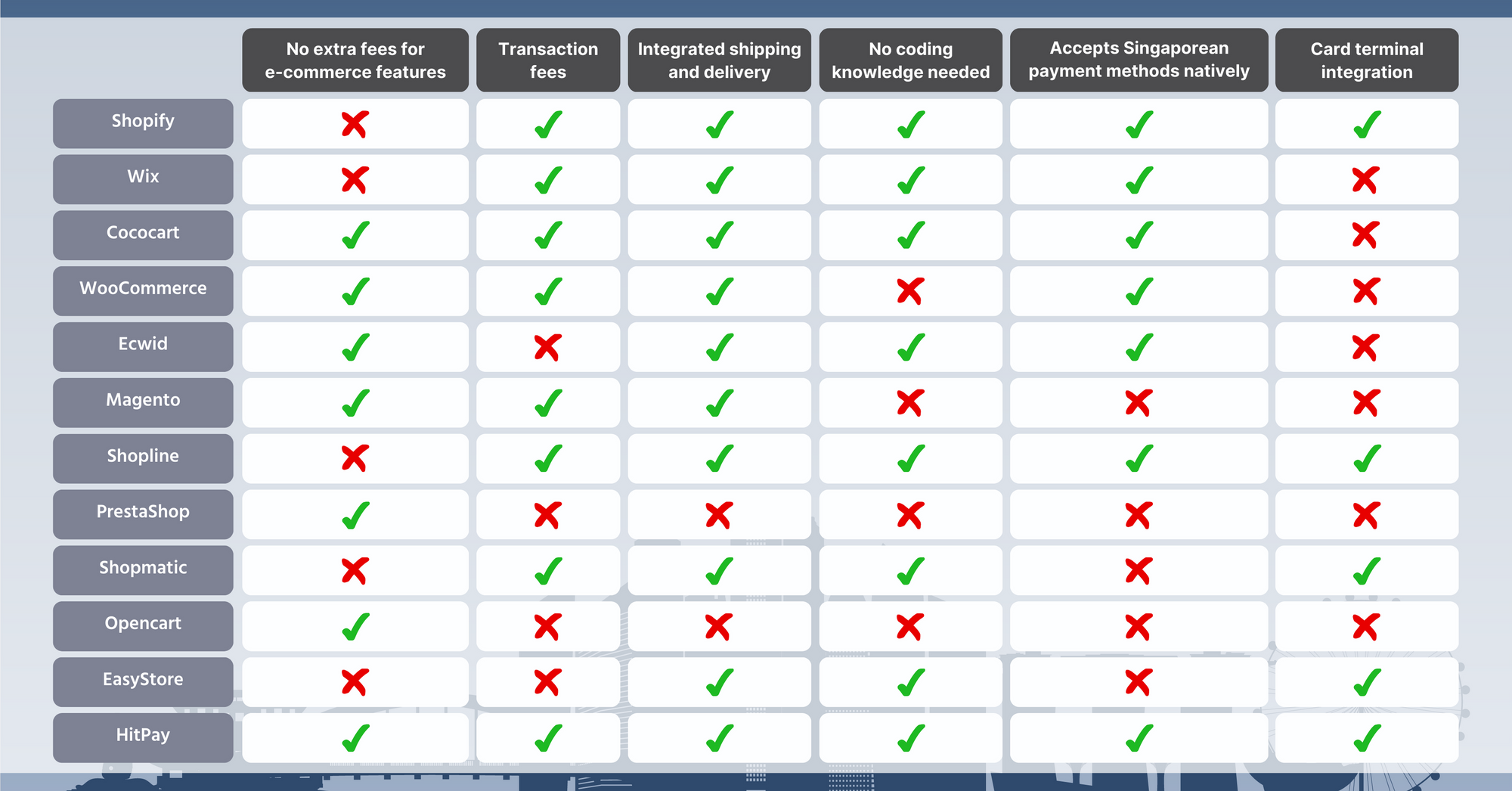 1) Shopify
One of the most popular e-commerce website builders, Shopify's all-inclusive subscription makes it easy to create a website and start selling online. Its App Library lets you extend your store's functionality with third-party apps. However, basic plans start from S$39/month, excluding transaction charges.
Pros:
✅  Subscription includes website templates, payment processors, marketing tools and hosting
✅ Robust app store for a variety of business needs
✅ Recognisable brand name means it's easier to get support or find answers to questions
Cons:
❌  No free plan, a short 3-day free trial
❌  Requires an ongoing subscription and charges high transaction fees
2) Wix
Wix's multilingual support makes it great for sellers who need to localise their site to other non-English speaking markets. However, it's not possible to sell products in multiple currencies at the moment, so you'll need to use a third-party payment gateway that supports the currencies you need.
Pros:
✅  Includes useful e-commerce features like abandoned cart recovery emails, integrated payments and a free business logo creator
✅ Multilingual support for 180+ languages, including Malay, Tagalog, Mandarin Chinese and Bahasa Indonesia
Cons:
❌  Cannot change the website template of an existing site
❌  Lacks multi-currency support
❌  No free online store; e-commerce features are only available on plans starting from US$17/month
3) Cococart
With its Typeform-like interface, Cococart is excellent for small businesses selling food, drinks, merchandise, or crafts without the complexity of other more complex e-commerce site builders.
Pros:
✅ User-friendly sign-up process
✅ Includes features like email reminders for deliveries and booking cut-off dates
✅ Visually attractive templates
Cons:
❌  Subscription tiers depend on your monthly sales volume
❌  User management feature only available on Startup plan and above
4) WooCommerce
You can customise WooCommerce a lot if you've got the technical chops and the time. While you don't have to pay any monthly fees, the costs of essential components like hosting, domains, plugins, and website themes can quickly add up if you aren't careful. If you don't have prior technical knowledge, costs can also add up in terms of researching and testing during setup.
Pros:
✅ No subscription lock-in
✅ An extensive library of website themes, templates, and third-party plugins is available
Cons:
❌  Doesn't include necessary features like a domain, hosting, email, shop theme
❌  Requires technical knowledge/familiarity with WordPress and time to set up
5) Ecwid
Ecwid makes adding e-commerce features to an existing website easy, making it useful for creators or small businesses who aren't starting a website from scratch. However, many essential features for sellers require a paid subscription tier.
Pros:
✅ No transaction fees
Cons:
❌  Essential features like selling on Instagram/Facebook, discount coupons, inventory management, and mobile POS support need a paid subscription.
❌ The free plan only allows you to list five physical products
6) Magento (Adobe Commerce)
Magento (also known as Adobe Commerce) offers a sophisticated feature set, including multiple store management, multi-currency support, advanced pricing rules, and more, making this a powerful platform if you need that flexibility. All this flexibility comes at a cost, as you'll need a dedicated server and technical expertise to get your Magento store up and running.
Pros:
✅ Flexible and scalable e-commerce solution
Cons:
❌ Needs specialised technical knowledge in Magento to set up and maintain.
❌ Pricing plans aren't openly disclosed and depend on your Gross Merchandise Value (GMV) and Average Order Value (AOV).
7) Shopline
Social commerce specialist Shopline is best suited for creators who regularly live stream to interact with their audiences. They also partner with local logistics partners like NinjaVan and J&T Express to meet your delivery and fulfillment needs, making them well-suited for the Southeast Asia market.
Pros:
✅ Includes livestream support with Facebook Live integrations
✅ Multiple language support
✅ Integrates with regional marketplaces like Lazada and Shopee
Cons:
❌ Need a paid subscription to access all features
8) PrestaShop
PrestaShop is open-source, making it well-suited for people with the skills and time to customise every aspect of your shop. However, small business owners who need a low-cost solution that's easy to set up and manage might want to look elsewhere.
Pros:
✅ Free to download and start using
✅ Wide range of add-ons and templates to customise your shop
Cons:
❌ Requires coding and website-building skills to fully customise
❌ Hidden costs can quickly add up, including website templates, integrations, and web hosting.
9) Shopmatic
From online store templates to shipping and payment acceptance, Shopmatic offers an end-to-end platform for selling online, helping you set up an e-commerce store quickly.
Pros:
✅  Includes marketplace management features, helpful for you to sell across marketplaces like Lazada, Shopee, or Amazon
✅ Can choose between pay-per-transaction pricing or subscription-based pricing model
✅ All features available across pricing plans
Cons:
❌ Subscription plans lack a free trial
❌ Limited third-party integration options
10) Opencart
Opencart's open-source website builder and diverse range of downloadable extensions allow people with the skill set to customise their store to their liking. However, costs quickly add up, so make sure you know how much each component costs, so you don't exceed your budget.
Pros:
✅ No monthly fees
✅ Over 13,000 extensions available to add additional features
✅ Accepts 53 core payment methods, with more payment methods available as extensions
Cons:
❌ Does not include site hosting, domain registration, and security features
❌ Requires coding and website-building skills to fully customise
❌ Total costs can quickly add up
11) EasyStore
EasyStore helps you set up a store with minimal technical expertise, with everything from payment, shipping, order management, and inventory management covered in one subscription price. While they offer support for popular local sales channels, adding multiple local sales channels at once will require a higher subscription tier.
Pros:
✅ No transaction fees
✅ Includes support for 20+ sales channels like marketplaces, WhatsApp, Telegram, WeChat, and Line
✅ Has order management and logistics features
Cons:
❌ Basic plan only offers support for two sales channels
Used by thousands of SMEs across Southeast Asia and Singapore, HitPay's online store builder lets you set up a simple yet powerful e-commerce store in minutes without any coding or design skills. It's perfect for creative people and small business owners who want a simple solution. The HitPay website creator offers all features without subscription lock-in, so you only pay when you sell something.
Pros:
✅ Unlimited products, sales, and orders
✅ All features included without subscription lock-in
✅ Pay per transaction, with no setup or subscription fees
✅ Includes link-in-bio website builder to add external links to your store page or social media profiles
✅ Custom domain support
✅ Shipping management with local and international delivery options; perfect if you're selling physical products
Cons:
❌  Online store currently only available in English
Interested in creating your own website with HitPay's free e-commerce website builder?
Click here to sign up for a free HitPay account.
---
About HitPay
HitPay is a one-stop commerce platform that aims to empower SMEs with no code, full-stack payment gateway solutions. Thousands of merchants have grown with HitPay's products, helping them receive in-person and online contactless payments with ease. Join our growing merchant community today!