Accept Atome BNPL payments with Malaysia's best payment gateway
Set up Atome in Malaysia to let your customers buy now, pay later with 0% interest.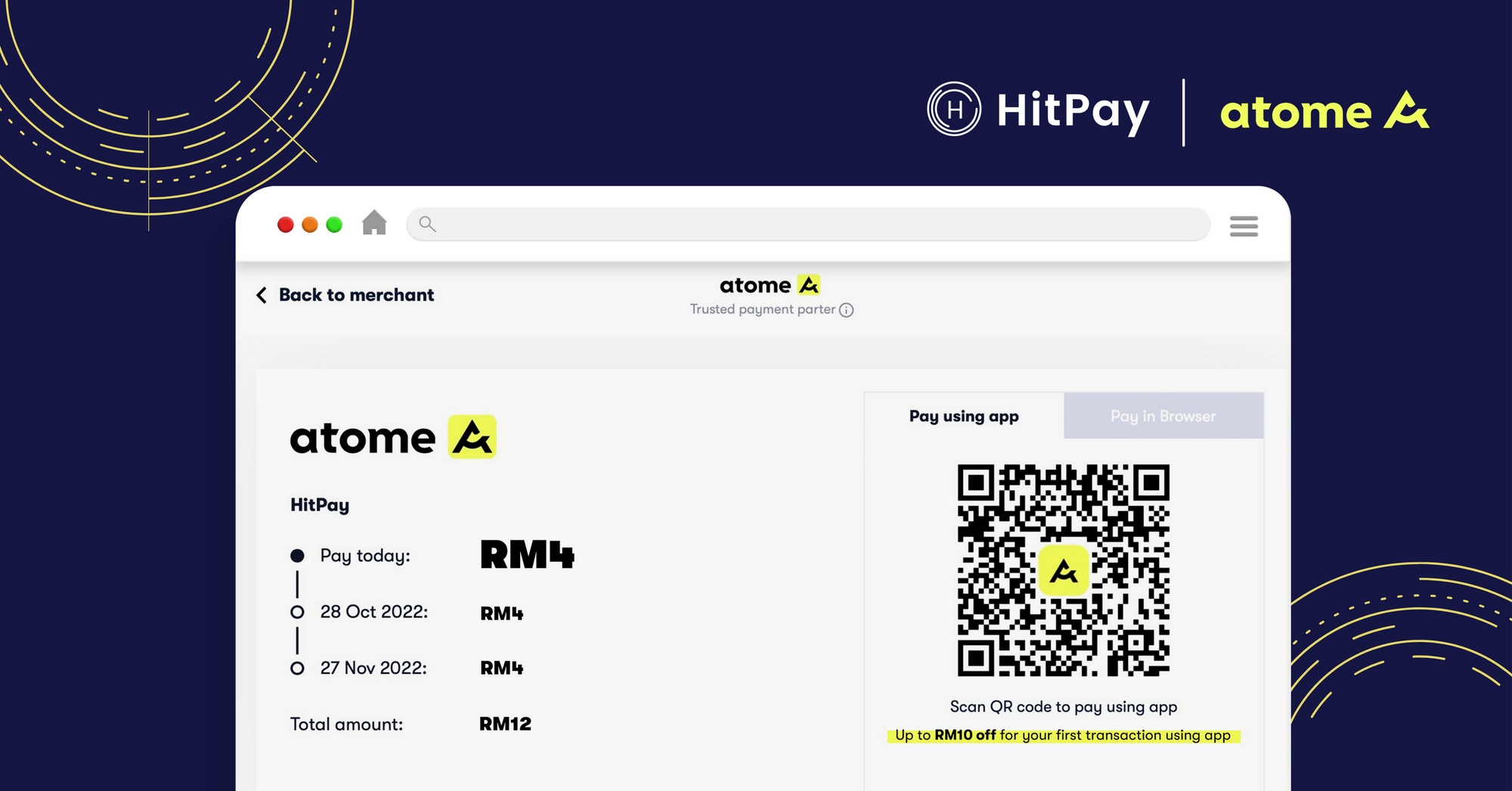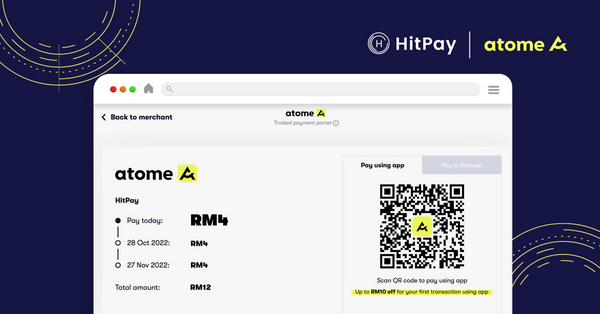 Atome BNPL is now available on HitPay Malaysia! SMEs and merchants in Malaysia can accept Atome via HitPay, letting customers buy now, pay later with 0% interest.
Atome Buy Now, Pay Later is now available on HitPay, the all-in-one payment gateway for SMEs in Malaysia and beyond.
Businesses using HitPay Malaysia can now offer Atome's 0%-interest BNPL payment method to customers. Atome can be accepted on HitPay's online and offline sales channels — including e-commerce plugins, payment links, and POS system.
What is Atome?:
Atome is a Buy Now, Pay Later payment method that offers flexible, 0%-interest payments.

With Atome, businesses receive the full payment upfront. Meanwhile, Atome splits the customer's bill into 3 equal payments — with the first payment at the point of purchase, and the next two payments spread 30 days apart.
Why set up Atome in Malaysia?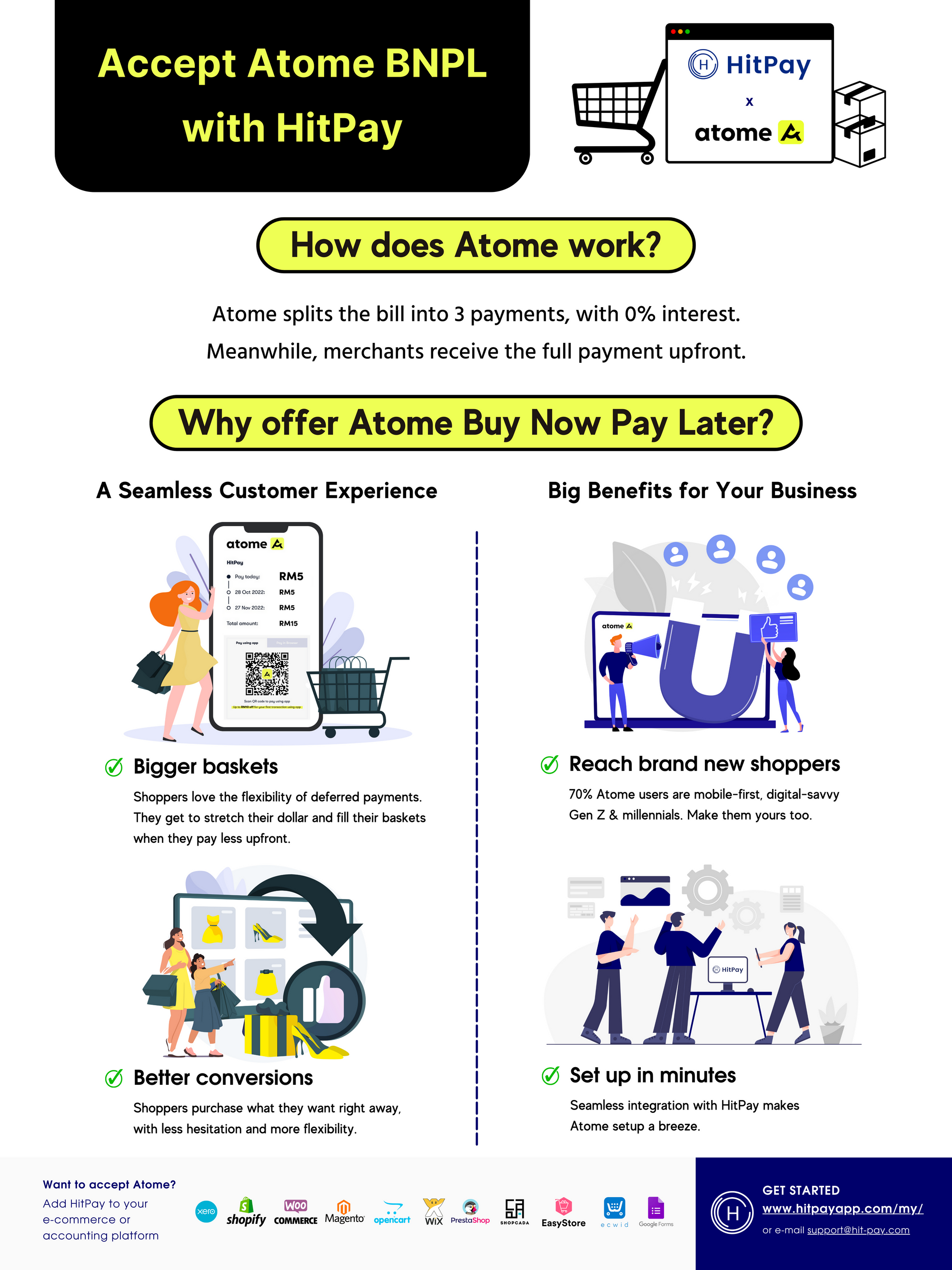 Atome is a great addition to your suite of payment methods on HitPay in Malaysia, including DuitNow QR, credit cards, and e-wallets.

Here's how Atome can help your business in Malaysia:
🛍 Bigger baskets: Shoppers love the flexibility of deferred payments. They can stretch their dollar and purchase more when they pay less upfront.
📈 Better conversions: Shoppers purchase what they want right away, with less hesitation and more flexibility.
🤳🏻 Reach brand new shoppers: Connect with the Atome userbase made of 70% mobile-first, digital-savvy Gen Z & millennials.
⏱ Set up in minutes: HitPay helps you easily integrate Atome anywhere you sell, with no coding required.
Atome BNPL on HitPay Malaysia — How it works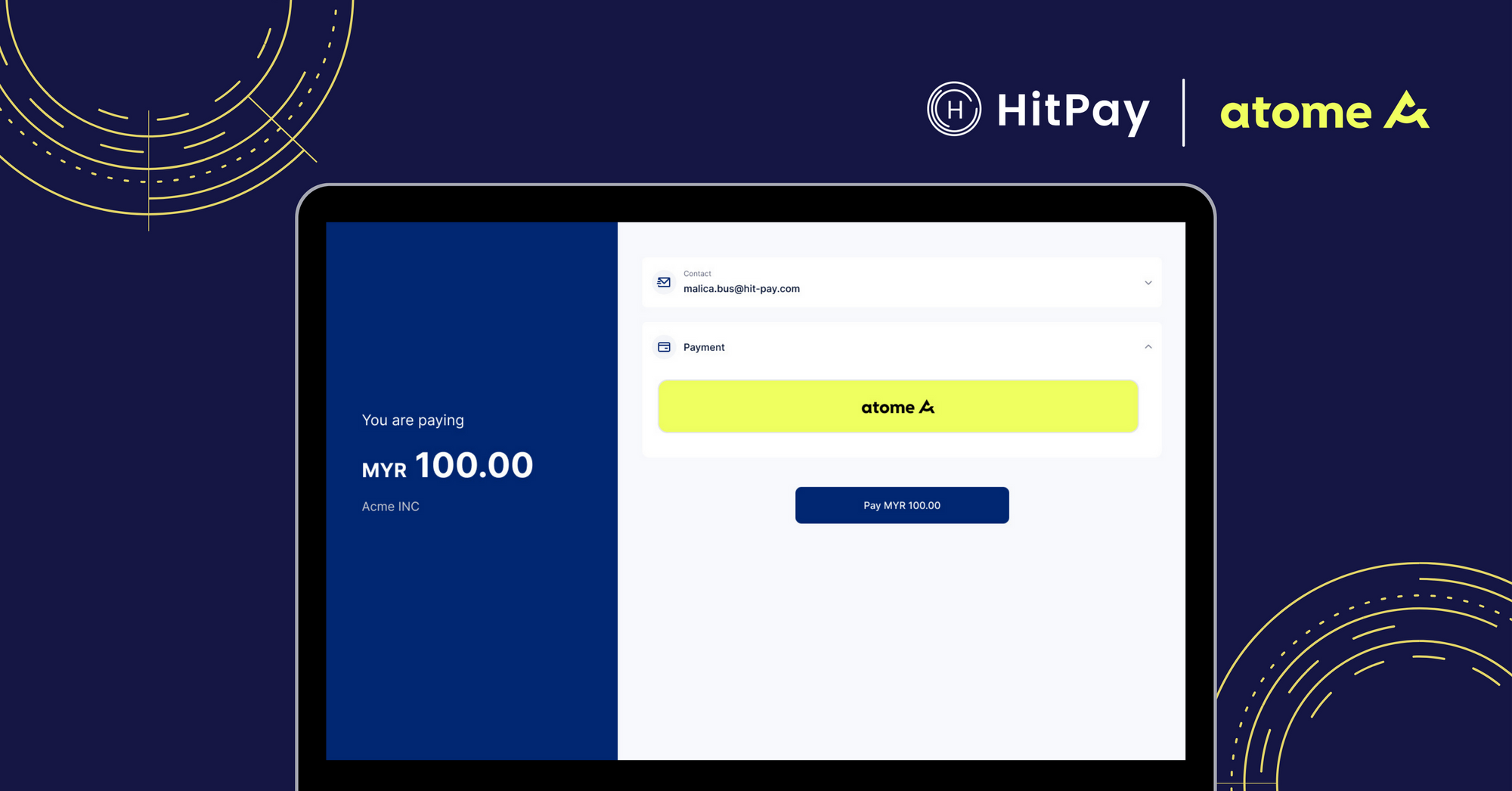 Fees: 6% per transaction
Settlement: T+1
Min Transaction Amount: RM1.50
Activate Atome for your business in Malaysia with this step-by-step guide.
---
About HitPay
HitPay is a one-stop commerce platform that aims to empower SMEs with no code, full-stack payment gateway solutions. Thousands of merchants have grown with HitPay's products, helping them receive in-person and online contactless payments with ease.
Join our growing merchant community today!